Declutter Kitchen Counters: 15 Minute Mission

Today's decluttering mission is simple, declutter your kitchen counters.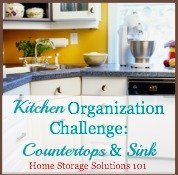 Now, I know this is called a 15 minute mission, and when you read to declutter all of your counters in this time period you might just think, "ha! No way!"
I get it, I totally do.
So realistically, if you've got a lot of clutter this will not happen in such a short time period, at least the first few times you do this mission.
In fact, the whole first week of the 52 Week Organized Home Challenge is all about
kitchen organization, focused on countertops and the sink area
.
But remember, these missions are to work and make progress for fifteen minutes. You don't actually have to get completely done in that time period just to have made progress!
Plus, sadly, but true, you wouldn't be able to keep your counters uncluttered with just 15 minutes once anyway, because life happens.
So read on about this mission, and also what I think about how to make this particular mission a daily habit, so you can actually have clear kitchen counters most of the time!
Flat Spaces Just Beg To Be Filled, But Resist The Urge
Flat empty spaces are just like an open invitation to put something down and leave it there.
Unfortunately, this quickly leads to clutter, and since everyone is in the kitchen a lot it seems your counters get a lot of clutter accumulation quickly.
What we want is for you to be able to realize the joy of having mainly clear kitchen counters, and then to be able to enjoy them most of the time.
I could wax poetic about the joy of clear spaces for a long time, but suffice it to say that it makes a room feel calmer and more peaceful, it
is easier to clean, and you actually have enough room for food prep and cooking when you've got clear space to work.
Two Types Of Kitchen Counter Clutter
There are two types of clutter on this flat surface.
The first is the obvious stuff that doesn't belong -- the hammer from the recent home repair, the school books that should go back in your child's backpack, etc.
These items are somewhat easier to deal with, especially in a fifteen minute decluttering mission like this one. You can tell they don't belong there, and you move them back to where they do belong instead.
In this instance it is just as much about tidying as it is about decluttering.
The second type of clutter is more insidious. It's stuff that does belong in the kitchen, but perhaps shouldn't be on the counter but put away in a drawer or cabinet instead. (Or perhaps it really is clutter and should completely leave your home.)
This second type of clutter is what the first mission of the
52 Week Organized Home Challenge
is really all about dealing with. It's the type of stuff that I've suggested taking a full week to deal with, to whip your kitchen into shape.
But once you've dealt with this second type of clutter, such as after you've completed the first week's challenge, you're just left with the first type to deal with on a more consistent basis.
Fortunately, you only have to do the big challenge once, or every year or two, and this little fifteen minute mission more frequently, most likely daily.
So read on below to see pictures of both cluttered and uncluttered kitchen counters that have been sent in by other readers, plus my thoughts on how to make decluttering your counters a daily habit.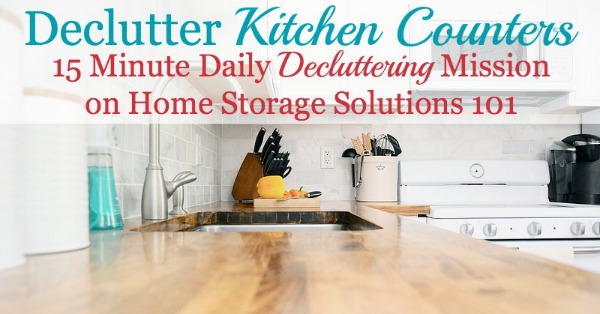 Photo courtesy of Emily May
Join in and write your own page! It's easy to do. How? Simply click here to return to kitchen clutter.
Real Life Examples Of Kitchen Counter Clutter: You're Not Alone!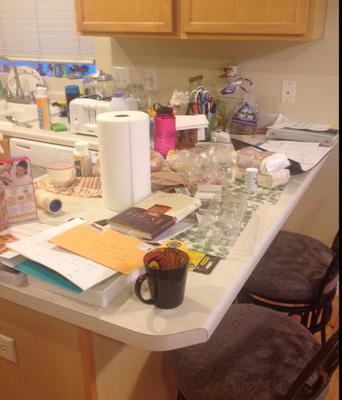 First, I want you to know that you are not alone if your kitchen counters are full of clutter.

It happens to the best of us, and this site is not about judgment, at least not from me.

Come to my house after a crazy day (or the next morning if I'm exhausted the night before) and you're very likely to see something quite similar. That's because clutter just seems to accumulate, like I've said before.

So here's real life examples to drive home the point that you're not alone, and you're not a failure while "everyone else" has it together, all the time.

The picture above is from a reader, Becky, who said when I first discussed this challenge on the Facebook page, "Ooohhh, good mission!"

Here's some more for you. The first is from a reader, Rebecca, who said: "I try and clear my counters regularly, and then dh happens! Will have another go... Here's a 'before' shot (taken at end of day before clear up)."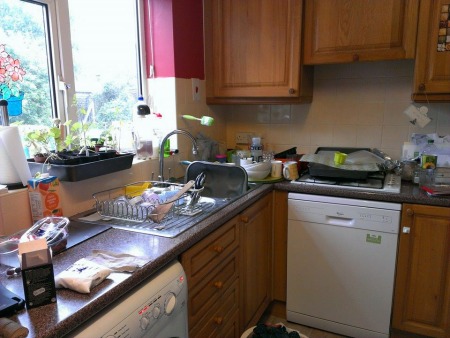 This next one is from Jennifer, who said: "I did mine this morning. Again. And this is tonight after dinner. I need a maid."
Perhaps you can relate? Or look at the one below from another reader, Shirley. This is really a series of photos, and she explained that they are before, after "and 10 minutes after - the pictures nobody ever posts, when it is all getting messed up again."
Join in and write your own page! It's easy to do. How? Simply click here to return to kitchen clutter.
You've Got To Make Clearing Your Kitchen Counters A Daily Habit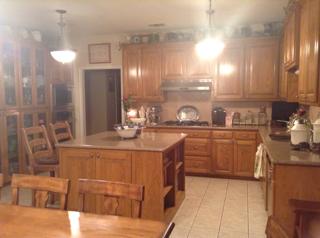 So as we've seen above you're not alone, and the kitchen counters get junked up fast, even as unfair as it seems, including right after you've cleared them off.

So how do you deal with this?

Make it a habit to declutter your kitchen counters daily as part of your kitchen tidying.

That statement, I realize, is both exceedingly simple to say and often very complex to put into practice.

But no one can deny that consistently putting away things, tidying up, and dealing with one or two pieces of clutter as they occur is so much simpler and less time consuming, and less stressful, then dealing with big mounds of it.

On the other hand, no one wants to be the person screaming or grumping any time something is laid down on this flat surface, because goodness knows if that was the case we'd be upset all the time.

So here's my solution for making this a habit without losing your mind.


Have A Regular Time Where You "Reset" Your Counters By Clearing Them
You can go crazy if you immediately try to deal with every bit of clutter as it happens. So I like to think of each evening having a "reset."
What this means is that during the day you just don't stress about it, but each evening you do a reset, and make sure all the clutter is dealt with, perhaps by doing this particular decluttering mission every single night.
It keeps you sane most of the time, because it can only get so bad in a short period of time, and then you fix it before it gets too out of hand.
Once a day reset will work for many many people.
But I hear you already, as I write this, "but Taylor, if I let it go all day it would be a disaster by the night!"
OK. I grant that can happen in very busy households, or where you've got an extremely tiny kitchen, or . . . whatever reason for this to happen for you.
Well, if that's the case you just are going to have to do your reset more often.
Here's an example from my life. During the school year now all three of my kids are in school during the day, so a once a day reset works fine for us, despite the fact that my husband and I both work from home. (It worked even better when we weren't home during the day either, LOL!)
But I change my pattern during the summers when all five of us are in the house basically all day long, every single day. Then, if I did just one reset a day I would be drowning in clutter. So instead, during the summer I do a reset after breakfast, lunch and dinner.
That may sound like a lot, but I'm not just clearing counters, but also just
tidying up the kitchen
so it all is combined into one chore (and yes, I enlist my kids to help. They helped make the mess, after all!)
Often these resets don't actually take a full fifteen minutes anyway because like I said, if I deal with these things consistently it just doesn't seem as overwhelming as waiting for it all to pile up.
So, that's how I suggest trying to make this mission a habit in your home.
The pictures above are from a reader, Debbie, who showed off her clutter free kitchen. She explained, "Every night when I cook, my kitchen is a mess; however before I finally get around for bed, kitchen is neat and tidy again." So basically, she does exactly what I'm suggesting, and has made her kitchen clean up and clearing of clutter a daily habit.
Hard to argue with those results! The kitchen looks gorgeous!
See below for even more inspirational pictures from readers who've taken up this mission and seen real results!
Join in and write your own page! It's easy to do. How? Simply click here to return to kitchen clutter.
Completely Clear Kitchen Counters Feel Amazing!
by Amanda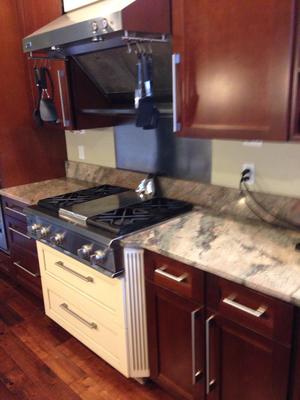 Amanda says:
Cleared the kitchen counters!! Feels amazing.
I haven't even missed the items I thought would be hard like the spoon jar or knife butcher block.
Taylor says:
Amanda, this looks amazing!
Now, a note for everyone. Recently I posted an article explaining why this woman had decided, like Amanda, to completely clear off her counters of everything.
I personally don't think you need to go that far. My rule of thumb is that only things you use regularly, such as daily, should stay out on your counters. Everything else should have a different home in a kitchen drawer or cabinet typically.
But you can make whatever rule for yourself you want, that works for you. Amanda found completely clearing them worked for her. That can be a good idea if you suffer from clutter blindness, where you start to not to see it after a while.
Then, even regular items you use may lead to "just one more thing" syndrome, and soon, your counters are again cluttered. So if completely putting everything away works for you, go for it!
On the other hand, if you find it a pain to put away stuff you use daily (like I do) you don't have to go to this extreme! Keep out the coffee maker, or the
utensil crock
, or whatever, and still feel good about the way your kitchen looks.
Join in and write your own page! It's easy to do. How? Simply click here to return to kitchen clutter.
Take The Kitchen Counter Organization Challenge & Declutter Mission!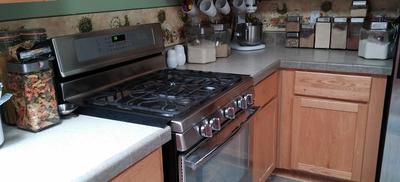 Stove and adjacent counters.
So I hope you're now convinced that keeping your kitchen counters mainly clear most of the time is a good thing, and with some consistent effort you can do it, I'd like you to do one last thing!

If you've got the second type of clutter that I was talking about at the beginning of this article -- the stuff that does belong in the kitchen but not necessarily on your countertop, take the Week #1 Kitchen Organization Challenge. That will make doing this daily mission much much easier.

Here's an example of a reader, Diane, who took on this week long challenge, and rocked it! She submitted the photos above, and explained:

"I cleared clutter, and got rid of a bunch of not useful decorative items. I have been on a mission of paring down for the past couple of years, but this is giving me an organized way to go about finishing the job :)"


Are You Ready To Declutter Your Home?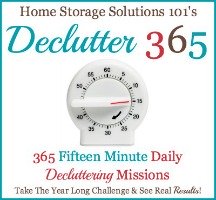 I hope seeing these pictures has inspired you to declutter your kitchen counters.
When you begin to declutter the feeling you get is contagious, so if you're loving the results you're getting I would encourage you to keep going.
I've got a whole series of
15 minute decluttering missions
(eventually 365 of them!) that you can do.
Just pick and choose the ones you want to do, that will make a big impact in your home. But if you want someone else to tell you the order you can also grab the
15 minute daily decluttering mission calendars
and follow along as we all get our homes clutter free together!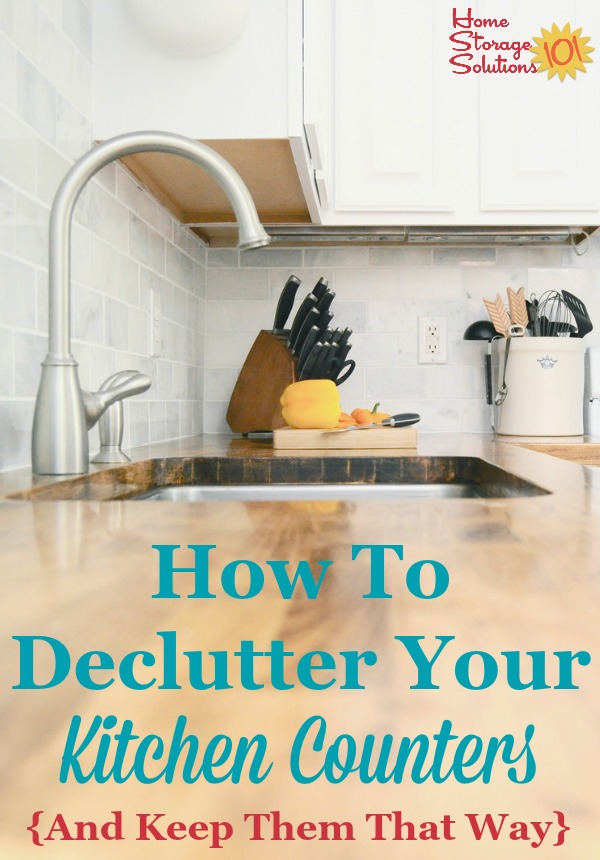 Related Pages You May Enjoy
Getting Clutter Free 15 Minutes At A Time Hall Of Fame
Getting Rid Of Kitchen Clutter Hall Of Fame
How To Declutter Your Kitchen Island
Go From Declutter Kitchen Counters Mission To Home Page