How To Declutter Your Kitchen Island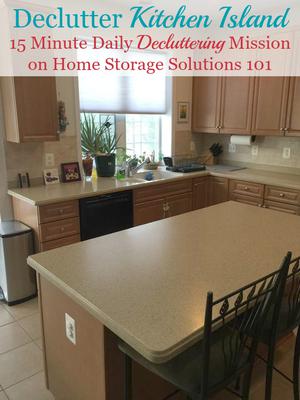 Today's mission is to declutter your kitchen island, and/or to again revisit your kitchen countertops to make sure they are staying clutter free.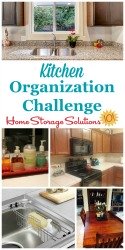 This mission is designed to be done during the
Kitchen Countertops & Sink Organization Challenge
, which is the first of the 52 Week Organized Home Challenges.
However, you will realistically want to get in the habit of doing this type of mission in your kitchen not just once a year, but daily, because any flat surface you've got, such as an island, a counter, or your
kitchen table
, will all be prone to collect clutter.
The reason is simple human nature. We come in to a room, often with our hands full, see an empty spot to put something down, and we do. Then, we get distracted and boom, we forget to ever put the item we were carrying away where it was supposed to go.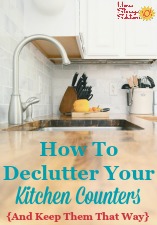 As I explained in more detail in my article about
how to declutter your kitchen counters
, you are going to have to work with your nature instead of against it to keep your kitchen island and other flat surfaces clutter free.
Find Homes For Common Items Cluttering Your Kitchen Island
First, clear the flat surface off completely, and put things away, throughout your home, where they were supposed to go in the first place.
To the extent that there are items you find on your kitchen island without homes, that is part of your problem right there. You may have, in the past, left those types of items on the island because you really don't know what to do with them. To the extent that is the problem you'll need to figure out where to put the most commonly appearing items so that you can get rid of that clutter.
For example, if incoming mail is always accumulating on your kitchen island you need to assess whether you've actually got a
place for incoming mail
. If not, create one now, or if you do have one already, figure out why you aren't using it. Is it a problem with where you've placed the container for that mail being too inconvenient, or something else, like not having developed your habit of looking through the mail daily to sort the real mail from the junk?
Once you've actually made homes for the most common items you find cluttering up your kitchen island the amount of clutter that accumulates there from now on will be significantly reduced.
Develop Habit Of Routinely Clearing Off Your Kitchen Island, At Least Daily
In addition, you must also realize that you cannot actually stop the clutter from accumulating, at least temporarily, on your kitchen island completely. Yes, when you don't know where to really put something it may stay there longer, but just because it has a better home doesn't mean in the rush of the moment that people won't put things down in what appears to be a highly convenient spot. Again, that is human nature.
The thing is, that's not too bad. You can live with that if you have a system in place where you (and hopefully everyone else in your home as well!) regularly and routinely police these flat surfaces and removes items, placing them in there rightful place.
That habit of removing all clutter from these flat surfaces should happen, at a minimum, daily. Perhaps you could do this right before dinner, or before bed as you
clean up the kitchen for the evening
. And if your kitchen is really busy, instead of just once a day you may need this clutter removal to happen several times during the day.
That may sound like a lot of effort, but if you regularly (
i.e.
at least daily) deal with the stuff laying on your kitchen island then we're not talking about a huge time investment, but instead a minute or two of tidying and straightening. Plus, you can piggyback this task with other habitual tasks you do daily, already, in your kitchen, such as clearing the kitchen table to get ready to set the table for dinner, for example. When you piggyback one habit on another you'll find it doesn't cause you much inconvenience.
You can learn more about
how and why to adopt a daily tidy up routine here
.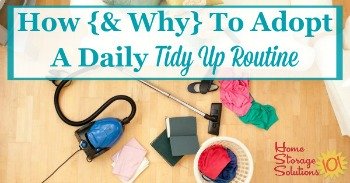 These regular and routine clear off times keep the counter or island relatively clear most of the time, giving you the precious flat surfaces necessary to do all kinds of activities in the kitchen you want to do, from food prep and cooking, homework, arts and crafts, and more.
However you use your kitchen counters and island, once it is cleared of clutter, regularly, you'll find how convenient the space is for all kinds of tasks.
To get you inspired to tackle your own kitchen island clutter I'm showing several before and after photos from readers below who've already done this mission and had great results. You can do it too!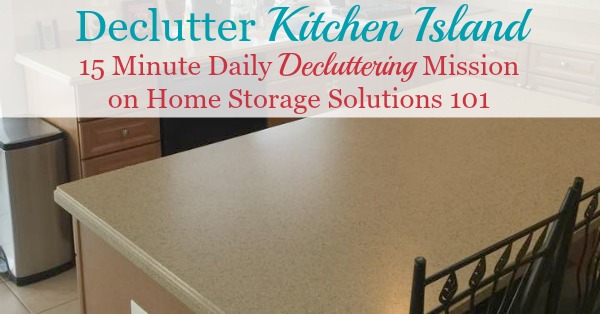 Top photo courtesy of a reader, Darren, who rocked this mission!
The First Time You Clear Your Island Off It May Take More Than 15 Minutes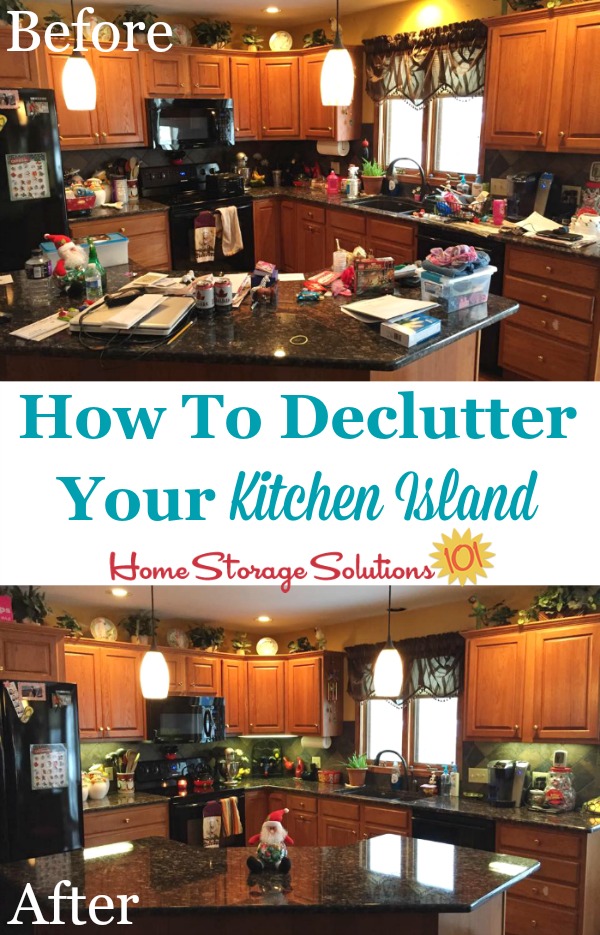 Depending on how much stuff you've currently got on top of your kitchen island this may not be a 15 minute project for you, but as always when something takes longer I always suggest breaking it up into 15 minute chunks instead.
Remember, that the first time is the hardest, but then maintenance, if done regularly as discussed above, will be much quicker.
The photos above are from a reader, Pamela. She said, "This was several hours; not 15 minutes. But before, and after. Boo yah!"
It looks great, doesn't it?
In addition, here's another set of before and after photos from another reader, Misty. She said, "Here is my before. It looks like this on a daily basis. Keeping the counters and sink clean will be a challenge. But I'm up for it."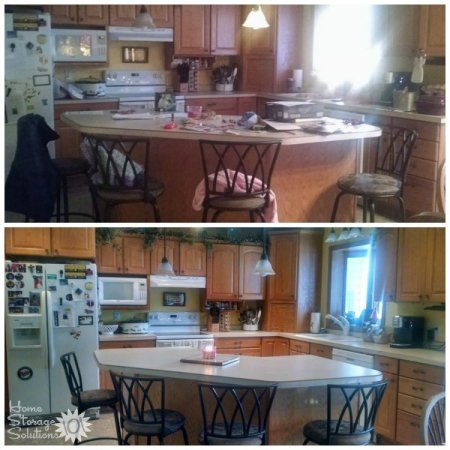 Removing Clutter May Take Work But It Also Removes Stress, So It's Worth It!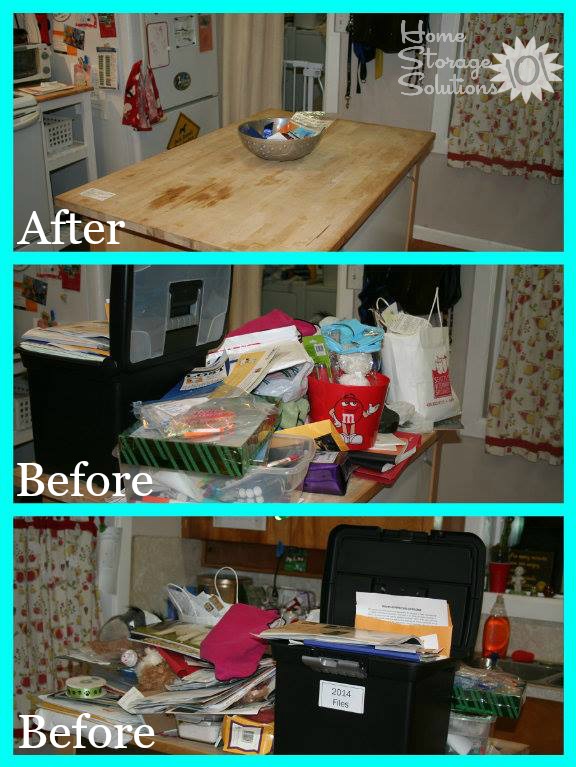 While I just mentioned that the first time you are clearing off an extremely cluttered flat surface it may take a while, don't give up before you get started.
First, doing 15 minutes at a time is totally doable, as you can see from these awesome before and after photos from others who've already done it.
But, in addition, removing the clutter really is worth the time and effort necessary because it not only removes clutter but also stress from your life.
The photo above was sent in by a reader, Elizabeth, who explained it so well. She said, "I decided to do the island today. You would never even know from the before pictures that there was an island. Tonight when I was cooking I was able to turn around and place something on the island for the first time in over 2 years. I almost started crying with joy. The stress that is melting away from not looking at the cluttered kitchen is huge."
Yay Elizabeth, I'm so proud of you for doing so well! This is awesome!
Don't Forget The Clutter In Your Kitchen Island Storage Areas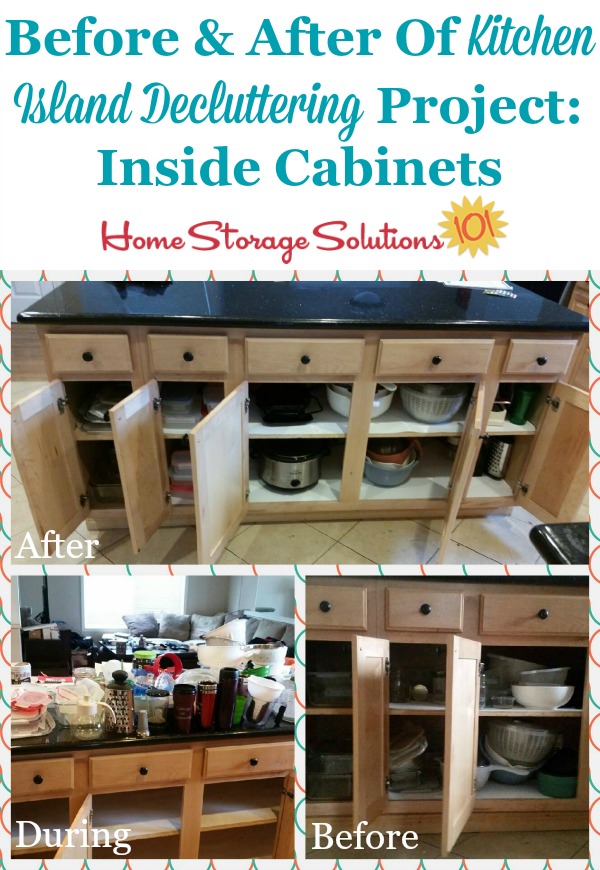 Most of this mission has been focused on the flat surface of your kitchen island, but many islands also have an area for storage, such as drawers or cabinets.
You will eventually want to deal with the clutter in these storage areas as well. To help you check out the articles on
how to declutter kitchen drawers here
, and
how to declutter kitchen cabinets here
, since these instructions will work for these kitchen island storage areas.
The photo above is from a reader, Lauren, who did this for her own island. She said of the photo, "Before, during and after. I created so much more room that I was able to move some appliances in that have been cluttering up the pantry!"
Are You Ready To Declutter Your Home?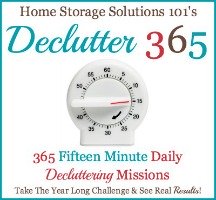 I hope seeing these pictures has inspired you to remove the clutter from your kitchen island or counters.
When you begin to declutter the feeling you get is contagious, so if you're loving the results you're getting I would encourage you to keep going.
I've got a whole series of
15 minute decluttering missions
(eventually 365 of them!) that you can do.
Just pick and choose the ones you want to do, that will make a big impact in your home. But if you want someone else to tell you the order you can also grab the
15 minute daily decluttering mission calendars
and follow along as we all get our homes clutter free together!
Related Pages You May Enjoy
Getting Clutter Free 15 Minutes At A Time Hall Of Fame
Getting Rid Of Kitchen Clutter Hall Of Fame
Go From How To Declutter Kitchen Island To Home Page