Utensil Crock Ideas: For Convenience & Saving Drawer Space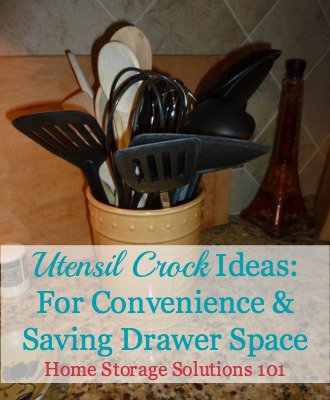 Many people use a kitchen utensil crock or holder to store and organize their cooking utensils directly on their kitchen counters, instead of holding them elsewhere.
There are many reasons for this, but some of the most common reasons include the lack of drawer space and for convenience.
Having the utensils sitting right there in a container, ready to grab and use as you are cooking a meal, is so very handy, instead of having to move everything around in a drawer hunting for the right tool, especially during time-sensitive parts of the cooking process.
If you do choose to use something on your counter though you need to realize that it will take up some of your precious counter space, so try to
minimize the total number of utensils you've got
so you don't make clutter.
Further, the crocks themselves will get dirty, especially as they'll most likely sit close to your stove. Make sure you choose something that you can easily wash or clean to keep it looking good. Plus, you wouldn't want to put clean cooking tools into a really dirty holder!
Below I've gathered several different examples from readers of crocks and holders they use in their kitchens, since I find real life examples are the best ones.
There's also ideas and tips for where to find good quality holders, including some ways to use other objects in your home for this purpose.
Of course, this isn't the only way to organize and store these tools in your home. You can check out even more
kitchen utensil storage and organization ideas here
.

Top photo courtesy of Karl Burrows, from Amazon.com
Join in and write your own page! It's easy to do. How? Simply click here to return to kitchen clutter.
Le Creuset Utensil Holder Keeps My Drawers Uncluttered
by Elaine
Elaine says:
I have a medium cream colored Le Creuset utensil holder. I couldn't be without it, my drawer was so cluttered before!
Taylor says:
There are so many popular brands of crocks available, but I must say Le Creuset is HUGE!
The pieces are rather expensive, but they are very high quality and oh so pretty.
I also like that there are so many color choices available. You're almost sure to find one that will match the colors in your kitchen.
Note that there are a couple different sizes of crocks available, so choose the one that works best for your needs.
Here's another picture showing the two sizes of this brand available, as well as the utensils themselves made by the company as well.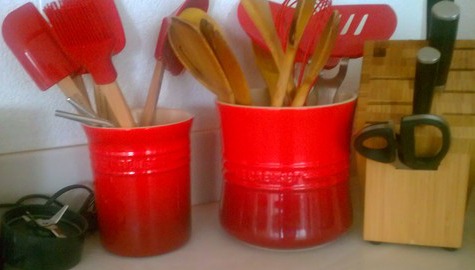 Second photo courtesy of Mister Roboto from Amazon.com
Join in and write your own page! It's easy to do. How? Simply click here to return to kitchen clutter.
Utensil Canisters That Match Kitchen Colors
by Lorie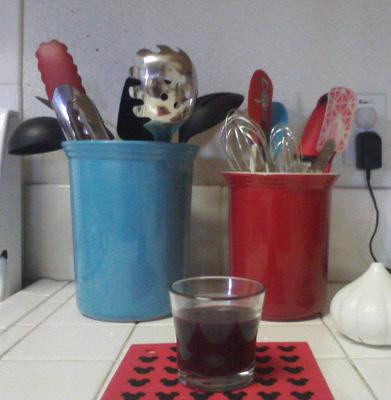 A reader, Lorie, shared a picture of how she stores and organizer her large utensils.

Lorie says: "I store my large utensils (like spatulas, etc.) in canisters that match my kitchen colors. Frees up drawers for other items."

If you want something that matches a lot of your other items, you may want to check out these Mason Jar gift ideas, which includes a utensil crock that looks like a Mason Jar.


Click here for 10 Mason Jar Gift Ideas For Kitchen
Join in and write your own page! It's easy to do. How? Simply click here to return to kitchen clutter.
Fiesta Utensil Crock: Adds Vibrant Color To Your Kitchen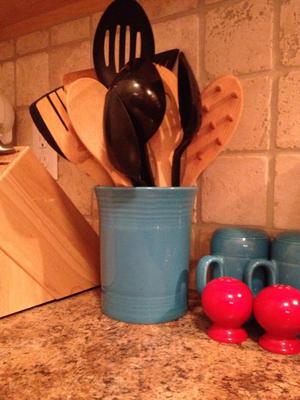 Another popular brand is Fiesta, and there are quite a few fans of this brand.

The picture above is from my friend Allison, who said, "I have a great Fiesta crock in the Peacock color. It works perfectly for us."

The nice thing about Fiesta crocks is that they are typically quite sturdy, and are dishwasher safe, so periodically you can just throw it in your dishwasher to get clean to keep it looking its best.

Just like with the Le Creuset brand above, Fiestaware comes in many different vibrant colors to match your decor.


Here's another picture of this brand of crock in the kitchen:
First photo courtesy of Allison Elliot-Shannon, and second photo courtesy of Ana Luiza Welch via Amazon.com
Join in and write your own page! It's easy to do. How? Simply click here to return to kitchen clutter.
Suggestions For What Else Can Be Used For Kitchen Utensil Holder On Your Counter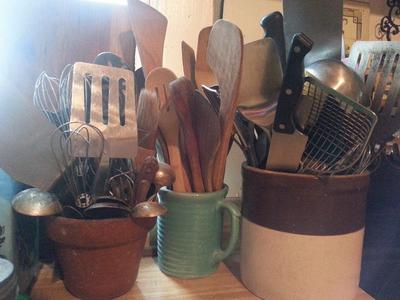 Obviously there are lots of actual crock and holder type products available designed for holding your cooking tools.

However, the sky is really the limit for what you can use for this purpose.

Here are some ideas shared by readers for what they've used to give you some ideas.

But please note that whatever you choose, I would suggest something that is easily washable, since these containers do need to be washed frequently because of their close proximity to the stove. They get greasy and dirty quickly.

In addition, a tapered opening is helpful, as is making sure what you choose is heavy enough so it doesn't tip over when loaded with utensils.


Use A Vase:
Cindi says: I put several of my utensils in a pretty glass vase that was just taking up room in my cabinets and placed it in the corner on my counter.
Milk Or Beverage Pitchers:
Marybeth says: "I have always done this with cute "milk" pitcher or older crocks."
In addition, Eva gave this money saving tip, saying, "I've scored cute tall beverage pitchers from garage sales to store my utensils."
Flower Pot:
Cathy says: "Best thing to use is a flower pot. They taper at the bottom for your handles and are wider on top for your utensils!"
You can see a picture of that above, courtesy of a reader, Sarah.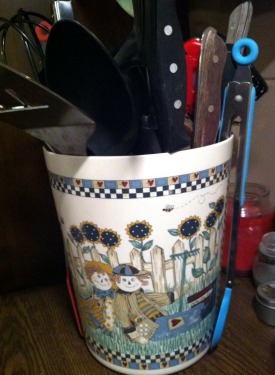 Ice Bucket:
Anne Marie says: "I have a metal ice bucket with all the ones I use everyday which makes my drawer less cluttered and easier to find what I need."
Similarly, another reader, submitted this photo (on the right) of a small kitchen trash can that she used for the purpose. She said, "I use a cute garbage can (yes, brand new and never used for garbage lol. I bought it for this)."
Coffee Can:
Shelby says: "I only have 4 drawers in my entire kitchen (and the top 3 are too shallow for even a ladle). I just use a coffee can for my utensils. The price was right."
Janice seconded the coffee can suggestion. She said: "I have been using coffee cans for years. One for the spoons, one for spatulas, and one for sharp knives. I started this when my daughter started walking to keep her from getting the sharp knives and have been using it since, bout 12 years now."
#10 Food Storage Can:
Erin says: "I use #10 food storage cans. They are cheap, free, and repurposed. Plus, they are silver, so they match my stainless appliances."
Join in and write your own page! It's easy to do. How? Simply click here to return to kitchen clutter.
Storing Utensils This Way Makes Life Much Easier!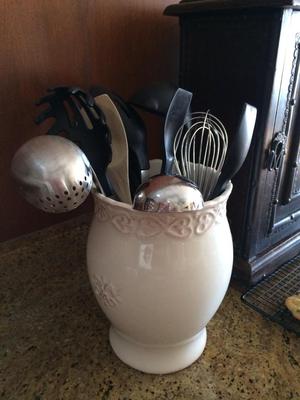 Janet shared a picture of her ceramic utensil holder on the Household Management 101 Facebook page, a sister site of this one, explaining how she does this because of the convenience of holding them in this way.

I like the pretty shape of this one.

You can use many different sizes and shapes for holding your cooking implements, but it is important whatever you choose that it has a wide mouth to let the utensils fan out, to make it easy to grab the one you need.

In addition, you periodically need to clean them so make sure to choose something that is washable.

Here's another picture of some cute ones, shared by a reader, Sunny. I love that one of them is a watering can!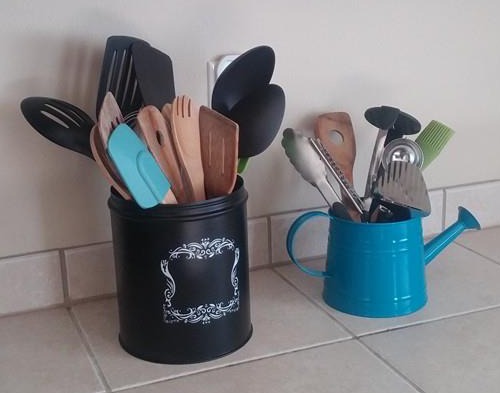 There has been some discussion of whether having these holders on your counter makes them look cluttered. I think it's a matter of perspective.
Sunny said: "My utensils. And I don't think my counter looks cluttered." I personally agree Sunny, I think they look great!
Join in and write your own page! It's easy to do. How? Simply click here to return to kitchen clutter.
My Kitchen Crocks Match My Color Theme As Well
by Tamella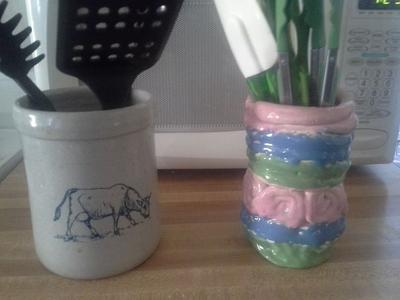 I've been doing this for years!

The one on the left with the cow my grandmother made me, the colorful one my daughter made me in grade school art class!

Yes my kitchen theme color is neon/lime green.


Are You Ready To Get Your Kitchen Organized?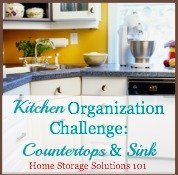 I hope you've enjoyed these ideas for using a kitchen utensil holder on your counters. If you've got your own pictures to submit to the hall of fame I'd love to see them. You can
share your pictures here
and I'll add them to the page.
But organizing your utensils is just a small part of kitchen organizing.
If you'd like to get your whole kitchen in order check out the
Kitchen Organization Challenge
which starts with clearing clutter from your kitchen counters, and then moves on to all kinds of other tasks.
It's part of the
52 Week Organized Home Challenge
and I'd love it if you'd join us!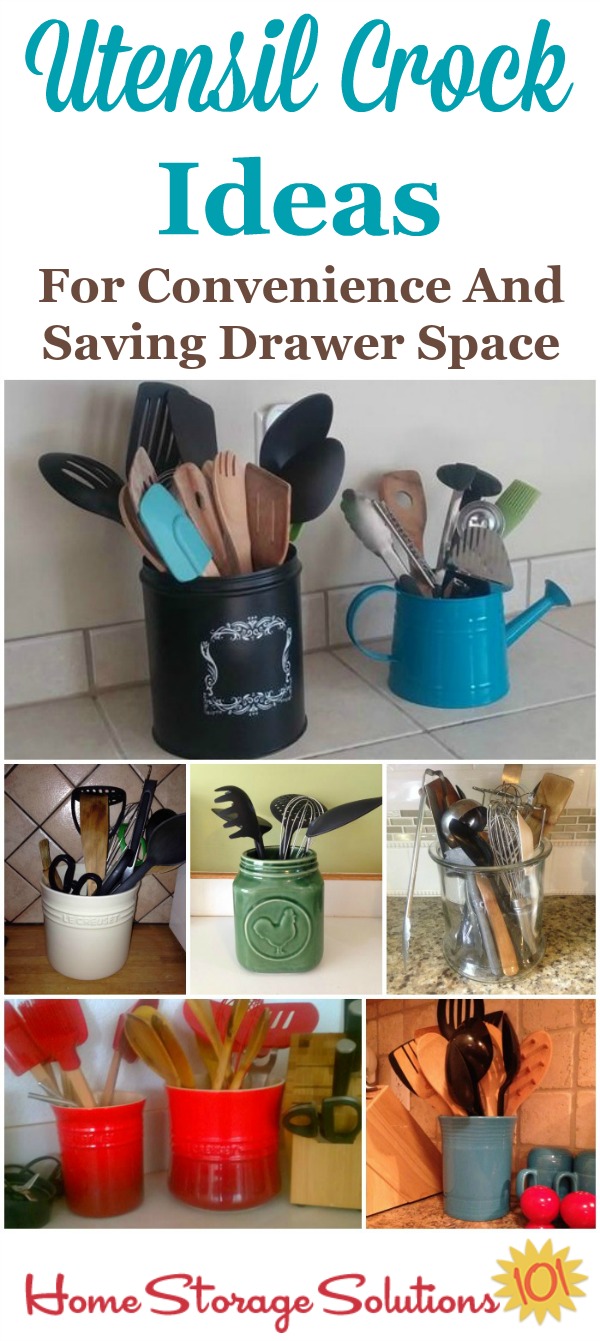 Some links on this page are affiliate links, meaning that if you purchase a product through them I receive a small commission which helps me provide this information to you for free, plus support my family. My integrity and your satisfaction are very important to me so I only recommend products I would purchase myself, and that I believe would benefit you. To learn more please see my disclosure statement.
Related Pages You May Enjoy
Getting Clutter Free 15 Minutes At A Time Hall Of Fame
Go From Utensil Crock Ideas To Home Page