How To Use A Food Saver Vacuum Sealer To Organize Your Freezer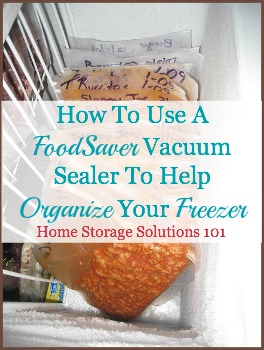 A Food Saver Vacuum Sealer, if you aren't aware, is a machine that allows you to suck all the air out of the containers, typically bags, that you store food in, typically for the freezer.
The idea behind these machines is that without all that air, along with the bags you use, freezer burn is kept at bay and your frozen food stays good much longer.
This is a product that lots of those who buy in bulk (and who often also have a large freezer, or two in their homes to store all those bulk purchases in) use often, because it allows you to repackage large amounts of produce, meat, etc. into smaller serving sizes.
In addition, it is hard to eat all that food within a reasonable time if you go by the normal acceptable
freezer storage times
. However, because these machines make your frozen food last longer it then makes more economical sense to buy larger quantities when they're on sale, or to save more of the produce you grow in your garden.
What you may not realize, however, is that a FoodSaver can also help you organize a freezer.
The key is in the way you freeze the contents of the bags.
If you're not careful when you freeze the food it can all be in a big lump at one end of the bag. Not easy to store and organize these unwieldy sized and shaped containers.
On the other hand, if you lay them flat so the contents freeze flat, and fill up the whole bag evenly, then you've made it a very handy way to organize your freezer.
If the frozen food bags are flat you can easily stack them, or lay them on their side in a freezer basket or other container and basically "flip" through the bags to grab the one you want for the next meal.
You can pack a lot more food into a freezer with this method as well, because there is less packaging and wasted space.
Below I've shared several reader submissions that explain why they love their FoodSavers, and why they like them to organize their freezers.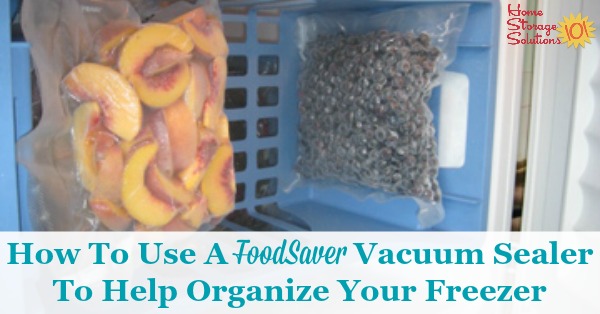 Top photo courtesy of danperry.com
Join in and write your own page! It's easy to do. How? Simply click here to return to food and pantry clutter.
I Try To Freeze Items On Flat Surface First & Then Everything Is Stackable
Jeanette said: "I highly recommend using a Foodsaver as it has saved me a tremendous amount of money by allowing me to buy in bulk during sales, knowing items won't get freezer burned.

The downside is the bags can get expensive so to cut the costs I use it to freeze foods that I know will stay frozen longer than a month.

I also freeze baked goods as it allows you to stop the air vac process and not crush the items.

I try to freeze items on a flat surface first, then move them to their designated area just because the flat surface lets you stack them vertically, label side out- it is a much more efficient way to use freezer space.

We have used our Foodsaver to freeze items for picnics, camping and trips because it keeps the water out as the ice melts.

It also saves on ice since we freeze our ice in larger oblong containers, then use our Foodsaver machine to contain the water as the ice melts, then later refreeze them.

It's also a much more efficient way to pack the food we are taking.

I love, love my Foodsaver and wouldn't go back to my old way of freezing foods."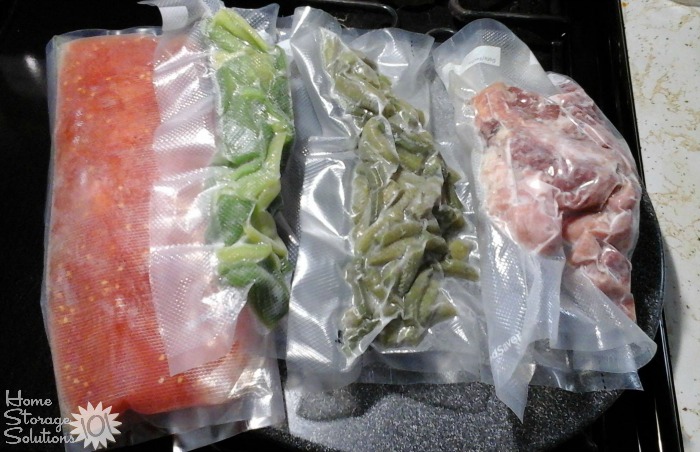 Similarly, another reader, Paula, sent in the photo directly above, showing the food she freezes with her FoodSaver.
Paula said, "This is what the frozen FoodSaver food looks like. Tomatoes, green peppers, beans from garden. Leftover spiral ham from Christmas. I have also done applesauce this way, but I ate that already."
Top photo courtesy of Amazon.com
Join in and write your own page! It's easy to do. How? Simply click here to return to food and pantry clutter.
Almost Everything Takes Less Space In Freezer Using Vacuum Food Saver
by HSS101 Reader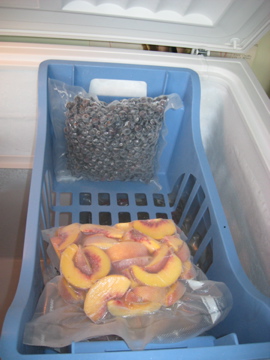 We have used a vacuum food saver for over 15 years.

I buy meat and other things in bulk.

I also make my own meals in jars which the vacuum sealer seals for long term storage.

In addition, we freeze much of our summer produce in the vacuum bags.

Everything (except large cuts of meat like roasts and hams) can be laid flat to freeze and then stood on end to take up less space in the freezer.

Note: if you freeze your produce be sure to follow appropriate preparation steps.

Photo courtesy of libraryrachel
Join in and write your own page! It's easy to do. How? Simply click here to return to food and pantry clutter.
The Key Is To Label Each Bag With The Date & Contents
by Susan Klein
(Mammoth Lakes, CA)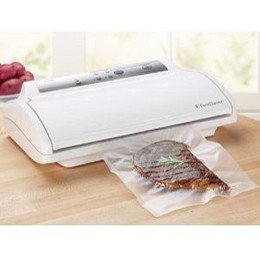 Susan says:
I could NOT live without my FOODSAVER, especially since I shop at Costco.
It keeps things so much longer since no air is getting inside, but of course the key is to label each bag with the date, and contents.
The only problem is that they are various sizes, which does make a bit of a challenge for storage.
I use 2+ gallon Freezer bags which I also label -- ham, beef, etc. which I put in the bottom of my
chest freezer
to store these items in which are various sizes.
Of course, I have a map of my freezer to show locations of items. It has saved me so much money and frustration.
Join in and write your own page! It's easy to do. How? Simply click here to return to food and pantry clutter.
Ziploc Freezer Bags Work For Me For Same Purpose!
Overall, the reception to this article has been very positive among readers, but there are always ways to save money and I grant that this machine can be an investment.

A couple of readers wrote in to share with me how they use Ziploc freezer bags (although I would think any other brand would also work) for a similar purpose.

I've added their thought to the page for those who want to use this organization method, but don't want to invest in a FoodSaver.

Regina says:
A word of caution-- the bags and rolls are very expensive.
Depending on what was stored in them they shouldn't be reused, thus making them more expensive.
I have 6 kids and I almost never break out my food saver.
I find ziploc bags work fine up to 6 months.
There was no noticeable difference in grean beans from my garden stored in ziploc bags vs food saver bags -- both ate nearly a year later.
Gretchen says:
Ziploc freezer bags work great too. Fill the bag then lower it in the sink with water. The water will push air out, just be careful near the lip not to get the water in.
Works better than my sealing machine for things I can't seal flat like soup.
Also the gallon size sealing machine bags fit the tin foil type brownie pans perfectly.
I bulk cook foods into the brownie pans, seal them and stack them in the freezer. I make stuffed peppers, lasagna, chicken enchiladas, stuffed manicottis all this way.
I like to do this when I have a lot of sauces to use up.
Since I'm a teacher I bulk cook a lot just before the school year starts so I have a lot of "easy meals" prepared for when I get busy.
Taylor says: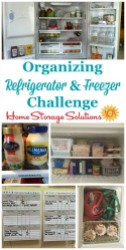 Thanks everyone so much for sharing these tips.
I'd love to hear from even more people who've used a FoodSaver or similar machine to tell me what they like (or don't) about these machines, and your tips and techniques for organizing your freezer with them.
You can
share your tips here
and I'll add the best ones to the page.
Further, I've got lots more tips for
organizing your refrigerator and freezer challenge
, which is part of the 52 Week Organized Home Challenge.
I'd love if you
joined the challenges here
. If you do, you can join the rest of us who are, over the course of a year, tackling every room and type of item in our homes to declutter and getting everything into shape.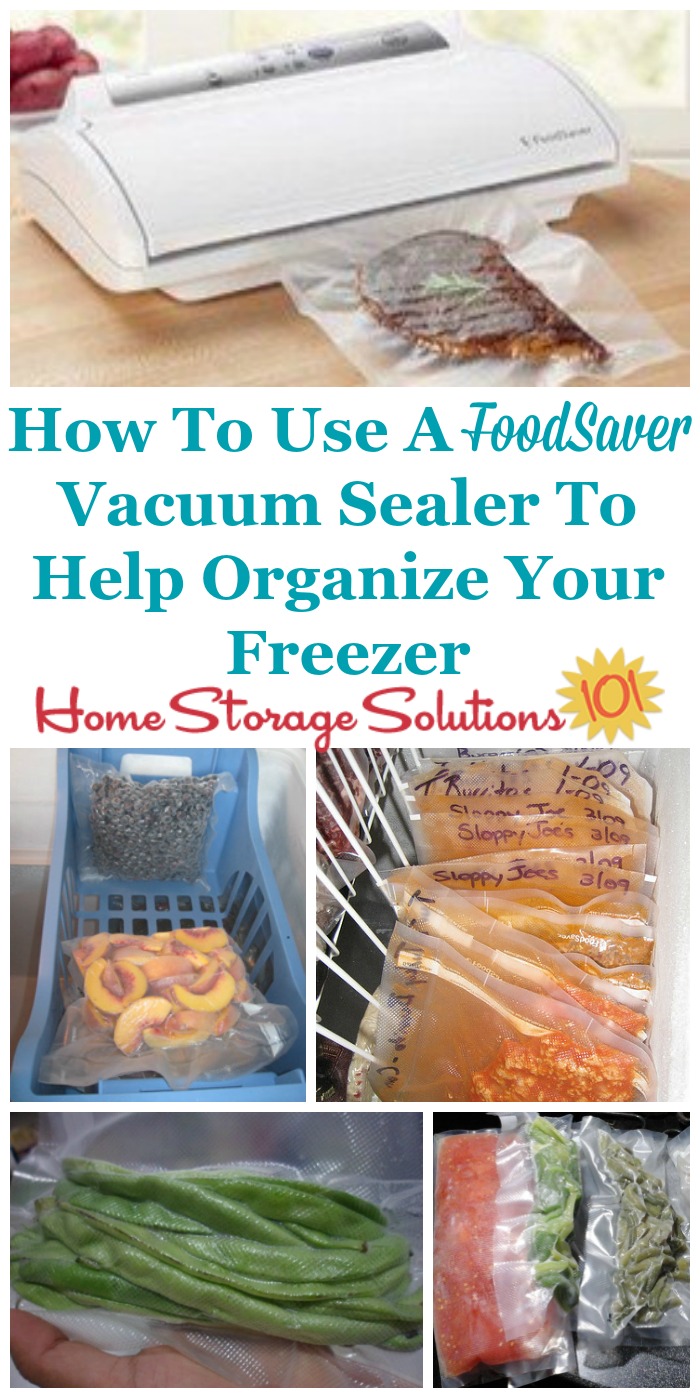 Some links on this page are affiliate links, meaning that if you purchase a product through them I receive a small commission which helps me provide this information to you for free, plus support my family. My integrity and your satisfaction are very important to me so I only recommend products I would purchase myself, and that I believe would benefit you. To learn more please see my disclosure statement.
Related Pages You May Enjoy
Getting Clutter Free 15 Minutes At A Time Hall Of Fame
Getting Rid Of Food & Pantry Clutter Hall Of Fame
Printable Freezer Inventory Form
Go From How To Use Food Saver Vacuum Sealer To Organize Freezer To Home Page