Aluminum Foil, Plastic Bags & Kitchen Wrap Storage & Organization Ideas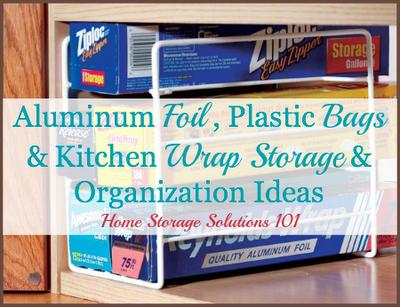 If you do any cooking at all you've got aluminum foil, plastic bags, and kitchen wrap. A common question I've been asked is how to store and organize these items.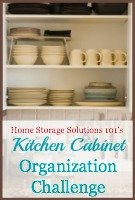 There are lots of ways you can do it, and none of them are right or wrong as long as what you choose works for you.
What I think you need to keep in mind is that your kitchen doesn't need to look magazine perfect. It just needs to be functional. That is true organization.
Therefore, the pictures I'm going to show you below, shared by readers who've participated in the
Kitchen Cabinet & Drawer Organization Challenge
show things that work, in real life.
If you choose to buy a cool kitchen wrap organizer of some variety, great! But you don't have to unless it makes you happy and it actually solves a problem you're having with storing these types of items.
So scroll on down for the ideas already submitted. And if you tackle this organizing challenge I'd love to see your before and after pictures as well. You can
share your results here
and I'll add them to the page, so you can show off your success for everyone!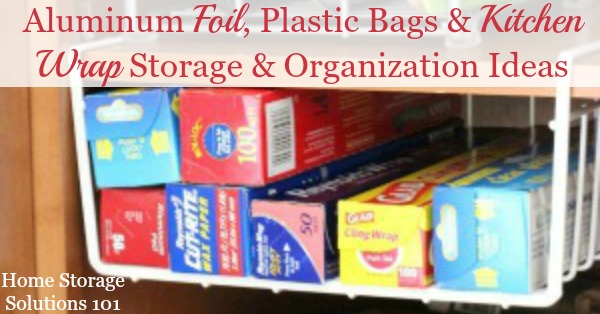 Photo courtesy of Amazon.com, showing a WalterDrake organizer in action
Join in and write your own page! It's easy to do. How? Simply click here to return to kitchen clutter.
Use A Drawer For Plastic Wrap & Foil Storage
by Bec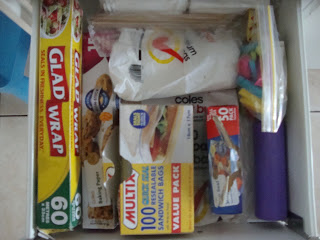 After
This may seem obvious to you, but you can easily use a kitchen drawer for plastic wrap and foil storage in your home.

In fact, that is what many people do. For example, Bec from 2012 - The Year Of Challenges shared her before and after pictures of this type of drawer in her kitchen, and how she decluttered and organized it.

She said of the after photo, "doesn't look much different - but I was so surprised at what came out of this drawer - it was all hidden and is now in the bin!"

Not everyone has enough drawer space for one devoted to this type of item though, so never fear there are lots more ways to organize these types of items!

Here's another example from a reader, Linda: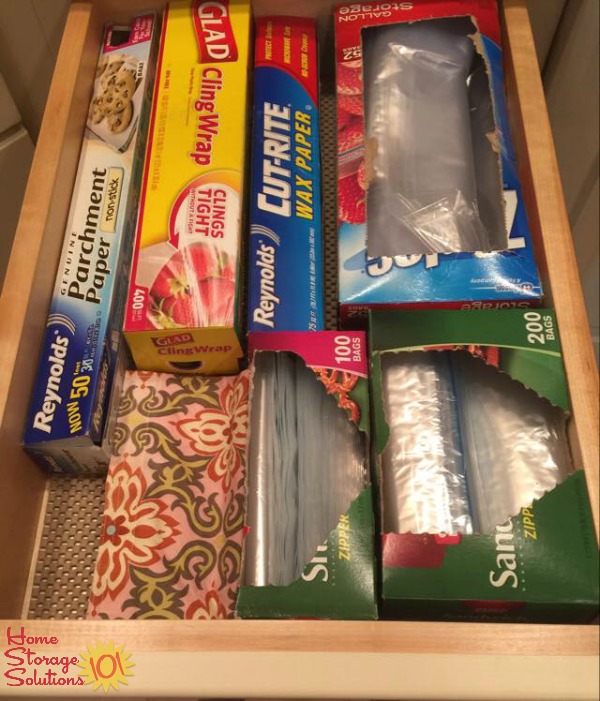 Join in and write your own page! It's easy to do. How? Simply click here to return to kitchen clutter.
Keep Plastic Bags In Dollar Store Containers In Drawer
by Cathy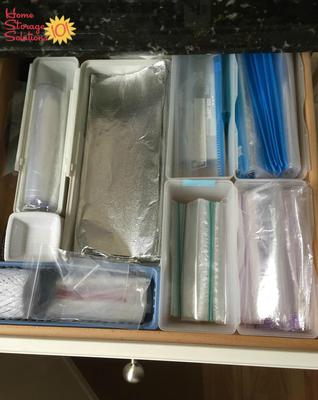 If you don't want to keep the plastic bags in their individual boxes, you could do what a reader, Cathy, has done.

She explained, "I take the bags out of the boxes and store them in a drawer using $1 store containers. We also use tinfoil sheets instead of the big roll -- perfect size for the toaster oven. I keep rolls up high in a deep cabinet in a rack."
Join in and write your own page! It's easy to do. How? Simply click here to return to kitchen clutter.
Store It On Door Under Kitchen Sink
by Jennifer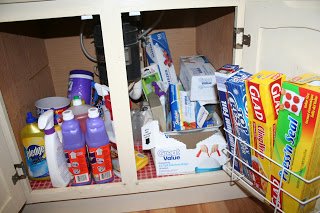 I absolutely love using space that would otherwise be unusable for something. Your plastic bags, cling wraps and foil boxes are prime examples of items that can be placed in these "found" spaces.

There are several available organizers that can be mounted inside a cabinet door, such as the door under your kitchen sink (or inside the pantry door, etc.).

Jennifer from Life of Reilly shared a picture above of how she uses one of these organizers in just this way.

She said: "As you can see in the picture above, I already have my saran wraps stored on the door, and this system works for me, so they're staying there. I had some freezer storage bags down here, so I moved them to the upper cabinet with the rest of the storage bags."

Here are some available models:


In addition, here's another example from a reader, Kristin, who said, "Finally something that I already had organized. Have 2 of these Rubbermaid containers mounted on the cabinet doors under the kitchen sink."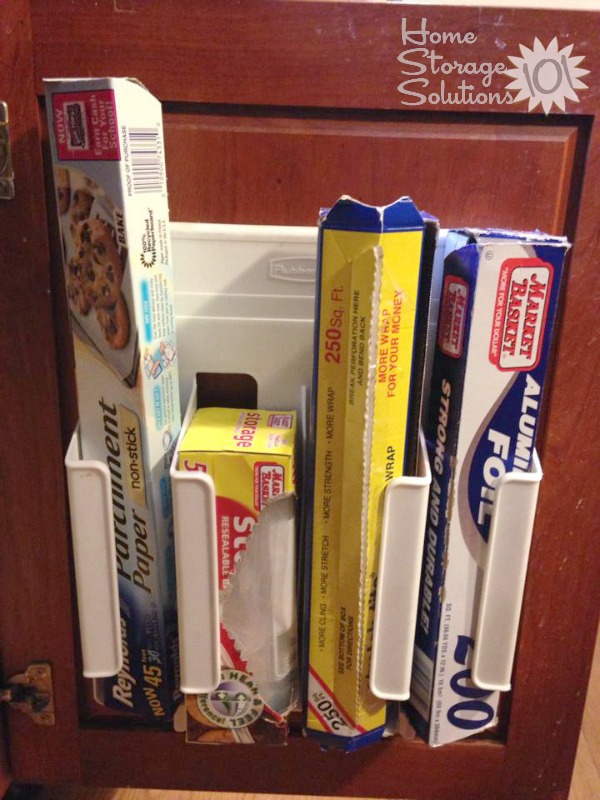 Join in and write your own page! It's easy to do. How? Simply click here to return to kitchen clutter.
Moved From Drawer To Cabinet Door Mounted Variety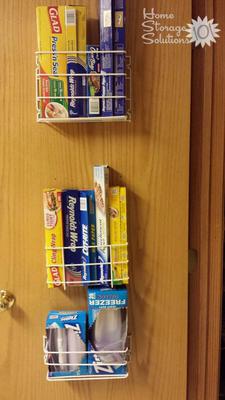 Lee-Anne at Life In A Peanut Free Shell shared before and after pictures of the drawer she originally kept these items in.


Then she explained what she did for the after picture: "So I bought one of those wrap holders that goes on the back of a cupboard and freed up a bunch of room! This is now where I keep a lot of my baking stuff. Large spatulas, spreaders, cookie scoop, etc."
You can see one like she mentions in the first photo, shared by another reader, Suzanne. Suzanne explained, "When I moved into my house it had only two drawers in the kitchen so I mounted my wraps on the inside of my pantry door. Love this and it makes so much more room!"
The one I have pictured on the right is from the
Grayline brand
.
Join in and write your own page! It's easy to do. How? Simply click here to return to kitchen clutter.
Keeping Kitchen Wraps, Foils & Bag Boxes Corralled In Cabinet
by Jan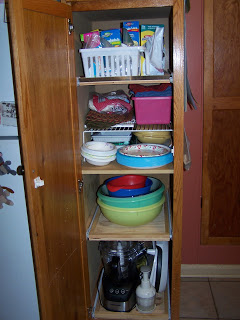 After
A common occurrence when you choose to store these items in a kitchen cabinet is that they begin to sprawl out, taking up as much space as you'll let them (plus more).

The best way to stop that issue is just to use something to contain them.

Jan from The Crafty Mermaid's Grotto shared before and after pictures which she keeps on a cabinet shelf.


So, her solution was just to use a basket to hold these items. However, some of these boxes are pretty long, so not all baskets are going to work.
A similar way to corral these items though is to use a shelf organizer of some type (such as the one shown on the left).
They make several specifically for these types of boxes, with open ends so that even long boxes will fit (as long as your cabinet is deep enough for the boxes themselves). The one pictures is from
DecoBros
, and is available on Amazon.com.
The best of this type of organizers have several tiers so you can stack the boxes and slide on out from the bottom easily, without the ones stacked on top being disturbed. When you're in the middle of cooking that convenience comes in really handy!
Here's an example of such an organizer in action in a reader, Paula's pantry.
Join in and write your own page! It's easy to do. How? Simply click here to return to kitchen clutter.
Wall Mounted Foil & Plastic Wrap Dispenser
by Karen
Karen shared on the sister site, Household Management 101's Facebook page what she does to store these items.

Instead of keeping them in some type of drawer or cabinet she has them mounted on a dispenser on her kitchen wall, which is a bit different than the other suggestions on the page.

If you use a lot of these types of items this might be another solution for you.

I have not seen anything quite like what Karen showed us that she has. However, here are some available wall mounted wrap and foil dispensers from Amazon:


Here's another similar one, shown by a reader. Luciana.
Join in and write your own page! It's easy to do. How? Simply click here to return to kitchen clutter.
Use Magazine Holders For Storing Plastic Wrap & Aluminum Foil Boxes
by Andi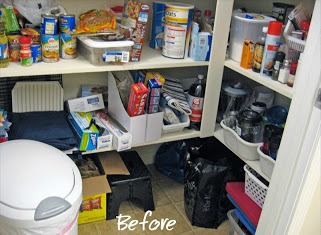 Before
Andi from
Crazy Daze Design
shared some before and after pictures of her pantry.
But what I noticed in one of the pictures is that she stores these items using magazine holders.
Several people have made this suggestion, but this is the first time I was able to show an example!
For example, Karen said, "I use a magazine holder to store my wraps and foil under my kitchen sink."
These are slim and just the perfect size for these types of boxes. An ingenious solution!
Here's another photo of one, submitted by a reader, Jacqueline. She said, "I loved the magazine file idea!"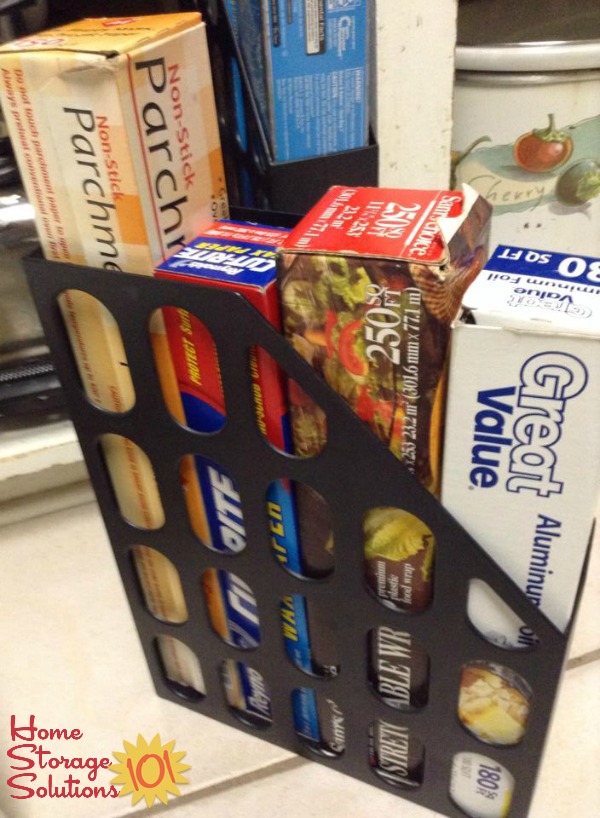 Join in and write your own page! It's easy to do. How? Simply click here to return to kitchen clutter.
Once You've Got A Wrap Organizer It Can Last For Years!
by Debbie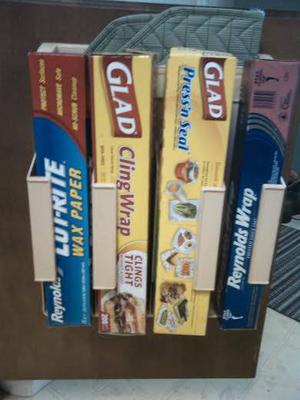 Debbie shared her picture of her wrap organizer on the Household Management 101 Facebook page as well.

She said, "I bought this thing probably back in the early 80s, but it still works fine. I just unscrew it and take it with me whenever I move.

It is so old that it has a big slot behind the wraps for paper grocery bags (place mats now).

It is screwed to the inside of a lower kitchen cabinet door."

I recently found, with the help of several readers, a similar wrap organizer on Amazon, made by Rubbermaid! (For some reason the preview picture doesn't show up, but it is the same type!)


Join in and write your own page! It's easy to do. How? Simply click here to return to kitchen clutter.
Reader Question: How To Organize When Limited Space In Kitchen?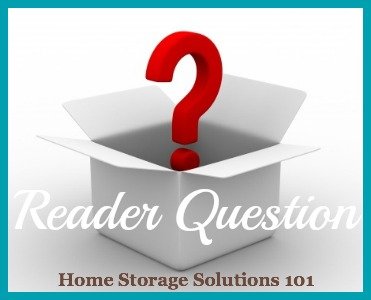 I got this reader question, which I posted on the site's Facebook wall, and got lots of great suggestions from readers. So I'm adding the collective wisdom here to this page to give even more ideas for everyone.


Reader Question:
I have very limited space in my apartment kitchen. Do you have any good ways to store long boxes of plastic wrap, foil, wax paper, and baggies?
I don't have many drawers, and my cabinets are already crammed full. Do you have any suggestions for wall storage? I have plenty of wall space lol!
Selected Suggestions From Readers:
Lindsey says: "I have the same problem. I purchased a metal over the cupboard door basket from Bed Bath & Beyond. It simply hangs on the inside of your cupboard door and has enough room for 6 rolls/boxes of baggies. I love it!"
Taylor's suggestion: I'm going to chime in here as well, because the other possibility is to add more storage to your cabinet shelves by adding an under shelf storage basket, such as the one shown to the right.
The one that is shown here is made by
DecoBros, and is available on Amazon.com
.
One of these shallow shelf baskets will work if you've got full cabinet shelves, but the items on those shelves don't go up to the shelf above. Basically this type of storage solution allows you to create more storage space in your cabinets!
Are You Inspired To Get More Organized?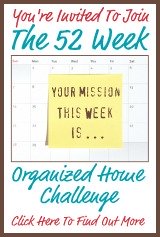 I hope these ideas help everyone organize their plastic wraps, baggies, and aluminum foil boxes in their kitchens.
The readers above tackled this organizational challenge as part of Week #2 of the
52 Week Organized Home Challenge
here on the site. I would love it if you'd join along and over the course of the year you can organize your whole home and life, room by room, item by item.
Plus, once you've done this decluttering and organizing mission I'd love for you to
share your before and after pictures with me here
.

Some links on this page are affiliate links, meaning that if you purchase a product through them I receive a small commission which helps me provide this information to you for free, plus support my family. My integrity and your satisfaction are very important to me so I only recommend products I would purchase myself, and that I believe would benefit you. To learn more please see my disclosure statement.
Related Pages You May Enjoy
Getting Clutter Free 15 Minutes At A Time Hall Of Fame
Free Printable January Declutter Calendar With Daily 15 Minute Missions
Go From Kitchen Wrap Storage & Organization Ideas To Home Page