Switch To Online Bill Payment To Reduce Bill Paper Clutter
Today's mission, as part of the Declutter 365 missions, is to switch to online bill payment for your regularly reoccurring bills, so that you can reduce the amount of bill paper clutter coming into your home, and the paper organization tasks necessary related to these bills.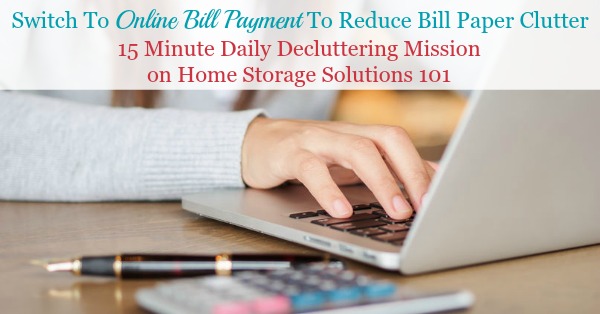 This task is designed to be done while we work on the Organize Bills Challenge here on the site, which is one of the 52 Week Organized Home Challenges.
No matter how you receive and then pay your bills, either with paper statements and written checks, or with electronic statements and online bill pay, you've got to pay them. There's no way to get around that. The money will leave your bank account and go into someone else's. Bummer.
However, if you feel like you're drowning in paper clutter, getting rid of some of the paper that comes into your home regularly can help you feel more in control, and reduce the overall amount of paper you've got to manage and organize.
That's one of the many reasons that so many people are switching from paying bills with checks, and getting paper statements, to instead paying their bills online. You should consider it too.
Advantages Of Online Bill Payment
I already mentioned one of the big draws to paying your bills electronically, which is a reduction in the amount of paper clutter entering your home.
In addition, here are some more ways that electronic bill pay is awesome:
No stamps
No envelopes
No post office
No more checks
Available 24 hours a day
Can often set up automatic payments
Set up lots of notifications so less likely to forget to pay a bill, or incur a late fee
Caution: Paying Bills Electronically Is NOT Set It And Forget It Completely
After touting the many benefits of switching to paperless bill payment, I feel the need to caution that this method is NOT one where you can completely set it up and forget about it from now on.
Doing this task online can simplify the bill paying process significantly, and save you time and money, BUT you're still going to have to put some time and thought into paying bills, and dealing with your finances, even using an online payment system for most bills.
First, I recommend only setting up online and automatic payments for bills you receive regularly, such as utility bills, phone bills, credit card bills, and similar bills that you receive at least monthly or quarterly.
There's often no reason to go through the hassle of setting up the online payment system for a bill you receive once, so in such situations just writing a check and mailing in the payment makes a lot more sense.
Second, even for bills you pay regularly using this paperless system, you still need to do some tasks to make sure everything works according to plan, including that you have enough money in your bank account to cover the payment, that the amount billed is right and you're not being overcharged, that the payment was made, that it was received, what the balance of your bank account is after the payment is taken out, and to stop any payments for services you've decided to cancel.
These tasks can be pretty simple to accomplish, and some of them only take a quick glance at your screen, or a few taps of a mouse or touch screen, but you do have to do them, regularly and consistently, just like when paying paper bills. That's why, even with switching to this method you will still need to do your weekly paperwork session (although it may be shorter than if you pay bills with hand written checks).
How To Transition From Paper Bills To Online Payments
If you decide you want to get rid of some of the bill and paper clutter in your home, and switch to online bill payment, switching over does take some work, although it's not too difficult.
I suggest that you first choose an online bill payment system that can be your one stop source for paying most, if not all, of your bills, instead of logging into each of your accounts separately.
These days most banks have such an online payment system in place, and as an account holder they've most likely already got a login for you, as well as many provide at least a set number of free transactions each month. Therefore, check first with your bank about their payment system, since it will most likely be the easiest and most convenient way for you to set everything up.
After choosing the payment system you'll use for paying these bills, the next step is to set up each of the accounts you pay to regularly. To keep this from being overwhelming I suggest that you set up just a few at a time, such as the accounts you're getting ready to pay in that week's paperwork session.
To the extent that you need to set up logins and passwords for various accounts as part of this process make sure that you properly record that information in either a paper password organizer, or an electronic password keeper, so that the next time you need to login it's a simple process for you.
In addition, make a note somewhere, perhaps on your bill organizer form, if you set up the payment to be automatic, or if you need to do some additional task each month for it to be paid. That way you make sure it gets paid, and that you've added enough money to the account to cover the payments that will come out of it, so you don't have any overdraft fees or failed payments.
Also, set up email notifications for yourself at the appropriate intervals, that may include to let you know when a bill is received by you, a reminder that it is coming due soon, and perhaps when it is marked as paid by the business or service (so you can save that digital receipt in your digital filing system).
Finally, once you set up an online payment for an account make sure that you opt-out of receiving the paper bill (if you don't want to receive it anymore) so that your goal of getting rid of excess paper clutter is acheived.
If each week, for about a month, you take these steps to set up an online payment system for the few bills that are coming due that week, by the end of the fourth week you'll have set up the majority of your regularly occurring payments into an online bill payment system. Therefore, by the next month you can say goodbye to most envelopes and stamps for good, as well as have stopped a large amount of excess paper from entering your home!
When Using Online Bill Payment Make Sure Your Digital Filing Cabinets Are Organized
I will caution that when you set up automatic or online bill payment methods it's even more important to make sure your email inbox and computer files are organized, because now you're doing some of your financial interactions using these "digital filing cabinets" instead of your paper filing cabinet.
We will work during the Organize Email & Digital Information Challenge to organize these areas, but here are two of the articles and missions that address organizing your email inbox and your computer files, if you want to take a sneak peek now.
Here are tips for organizing your email account using folders.
In addition, here is how to organize computer files on your home computer.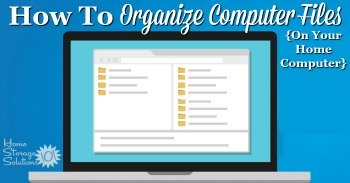 Are You Ready To Declutter Your Home?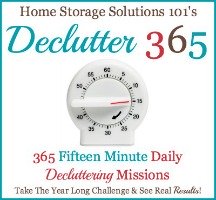 I hope this mission has inspired you to take some proactive steps to stop some of the paper and bill clutter coming into your home in the first place, from now on.
When you begin to declutter the feeling you get is contagious, so if you're loving the results you're getting I would encourage you to keep going.
I've got a whole series of 15 minute decluttering missions (eventually 365 of them!) that you can do.
Just pick and choose the ones you want to do, that will make a big impact in your home. But if you want someone else to tell you the order you can also grab the 15 minute daily decluttering mission calendars and follow along as we all get our homes clutter free together!
And what if you do use personal checks for bill payment, still, and want to continue? That's fine, you do what works for you! Just make sure to check out my article about where to order checks online, for my recommendations and what company I use for my checks.