Declutter Food Storage Containers: 15 Minute Mission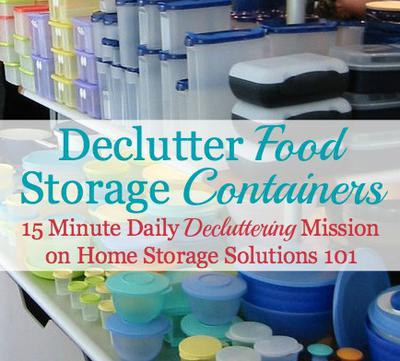 Today's decluttering mission is to declutter excess food storage containers.
Obviously, don't get rid of them all, you need to be able to save your leftovers and other food items.
But if you're afraid a huge pile of them will fall out each time you open up a cabinet or the drawer won't close well because it is so stuffed with them you most likely have too many.
You know, if it looks something like this: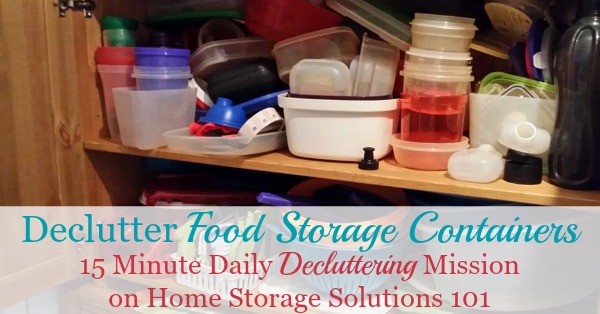 I want to thank a reader, Tanja, for being game to show her plastic containers, when asking for help on how to get control over them.
What's The Right Amount Of Containers To Keep?
Keep a reasonable amount only -- enough to hold the amount of leftovers you and your family actually eat before they go bad, for example. That is a week's worth of containers, or less.
Which Containers Should You Get Rid Of?
Prime items to declutter are those containers which are warped or stained badly, or that don't have lids (or lids that don't have containers anymore).
In addition, if you've got a lot keep the quality stuff, not the junky ones.
Special Note About Re-Used Food Containers, Like Margarine Containers
And also a word on food storage containers like old yogurt and margarine containers, etc.
Yes, these can be good to use, in moderation, and are cheap since you already bought them with whatever food item you got.
The danger, however, is that you save every. single. one. of. them.
That is too
much! Once you have a reasonable amount, no more than a week's worth to use for leftovers, just like the criteria above, then begin to toss (or recycle) the rest.
If one begins to look bad, or becomes damaged, just toss it and then the next time you empty another such container, just save that one.
Once you get it decluttered down to a reasonable amount
practice the one in, one out rule
to keep these containers from slowly re-accumulating and becoming a big mess again.
What To Do With Containers You're Decluttering
There are many things you can do with these containers, and I'd love to hear more of your ideas for them in the comments.
As much as possible, try to recycle your containers, to the extent that is possible, and they cannot be reused by someone else.
But typically, unless you've got a full set in extremely good condition, it is not worth your time to try to sell these, at least in my experience.
So consider donating them. I'd love to hear your ideas of where to donate them in the comments below, to help anyone that's stuck trying to figure out a good place.
Make sure anything you donate has both has a matching lid and container though, otherwise you're not donating something useful, which is a big no no!
Below I've shown some of the pictures shared by readers who've done this mission, showing their before and afters for inspiration for you. So let's cheer these participants on!
Top photo courtesy of Jeroen
Join in and write your own page! It's easy to do. How? Simply click here to return to kitchen clutter.
I Got Rid Of All The Containers That No Longer Had Lids
by Ferris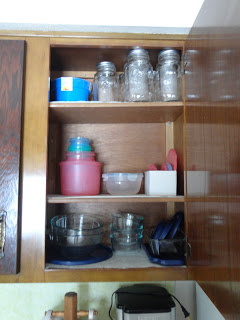 After
The Hamman Family Blog
shared before and after pictures of her plastics cupboard.
She said of the after picture: "The middle shelf is my plastic containers and what I did with these was make sure they all had matching lids before I "saved" them.
If they didn't, in the trash they went. (Well, until I knew that I didn't need them for anything)
So the lids are in a small box to the right. That is where they will go after they are washed.
(I have a ton more plastic containers but think about the time of the year... my refrigerator is filled with them! I know those all have lids though!)"
Join in and write your own page! It's easy to do. How? Simply click here to return to kitchen clutter.
I Got Rid Of All The Lids That Didn't Have Containers!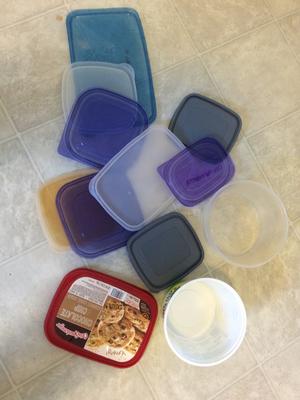 Jennifer had the opposite problem that Ferris had. She found all kinds of lids that didn't have the container anymore, so she got rid of all those extra lids instead.

She said, "Here's the missing extra lids I stole from all of you. Lol."

Similarly, another reader, Jenni said, "Somehow I had this many lids without matching containers. They all go to the recycling bin. There's a lot more room in my cabinet now."


Join in and write your own page! It's easy to do. How? Simply click here to return to kitchen clutter.
Went From Three Cabinets Worth To Just One!
by Jan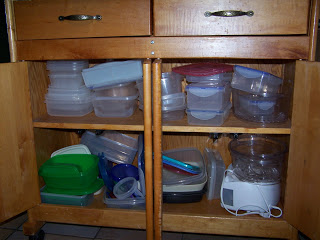 Before - 1
Jan from The Crafty Mermaid's Grotto shared these before and after pictures of how she stores all these plastic food storage containers.

Basically, she needed to do a major purging, because she had three cabinets worth of them.

She said of the first before picture, "Underneath is one of my plastic container storage places. I have three! I can't believe that the plasticware has spread out that much! Definitely needing a purge there."

Of the second before picture she said, "This is under the microwave cart. It is the only spot where that spinning plastic storage set will fit."

Finally, of the third before photo she said, "Here is the third plastic storage cabinet. This one, we had put a pull out three-tiered basket to hold the lids. Well my plastic container collection had grown so much over the past few years that not all the lids fit in that basket anymore. It will be repurposed."

Of the after picture she explained, "I purged a lot of plastic containers. I only kept the more expensive ones that were still in good shape, and a handful of the Ziploc disposable ones. I have all my plastic containers except the spinning rack in this cabinet. I bought those red file folder containers from Target's dollar section to hold all the lids."

Similarly, another reader, Kelly, down-sized her collection as well, choosing what to keep versus to recycle: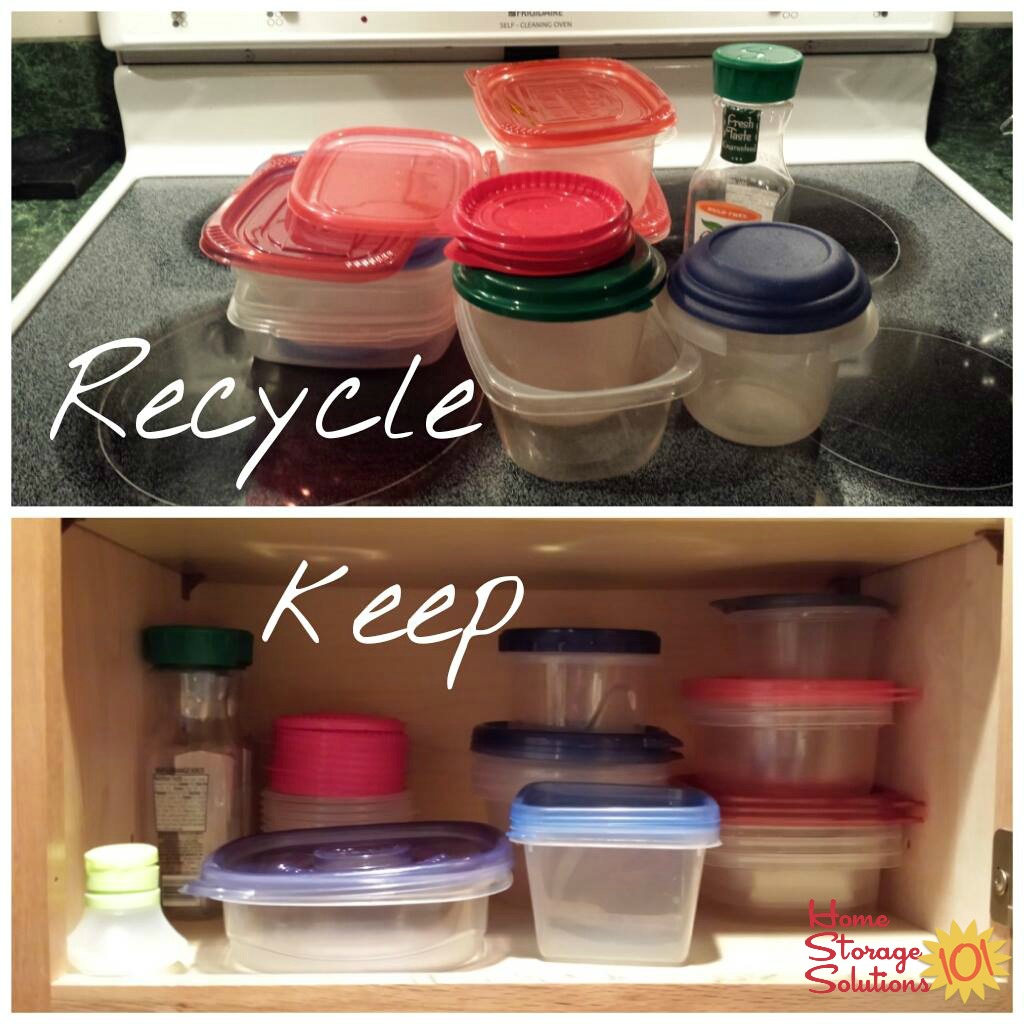 Join in and write your own page! It's easy to do. How? Simply click here to return to kitchen clutter.
Plastics Cupboard Winnowed Of Some Containers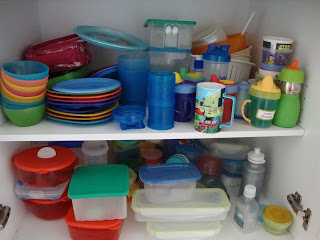 Before
Bec from 2012 - The Year of Challenges shared the before and after of her plastics cupboard.

She did a great job, don't you think?

Here's another photo, this one from a reader, June, who explained, "Here's the pic of the items from the food storage containers' cabinet that were in excess."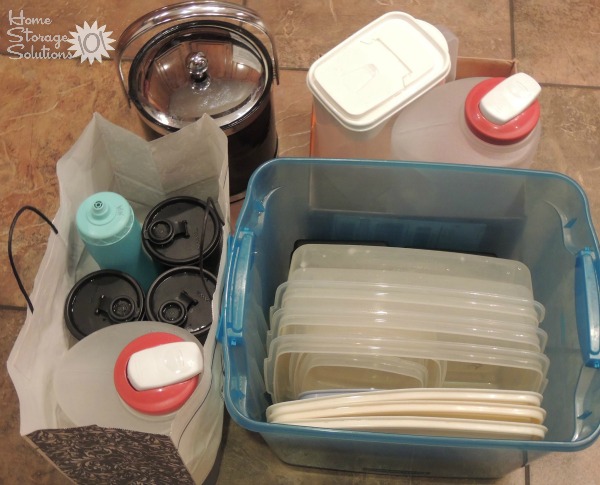 Want To Do More Decluttering Missions? Get Started With Declutter 365 Today!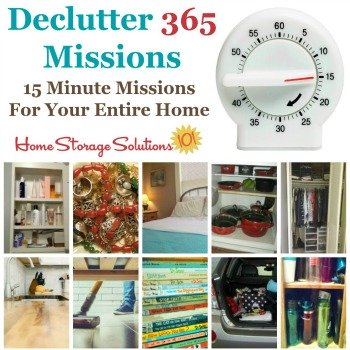 Once you declutter one type of item in your home I bet you'll want to declutter some more. After all, decluttering gives you a great reward for even a small investment of time and energy.
The Declutter 365 system is designed to help you declutter, over the course of a year, your entire house, with just 15 minutes of decluttering each day!
Hundreds of thousands of people use this proven system to get rid of their clutter, and bring peace and calm back to their homes.
Declutter 365 works to guide you to clear the clutter without overwhelm, focusing on just one small area at a time, and without making a huge mess in the process, so you see consistent forward progress without all that "messy middle" that makes it even harder to function in your home than before you started.
In addition to building a daily decluttering habit, the Declutter 365 program, along with the accompanying 52 Week Organized Home Challenge, teaches you the skills, habits, routines, and mindsets necessary to maintain the clutter free and organized state of your home from now on, so it'll never be as messy and cluttered as it is right now, ever again.
If you haven't already, make sure to get your copy of this year's Declutter 365 annual calendar here (it's FREE!), find today's date, and do 15 minutes of decluttering on the day's mission. Then, repeat again tomorrow, and again and again. Over the course of the next year, if you do this 15 minutes per day, you'll declutter your whole house!


Bottom before and after photos courtesy of a reader, Kerry
Related Pages You May Enjoy
Getting Clutter Free 15 Minutes At A Time Hall Of Fame
Getting Rid Of Kitchen Clutter Hall Of Fame
Kitchen Drawer & Cabinet Organization Challenge
Go From How To Declutter Food Storage Containers To Home Page