Declutter Food Storage Containers: 15 Minute Mission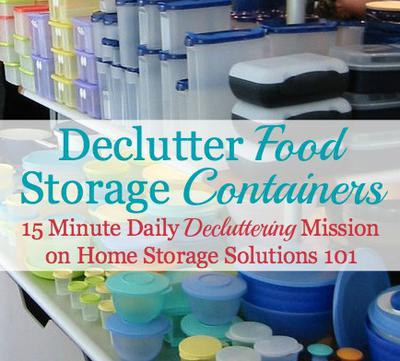 Today's decluttering mission is to declutter excess food storage containers.
Obviously, don't get rid of them all, you need to be able to save your leftovers and other food items.
But if you're afraid a huge pile of them will fall out each time you open up a cabinet or the drawer won't close well because it is so stuffed with them you most likely have too many.
You know, if it looks something like this: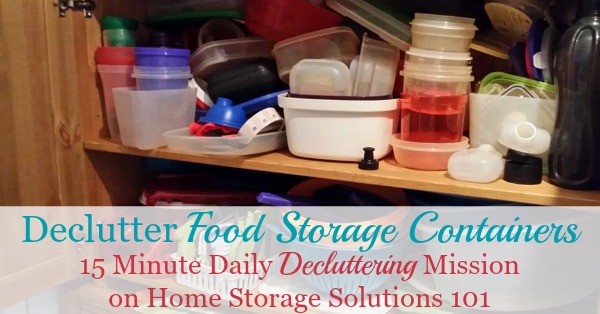 I want to thank a reader, Tanja, for being game to show her plastic containers, when asking for help on how to get control over them.
What's The Right Amount Of Containers To Keep?
Keep a reasonable amount only -- enough to hold the amount of leftovers you and your family actually eat before they go bad, for example. That is a week's worth of containers, or less.
Which Containers Should You Get Rid Of?
Prime items to declutter are those containers which are warped or stained badly, or that don't have lids (or lids that don't have containers anymore).
In addition, if you've got a lot keep the quality stuff, not the junky ones.
Special Note About Re-Used Food Containers, Like Margarine Containers
And also a word on food storage containers like old yogurt and margarine containers, etc.
Yes, these can be good to use, in moderation, and are cheap since you already bought them with whatever food item you got.
The danger, however, is that you save every. single. one. of. them.
That is too
much! Once you have a reasonable amount, no more than a week's worth to use for leftovers, just like the criteria above, then begin to toss (or recycle) the rest.
If one begins to look bad, or becomes damaged, just toss it and then the next time you empty another such container, just save that one.
Once you get it decluttered down to a reasonable amount
practice the one in, one out rule
to keep these containers from slowly re-accumulating and becoming a big mess again.
What To Do With Containers You're Decluttering
There are many things you can do with these containers, and I'd love to hear more of your ideas for them in the comments.
As much as possible, try to recycle your containers, to the extent that is possible, and they cannot be reused by someone else.
But typically, unless you've got a full set in extremely good condition, it is not worth your time to try to sell these, at least in my experience.
So consider donating them. I'd love to hear your ideas of where to donate them in the comments below, to help anyone that's stuck trying to figure out a good place.
Make sure anything you donate has both has a matching lid and container though, otherwise you're not donating something useful, which is a big no no!
Below I've shown some of the pictures shared by readers who've done this mission, showing their before and afters for inspiration for you. So let's cheer these ladies on!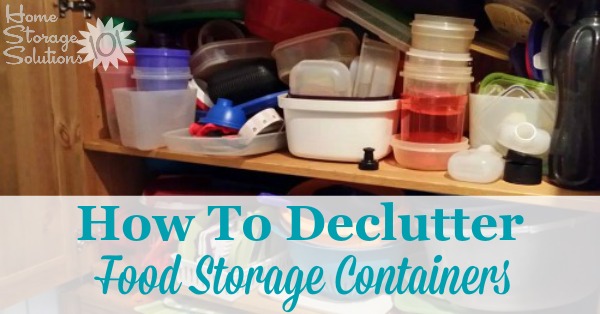 Top photo courtesy of Jeroen
I Got Rid Of All The Containers That No Longer Had Lids
by Ferris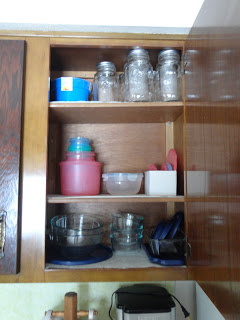 After
The Hamman Family Blog
shared before and after pictures of her plastics cupboard.
She said of the after picture: "The middle shelf is my plastic containers and what I did with these was make sure they all had matching lids before I "saved" them.
If they didn't, in the trash they went. (Well, until I knew that I didn't need them for anything)
So the lids are in a small box to the right. That is where they will go after they are washed.
(I have a ton more plastic containers but think about the time of the year... my refrigerator is filled with them! I know those all have lids though!)"
Plastics Cupboard Winnowed Of Some Containers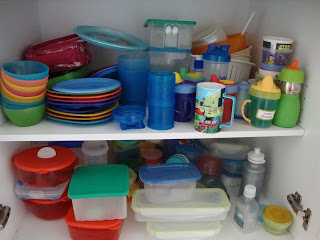 Before
Bec from 2012 - The Year of Challenges shared the before and after of her plastics cupboard.

She did a great job, don't you think?

Here's another photo, this one from a reader, June, who explained, "Here's the pic of the items from the food storage containers' cabinet that were in excess."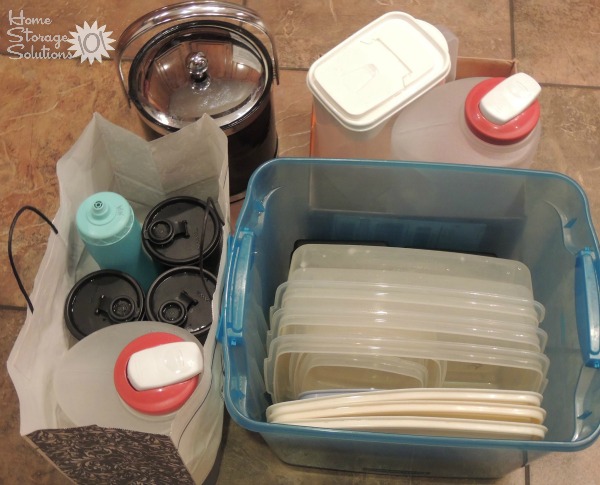 Are You Ready To Declutter Your Home?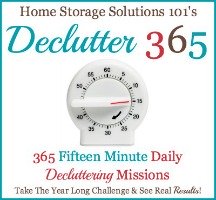 I hope seeing these pictures has inspired you to declutter your own food storage containers.
When you begin to declutter the feeling you get is contagious, so if you're loving the results you're getting I would encourage you to keep going.
I've got a whole series of
15 minute decluttering missions
(eventually 365 of them!) that you can do.
Just pick and choose the ones you want to do, that will make a big impact in your home. But if you want someone else to tell you the order you can also grab the
15 minute daily decluttering mission calendars
and follow along as we all get our homes clutter free together!

Bottom before and after photos courtesy of a reader, Kerry
Related Pages You May Enjoy
Getting Clutter Free 15 Minutes At A Time Hall Of Fame
Getting Rid Of Kitchen Clutter Hall Of Fame
Kitchen Drawer & Cabinet Organization Challenge
Go From How To Declutter Food Storage Containers To Home Page