How To Make A Personalized Daily Cleaning Checklist For Your Home
Today's mission is to create a personalized daily cleaning checklist for yourself, that will be one of the two major components of your house cleaning schedule.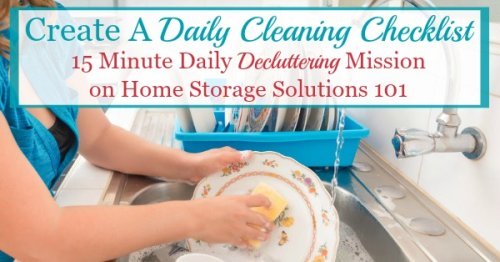 The other major component of your cleaning schedule are your weekly tasks, and we'll work on making a plan for those tomorrow (see the link for that mission at the bottom of the article).
When you combine the daily and weekly tasks together, to make the full cleaning schedule, (and the most important step -- you follow the plan you've made) your home will be relatively clean, most of the time, with a lot less time spent cleaning than you might think. When you clean regularly, it really doesn't take as long!
But let's not get ahead of ourselves! Focus only on one task at a time, and today you're making your daily cleaning checklist. This is piece of paper that you can reference each day to check off the few tasks that are so vitally important they need to be done every single day in your home.
We're doing this mission as part of the Create A House Cleaning Schedule Challenge, which is one of the 52 Week Organized Home Challenges here on the site, so make sure to check out the challenge article for the big picture if you haven't already.
Making this daily checklist is actually quite simple, because although I think you should personalize your checklist for yourself, the daily cleaning tasks you should do are fairly universal for everyone, so I've done a lot of the deciding for you already.
There are also not very many of these daily tasks, because you don't want to assign yourself too much to do every single day or you'll get overwhelmed or be unable to accomplish it all.
The "Core 5" Daily Cleaning Tasks
Here are the 5 simple things I think you should put on your daily cleaning checklist (I call them the "core 5")
Kitchen clean up (after each meal)
Make beds
Reference your laundry schedule for the day, and do that task
Quick wipe down of bathroom sinks and tubs after use
Put away things, and tidy
(Note, if you want a more comprehensive list of all the daily kitchen tasks check out the daily kitchen cleaning checklist here, and for a more comprehensive list of the daily bathroom tasks check out the bathroom cleaning checklist here, which has a section devoted to daily tasks.)
In addition, if you want more information about the daily tidy up routine, check out this article below: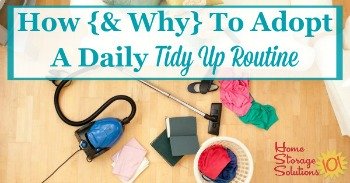 Possible Additional Daily Tasks, Including Household Chores That Aren't All Technically Related To Cleaning
You can, of course, add even more things to your personalized daily cleaning routine in addition to the core 5 tasks, to make sure you list meets the unique needs of your household, although I caution you not to add too many.
In addition, there are a few tasks you should do daily, but they're not technically cleaning tasks, so I hesitated to add them to this list. However, we'll focus on adding some of these daily tasks to our overall daily schedule as we get to these topics throughout the 52 Week Organized Home Challenge, so I'm mentioning some of them here in case you want to add them now.
These include:
Also note that the daily cleaning checklist is how I integrate the daily cleaning tasks in your home with the laundry tasks you also need to do, that we focused on last week in the Laundry Organization Challenge. You do this by referencing your laundry schedule each day. This works best for people who do laundry daily. If you decided last week to do laundry less frequently you may want to add those laundry tasks to your weekly cleaning schedule tomorrow, instead.
Finally, for a more in depth look of why I've included these tasks in my core 5 list, and also listed some of the additional daily household chores we'll focus on making daily habits in other missions, check out my article about the 8 essential daily household chores (which includes a free printable checklist).
Use This Free Printable Cleaning Schedule For Daily & Weekly Cleaning Tasks
I have created a printable cleaning schedule that you can fill out and use to make your own daily cleaning checklist for this mission. The same printable will also be used tomorrow as we work on the weekly tasks for your schedule.
For your convenience the printable already includes a list of the core 5 daily tasks, and has a couple lines where you can add a few more personalized tasks if you wish.
You can go ahead and grab it here: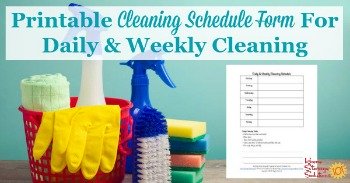 In addition, once you fill out that scheduling form, if you want to go ahead and also do your weekly schedule, you can read the article about how to make a weekly cleaning schedule here.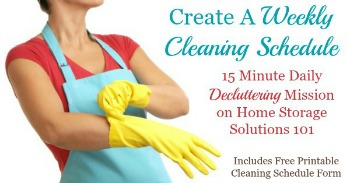 Examples Of Personalized Daily Cleaning Schedules Shown By Readers
While I've provided a printable above that you can use to complete today's mission, you certainly are not required to use it because I want your daily schedule to be personalized for you, however you want.
Therefore, here are several more examples of daily cleaning routines as shown by readers who've already created one to complete this mission, some of which also show how the daily and weekly tasks are combined on one page for easy reference.
This first example, below, is from a reader, Karen. As you can see she typed her own list, printed it out and stuck it on her refrigerator for easy reference. She said, "SUCCESS! I figured out a daily chores schedule and typed it up. I put it in a page protector, hung it on the fridge, and checked off the completed tasks with a dry erase marker. It is 10Pm, but every task is checked off!"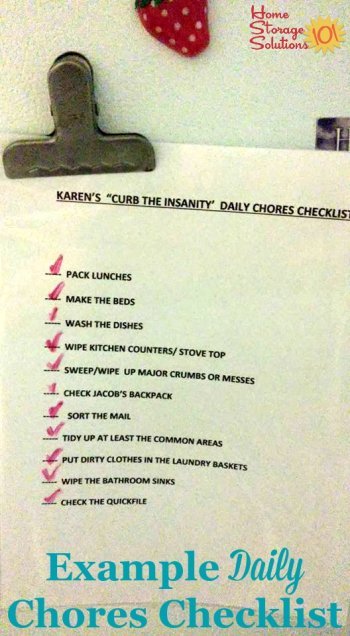 This next example is from another reader, Sarah. She stated, "I put mine on an index card and laminated it. That way it's smaller and I can keep it by my command center and reuse it everyday."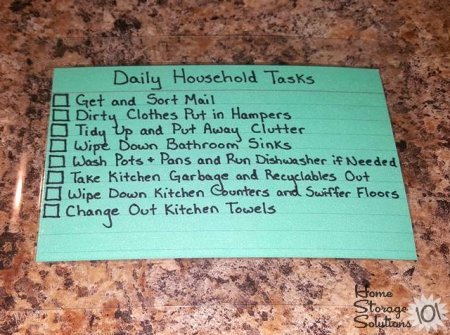 Another example comes from a reader, Anne. As you can see her daily tasks and her weekly tasks are both listed on the same page. She also placed her schedule within her household notebook.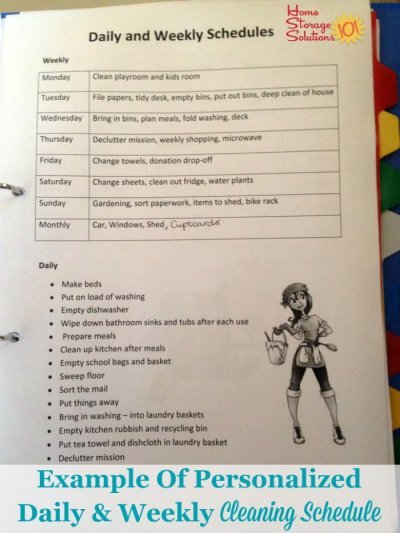 Finally, here's an example from another participant of the Declutter 365 missions, Clare. She also typed her personalized schedule that includes both weekly and daily tasks on her computer, and provided this screen shot.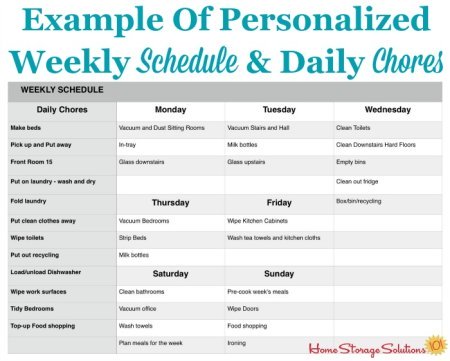 I hope these resources, including the printable schedule I've provided, and well as these examples from other readers, have you ready to tackle today's mission.
Once you get your daily schedule written out, the next step is to give the daily cleaning schedule you decide on a try, so today I also want you to do everything in the Core 5 list, and anything additional you've chosen to add, and see how it works for you in your own home!
Want To Do More Decluttering Missions? Get Started With Declutter 365 Today!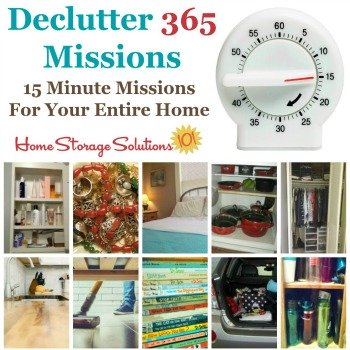 Once you declutter one type of item in your home I bet you'll want to declutter some more. After all, decluttering gives you a great reward for even a small investment of time and energy.
The Declutter 365 system is designed to help you declutter, over the course of a year, your entire house, with just 15 minutes of decluttering each day!
Hundreds of thousands of people use this proven system to get rid of their clutter, and bring peace and calm back to their homes.
Declutter 365 works to guide you to clear the clutter without overwhelm, focusing on just one small area at a time, and without making a huge mess in the process, so you see consistent forward progress without all that "messy middle" that makes it even harder to function in your home than before you started.
In addition to building a daily decluttering habit, the Declutter 365 program, along with the accompanying 52 Week Organized Home Challenge, teaches you the skills, habits, routines, and mindsets necessary to maintain the clutter free and organized state of your home from now on, so it'll never be as messy and cluttered as it is right now, ever again.
If you haven't already, make sure to get your copy of this year's Declutter 365 annual calendar here (it's FREE!), find today's date, and do 15 minutes of decluttering on the day's mission. Then, repeat again tomorrow, and again and again. Over the course of the next year, if you do this 15 minutes per day, you'll declutter your whole house!