Kitchen Garbage Cans: Pros & Cons Of Varieties
The choice of kitchen garbage cans in your home is important since you and your family will use it everyday, over and over. Here's things to consider before purchasing one, plus my tips for the type to never ever buy.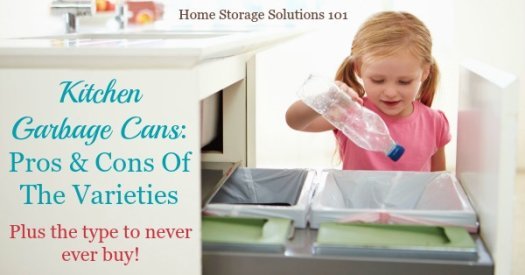 Why Is This Even Important?
You may be wondering why this is even an important thing to think about, and some people will just never be convinced. But I'll tell you from experience after buying a trash can that I absolutely detest that it is actually a big deal.
When you use something every day and it doesn't suit your needs you bet you really begin to think about what you should have done differently!
Don't make the mistake I made. Think through your needs for your garbage can(s) once, and then just be happy with your choice from then on, because this is not the kind of purchase you make often. Instead, one garbage can can last for years and years, so make it the best choice for you!
Things To Consider When Choosing Your Kitchen Trash Can
Here's some basic considerations when choosing your trash can:
Size: Large Or Small?
The first thing you need to consider is the size kitchen garbage can that will work best for you.
You know what space is available in your kitchen, but you also need to think about your habits. Because when it comes to garbage cans, bigger isn't always better, but smaller can be a pain to empty too frequently.
Ideally, you want to find that happy medium where you don't feel like your trash can needs to be emptied all. the. time. On the other hand, a huge can that you don't fill up relatively quickly can start to smell and be an attraction to pests.
I suggest taking your garbage out each evening from your kitchen, so at least for me, the ideal is a garbage can that gets mostly full (but not overflowing) by the end of the night, for your daily emptying.
The typical range for freestanding garbage cans is between 10-13 gallons, while some that are hidden inside cabinets or built in can be smaller, such as 7 or so gallons.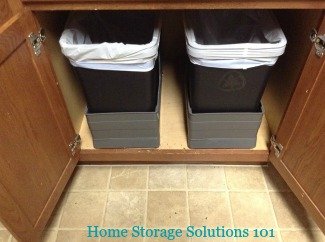 Photo courtesy of a reader, Tamara
Combined With Recycling Or Separate?
Obviously everything in your kitchen you decide to dispose of is not trash. So you also have your recycling container to consider when deciding on your kitchen garbage can.
You can either keep these items separate, or together. There is no right or wrong, but if choose to keep them together it can impact the type of container you choose, for size and shape.
Visible Or Hidden?
You'll also need to decide if you want your kitchen trash cans to be visible or hidden.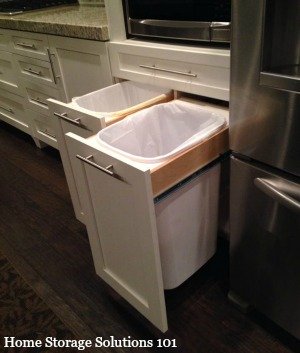 Photo courtesy of a reader, Cindy
What I mean by hidden is if you want them either inside a cabinet, such as under your sink, or built into pull out drawers such as underneath your countertops.
There's something to be said for both choices, and again, there is no right or wrong, just your preferences and what your kitchen can accomodate.
Obviously, if you choose something hidden you're making a compromise not to use that space for something else, such as storage of other kitchen items.
On the other hand, having your trash can visible may not be visually appealing. However, you can mitigate that somewhat since there are some very attractive trash cans available.
In addition, personally I feel that all kitchen trash cans that are visible should have a lid, so you can't see the garbage all the time.
All Garbage Cans For The Kitchen Must Be Solid & Washable
Some wastebaskets, such as you see in a home office, may be mesh or wire, for example. That's fine when you plan to only throw away dry paper goods in such a container.
On the other hand, despite taking precautions and using trash bags to line the bins in places like the kitchen the trash can be wet and leak. Therefore, no matter what kind of can you choose, make sure it doesn't let leaks go further if the bag leaks, and that it is washable.
Here's The Types To Choose From
Once you've considered these basic issues above about the type of cans or bins you want, now you've got to choose a type.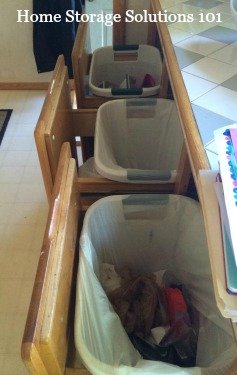 Photo courtesy of a reader, Angie
Pull Out Bins Built Into Cabinet Or Under Counters
Pull out trash bins under counters are typically custom built, and something you need to choose either when you build your house, or remodel your kitchen. Or perhaps when you moved into your home the kitchen already came that way.
If you've got enough storage space to sacrifice some of it for this purpose these can be really great. Typically the bins you choose for these are a standard size, and do not have lids.
You can easily have both trash and recycle containers right together with this arranement, and of course it is all hidden from view.
The size of these bins though can be a bit smaller to fit within the space available, so it is something to keep in mind.
Hanging Inside Cabinet
If you want garbage cans which are hidden from view, but don't have custom pull out bins this is another possibility. The most common place for these is inside the cabinet under the kitchen sink.
If you hang such a trash can on the door of the cabinet you can still use your cabinet space inside for other items.
The con is that these are pretty small bins so you'll have to empty it quite frequently.
Unlidded Trash Can
You can also place a small, unlidded trash can inside a cabinet, not hanging. Again, typically these are found inside the cabinet under the kitchen sink.
I do not suggest unlidded trash cans be visible in your kitchen, but always hidden away.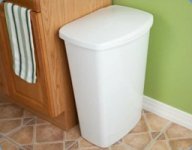 Lift top garbage can
[Click here to purchase on Amazon]
Lift Top
The rest of the types of kitchen trash cans listed below are all typically visible, and therefore have lids. Lids make it more attractive, but you have to consider how you're going to open the lid when your hands are potentially full of garbage.
One possibility is the lift top garbage can, where you manually lift the lid, which is typically hinged, to drop in your trash. Simple, and very few mechanical parts to break.
Swing Top -- Never Ever Buy This Type!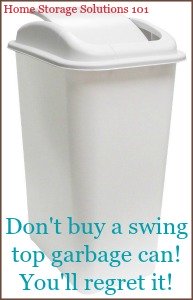 Photo courtesy of Amazon.com
The next type of trash can has a swing top lid, where you push the lid down and one side goes down, while the other side goes up. In theory you should just then drop your trash down inside the bin. Trust me, it doesn't work like that at least half the time!
This is the type of trash can I bought when my step on lidded trash can finally broke. I really didn't want this type, I instead planned to buy a step on, but it was the only type at the store I bought it from. Against my better judgment I bought it instead of just going to another store and I regretted it almost immediately.
The reason is that once the trash can is half way or more full you can't actually push the lid down very far, because trash gets in the way. This means half the time I have to completely take the lid off to put in trash, completely defeating the purpose of even having a swing top lid.
In addition, the top of the lid often gets dirty, especially with kids, who push down on the lid and drop their trash in there and it smears down the side of the lid before falling into the trash can. Yuck!
Trust me when I say, avoid this type of kitchen garbage can! Do not buy one, and as I write this I realize that I am being way too frugal and I should just buy a new trash can. I probably will, because there is no need for me to feel this aggravated all the time!
Step To Open Lid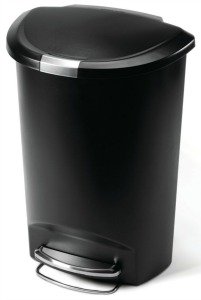 SimpleHuman step trash can
[Click here to purchase on Amazon]
That leads me to the next type of kitchen trash bin available, which is one with a step on lever to open the lid. This is the kind I had before, and probably what I will personally get again.
These step on varieties are superior to the lift lids in my opinion since you don't have to use one of your hands, which might be full of kitchen refuse, to open the lid to dump stuff in there.
Eventually the step on mechanism may break. Almost anything mechanical runs that risk with constant use, but the plastic varities of these trash cans aren't really that expensive.
I might go with a stainless steel finish, or something else a bit more high end (I've always just had white plastic before) for this purchase though, since they now offer models which are quite sleek and dare I say, for a trash can, pretty.
Touch Free To Open
The final type of bins are the lidded ones which open touch free, just by using a sensor. These are only found with the really fancy brands, such as SimpleHuman, and while in theory I love them I guess I personally feel like it is more likely to break with time.
Plus, who wants to change the battery on their garbage can, for the sensor?
You can disagree with me about the touch free varieties though. Clearly they sell a lot of them, so tell me below in the comments which type of kitchen garbage cans you think are the best and why!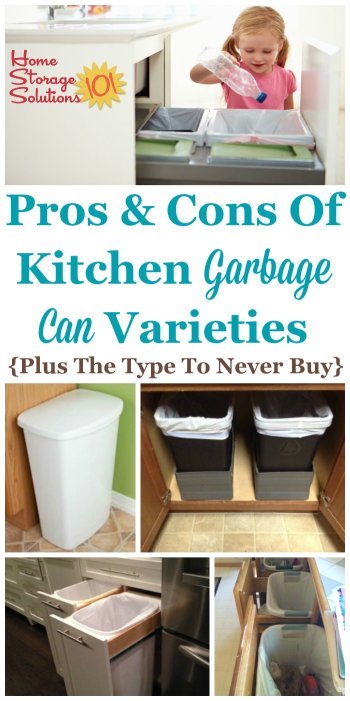 Some links on this page are affiliate links, meaning that if you purchase a product through them I receive a small commission which helps me provide this information to you for free, plus support my family. My integrity and your satisfaction are very important to me so I only recommend products I would purchase myself, and that I believe would benefit you. To learn more please see my disclosure statement.