5 Laundry Room Decor Ideas
Today's mission is to add fun laundry room decor to the space in your home you work on laundry.
The reason for including this task is because if you're going to have to spend a lot of time working in the room, doing a task that for many isn't their favorite, creating a fun and pleasant environment to do these tasks in can make it a lot easier, and more bearble.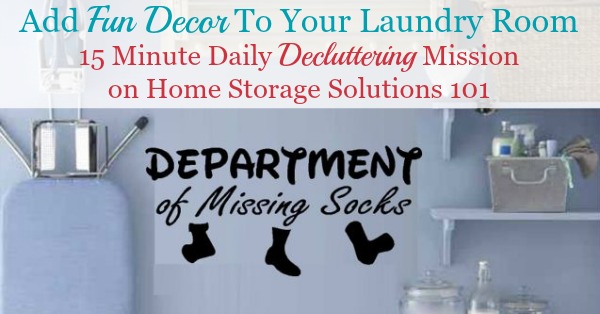 So below I've gathered 5 different types of ideas for laundry room decorations you can choose from. Of course, the sky is really the limit, and you can do whatever you want, but this will hopefully give you some good ideas to get your imagination going. There's a mix of both fun and cute ideas, mixed with more practical ones as well.
1. Cute Laundry Signs & Vinyl Decals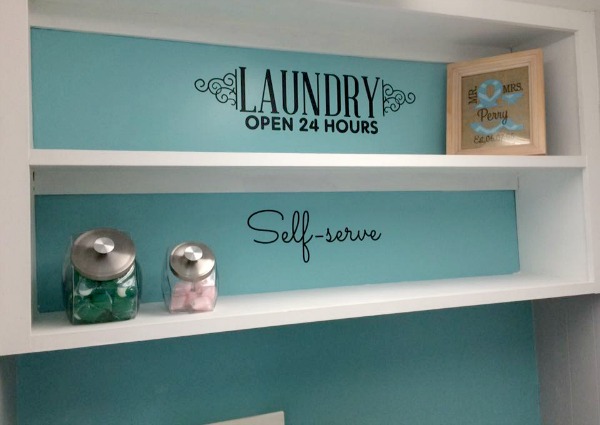 One of the easiest ways to bring a little fun into your laundry room is with a variety of vinyl wall decals and laundry related signs.
There are a lot of them available these days, and a reader, Julie, sent in this photo above of her laundry room which uses some.
In addition to the signs, also notice the pretty color she's painted on her wall, which is something that can also make the space so much cheerier.
You can check out a wide variety of laundry related vinyl wall decals and signs here, on Amazon.
In addition to wall decals, there are lots of cute laundry signs to choose from, like this one about your laundry schedule.
2. Ways To Collect Your Lost Socks
It always seems like a sock or two gets misplaced or lost while doing laundry. One idea for keeping track of them is using a laundry sock basket, and you can read my article about that at the link.
However, another method for keeping track of these socks is to use a missing sock sign, where you have both a cute decoration in your laundry room that also serves a functional purpose.
You can check out lots of different missing sock signs here, on Amazon.
3. Collecting Loose Change & Other Stuff In Pockets
Another common laundry issue is the need to check pockets before washing clothes, to avoid laundry disasters. One of the things you often find in pockets is money, so you can add a laundry change jar to your room which serves both a decorative function, as well as has a practical use.
You can see several ideas for laundry change jars here on the site.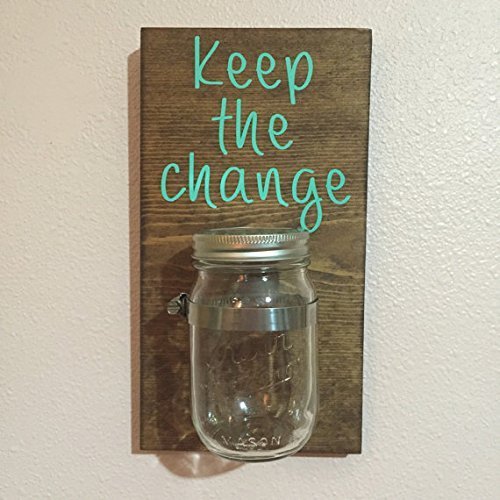 Click here to purchase sign
4. Laundry Detergent Storage Containers
You need to store your laundry supplies within your laundry room, but who says you're stuck with the ugly containers they come in? Instead, you can use prettier containers to hold things like your laundry detergent, or other supplies, for use.
I will caution, however, with this decorative idea, that you should always keep safety in mind. If you've got small children or pets in your home, it may be better to keep these items behind child-proofed cabinet doors, or somewhere else they will not be able to easily get into them.
However, if you don't need to worry about those safety concerns, here's some containers you could use: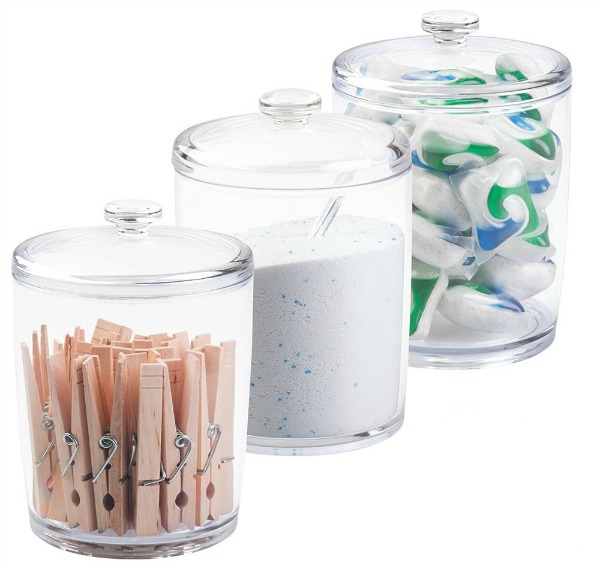 Click here to purchase these containers
5. Laundry & Stain Removal Informational Charts
Finally, your laundry room is where you get your laundry done, and there are some rules and things you need to know to get it done, well. These things include understanding laundry symbols, and what they mean, as well as knowing how to remove certain types of stains.
You can decorate your laundry room not only with cute signs, like I showed above, but also with informational signs that remind you of the laundry information you need to know.
The sign to the left is helpful for those who want some tips about decoding laundry symbols on tags.
Another helpful printable cheatsheet is this chart for how often to wash clothing and household items in your home.
Finally, you can get a free printable laundry stain removal chart here, when you sign up for the free Stain Removal 101 newsletter (which is another of my websites).
Click here to sign up for this free printable
I hope these ideas help you decorate your laundry room in both fun and practical ways, so you can enjoy your time spent in this room more, as you get the laundry done!

Some links on this page are affiliate links, meaning that if you purchase a product through them I receive a small commission which helps me provide this information to you for free, plus support my family. My integrity and your satisfaction are very important to me so I only recommend products I would purchase myself, and that I believe would benefit you. To learn more please see my disclosure statement.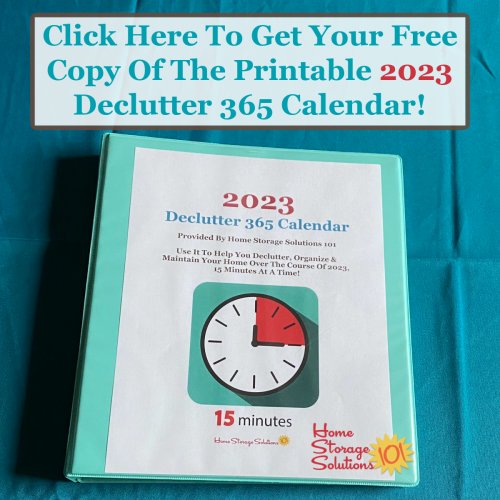 Related Pages You May Enjoy