Laundry Change Jar Or Holder: Ideas To Keep Loose Change Found In Clothes
Here are a couple of laundry change jar and holder ideas you can use to keep the loose change you find in your family's clothes before you wash them.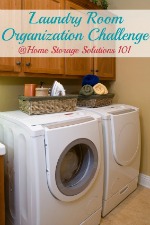 This quick organization project is part of the
Laundry Room Organization Challenge
here on the site, so make sure you check it out!
The possibilities are really almost limitless, but it is helpful to have some type of container you can use to place coins, and even occasionally paper bills, that you find in pants or other pockets before throwing them in the washing machine, and also whatever money you find after washing that accidentally slipped through.
Keep whatever you choose to hold the money you find close to wherever you're sorting clothes.
I suggest a laundry shelf close to your other supplies, as long as it isn't somewhere that will easily get knocked around which could cause the container to break.
The other possibility is to actually make your change jar part of the decor of your laundry room. You can buy a wall hanging, such as the one above which is
on sale at Amazon
, but honestly it doesn't have the best reviews although it looks really cute.
And once you see the ideas below shared by readers I really think you'll be able to make something yourself that looks just as cute and works even better!
Then, the only thing you'll have left to choose is whether when you collect the change it becomes yours, or you actually give it back to whoever left it in their pockets!
Vinyl Wall Quote Stickers (Click here to purchase on Amazon
)
So check out the ideas from readers below, and if you've got one of your own I'd love to see it too. You can
submit your own photos here
and I'll add them to the site.
Top photo courtesy of Amazon.com, Keep The Change Wall Hanging
Collecting Loose Change In A Mason Jar
by Mandi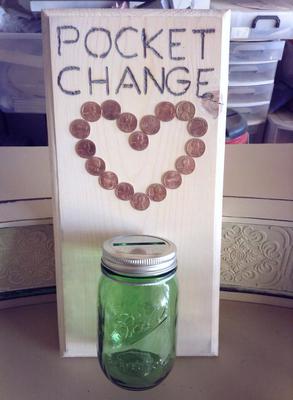 This photo was provided by a reader, Mandi. She collects her family's pocket change in a mason jar, isn't it cute?

Plus, she made a really adorable sign to go with it, using some pennies. What a great idea! Functional and great decoration for your laundry room.
Piggy Bank For Your "Laundry Loot"
by Mary
Here's a picture from a reader, Mary. She said, "Any monies found in the laundry go into our "Laundry Loot" piggy. When he is full, I take that money and buy something for the whole family, like a new rug or towels."

I like this idea! It is simple, but you can get your own piggy bank and even decorate it to match your laundry room decor.


Are Your Inspired To Get Organized Now?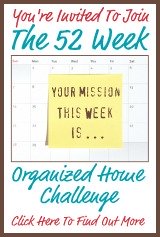 I hope these pictures have given you some ideas for keeping the pocket change you find in your laundry contained.
I also hope it has gotten you in the mood to organize your laundry room. If so, I'd love for you to
join the 52 Week Organized Home Challenge
, where we tackle various parts of our home each week, and slowly, over the course of the year, get the whole place looking great!
In addition, do you have ideas for organizing your laundry room? If so I'd love to see your pictures or see what products you use. You can share your reviews and ideas here and I'll add them to the site.
Some links on this page are affiliate links, meaning that if you purchase a product through them I receive a small commission which helps me provide this information to you for free, plus support my family. My integrity and your satisfaction are very important to me so I only recommend products I would purchase myself, and that I believe would benefit you. To learn more please see my disclosure statement.
Related Pages You May Enjoy
{A-Z} Storage Solutions & Ideas
Getting Clutter Free 15 Minutes At A Time Hall Of Fame
Go From Laundry Change Jar Or Holder Ideas To Home Page