Create A File Index And Never Make Duplicate Files Again
Today's 15 minute mission is to create a file index. This really is something that shouldn't take you very long, but it will save you lots of headaches and time creating and maintaining your home filing system.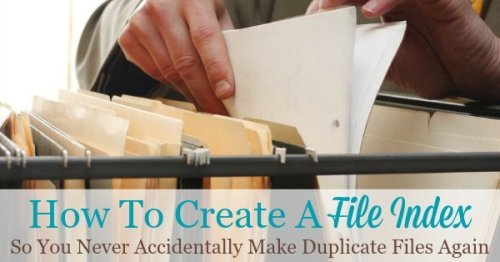 So what is a file index, and what does it do?
The Problem: Accidentally Creating Duplicate Files
Once you've set up your home's filing system you aren't adding all your papers into it all at once, but a few here and a few there.
So when you come across something to file, say a bill that just comes every three months and you've got to save for tax purposes, you may not remember the name of the folder you placed one of those bills in.
The result, you might figure it out after a lot of searching, or you might figure you didn't have a file set up yet, and create a new one, with a new name.
Uggghh. It happens, and it can quickly create chaos in what you hoped was a good coherent system that you spent hours creating.
The more stuff you file the more likely this is to happen. Especially if you've got more than one drawer of files.
The Solution: A Table Of Contents Or File Index
Fortunately, there is a forehead slappingly simple trick to keep this from happening to you. It's a file index, which is basically like a table of contents for your filing system.
Create it when you first set up your filing system (here's a list of suggest file categories you can start with), and then add to it as needed, and just reference it each time you struggle with where to file something.
This index is really just a simple list of all the main file categories and subcategories you've made that you keep in the front of your files.
It is much easier to scan down a list of file names rather than to look at each file, especially if you've got multiple file drawers.
Consulting the list might help you realize you need to add something to the "medical file," instead of searching in vain for a file called "doctors."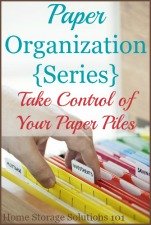 Also consult the list when you think you need to create a new file. Perhaps you do, perhaps you don't.
For ease of adding new items to your index list, in alphabetical, or whatever other order you keep your files in, I suggest typing this list into a word processing document so you can edit it as you add to and remove things from your filing system.
Sure, make a pencil or pen notation of a new file every now and then on the printed file index, but periodically update the paper index, inserting things into their right order pn your list just like you do the files themselves, to easily keep the index legible and scannable most of the time.
Who says every organizational trick needs to be hard to do?
You can get more paper organization tips here.
Want To Do More Decluttering Missions? Get Started With Declutter 365 Today!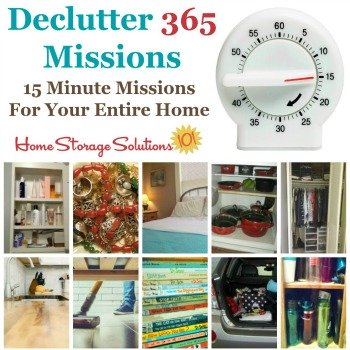 Once you declutter one type of item in your home I bet you'll want to declutter some more. After all, decluttering gives you a great reward for even a small investment of time and energy.
The Declutter 365 system is designed to help you declutter, over the course of a year, your entire house, with just 15 minutes of decluttering each day!
Hundreds of thousands of people use this proven system to get rid of their clutter, and bring peace and calm back to their homes.
Declutter 365 works to guide you to clear the clutter without overwhelm, focusing on just one small area at a time, and without making a huge mess in the process, so you see consistent forward progress without all that "messy middle" that makes it even harder to function in your home than before you started.
In addition to building a daily decluttering habit, the Declutter 365 program, along with the accompanying 52 Week Organized Home Challenge, teaches you the skills, habits, routines, and mindsets necessary to maintain the clutter free and organized state of your home from now on, so it'll never be as messy and cluttered as it is right now, ever again.
If you haven't already, make sure to get your copy of this year's Declutter 365 annual calendar here (it's FREE!), find today's date, and do 15 minutes of decluttering on the day's mission. Then, repeat again tomorrow, and again and again. Over the course of the next year, if you do this 15 minutes per day, you'll declutter your whole house!