How To Declutter Movies & Videos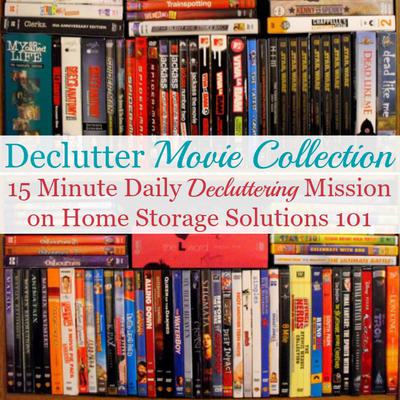 Today's mission is to declutter your movie and video collection, in whatever form it might be in, such as DVDs, Blu-ray, VHS tapes, or digital copies.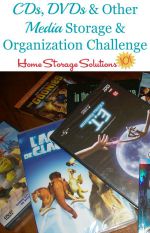 This mission is designed to be done while working on the
CD, DVD & Other Media Organization & Storage Challenge
, which is one of the 52 Week Organized Home Challenges here on the site.
Of course, it can be done at any time when you feel it needs doing.
The mission itself is rather straight forward, and is similar to the mission where I had you
declutter your music collection
in another of the missions this week.
First, gather up all the videos and movies into one spot, from around your house, so you can get a handle on how many of these items you actually have.
Remember that all you have to focus on today is your own video collections, because there is another mission coming up this week where we'll focus specifically on kids music and movies.
If you've got videos where the technology for playing them is obsolete, those are the first ones to seriously consider decluttering.
In my family, for example, when we got rid of our last VHS player (it broke) we knew it was time to say good bye to the video tapes,
since there was nothing left to play them on.
Further, I've found with so many different streaming services these days I really don't want or need as many movie discs as I used to think I did, since I can choose almost anything I want to stream, at least for a price.
Therefore, decide how much space you want to devote to these types of discs or items and then keep reducing the number you do keep until it fits into the space you've designated for the purpose.
(As always, I don't think you need to get rid of all of them, and you get to choose how many is a reasonable amount for you to keep!)
If you want to keep a bunch of discs, but are short on space, you may want to consider getting rid of the cases and keeping only the discs themselves in a disc organizer (you'll see a photo of that below, shown in a reader photo).
If you find you haven't watched a movie in the last year, not even once, you should seriously consider decluttering it.
For digital movies delete any you don't like, and organize the rest in some way that you can easily find and access what you like, and make sure you keep a back up!
Scroll down to see some photos from readers who've already done this mission to get you ready to tackle it yourself!

Top photo courtesy of Morgan and bottom photo in collage courtesy of Mike Weston
Photos From Readers Who've Done This Mission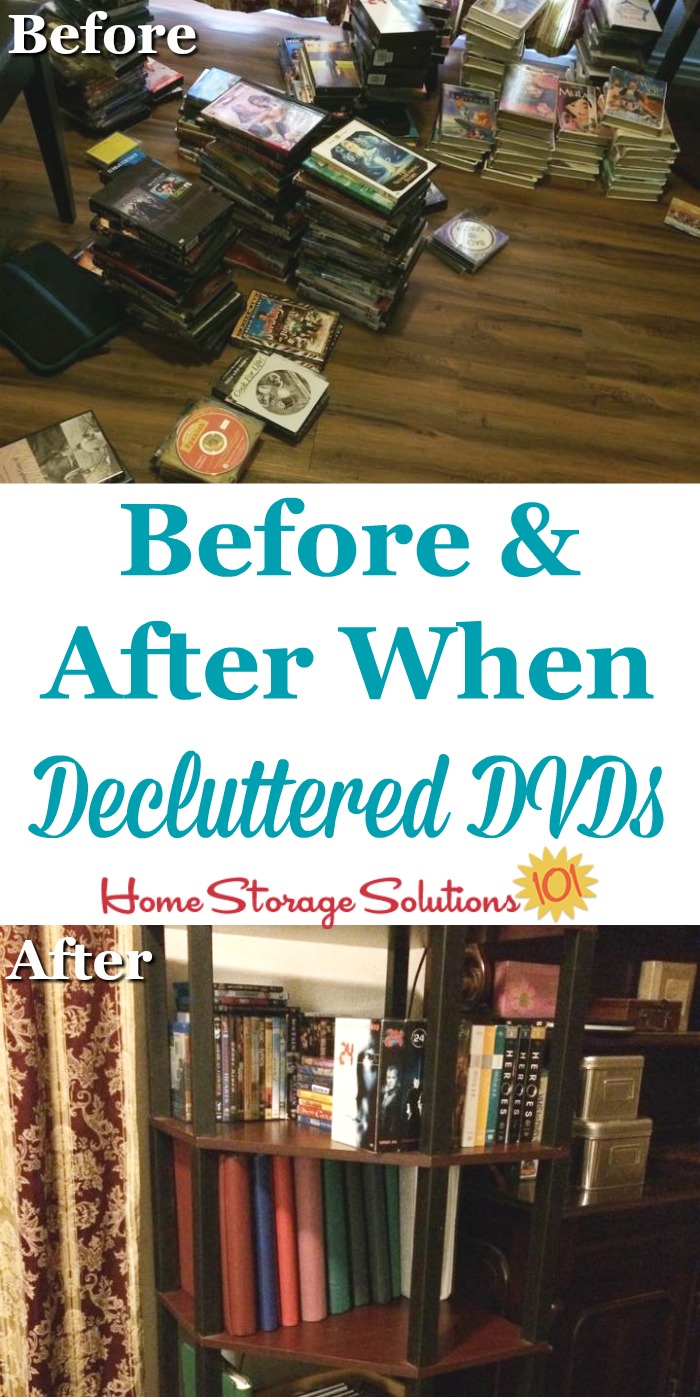 It's always inspirational to see the results others have when they've done this mission, and fortunately several readers have sent in their photos of what they've accomplished.
The photos above were sent in by a reader, Dora, who said it was her DVD purge. She really sorted through quite a few movies, didn't she?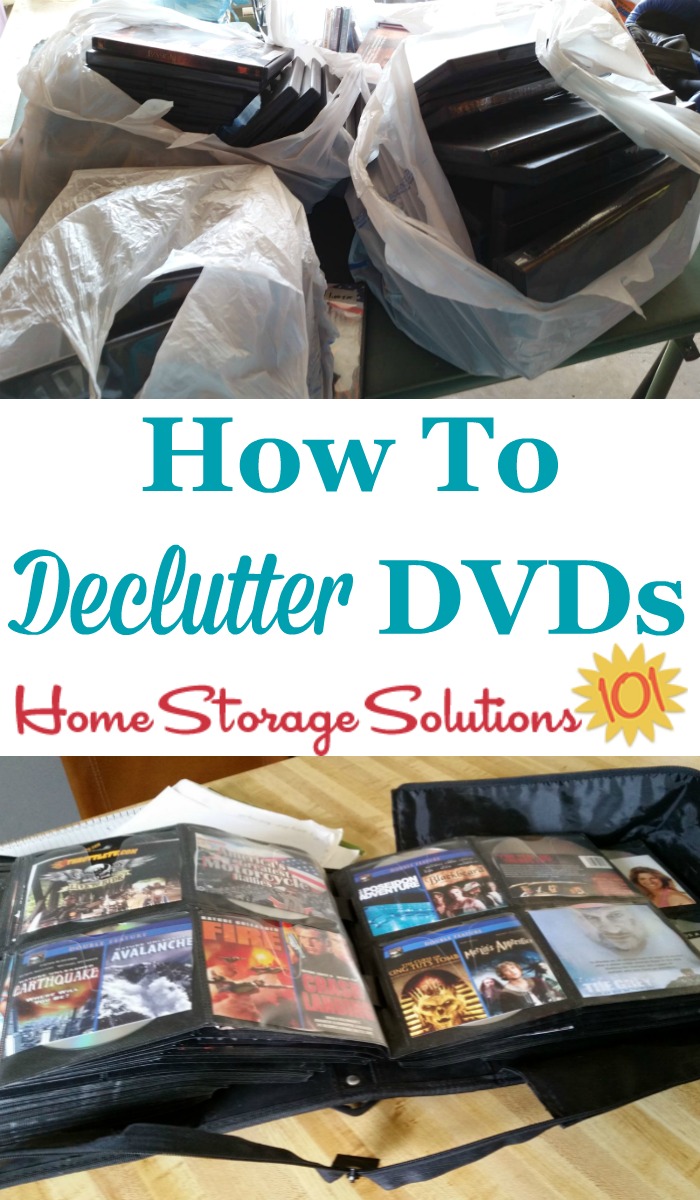 These photos above are from another reader, Debra.
Debra decided that she didn't want to completely get rid of the DVD and CDs she owned, but wanted them to take up less space. That's why you decluttered the cases, which you can see in the bags to be discarded, and kept only the discs and insert material inside the organizer case.
You can get similar cases here:
Are You Ready To Declutter Your Video & Movie Clutter?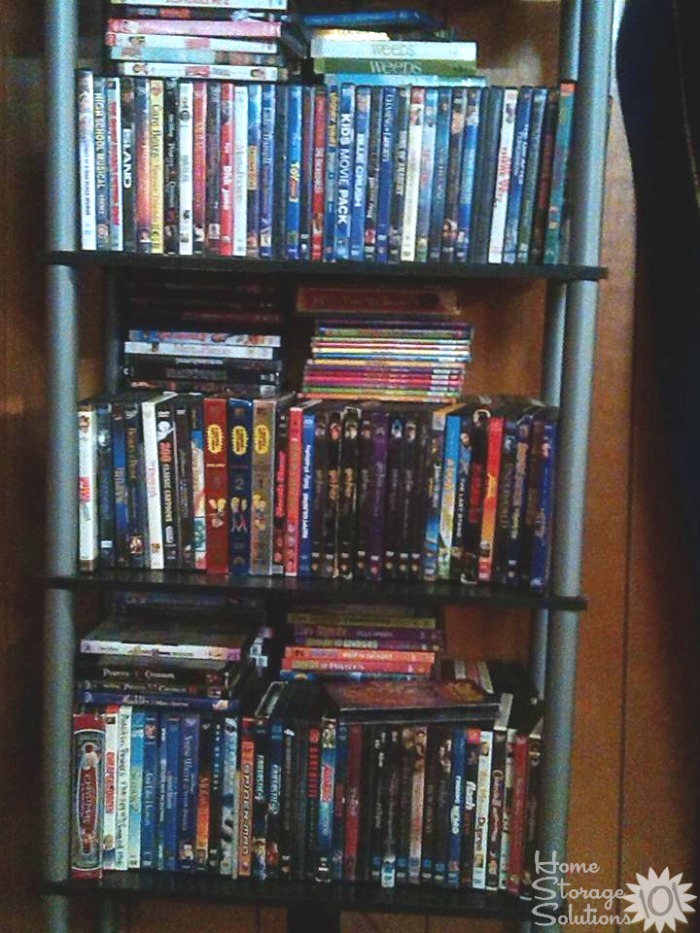 I hope reading these instructions and seeing these pictures has inspired you to get rid of your own video and movie clutter.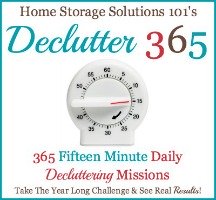 That's exactly what happened for a reader, Miranda, who sent in the photo above. She said, "These are our DVDs and I so need to go through them and get rid of some. They're two rows deep plus we have a small cabinet on our
entertainment center full too
.
You can do it Miranda! And so can you!
When you begin to declutter the feeling you get is contagious, so if you're loving the results you're getting I would encourage you to keep going.
I've got a whole series of
15 minute decluttering missions
(eventually 365 of them!) that you can do.
Just pick and choose the ones you want to do, that will make a big impact in your home. But if you want someone else to tell you the order you can also grab the
15 minute daily decluttering mission calendars
and follow along as we all get our homes clutter free together!
Some links on this page are affiliate links, meaning that if you purchase a product through them I receive a small commission which helps me provide this information to you for free, plus support my family. My integrity and your satisfaction are very important to me so I only recommend products I would purchase myself, and that I believe would benefit you. To learn more please see my disclosure statement.
Related Pages You May Enjoy
Getting Clutter Free 15 Minutes At A Time Hall Of Fame
Getting Rid Of Media & Entertainment Clutter Hall Of Fame
Go From How To Declutter Movies & Videos To Home Page