Getting Rid Of Entertainment & Media Clutter Hall Of Fame
Below is a list of entertainment and media clutter items to consider getting rid of. In addition, there's a hall of fame where you can share your own success or get inspired by what others have accomplished.
Entertainment is all supposed to be about fun and relaxing, but it can't be when there is so much clutter around.
Often this extra stuff gets in the way of our enjoyment because we can't find what we actually want, or spend too long sorting around the stuff we don't care about anymore.
There are several challenges within the 52 Week Organized Home Challenge that deal with these areas of our homes that I encourage you to read:
I've also created quite a few decluttering missions that accompany these challenges, to help you get this area of your home more manageable.
Whether you've done these missions when I've scheduled them during the year, or any other time doesn't really matter to me. I just want to celebrate your success, so here's your chance to show off some before and after pictures when you've done one of the missions. If you're ready to share now click here to begin!
Decluttering Missions For Media & Entertainment Areas
The decluttering missions for these types of items in your home include:
Entertainment center
Corral the remote controls so you can always find them
Create charger station for portable electronics
Properly store tablets and smart phones so don't get damaged
Music collection (including CDs, taps, MP3s, etc.)
Computer CDs
DVDs, Bluerays and video tapes
Kids' DVDs, video tapes and CDs
Gather all family videos, DVDs, etc. into one central location
CDs and DVDs in vehicles
Video games
Gather loose photos and negatives from around the house
Clear space to store photos safely together
Sort photos, getting rid of duplicates and bad ones
Burn digital photos onto CDs as backup (or otherwise back up onto cloud, etc.)
Books
Kids' books and coloring books
Create area to hold checked out library books (and other library checkouts like videos, CDs, etc.)
Magazines (ideas for places to donate them here)
Newspapers
Catalogs
Create files for inspiration projects from magazines and catalogs (or use Pinterest!)
Media & Entertainment Clutter Hall Of Fame
Below are the hall of fame submissions I've already received.
If you're ready now you can click here to skip down and share your accomplishments now.
More Resources To Declutter Your Entire Home
Clutter rarely just accumulates in one area of your home, but instead with time can overfill your entire home.
Follow the Declutter 365 plan to get your whole house decluttered, one small step at a time, over the course of the year, and see fantastic results that you can maintain year after year!
Start with my free gift to you, a 12 month declutter calendar (a $20 value), which lists 365 different decluttering missions that will transform your whole house.
The step by step plan laid out in the calendar will guide you through the process of removing physical clutter, digital clutter and even set up foundational routines and habits for your home, to make it clutter free and organized from now on.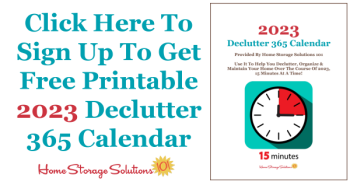 You can also get additional services to help you succeed with the Declutter 365 plan, including receiving daily text messages about each day's mission, planner stickers, and joining a private and exclusive Facebook group devoted to helping encourage and motivate you as you work through the daily and weekly tasks.
You can learn more about Declutter 365 products here.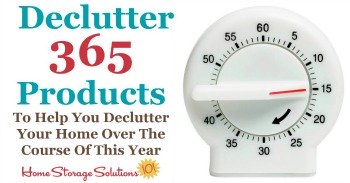 Have You Gotten Rid Of Media Or Entertainment Types Of Clutter?
Have you participated in one of the Declutter Your Home In 15 Minutes A Day Missions, either while it was running for the day or when it was convenient for you?

Are you proud of your accomplishments and want to show the world what you decluttered today, and are getting out of your home?

Here's your chance to tell me about it. Pictures are highly encouraged, but you can also just write a description of what you decluttered too (note you've got to at least explain what we're seeing in the picture you upload).

You can send up to four pictures in each submission.
Get Rid Of Entertainment & Media Clutter Hall Of Fame
Here are the Hall of Fame submissions that have already been submitted.

Check these out to get inspired about what others have accomplished with the power of 15 minutes a day.