Simple Trick To Identify Closet Wardrobe Clutter: Backward Hangers
Here's a simple trick to help you identify closet wardrobe clutter, so that it's easier to decide what to keep and what to save when decluttering the hanging clothes in your closet.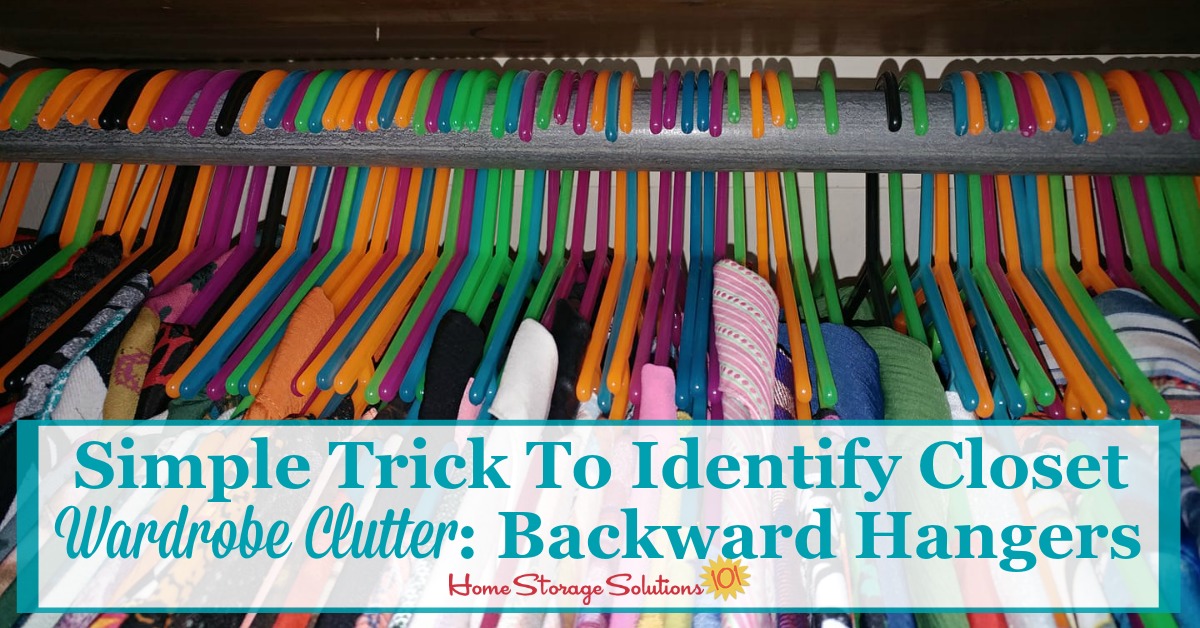 It's to turn all the hangers in your closet so they hang backward, and then to only make them hang the correct way, one at a time, once you've taken a piece of clothing off that hanger and worn it over the course of the next few months.
If you do this at the beginning of the year after a few months you'll actually see what clothes within your closet you actually wear, and which ones you don't.
This is such an effective and simple tip I actually made it a bonus Declutter 365 mission that you can do early in the missions, such as sometime in January, so that when we get to this task of decluttering clothes in our closet, in July, you'll be ready!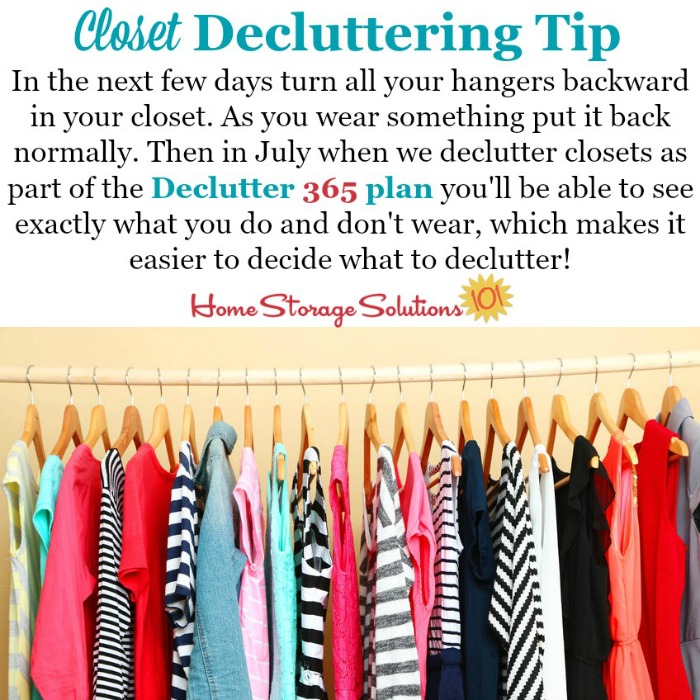 Why does this tip work?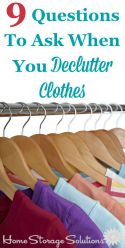 Because many of us actually only wear about 20% of the clothes in our closet, at least the majority of the time.
Not wearing something for a certain time period, like for 6 months or a year, is one of the signs that you should at least seriously consider decluttering that item of clothing. (You can check out the 9 questions to ask yourself when decluttering clothes here, one of which is when's the last time you wore it.)
With this method, instead of having to rely on your memory to guess when the last time you wore something was, the hanger trick will tell you, and help you identify potential wardrobe clutter easily!
The key to using this trick is to give it time, typically about six months, or at the least three. That's why doing it now is a good idea, so that when we do the mission as we declutter hanging clothes from the master closet you'll be ready. You can click on the link to read that mission article now, to see what we'll be doing in a few months!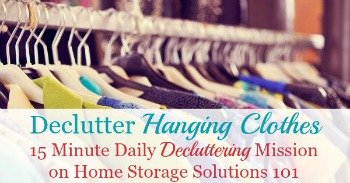 Here's a couple photos below, from readers who've already done this bonus mission. The top image of the collage is from Pam, and the bottom image is from Liz.
As you can see, they turned all the hangers backward and are ready to use the next couple of months to see what they really wear. What about you?
Want To Do More Decluttering Missions? Get Started With Declutter 365 Today!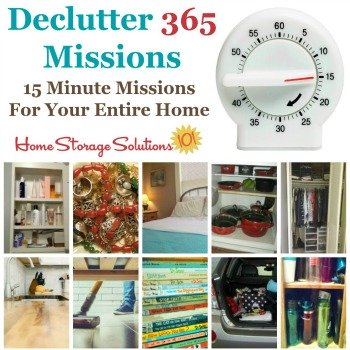 Once you declutter one type of item in your home I bet you'll want to declutter some more. After all, decluttering gives you a great reward for even a small investment of time and energy.
The Declutter 365 system is designed to help you declutter, over the course of a year, your entire house, with just 15 minutes of decluttering each day!
Hundreds of thousands of people use this proven system to get rid of their clutter, and bring peace and calm back to their homes.
Declutter 365 works to guide you to clear the clutter without overwhelm, focusing on just one small area at a time, and without making a huge mess in the process, so you see consistent forward progress without all that "messy middle" that makes it even harder to function in your home than before you started.
In addition to building a daily decluttering habit, the Declutter 365 program, along with the accompanying 52 Week Organized Home Challenge, teaches you the skills, habits, routines, and mindsets necessary to maintain the clutter free and organized state of your home from now on, so it'll never be as messy and cluttered as it is right now, ever again.
If you haven't already, make sure to get your copy of this year's Declutter 365 annual calendar here (it's FREE!), find today's date, and do 15 minutes of decluttering on the day's mission. Then, repeat again tomorrow, and again and again. Over the course of the next year, if you do this 15 minutes per day, you'll declutter your whole house!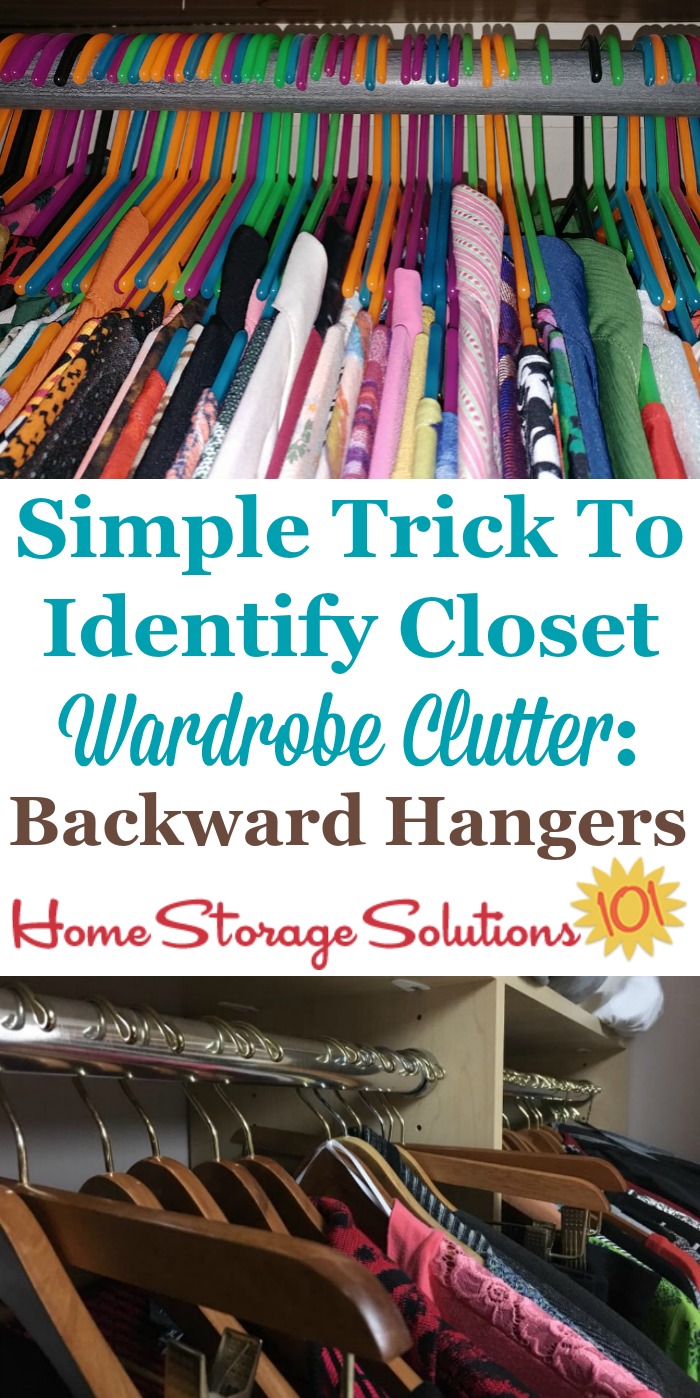 Some links on this page are affiliate links, meaning that if you purchase a product through them I receive a small commission which helps me provide this information to you for free, plus support my family. My integrity and your satisfaction are very important to me so I only recommend products I would purchase myself, and that I believe would benefit you. To learn more please see my disclosure statement.