How To Create A Pretreating & Stain Removal Station In Your Laundry Room
Today's decluttering and organizing task is to create a pretreating and stain removal station in your laundry room, to help you wash your clothes well, and stay organized in the process.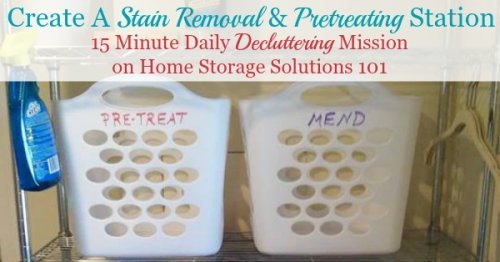 This Declutter 365 mission is designed to be done while working through the Laundry Room Organization Challenge here on the site, which is part of the 52 Week Organized Home Challenge.
You can do it whenever you want, of course, but every organized laundry room, or area, should have some type of stain removal station in it, whether that station is small or large, depending on the space available and your needs.
After all, your laundry room is the room in your home specifically dedicated to washing clothes and other laundry, and while some clothes and fabrics can be dumped into the washing machine to be washed with just some detergent, because they're just lightly soiled, sometimes some items need a bit more love and work before they're ready to be washed.
This extra work can include steps like spraying a laundry pretreater onto a spot before throwing it into the washing machine with the rest of the items in the load, or something a bit more time consuming, but necessary, like presoaking clothes in a tub of water, or in your laundry sink, that all have stains, or need some extra odor removal, before they're ready to be washed.
While you're decluttering and organizing the laundry room, make sure that you allow space within the room (or somewhere else if your laundry room is so small you can't accomodate it in there) for the equipment and supplies you need to do these simple but essential pretreating and stain removal tasks.
What you need to have for your stain removal station is up to you, and it depends how much space you've got, as well as how much laundry you do, and the types of typical spills and stains you generally encounter.
For example, before I had kids I kept a spray bottle of laundry pretreater on a shelf in my laundry closet (I didn't have a whole laundry room!) and that was all I needed for the few oops I encountered, like when I spilled coffee or spaghetti on myself.
However, once I had kids my stain removal station needed to expand. I still needed that spray bottle of laundry stain remover, but I also need a small tub that I could fill with water and let a few items soak for a few hours, and I needed a small basket that held the especially soiled items to keep them away from everything else, and to know what needed some special TLC before it was thrown into the washing machine. I also kept an old toothbrush for scrubbing some really tough stains ready for use.
The idea is to think it through now, and then have all the right supplies and equipment organized and ready for use when you need it as you do your laundry, so the process is as quick and easy as possible.
The stain removal station photo shown above, to the right, was sent in by a reader, Amy, and I think it illustrates perfectly how simple this station can be. She had a basket specifically for everyone to throw clothes in that needed pre-treatment before they got washed. She also added a mending basket next to the pre-treat basket (we'll work on that in another Declutter 365 mission, but you can read how to do it now if you like, at the link).
Amy also chose, in her station, to add even more baskets to go ahead and sort the clothes for washing right there, but that isn't necessary. Just the small basket for pretreating, and the couple of stain removal products she placed close by may be all she needed.
Resources With More Ideas For What To Put In Your Stain Removal Station
On the sister site, Stain Removal 101, I've written a couple articles that discuss what you can keep on hand for removing stains, both in terms of supplies and equipment.
What is listed within these articles will help you be prepared to treat every stain imaginable, and so it might be a bit more than you decide you personally need, or have the space for, but the articles will give you some ideas of what you can include to fit your needs and circumstances.
Here's what to keep in your stain removal kit.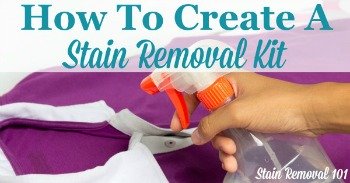 And here's the suggested list of stain removal equipment and tools.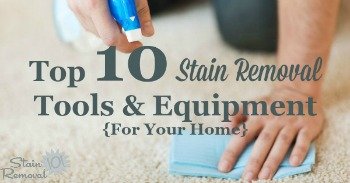 Another Example From A Reader Of Her Stain Removal & Pretreating Station

I find pictures really helpful for showing all the different ways you can go above creating this station in your own home, so above is another example sent in by a reader, June, showing how she organized her laundry supplies and stain removers.
June explained that she has a small laundry room, but that she "tried to make it look as nice as possible while keeping its inherent functionality (there's also a water heater)." She continued, "I have a stacking washer/dryer, ironing board hangs on the wall (not seen in photo)" and that she makes her own laundry detergent.
Now get your mind working, so you can figure out how you'll make your own pretreating and stain removal station!
Are You Ready To Declutter Your Home?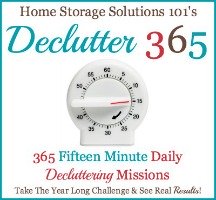 I hope you're now inspired to make sure a stain removal and pretreating station is part of your laundry room organization project.
When you begin to declutter and organize the feeling you get is contagious, so if you're loving the results you're getting I would encourage you to keep going.
I've got a whole series of 15 minute decluttering missions (eventually 365 of them!) that you can do.
Just pick and choose the ones you want to do, that will make a big impact in your home. But if you want someone else to tell you the order you can also grab the 15 minute daily decluttering mission calendars and follow along as we all get our homes clutter free together!
Some links on this page are affiliate links, meaning that if you purchase a product through them I receive a small commission which helps me provide this information to you for free, plus support my family. My integrity and your satisfaction are very important to me so I only recommend products I would purchase myself, and that I believe would benefit you. To learn more please see my disclosure statement.