How To Declutter Hats & Caps

Today's mission is to declutter hats and caps from your wardrobe and home.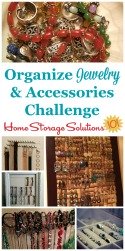 This mission is designed to be done during the
Organize Jewelry and Accessories Challenge
, which is part of the 52 Week Organized Home Challenge here on the site, or whenever else you need to do it in your own home.
The mission is pretty simple and straightforward. Simply gather up all of the hats and caps, of whatever variety you've got in your home, and look through your collection deciding what you should keep and what you should get rid of.
As usual, you don't have to get rid of every piece of headwear you own. Instead, this is the time to evaluate what you've got, and only keep the best of the best, what you actually use, and what you have room for.
This mission applies to both men and women's hats, as well as hats for kids, so look at all family members.
declutter winter gear, such as gloves, scarves, and winter types of hats
, so if you want to wait on those particular hats until another day you can.
However, all other types of hats are fair game, be they big or small. That includes
cowboy hats, berets, and everything in between.
When deciding what hats you should keep versus get rid of, ask yourself these questions:
1. What condition is the hat in? Is it broken, worn, or overly soiled? Is it beyond repair, or fixable, and if fixable, will you really invest the time and money into repairing it?
2. When is the last time you wore it? If you haven't worn it in over 6 months, or longer, seriously consider whether you should keep it?
3. Do you have multiple hats or caps of this variety? For example, do you have lots of baseball caps? How many of that type of hat do you really need? Perhaps keep your favorites and get rid of the rest.
4. Does it feel comfortable when you wear it, and fit properly?
5. How much room do you have for storing hats in your home? Only keep the amount you can fit into the designated storage. If you need to keep the hat in its own box, for example, make sure you also take into account how large the hat box is when making these decisions.
I understand some hats are also parts of collections, or you may be keeping them for more sentimental reasons, so check out some more tips for decluttering these types of hats below.

Second photo in collage for decluttering mission courtesy of a reader, Teasha
Join in and write your own page! It's easy to do. How? Simply click here to return to closets and bedroom clutter.
Tips For Decluttering Hats With Sentimental Value

Sometimes hats aren't just pieces of clothing or accessories for an outfit, but they instead have sentimental value for a variety of reasons which can make them much more difficult to get out of our homes.
That is exactly what happened to one reader, Laurie, who sent in the photos above. She said, "What a great mission! I didn't have much to organize, but I feel so much better now! Here is my problem.... These are all the yarmulkes we have. Weddings, Bar Mitzvahs... Everybody makes a special one with the date and occasion inside. We aren't terribly religious so we almost never use them. And when we do we need maybe 10. Any ideas how to purge these? I am stuck on the sentimentality."
Sentimental items are harder to get rid of. However, it can help if you first make a distinction between hats you've got for fashion or practicality, and those kept for emotional reasons, because they shouldn't be in the same category when deciding what to do with them.
If you feel like you've got too many sentimental items limiting yourself to a certain amount of storage space for them can help. Only keep as much as you can fit into one designated area.
I also suggest that you keep sentimental hats and caps (that you don't actually wear, but are keeping for other reasons) somewhere other than with all your own hats or caps that you do wear. That will help you free up space for your actual wardrobe.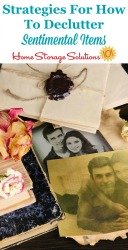 In addition, many hats are actually quite pretty and interesting to look at, so consider displaying some of them instead of hiding them away if they bring you good memories.
Another possibility is to pass on some of these sentimental items to others who would also appreciate them, which can allow you to declutter with less guilt.
There are actually quite a few more ways to declutter sentimental objects, so if you need more ideas check out the article on
decluttering sentimental items here.
Laurie later sent in the after photo, and had settled on passing on the sentimental items back to others to enjoy, but giving them back to the person whose day they celebrated. She said, "Sorting the yarmulkes was actually not that hard, and now I have the friends' kipot who come to our house in order so when they come they can wear the memory of their special occasion!!! Wow, I will look so thoughtful! Thanks!!!"
I'd love to hear how you've decluttered these objects from your home too, so tell me in the comments below.
Join in and write your own page! It's easy to do. How? Simply click here to return to closets and bedroom clutter.
Are You Ready To Get Rid Of Your Hat Clutter?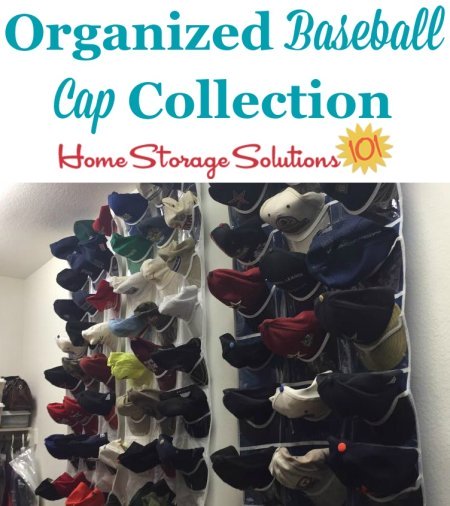 I know I mentioned hat collections, and a reader, Lisa, sent in this photo of her husband's baseball hat collection, which he organized in their closet. She said, "Hubby has a hat collection. He keeps them in the master closet in these hat holders he found on Amazon. Each one holds 24 hats. The 2-3 hats he wears regularly are usually kept on his nightstand or on a hook in the closet."
You can find several types of hat organizer products here: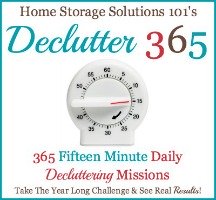 Once you've decluttered your hats and caps you'll be able to more easily organize what you've got left, just like Lisa's husband, even if you don't have quite as many hats as he does (or if you have more).
When you begin to declutter the feeling you get is contagious, so if you're loving the results you're getting I would encourage you to keep going.
I've got a whole series of
15 minute decluttering missions
(eventually 365 of them!) that you can do.
Just pick and choose the ones you want to do, that will make a big impact in your home. But if you want someone else to tell you the order you can also grab the
15 minute daily decluttering mission calendars
and follow along as we all get our homes clutter free together!
In addition, here's a
round up of all the Declutter 365 missions on the site for decluttering clothes of all kinds
.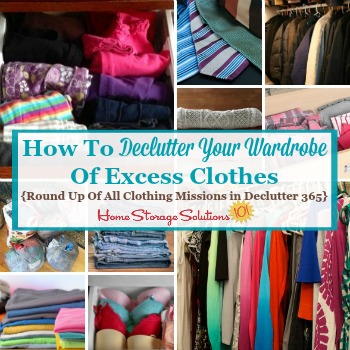 Some links on this page are affiliate links, meaning that if you purchase a product through them I receive a small commission which helps me provide this information to you for free, plus support my family. My integrity and your satisfaction are very important to me so I only recommend products I would purchase myself, and that I believe would benefit you. To learn more please see my disclosure statement.
Related Pages You May Enjoy
Getting Clutter Free 15 Minutes At A Time Hall Of Fame
Getting Rid Of Bedroom, Clothing & Closet Clutter Hall Of Fame
Go From How To Declutter Hats To Home Page