January Declutter Calendar
15 Minute Daily Missions For Month
Here's the January 2014 declutter calendar with a daily 15 minute decluttering and organizing mission for each day of the month.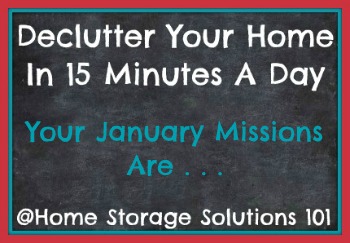 Remember, here are the ground rules:
1. Work for 15 minutes to declutter and do the mission listed, and if you need to work longer, and have the time, go for it. However, don't feel obligated to.
2. Print off the printable version of this calendar (see below) if you want to post on your fridge or some other area of your home to remind you what the daily mission is.
3. You can also follow me through social media, including Facebook, Google + and Twitter, to get a daily reminder of the day's mission.
4. Because social media is becoming less reliable for actually showing you the daily missions these days (I'm talking about Facebook mainly, since the company now wants me to pay to show you the things in your feed you already asked to see) you can sign up to get emailed a link to each month's calendar from now on here, for free.
5. Once you've accomplished any one of these missions you can share your photos of what you have decluttered with me in the Getting Clutter Free Hall of Fame.
Plus, get some inspiration from the quote of the month, below.
January Decluttering Missions:
Get The January Declutter Calendar Printable
Here's a printable version of the calendar of daily missions that you can use. Enjoy, and good luck! Don't forget to grab your digital badge once you do even one of the missions.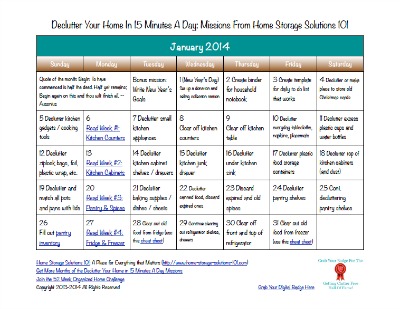 Click Here To Get Your January Printable Calendar
(opens into a new window, as a PDF)
Do You Want Next Month's Calendar Too?
You can also get the February decluttering missions here (including printable calendar).