52 Weeks To An Organized Home:
Join The Weekly Challenges
Do you want an organized home? Most people do, but they go about it in the wrong way expecting overnight success. Let's instead do it the right way, together, with the 52 Week Challenge.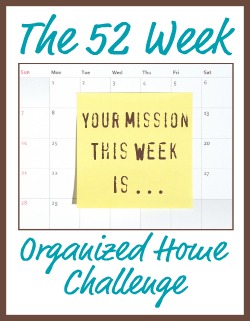 Click here to sign up if you're already ready to join for free!
Why Does It Take 52 Weeks? Why Can't I Get Organized Over Night?
You cannot expect to get your home completely organized over night, even though that would be wonderful. It just won't realistically happen for most of us because we have too many areas in our homes that we need to address.
Plus, even if a whole crew came in and organized everything right now, like they do on some of those television shows, you most likely don't have the habits in place to maintain that organization yet.
However, you can get organized slowly, over time. That is where The 52 Week Organized Home Challenge comes in. Each week we focus on a different challenge area in our homes and make steady forward progress.
The idea is that at the end of the 52 weeks you will have an organized home. Plus, your life and your home will run more smoothly, plus you'll have gained the knowledge, skills, habits and routines necessary to actually keep it that way!
Trust me, maintaining the organization you put in place can be just as much of a challenge as getting there in the first place, so those skills and discipline are very much needed!
When Does The Organized Home Challenge Start? Am I Too Late To Begin?
This challenge is ongoing. You don't have to wait until January 1st or any other arbitrary time to begin. Instead just jump in wherever we are right now and take off from there.
How Do I Keep Up With The 52 Weeks To An Organized Home Challenges?
Each Monday I will put up a new challenge on the site that we will all work on during the week (including me -- I'm doing the challenge right along with you). You can just check the site each week for the new challenge if you want.
However, I know that it can be hard to remember to check something on the web each week, so I am also going to send out the challenge each week as part of the free email updates and newsletter for the site. If you want these free emails to come to your home, along with additional organizational tips and hints, sign up below.
Here's A List Of The 52 Challenges In The Organized Home Series
Below is a list of the 52 challenges that are part of the Organized Home series (I've also listed these in a PDF document you can print -- click here). The series first ran in 2011, and is now running continuously since then.
Bonus Week: Write Your New Year's Goals (December 31, 2012)
Week 1: Kitchen organization: countertops and sink (January 7, 2013)
Week 2: Kitchen drawers and kitchen cabinet organization (January 14, 2013)
Week 3: Organize pantry, spices and food storage areas (January 21, 2013)
Week 4: Organizing refrigerator and freezer (January 28, 2013)
Week 5: Organize recipes and cookbooks (February 4, 2013)
Week 6: Create a home recycling center (plus dealing with trash) (February 11, 2013)
Week 7: Organize coupons (February 18, 2013)
Week 8: Healthy meal planning and creating grocery shopping list (February 25, 2013)
Week 10: Create a home mail organizer center (March 11, 2013)
Week 11: Organize bills (March 18, 2013)
Week 13: Organize files and create home filing system (April 1, 2013)
Week 14: Organizing magazines, newspapers and catalogs (April 8, 2013)
Week 15: Organize passwords, manuals and warranties (April 15, 2013)
Week 16: Home office organization (April 22, 2013)
Week 18: Bathroom organization (May 6, 2013)
Week 19: Create a first aid and medicine organizer center (May 13, 2013)
Week 20: Mudroom and entryway organization (May 20, 2013)
Week 21: Organizing living room and family room (May 27, 2013)
Week 22: Organize dining room and kitchen eating area (June 3, 2013)
Week 23: Laundry room organization (June 10, 2013)
Week 24: Laundry organization: baskets and hampers (June 17, 2013)
Week 25: Organizing purses, handbags and wallets (June 24, 2013)
Week 26: Organize books (July 1, 2013)
Week 27: CD and DVD storage and organization (July 8, 2013)
Week 29: Craft organization (July 22, 2013)
Week 30: Car organization (July 29, 2013)
Week 31: Organize pet supplies (August 5, 2013)
Week 32: Outdoor and garden storage and organization (August 12, 2013)
Week 33: Basement organization (August 19, 2013)
Week 34: Attic organizing (August 26, 2013)
Week 35: Organize your garage (September 2, 2013)
Week 36: Homework area and home launching pad (September 9, 2013)
Week 37: Organize linen closet (September 16, 2013)
Week 38: Organize closet (master bedroom) (September 23, 2013)
Week 39: Outgrown and seasonal clothing storage (September 30, 2013)
Week 40: Master bedroom organization (October 7, 2013)
Week 41: Organize jewelry and other accessories (October 14, 2013)
Week 42: Organize shoes (October 21, 2013)
Week 43: Cosmetic and makeup organization (October 28, 2013)
Week 44: Organizing closet space for your kids (November 4, 2013)
Week 45: Kids' bedroom organizing challenge (November 11, 2013)
Week 46: Organize toys and games (November 18, 2013)
Week 47: Create personal home inventory (November 25, 2013)
Week 48: Storage for china, glassware and crystal (December 2, 2013)
Week 49: Storing silver properly to inhibit tarnishing (December 9, 2013)
Week 50: Christmas decoration storage and organization (December 16, 2013)
Week 51: Organize wrapping paper and gift bags (December 23, 2013)
Week 52: Keep a family calendar (December 30, 2013)
You Can Report Your Own Progress On The Hall Of Fame
I want people to participate in this challenge, and to be able to show off what they've accomplished since it feels so good when you get something positive done in your home!
If you do even one of the challenges, whether while it is running that week or anytime you get around to it, and want to show off your accomplishments I would be happy to publish your before and after pictures, or story about what you did here on the site. Just for this purpose I've created a "Creative Storage Solutions And Home Organization Hall Of Fame." I'll also be sharing my own progress, week by week, in this section of the site too so you can track my progress (or see my stumbling blocks) toward my own organized home.
In addition, if you have your own blog and share your accomplishments there instead you can send me a link to your blog post and I will link to it from the "Hall Of Fame" if you allow me to use a picture and share a brief synopsis, plus add a link to the 52 Week Organized Home Challenge from your blog post.
All participants can also grab this badge if they wish: