Printable Home Inventory Checklist
Here's a free printable home inventory checklist to help you jog your memory to make sure you don't forget any areas or major items in your home that should be included in your personal household inventory.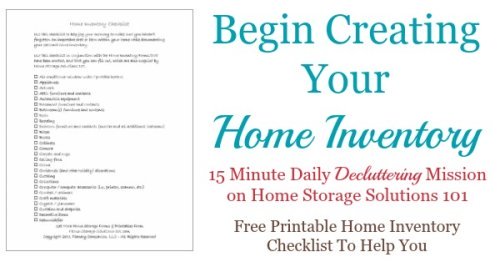 You can get the free printable version below, by scrolling down. I've also included a text version first, both of which ae designed to be using when doing the Create A Home Inventory Challenge, which is part of the 52 Week Organized Home Challenge here on the site.
The checklist has also been designed for use in conjunction with the home inventory forms that have been created for you to fill out, so make sure to get a copy of that form as well.
Here are the items I've listed within the checklist:
Air conditioner window units / portable heaters
Appliances
Artwork
Automobile equipment
Basement furniture and contents
Bathroom(s) furniture and contents
Beds
Bedding
Bedroom furniture and contents (master and all additional bedrooms)
Bikes
Cabinets
Camera
Carpets and rugs
Ceiling fans
Collections
Computer / computer accessories (i.e., printer, scanner, etc.)
Couches / recliners
Crystal / glassware
Curtains and draperies
Decorative items
Dehumidifier
Dining room furniture and contents
Dishes and utensils
DVD player (and DVDs)
Electronics
Family room furniture and contents
Fireplace equipment
Fixtures
Food in pantry, refrigerator and freezer
Furniture
Game systems (such as Wii, Playstation, Xbox, etc.)
Garage furniture and contents
Golf clubs
Grill
Hall(s) furniture and contents
Hobby items
Home office furniture and contents
Ironing equipment
Items in storage (within your home)
Kitchen furniture and contents
Ladders
Lamps
Laundry room furniture, appliances and contents
Lawn furniture
Lawn games
Lawn mower
Living room furniture and contents
Piano / organ
Pots and pans, and other kitchen equipment
Plants and landscaping
Sewing machine
Shelving
Sporting goods and equipment
Stereo
Stove / oven
Tables / chairs
Table linens
Television
Tools
Video equipment
Workbench
Here's Your Free Printable Checklist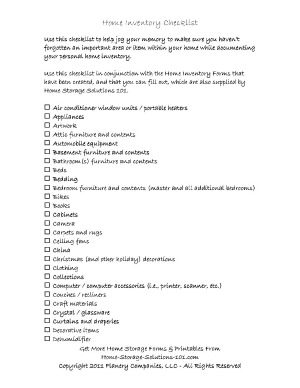 Click here to get printable checklist
(opens in new window as 3 page PDF)
Additonal Printables And Articles You May Like
Here are some additional printable forms and articles on the site that you may find helpful.