Essential Gadgets & Small Kitchen Appliances List
Here's my essential gadgets and small kitchen appliances list. Do you agree or disagree with what I consider essential?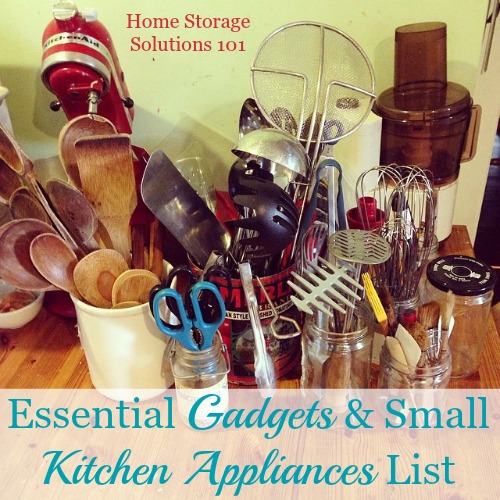 Let me start by saying that I resisted making this list for a long time, despite many of you asking for it, because what you define as "essential" and what I define as "essential" are most likely completely different.
That's because ultimately, what you need to stock your kitchen with small appliances and kitchen gadgets and cookware is so tied to so many things unique to you and your family, including your cooking style, dietary restrictions, size and composition of your family, and more.
So my goal for this list is to help you both think about what you want to keep, when decluttering your kitchen appliances and utensils and gadgets and also what you might want to purchase (perhaps even second hand) if you want to stock a new kitchen, such as if you are starting a new household.
Try To Use As Many Multi-Use Items As Possible
Before I begin my list, I want to stress that I am all about not cluttering your kitchen with useless items, or items that you use, at most, once or twice a year (especially if something else you already have could do the same job, perhaps with just a bit more effort).
The reason is that if you run out and buy an item just because someone said it was "essential" you'll just end up wasting money, taking up precious space in your kitchen, and then having to declutter the item later.
Always critically think if you'll use it
In addition, Alton Brown (of Food Network fame) has said for years, and it has stuck with me, to pass on single use gadgets in favor of something that can be used in many ways. I heartily agree!
Essential Small Kitchen Appliances
I have skipped, on this list, some of the large kitchen appliances, like the refrigerator and stove. And instead, in this part of the list I'm referring to smaller items, typically that could go on a countertop (but don't have to). I'm also, in this part of this list only referring to electric items, classifying non-electric items as "gadgets" instead.
Toaster
Slow cooker
Mixer (I suggest a hand mixer, and only a stand mixer if you do a lot of baking)
Blender (or food processor, not both are essential, but both could be useful)
Coffee maker (only if you drink coffee though, obviously!)
Microwave
Not Essential But Useful Appliances
Depending on your preferences some of these additional appliances may be useful, although I don't personally consider them essential.
Stick or immersion blender
Can opener (although I actually prefer a manual one, instead of an electric one)
Rice cooker
Griddle
Pressure cooker
Electric kettle
Deep fryer
Waffle iron
Bread machine
Pasta maker
Juicer
Essential Cooking Equipment & Gadgets
As I explained above, this list contains non-electric kitchen gadgets and cooking equipment. I will be honest and say this list was even harder to decide which were essential and which were merely useful.
Feel free to disagree with my list in this category, you'll know better what is essential for you then I will. But hopefully this will give you food for thought.
Mixing bowls (I think 3 nesting bowls is a good number)
Measuring spoons
Measuring cups (for both wet and dry ingredients)
Knives - essential ones include a chef knife, paring knife and bread knife
Knife sharpener
Cutting board
Spatula
Wooden spoons
Strainer or colander
Kitchen tongs
Can opener (manual type, essential when power goes out!)
Peeler
Whisk
Kitchen scissors
Bottle opener
Corkscrew
Funnel
Meat thermometer
Pots and pans, including sauce pans, skillets, and stock pot
Iron skillet
Casserole dishes - 8x8 and 9x13
Muffin pan
Dish towels
Ice cube trays (only if your refrigerator/freezer does not make ice)
Not Essential But Useful Gadgets & Cooking Equipment
Rolling pin
Cake pan(s)
Bread pan
Pie pan
Cake plate or stand
Serving spoons
Silicone scraper
Ladle
Box grater
Tea kettle
Pizza cutter
Potato masher
Ice cream scoop
Zester
Veggie brush
Oil brush
Timer (although I find myself just using the one on my microwave most of the time myself!)
Wok
Dutch oven
So what do you think of my list? Did I leave something off completely that should be listed? Did I categorize things in a way you disagree with? Tell me below in the comments!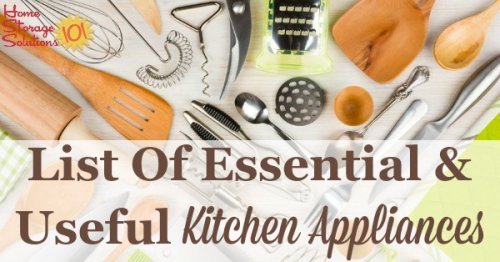 Top photo courtesy of Nostepinne
Some links on this page are affiliate links, meaning that if you purchase a product through them I receive a small commission which helps me provide this information to you for free, plus support my family. My integrity and your satisfaction are very important to me so I only recommend products I would purchase myself, and that I believe would benefit you. To learn more please see my disclosure statement.