How to Make a Grocery List: Hall of Fame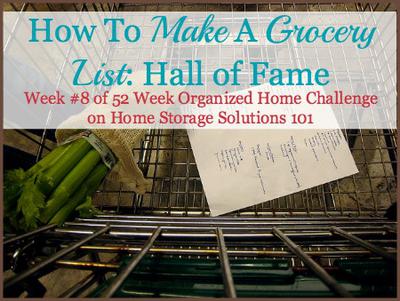 There are many ways to make a grocery list, and several readers have shared great ideas with me about how they do it in their home.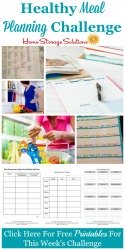 While making a shopping list isn't necessarily a complicated endeavor, it is very easy to forget to put something on your list that you realized you needed during the middle of the week, and also easy to overlook something on your list while you're in the store.
That's where making a grocery shopping list can feel complicated. You've got to have a system in place to keep that from happening on a consistent basis.
Scroll down to the ideas shown below to get some ideas for how other readers who have taken the
healthy meal planning and grocery shopping list challenge
have taken on this task.
If you've got an idea to share I'd love to see it. You can
click here to share how you do it
in the Home Organization Hall of Fame, and the best photos will be featured on the site.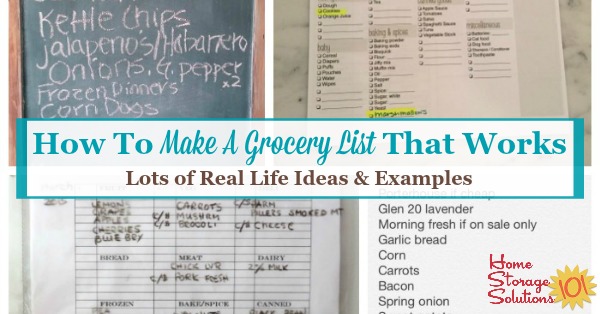 Top photo by BruceTurner
Join in and write your own page! It's easy to do. How? Simply click here to return to 52 Week Home Organization Challenge Hall Of Fame.
Keep A Running Grocery List With A White Board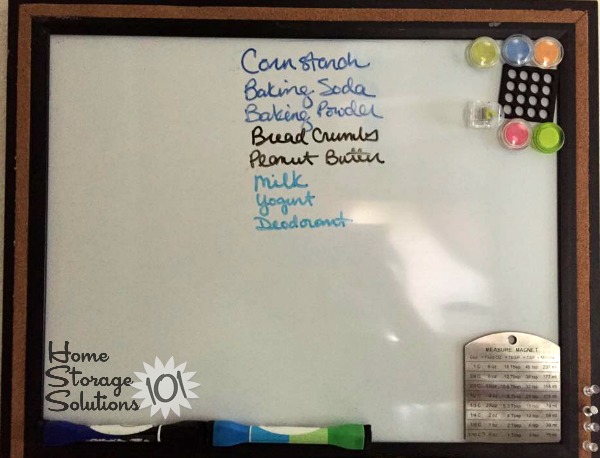 A reader, Sheryl, sent in this photo showing how she uses a white board to jot things down as she runs low or out of an items, so she remembers to place it on her list before she goes grocery shopping.
This is a simple, yet very effective way to remember all those little things, like spices or other ingredients that you may use up over the course of the week, so you can keep everything well stocked and not realize, in the middle of cooking, that you should have remembered to buy something at the store earlier in the week, but you forgot.
In fact, instead of rewriting the list when you need to go to the store, instead just snap a quick photo of it on your phone and take that with you!
You can get white boards that are magnetic and stick to your refrigerator, or larger ones to hang on the wall here:
Michelle's White Board List: Divided For Different Stores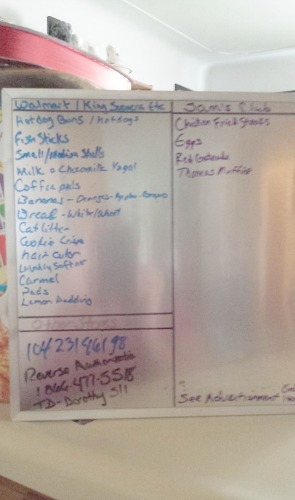 Another reader, Michelle, shared her picture, to the left, of her own version of this grocery list on a white board. She said:
I have mine split between Sam's where we bulk shop on the right and Walmart and King Soopers/Safeway on the left.
The bottom box is for quick notes if I'm on the phone or if we have items we need from places like Lowes or Home Depot for example, such as a filter cartridge for the fridge.
My husband and I can add to the list and then I take a picture and send it to both of us as we head out to the store. Then when we get to the store he knows what we are shopping for too and I don't forget my list.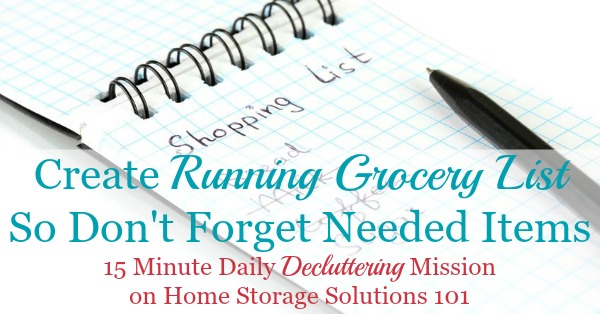 Join in and write your own page! It's easy to do. How? Simply click here to return to 52 Week Home Organization Challenge Hall Of Fame.
Write Your List On A Chalkboard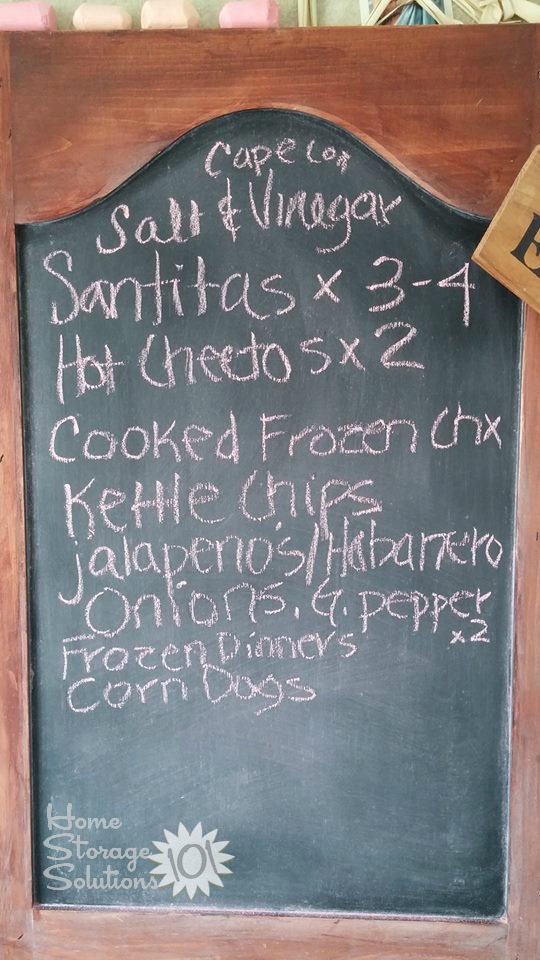 A similar method to the whiteboard shown above is to use a chalkboard.
A reader, Patty, sent in the photo above, and said, "I have chalkboard we write things on and also use a master list by aisle I made in excel.
I shop at 3 different stores so I have each list in excel. I take a photo of the chalkboard and add to the lists before big shopping. Or if it's a quick trip I just use the photo."
You can get chalkboards here:
Cook Great Meals In Less Time With An Instant Pot: Free Course To Learn How
Do you have an Instant Pot hiding in your cabinet? Want to learn how to use it? Sign up for Instant Pot School! It's free, and it will help you put that time-saver to work!
Learn more about this free course, and why I'm recommending it in my article all about Instant Pot School.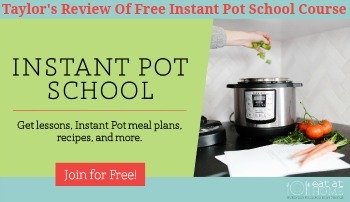 Join in and write your own page! It's easy to do. How? Simply click here to return to 52 Week Home Organization Challenge Hall Of Fame.
Use Blackboard Paint On Your Fridge: Perfect Place For A Running List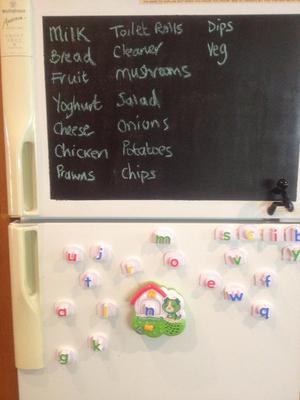 Tina did something similar to those readers above who use a white board, but she used chalkboard paint on her refrigerator.

She said, "I used blackboard paint on the top of my old fridge and then just take a pic on my phone of the list to take shopping."

You could also do this with the front of a cabinet door, like Ashli did. Her picture she submitted is below: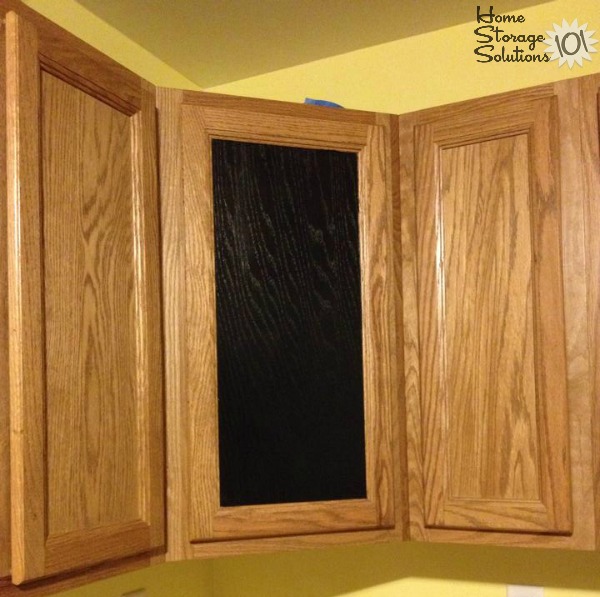 You can get chalkboard paint from the link below:
Join in and write your own page! It's easy to do. How? Simply click here to return to 52 Week Home Organization Challenge Hall Of Fame.
Make Your Grocery List On An Envelope
by Lisa Junkins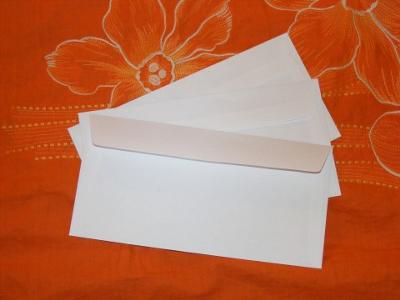 Lisa has shared how she makes her grocery list, and I like the simplicity of her system.


Lisa says:
I tried several printed versions of grocery lists. I have found over the years what works best for me is to write my grocery list on a business size envelope (I think they are size 10). Then I put the coupons I need for that trip inside the envelope and off I go.
Taylor says:
Lisa, I love the simple elegance of your system.
Plus, you've solved two birds with one stone since your system also solves the problem of how to keep track of your coupons while at the grocery store. Thanks for the great idea!
Kimberly Uses A Different Envelope For Each Store
Kimberly says: I do this too! If I am going to be shopping at a few different stores I make an envelope for each store.
I recycle every envelope I get, whether it be from a bill, occasion card, all of them.
Reader Suggestion: Recycle Old Envelopes
Lisa's system of using envelopes to sort and organize her coupons (especially if she is searching fliers online and creating shopping lists for various stores)... It is also a GREAT way to recycle the envelopes that businesses tuck in the bill mailed to you, but you pay the bill online. Use those in place of new unused envelopes! :)
Taylor's Review Of The Eat At Home Meal Plans
If you struggle to make menu plans and would love for someone to make them for you, plus make a grocery list for you, it's well worth spending a few dollars every week to let Eat at Home do the work for you.
Check out my review of the Eat at Home meal plans here, and why it's one of my favorite family meal planning services.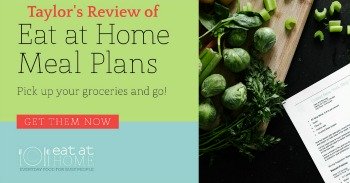 Join in and write your own page! It's easy to do. How? Simply click here to return to 52 Week Home Organization Challenge Hall Of Fame.
I Use A Personalized Master Grocery List That I Print From My Computer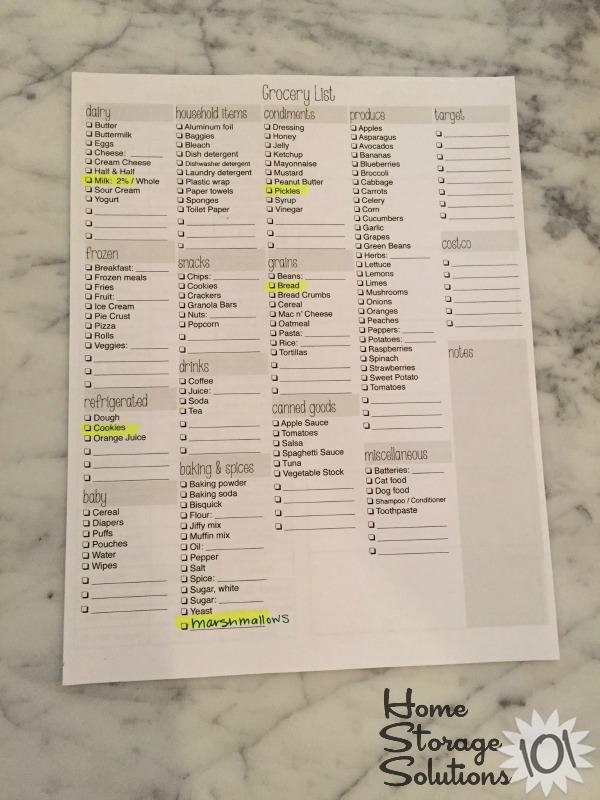 Emily sent in the photo above saying, "I love having a running grocery list! I highlight what we need after I make the meal plan (which is on the other side of this page) and I also highlight the item right when we run out of it so I'm sure to pick it up the next time I grocery shop."
Similarly, another reader, Kathy, said, "I have a menu calendar for the month where I write in the meal for each day of the month.
I use a
master list of meal suggestions
developed from family favorites and my cookbook. It allows for meal diversity and makes grocery shopping planning much easier.
I developed a master grocery list of just about everything in my kitchen which I print off from my computer as needed. When an item gets low, we highlight the item in yellow.
Before I go shopping, I double check the list against the menu calendar and highlight anything I might need.
On the back side of the print out is the list of items commonly purchased from the wholesale clubs. When a bulk item start to run low, that item gets highlighted also.
So, using the monthly menu calendar and the grocery printout with highlighted needs, we have found our grocery bill to be lower since impulse buying is decreased.
The grocery list is so much easier for my family since, for some reason, they are more likely to highlight a need more so than actually writing the item down.
And having the list layout already set up for the store (i.e. produce, dairy, cereals, frozen section, etc), makes it easier for them to find the item listed and easier for me to shop the store.
It is easy to add and remove favorite items using the computer. It is just a word file set up in 4 columns.
Taking a half hour at the end of a month filling in the menu calendar saves so much time come dinner prep time.
This method has prevented so many back trips to the grocery store for items missed."
I agree that a personalized template or list is best, but for those who don't want to make one I've created
printable grocery list template
that you can use. It has lots of common staples listed for you in this three page printable.
In addition, I've made a much
simplified grocery list template
that is just blank, but organized by major sections of the store so you can group items together on your list and not have to backtrack for forgotten things later in your list.
In fact, one reader, Jane, used the suggestions I made in some of the printables above, and them made her own personalized list. She explained, "Here is what I came up with for a grocery list that does not have to be copied to any other paper. Using Taylor's list as a jump off point I added a few things of my own and rearranged it to suit my store. I hang it on the fridge in a plastic protective sleeve. I have a grease pencil hanging there also to write on the plastic sleeve. I can take the whole sleeve to the grocery store and wipe out the items as I put them in the cart. Things I don't get will stay until next time. Saves paper and time in the store. So thanks once again for the inspiration Taylor!"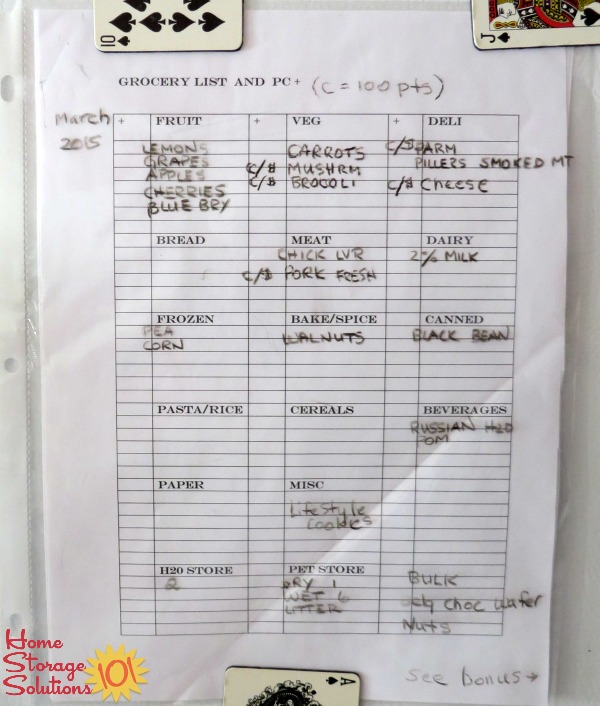 Join in and write your own page! It's easy to do. How? Simply click here to return to 52 Week Home Organization Challenge Hall Of Fame.
I Use The Notes Section On My Smart Phone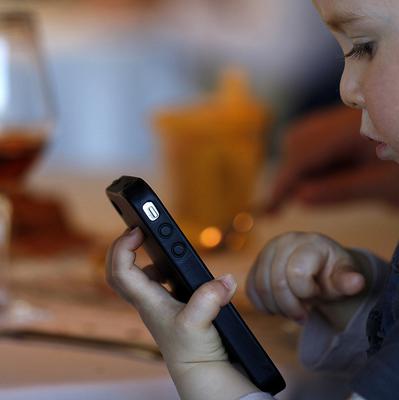 One reader wrote in to explain how she uses her phone for her list. She said, "I use the notes section in my cell phone. I keep a running list in there.

Add things all the time, delete them when they're bought. No waste."

Similarly, another reader, Misses Burton, sent in a screenshot of her grocery list on her iPhone.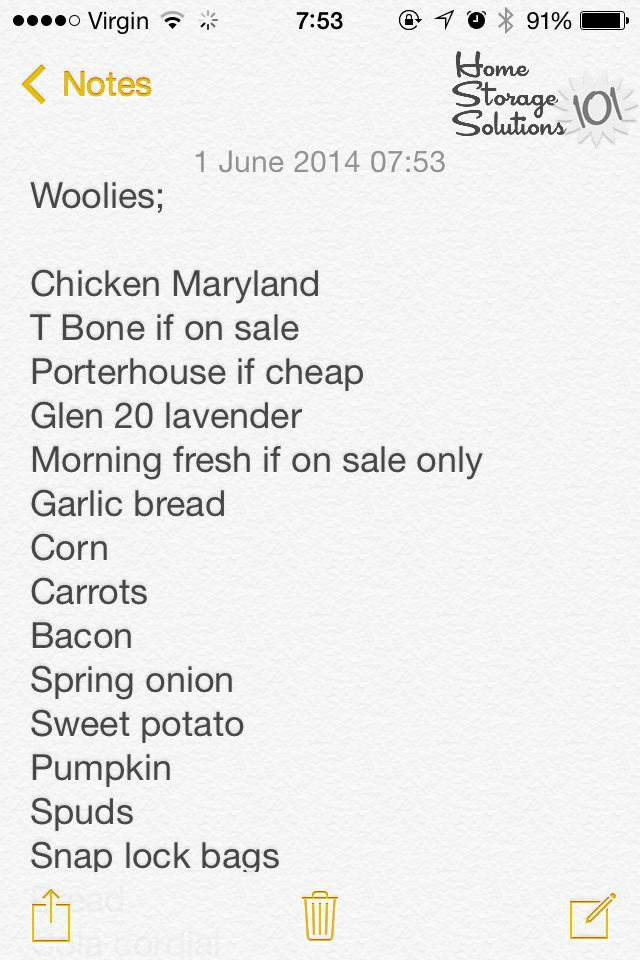 Alternate Suggestion: Use Reminder App on iPhone
Another HSS101 reader shared this alternate suggestion which was similar to the one above. She says:
I used to use the notes app for my grocery lists and then a friend showed me how much easier the Reminders app on the iPhone is.
I add lists for each store and then check off each item as it's purchased.
The app will show you what was already purchased and what still needs to be purchased. It works wonders!
You Can Sync The Reminders App Between Phones
Katie shared that this app can be synced between iPhones. She said:
My husband and I use the Reminders app (stock app) on our iPhones. He set it up to where they sync with one another so he can add something to our list and it shows up on my phone.
Works PERFECT for us!!
Top photo courtesy of jenny downing
Join in and write your own page! It's easy to do. How? Simply click here to return to 52 Week Home Organization Challenge Hall Of Fame.
I Use Post It Notes For Making My List
by Gabryyl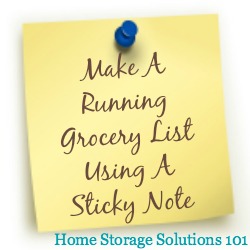 I keep a pad of super sticky post it notes on my laptop and make my grocery list on one.

As I need to use the riding carts due to a disability I can easily stick the post it on the large steering column center and see everything at a glance.

I also have a mini sharpie on my key chain that I use to cross off items as I go.
Join in and write your own page! It's easy to do. How? Simply click here to return to 52 Week Home Organization Challenge Hall Of Fame.
Grocery List Apps: The Modern Way To Make A List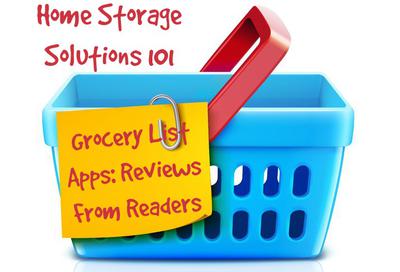 Of course no discussion of making a grocery list would be complete these days without mentioning that lots of people now use a grocery list app to create their list, and take it to the store right on their phone.

There are so many different apps available, so I can't discuss them all right here. However, lots of readers have shared reviews of various apps and I'm including links to these reviews in case your interested in using this method.


Do you have an app you like to use for this purpose? If so, I'd love to hear about it. You can
submit your app review here
and I'll add it to the site and this page!
Join in and write your own page! It's easy to do. How? Simply click here to return to 52 Week Home Organization Challenge Hall Of Fame.
Vintage Running Grocery List Sign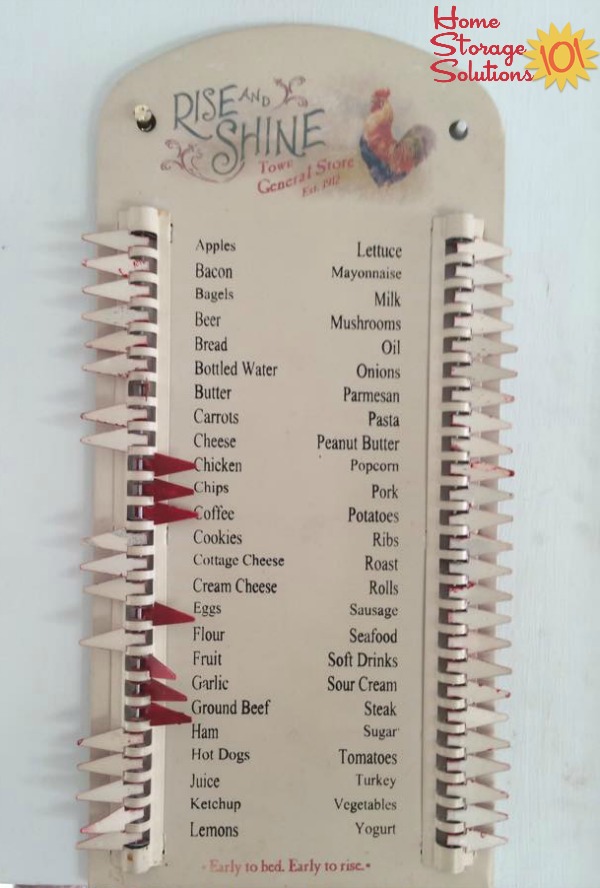 I'm not sure exactly where you can get ones of these little signs anymore, but a reader, Diana, sent in this photo and I thought it was really cool.
She said, "Grandkids help me use this cool little sign that my daughter bought me ages ago. It hangs in my kitchen and works very well for us."
Join in and write your own page! It's easy to do. How? Simply click here to return to 52 Week Home Organization Challenge Hall Of Fame.
Make A Grocery List You Can Easily Reference While Out Shopping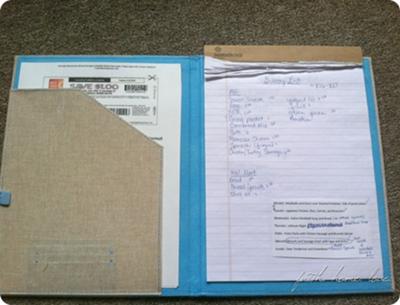 open view
Cortney from Faith, Home, Love shared how she makes a grocery list that she can take to the store with her, to help her buy what she needs for the week, with her coupons.

As you can see from the pictures she uses several of the skills we've discussed in the 52 Weeks to an Organized Home Challenge, including couponing and meal planning together, when making her list.

She explained that her list is in a "hard folder that easily sits up in the grocery cart and helps me stay on track in the stores."

In addition, on her grocery list she writes the price of each item down, before she even begins to shop, so they can stay within their budget. You can track your own rock bottom prices, to know when you're getting a good deal, with this grocery price book.


Are You Inspired To Get Organized Now?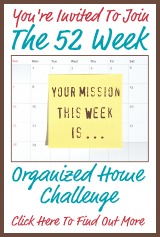 I hope these ideas have inspired you to organize your grocery list to help you at the store.
If you'd like more instruction, I urge you to join the
Healthy Meal Planning and Grocery List Challenge
.
Then, when you set up a good system in your home I'd love it if you shared some pictures of it here on the site. You can
share your Home Organization Hall of Fame pictures and tips here
.
Plus, if getting this area of your life organized gets you motivated I'd love for you to
join the 52 Week Organized Home Challenge
. When you do you begin to slowly, over the course of the year, get your whole house organized, one room or type of item at a time.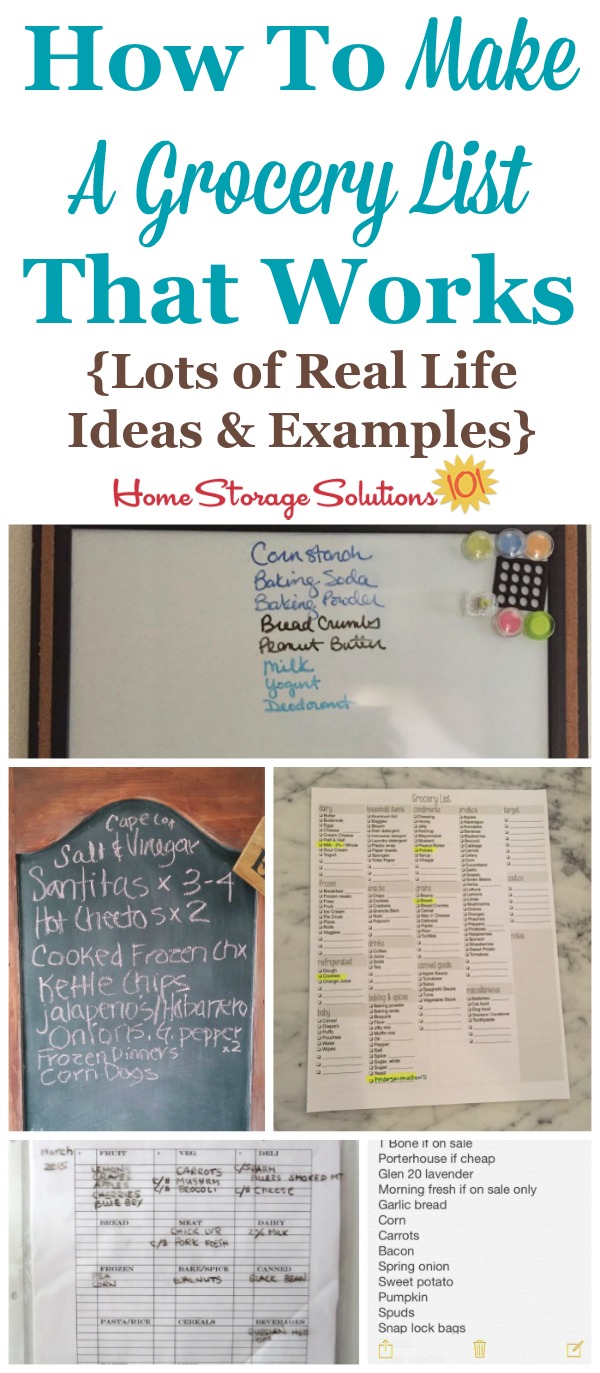 Some links on this page are affiliate links, meaning that if you purchase a product through them I receive a small commission which helps me provide this information to you for free, plus support my family. My integrity and your satisfaction are very important to me so I only recommend products I would purchase myself, and that I believe would benefit you. To learn more please see my disclosure statement.
Related Pages You May Enjoy
Printable Freezer Inventory Form
Printable Pantry List: Create An Inventory And Stay Organized
Go From Make A Grocery List Hall Of Fame To Home Page