Online Meal Planner Review
Plan To Eat
Plan to Eat is an online meal planner resource you can use to handle all the portions of planning your meals, from recipe organization, creating your grocery shopping list, and, of course, planning your menu for the week.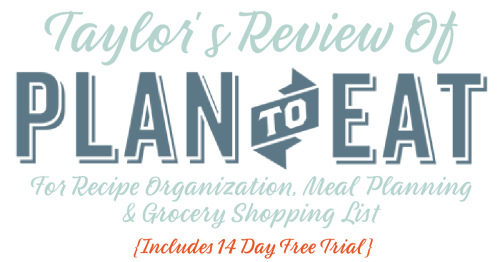 Several years ago (around 2012, and no, that's not a typo) I was consistently hearing about this online meal planner and I wanted to check it out for myself. I started my free trial subscription to Plan to Eat to learn more about it, and I absolutely loved it.
In fact, a decade plus later and Plan to Eat is still around, and I still keep hearing positive things about it, from readers and blog and social media commentators, and I think that shows you a lot about the quality and longevity of this company and their meal planning app and website, and I still recommend it.
How Plan To Eat Works
This program is really three things in one: (1) a recipe organizer; (2) meal planner; and (3) grocery shopping list maker.
You can access the program via desktop, as well as through an iOS and Android version of apps.
If you already know you'd like to give it a try, make sure to claim your 14 day free trial here.
Here's how it works:
1. Collect recipes from anywhere.
Easily add recipes to your personalized recipe book from websites using the recipe clipper, as well as from cookbooks, recipe cards, or anywhere else! This is how you can use this program for recipe organization.
2. Plan recipes that fit your life.
Once you've got your recipes added, decide when you would like to eat those recipes by placing them on your calendar. Your meal plan is completely flexible to accommodate your schedule, and also you can adjust the servings amount to fit your circumstances.
3. Plan To Eat then creates your grocery shopping list.
Once you've made your meal plan your shopping list will be made for you automatically, based on the recipes on your planner. All you have to do is select the date range of recipes that you would like to shop for and then you can access the list directly on the app, so you can cross items off at the store as you shop, or print the list out. You can also add or subtract things from the automatically generated list, and rearrange it, before heading to the store if you'd like.
Sounds great, huh? It is.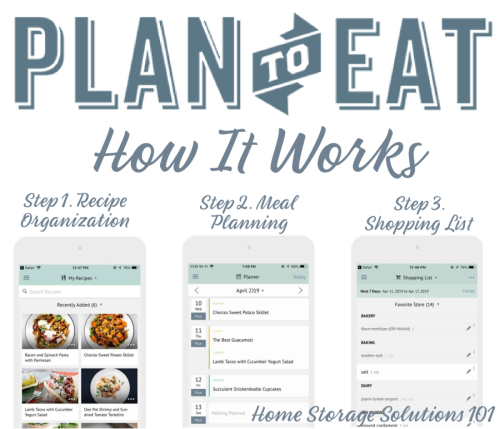 How Much Does It Cost?
Once the free trial is over it costs either $5.95/month or $49/year (which is only a bit more than $4/month) for Plan To Eat. (In addition, you can get the iOs app for $54.99 per year).
Taylor Recommends Getting The Annual Plan: Here's Why!
Any way you choose it, monthly, or annual, it's a great deal. I recommend getting the annual option from the website (not the iOs app), because when you purchase the anhual plan you get:
The monthly savings compared to the month by month plan; and
Get an additional 20% off your first year's plan when you use my referral code, making your first year of Plan to Eat cost just $39.20 (which is equivalent to a $3.27 per month)

There's nothing to remember to cancel if Plan to Eat is not for you though.
That's why I definitely want you to try it out, and use this free trial to add some recipes, make a few days worth of meal plans, and create your first grocery list. Then you'll definitely see if it's a good fit for how you like to meal plan.

Reader Testimonials About Plan To Eat
After recommeding this product for over a decade I've gotten quite a few comments from readers who were happy with Plan To Eat. Here are a several comments I've received:
Emily says: Love this site! I just signed up for a year after my month long trial ended. Went to the store today for the week and feel really confident that I have everything I need now to make dinner for the next week!
Marla says: I started in December with Plan To Eat, and I'm loving it! I enter my recipes as I plan them, so as not to get overwhelmed, and I feel really organized to see all my plans at my fingertips. I then backup the recipes to Evernote, so I've no fear of losing them should I not continue my Plan to Eat subscription. This system is working superbly for me and my family.
Renee says: I use Plan To Eat online planning (they sell a year's subscription cheaply in December). I plan out my menus, which are so easy to gather from off the web, on my computer, then take my phone which has the app and double check supplies in my kitchen. My husband and 2 teen daughters also have it on their phones. So anyone can stop at the store and access the shopping list. You tap on your phone and the item gets checked off. Since it seems everyone usually has their phone handy when a family member uses up the last of something they add it to the list. And finally it's good when the kids think of something they want or need for school, they put it in the list right then.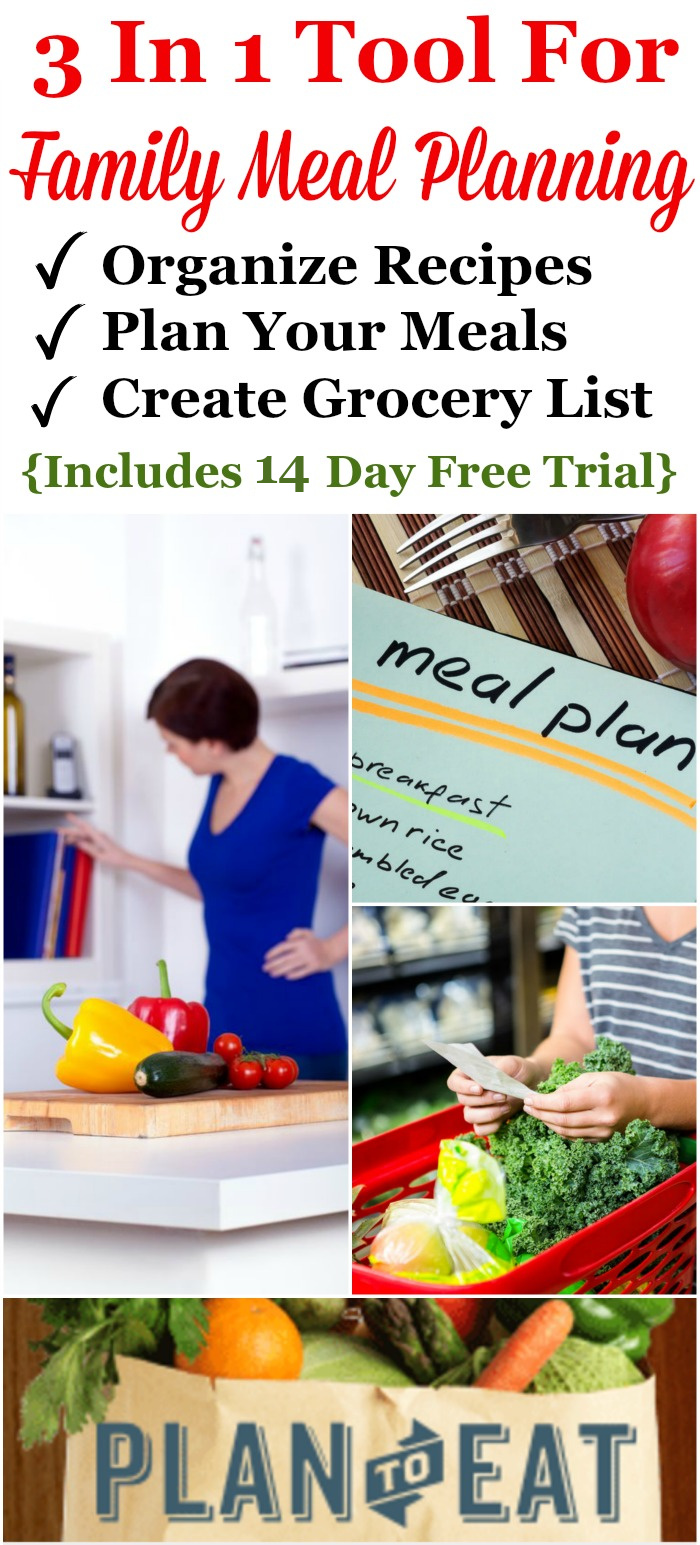 Taylor's Review Of The Eat At Home Meal Plans
If you struggle to make menu plans and would love for someone to make them for you, plus make a grocery list for you, it's well worth spending a few dollars every week to let Eat at Home do the work for you.
Check out my review of the Eat at Home meal plans here, and why it's one of my favorite family meal planning services.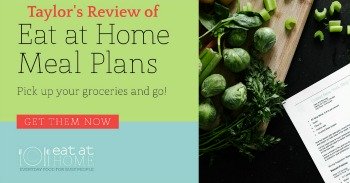 Cook Great Meals In Less Time With An Instant Pot: Free Course To Learn How
Do you have an Instant Pot hiding in your cabinet? Want to learn how to use it? Sign up for Instant Pot School! It's free, and it will help you put that time-saver to work!
Learn more about this free course, and why I'm recommending it in my article all about Instant Pot School.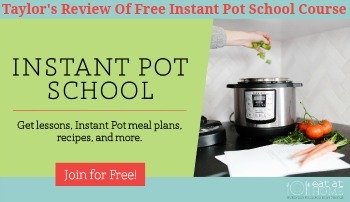 Some links on this page are affiliate links, meaning that if you purchase a product through them I receive a small commission which helps me provide this information to you for free, plus support my family. My integrity and your satisfaction are very important to me so I only recommend products I would purchase myself, and that I believe would benefit you. To learn more please see my disclosure statement.