I Keep Coming Back To MealBoard As My Recipe App Of Choice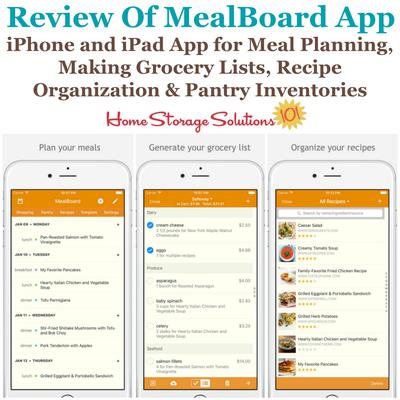 Below you'll find some reviews from readers of Mealboard, which is an app that is available for both iPhone and iPad that helps you with meal planning, recipe organization, and grocery list making, and even keeping a pantry inventory.
Jessica says:
I use an iPhone app called Mealboard to store my recipes and create my shopping list. It works great and it makes creating the grocery list so easy.
Plus, my recipes travel with me this way so I can make a favorite meal at my moms without carting around cookbooks.
I've tested some of the other recipe apps...including Paprika, which I know gets mentioned quite often...but I keep coming back to this one as my app of choice.
Taylor says:
Thanks for this quick review Jessica.
Below another reader has shared an even more detailed review of this app, explaining why she too, after comparison, thinks it is the best one.
Where To Get MealBoard
This app is currently only available for Apple products, not for Android, and costs $3.99.
You can get it through the Apple app store, through my referral link below: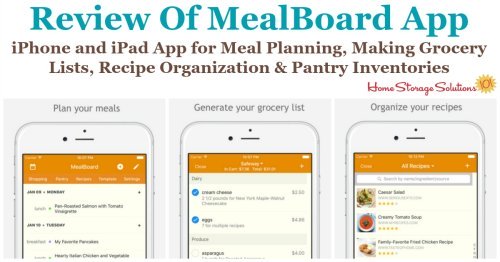 What's The Best Grocery List App And Best Recipe App? My Opinions And Comparisons
by Jessi Strom
(Nortwest Iowa)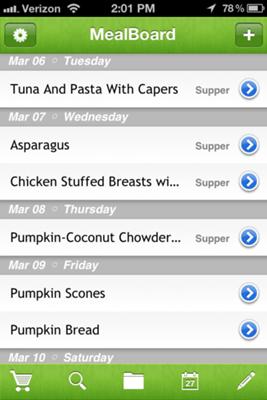 meal plan
Jessi heard I was writing a page about useful apps, and she wrote in to share what she thinks is the best grocery list app and best recipe app she's currently used, and has settled on MealBoard, at least at this time.
Jessi says:
I use an app called
MealBoard
for organizing my recipes, meal planning and creating my grocery list.
Other apps I've tried include Paprika, Menu Planner, BigOven and Cook's Illustrated (I only mention this last one briefly in this review because of their awesome timer feature—but since you can't add your own recipes, it really wasn't under consideration for my purposes).
Some of the things I looked for in a good app include the following:
1. Ability to include a photo of the recipe
2. Ability to create a shopping list...preferably with the ability to keep track of prices
3. Ability to add and edit recipes on the computer
4. Ability to set timeframe for grocery list export
Things that I was not interested in:
5. Any app that required a subscription to store personal recipes (such as BigOven)
6. Any app that wasn't really easy to use
How the different apps measure up to meet my requirements:
1. All the apps I've used now let you include a photo.
2. Both MealBoard and Menu Planner have shopping lists that let you record a price. I find this feature helpful in making sure my meal plan for the week keeps me within our food budget.
3. Both MealBoard and Menu Planner have a web interface that you can use to add and edit recipes. You can edit BigOven recipes on-line, too, but there's that subscription fee mentioned before. As for Paprika, you can edit them on a computer only if you have a Mac—I don't. Another option for Paprika would be to load my recipes to a site like MyRecipes.com first, and then save them into Paprika.
4. MealBoard and Menu Planner both let me set start and end dates for exporting my meal plan to my shopping lest. Paprika doesn't let me chose the date range, just the standard Sunday-Saturday week.
Conclusion: MealBoard Was My Top Pick
All in all, MealBoard met all of my requirements and it was the easiest to use. I can access a recipe directly from the main meal plan view with one tap. (Both Menu Planner and Paprika require two taps—one tap to view the specific day in greater detail, and a second tap to view the specific recipe.)
Why I Didn't Like Paprika: The Good And The Bad
So why is Paprika twice as expensive as the other two apps? It does the following things really well:
• When you browse your recipes, you see a thumbnail image of the recipe which is not only visually appealing, but sometimes makes it easier to choose which recipe you want (Menu Planner does this too)
• It has a built in timer. While this is a handy feature, it isn't done as nicely as the Cook's Illustrated app which not only allows multiple timers (Paprika is just one timer) it lets you tap on the time directly within the recipe to start it, so you don't even have to set it!
• It makes saving recipes from many different well known recipe sites really easy. Menu Planner and MealBoard support this feature, too, but not with as many different websites. I had the most success with this feature when using the Paprika app.
• While viewing a specific recipe, you can easily record it as a favorite, add it to your meal plan, e-mail it, add it to the grocery list, or even print it—the other apps only let you e-mail the recipe.
• And I could probably list even more things, but those are the big ones. It is, after all, a really good app.
So again, why don't I use Paprika? Especially since I did already buy it, even though it was twice as expensive as MealBoard?
• There is the fact that it doesn't let me choose the date range for exporting a meal plan to the shopping list
• It doesn't let me record a price for items (a feature that wouldn't have been important to me before, but now find indispensable)
• Paprika doesn't have a web interface for PC users
How I Use MealBoard In My Life And Conclusion Of Why It's The Best Grocery List App And Best Recipe App I've Found So Far
• Another feature I haven't talked about much, but like and use (and MealBoard and Menu Planner both have it, and Paprika does not) is the ability to change my meal plan really easily by moving Monday's supper to Tuesday, and so on.
• I also like how easy it is to add recipes to user defined categories in MealBoard. In most of the apps, you have to open up each recipe, and set which categories it belongs in. In MealBoard you have the option to open up a category in settings and add all of the recipes that belong to that category. This is helpful if you add a lot of recipes at a time, which I was doing, and it is also helpful if you add a new category, you can quickly check all of the recipes that belong in it.
For those recipes that are in my cookbooks, at the very least, I save the recipe name and location, but as they get used, I add the list of ingredients for the ability to get added to the shopping list, and as I have tine, I add the instructions.
I sort my recipes into user defined categories, so I can pick one chicken, one Mexican, one sea food, one soup or stew, etc. per week. Add the week to the grocery list, and I'm set to go shopping as soon as I check the pantry for things I already have on stock. And speaking of pantry stock, I should mention that Menu Planner has a pantry feature that I never really got the hang of, but it could be helpful in trying to pick out recipes you can make without shopping at all.
I've been using MealBoard since January 16, so my selection of recipes already inputed is growing considerably. Prior to that I played with Menu Planner a bit, but since MealBoard added the photo feature, and I really do find it easier to use, I switched to using MealBoard. Because these apps are constantly getting updates, reviews can become outdated quickly, but this is my opinion as of today, March 11, 2012.
Taylor says:
Thanks so much Jessi for sharing this great review with your explanation of why you think MealBoard is the best recipe app and the best grocery list app to use.
You can
click here to purchase MealBoard
, which currently costs $3.99 in the Apple App Store through my referral link.
I would love to hear from even more people who've used one of these apps (or another one not listed) to share what you like or don't about it as well.
More Meal Planning, Grocery List & Recipe App Reviews: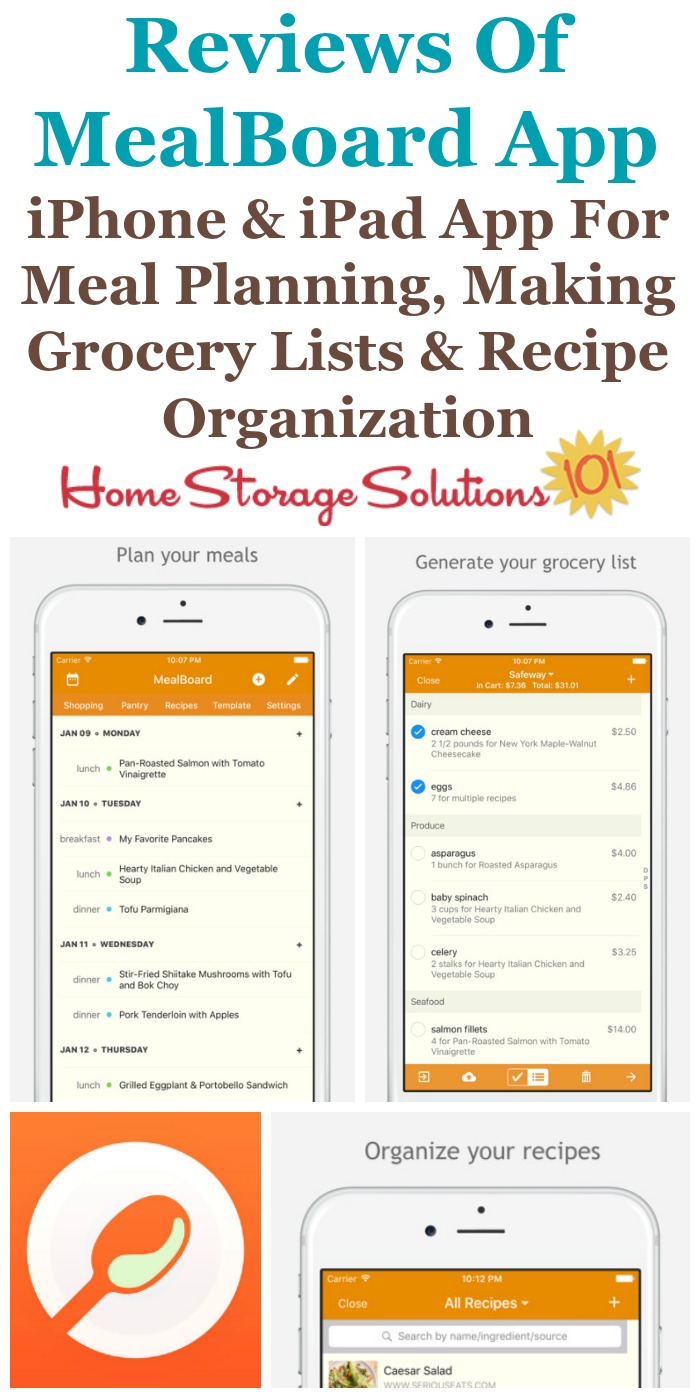 Some links on this page are affiliate links, meaning that if you purchase a product through them I receive a small commission which helps me provide this information to you for free, plus support my family. My integrity and your satisfaction are very important to me so I only recommend products I would purchase myself, and that I believe would benefit you. To learn more please see my disclosure statement.
Related Pages You May Enjoy
Organizer Store: Products To Improve Your Home & Life
Healthy Meal Planning Challenge
Go From MealBoard App Review To Home Page