How To Declutter Your Home
In 15 Minutes A Day
Your Mission Today Is . . .
Don't feel like you have time to get rid of your clutter? Well, declutter your home in fifteen minutes a day with these daily missions. You can start today!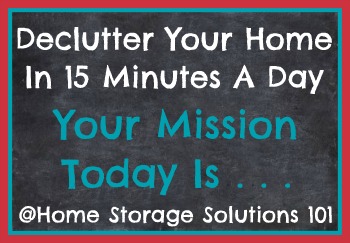 Click here to sign up for your first month of missions if you're already ready to join for free!
I understand the feeling of not having enough time to do everything you need to do in your home, including the process of decluttering.
You can look at the drawer, the room, or the whole house and feel like you'll need to work for days and days to get it cleared out, and you don't have that kind of free time in your schedule!
Well, what if I told you you could spend a whole day a month on removing clutter and junk from your home without having to take a vacation day from work or slave all day in your home on your day off or during precious weekend family time?
Sound impossible. Well, welcome to the power of 15 minutes!
This challenge is possible because of a secret weapon any organized person knows about, and I'm going to share this simple, yet powerful secret with you right now.
15 Minutes: Your Secret Decluttering Weapon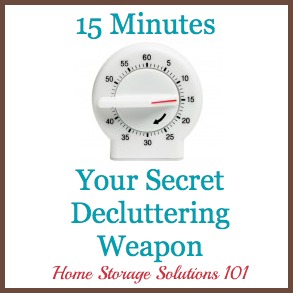 I've designed each of these Declutter Your Home Missions to take you 15 minutes or less each day.
That doesn't sound like a lot of time, and it's not. Everyone can find 15 minutes in your day for something really important to them.
But 15 minutes adds up when done consistently. In fact, if you add up 15 minutes each day for 30 days you get seven and a half hours! That's a whole day of decluttering each month without interfering in the rest of your life! Wow!
What If It Takes Me More Than 15 Minutes To Do The Mission?
When you hear this you may be thinking, that's great, but my house is a wreck so it will surely take me longer than 15 minutes each day to accomplish the mission. What about that?
My answer, don't sweat it. If you can devote more time, great, but if not do as much of the task as you can in fifteen minutes and be done for the day!
You'll still be making progress forward, so be proud of what you did get accomplished.
How Can I Do These Missions And Still Keep Up With The 52 Weeks To An Organized Home Challenge?
The 52 Week Organized Home Challenge has become really popular, with over 40,000 participants now signed up. For those not familiar with it, it is basically one challenge each week which, over the course of the year, helps you get your entire home organized.
The appeal of the challenge is that it goes slowly, so everyone can keep up. I understand that you may be concerned that these daily decluttering missions could keep you from finishing the challenges.
I considered that, and didn't want that to be a problem. That's why I designed the missions to complement where we currently are in the challenge, roughly.
Since part of each week's challenge is typically to declutter the area or type of item we're working on for the week I've made these daily missions roughly coincide with what we're working on in the Organized Home Challenge, so they don't compete with one another for your time.
In fact, the missions are designed so that doing them and the weekly challenge at the same time will actually help you accomplish both in your home!
When Does These Declutter Your Home Daily Missions Start? Am I Too Late To Begin?
These missions are ongoing. You don't have to wait until January 1st or any other arbitrary time to begin. Instead just jump in wherever we are right now and take off from there.
How Do I Get Each Month's Worth Of Missions?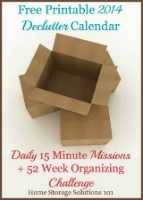 On the last day of each month I'll put up on the site the calendar for the next month, so you'll know exactly what your daily missions are.
I'm still working toward a printable version of each week's challenge in the Organized Home Challenge series, but I've solved this problem from the get go with the Declutter Your Home Daily Missions. Not only will the missions be listed on the website, but I'll provide you with a free printable calendar for the month you can reference each day.
Plus, since so many of you have asked I have also gathered all 12 months of the 2014 declutter calendar in a printable version you can claim when you sign up for the site's newsletter!
In addition, I'll share each day's mission through social media too, so you can keep up by following the site on Facebook, Google +, and/or Twitter.
I know that it can be hard to remember to check something on the web each month for the latest printable declutter calendar, so I am also going to send the printable each month as part of the free email updates and newsletter for the site. If you want these free emails to come to your home, along with the weekly challenges and additional organizational tips and hints, sign up below.
Here's The Declutter Calendar For Each Month With The Daily Missions In The Declutter Your Home In 15 Minutes A Day Series
As I create each month's calendar I will post a link to it right here, so you can find the current month's calendar (or peek at older missions) at a glance.
You Can Report Your Own Progress On The Hall Of Fame
I want people to participate in these missions, and to be able to show off what they've accomplished since it feels so good when you get something positive done in your home!
If you do even one of the missions, whether while it is running that day or anytime you get around to it, and want to show off your accomplishments I would be happy to publish your pictures, and story about what you did here on the site.
Just for this purpose I've created a "Getting Clutter Free In 15 Minutes A Day Hall Of Fame." I'll also be sharing my own daily decluttering progress with you in this section of the site, as I do the missions myself, so you can track my progress (or see my stumbling blocks) toward my own decluttered home.
In addition, if you have your own blog and share your accomplishments there instead you can send me a link to your blog post and I will link to it from the "Hall Of Fame" if you allow me to use a picture and share a brief synopsis, plus add a link to the Declutter Your Home In 15 Minutes A Day Missions from your blog post.
Finally, I am proud of each of you that does a missino, and want to give you a digital award as a participant, so make sure you claim your free award badge below if you wish. You can Pin it on Pinterest, put it on your blog, share it on social media, or whatever you want to share your accomplishments with your friends and family.
Here's the code for the badge, or grab a copy for yourself. All I ask is that you link to the site and the missions, so if someone else wants to participate they can find it easily!