How To Stop Procrastinating
The Little Guide To Un-Procrastination
Free Ebook From Leo Babauta
Many of us ask ourselves the question, how to stop procrastinating? That's because procrastination can rob us of what's most important, our time.
That's why I'm excited that one of the grand prizes of the How To Organized Your Life Giveaway, and one that everyone can win, is this gift from Leo Babauta of Zen Habits, called The Little Guide to Un-Procrastination.
Update: This giveaway is now closed, and the link has been taken down. If you're still interested in this ebook, you can buy it from Leo. Here's a link: purchase your own copy of The Little Guide To Un-Procrastination here.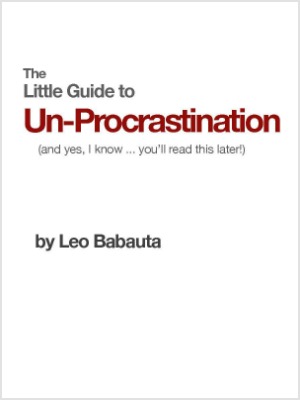 More Information About The How To Stop Procrastinating Ebook And Leo Babauta
Leo Babauta is the man behind the blog Zen Habits, which is a personal development blog that I have been following for many years.
In fact, I've been very influenced by Leo not only in my own personal development, but also in regard to my business, since until recently he was also involved in A List Blogging Bootcamps with Mary Jaksch, whom I met when I worked as a social media manager for one of her blogs. The Bootcamps taught me a lot about building my blog into a business, so when I reached 25,000 newsletter subscribers I wrote him an email thanking him.
To my suprise and delight he replied and offered to give a gift to my subscribers, and I thought this book, about how to stop procrastinating, would be perfect!
The reason I thought this book would be perfect is that many times we feel so overwhelmed by our homes, and all the things we have to do, that we just tend to ignore it all, and it just gets worse and worse.
Each person whose taken the 52 Weeks to an Organized Home Challenge has already taken a huge step, deciding they'll work on their house a little each week. However, even with this courageous step, some people are getting tripped up. They think they've got to do it perfectly, or in a specific order, or not at all.
Instead, any step forward in any area of your home is a great step, and will help you out.
Here are the chapters of the ebook, to help you understand why I think it can be helpful for everyone.
1. My Procrastination Story
2. Why Procrastination Hurts Us
3. When Procrastination is Good
4. Why We Procrastinate
5. A Simple Method
6. Fine-tune Your Motivation
7. Choosing Important Tasks
8. Find Your Best Time
9. Create a Distraction-free Workspace
10. Single-tasking
11. The Art of the Small
12. Fear & Procrastination
13. Reduce Friction to Get to Done
14. Kill Choice
15. More Procrastination Remedies
16. Engineer Habit Change
17. Procrastination Questions, Answered
You can purchase your own copy of The Little Guide To Un-Procrastination here, from Leo.
Be Sure To Enter Even More How To Organize Your Life Giveaways!
If you've enjoyed this giveaway, please make sure to check out what else I've got in store for the How To Organize Your Life Week of Giveaways, celebrating 25,000+ newsletter subscribers.
I've got 16 different giveaways coming, over the course of the week, including several absolutely free gifts everyone can receive!
Click here for the full list of giveaways and free resources.
In addition, I would appreciate you sharing this page with your friends and family, such as with the social media buttons below, or otherwise, to tell them about this free ebook sharing how to stop procrastinating.
Finally, if you're interested in why so many people have subscribed to my newsletter, check out the 52 Weeks to an Organized Home Challenge, which we've all been enjoying doing together. I'd love for you to join us, if you aren't already a newsletter subscriber!
Some links on this page are affiliate links, meaning that if you purchase a product through them I receive a small commission which helps me provide this information to you for free, plus support my family. My integrity and your satisfaction are very important to me so I only recommend products I would purchase myself, and that I believe would benefit you. To learn more please see my disclosure statement.