Family Meal Planning Ebook
Plan It Don't Panic
Family meal planning is such an important part of living an organized life, because eating meals together with your family is such a special and important daily event in our lives.
But, meal planning isn't easy for everyone, and many of you have said you'd like an even more comprehensive resource to help you with this task.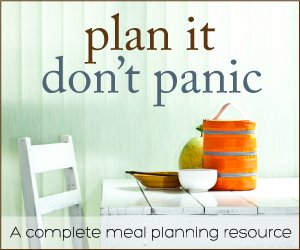 Well, I've found you one. Stephanie, who blogs at Keeper of the Home, provided me with a free copy of the Plan It Don't Panic ebook so I could review it, and once I did I knew this was the more comprehensive resource I would definitely recommend.
The book, which costs $4.99, discusses just about every facet of family meal planning that you could think of from the whys, to the how tos. For example, she discusses:
Why should I meal plan?
How to get started
Various methods for menu plans, such as weekly, two weeks or month at a time, freezer cooking, and more
How to plan not only dinners, but also breakfasts and lunches, if you wish
Making your plans simpler to use over and over again
And how to save money through planning your meals
Finally, I was completely thrilled to see one of my favorite resources in the back -- free printables from List Plan It, which are helpful for all aspects of family meal planning, from meal and grocery planners, pantry and freezer inventories, and checklists.
Purchase Your Copy Of Plan It Don't Panic Below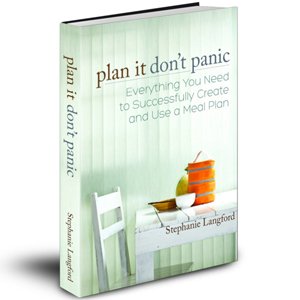 Pin It
[Click here to purchase Plan It Don't Panic Now]
Plan It Don't Panic Also Available On Kindle
I know some people like to get their ebooks on Kindle these days, and you can do that as well.
It also costs $4.99 for Kindle as well
.
Even More Ebooks Written By Stephanie From Keeper Of The Home
Stephanie has actually written several different ebooks. Here are some links to additional ones you may also be interested in checking out:
More Meal Planning Resources On This Site
Some links on this page are affiliate links, meaning that if you purchase a product through them I receive a small commission which helps me provide this information to you for free, plus support my family. My integrity and your satisfaction are very important to me so I only recommend products I would purchase myself, and that I believe would benefit you. To learn more please see my disclosure statement.