Printable Pantry List: Use It To Create An Inventory & Stay Organized
Below is a free printable pantry list to help you keep an inventory of what food you've got in stock. Using it will help you get organized, plan meals and use and eat what you've already got in your home.
Reasons Keeping A Pantry Inventory Can Be Helpful
This list is designed to be used in conjunction with the pantry organization challenge, but can be used even by those who don't do the challenge.
Keeping a list of what you've got in your pantry can be very helpful for several reasons.
Some of the main reasons include:
To eat the food you've already got, before it expires because you've forgotten it was there
Save money by stockpiling more of what you need (and to pass up a "deal" you really don't need)
Make sure you don't run out of a staple ingredient or supply
Help you plan meals for your family easily
I've separated out this inventory form into some major categories of food storage items you typically find in pantries, including dry goods, canned goods, cereals and grains, pasta, rice and beans, spices, and miscellaneous. You will note I have not placed cold storage items on this list, since that should go on your refrigerator/freezer inventory instead.
Where To Place This Pantry List And How To Use It
You can place this printable pantry inventory list in a couple of different places in your home, depending on your needs and desires. The two main places I would suggest putting it would be either in your household notebook, or on the door of your pantry, perhaps on a hanging clip board with a pen attached to make it easy to update.
Your inventory will obviously change and be in flux all the time, as you add and subtract things from your pantry. Therefore, I suggest placing this printable in a plastic page protector and writing on it with a dry erase marker, where you can change the contents and quantity easily without having to print out a new list all the time.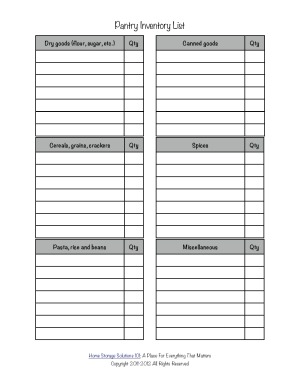 Click here to get your printable form
(opens in new window as PDF)
Other Printable Forms You May Like
Here are some additional printable forms about food storage that you may find helpful.