Clean & Declutter Under Couch & Between Couch Cushions
Today's decluttering mission is to clean and declutter under the couch and in between the couch cushions.

This mission is designed to be done during the week we're working on the Organizing Living Room & Family Room Challenge, which is part of the 52 Week Organized Home Challenge here on the site.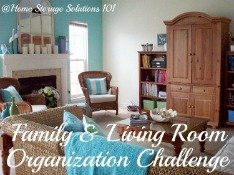 I'm sure you know how quickly little stuff accumulates both under your sofa and also that slips between and under those couch cushions. Today's the day to brave it and get all that stuff out of there.
If you can move the couch (be careful not to hurt yourself) go ahead and do so, remove all the stuff under there and vacuum or sweep.
Then, remove the couch cushions (if you can with your couch) and really clean it out, including removing any stuff you find and vacuuming up crumbs and debris, including in the crevices.
If you've got enough time go ahead and vacuum the actual cushions themselves as well. It removes a lot of dust and can keep your sofa or couch looking better longer.
Now, this is the type of mission that you can't just do once a year, but needs to be an ongoing task. You'll need to decide how often to do it in your home, based on a lot of factors including how many people sit on the couch, and how prone everyone is to lose things in there. I would suggest every week to two weeks though as a reasonable time.
Below I've listed some of the most typical things you might find under your couch or between the cushions, but I'd love to hear what you find when doing this mission too, so make sure to tell me in the comments!
Photo courtesy of Kelly Sikkema
What Did You Find In Or Under Your Sofa?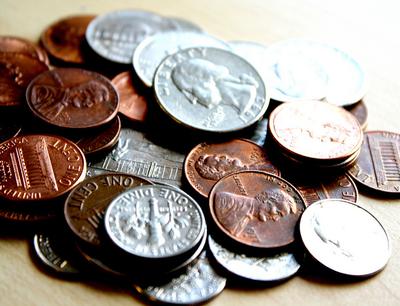 Once you've done this mission I'd love to hear what you found in or under your couch. Sometimes there is some crazy stuff you can find down there!

Based on reader responses from those who've already done this mission in the past here are some typical items that are often found in couch cushions or underneath the couch:

Food (typically small snacks that missed someone's mouth, like popcorn or cheerios)


Money (typically coins, like that fall out of pants pockets)


Trash, such as wrappers, etc.



Lost socks or other small clothes


Tissues





Pacifiers



Small toys, especially ones with wheels that slide under the couch while kids are playing


Pet toys; and


Tell me what you find in the comments!
Are You Ready To Declutter Your Home?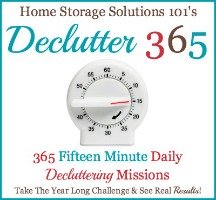 I hope this mission has inspired you to get your home decluttered.
When you begin to declutter the feeling you get is contagious, so if you're loving the results you're getting I would encourage you to keep going.
I've got a whole series of
15 minute decluttering missions
(eventually 365 of them!) that you can do.
Just pick and choose the ones you want to do, that will make a big impact in your home. But if you want someone else to tell you the order you can also grab the
15 minute daily decluttering mission calendars
and follow along as we all get our homes clutter free together!
Photo courtesy of MoneyBlogNewz
Related Pages You May Enjoy
Getting Clutter Free 15 Minutes At A Time Hall Of Fame
Free Printable June Declutter Calendar With Daily 15 Minute Missions
Go From Declutter Under Couch & In Between Couch Cushions Mission To Home Page