Charging Station Organizer Ideas For Phones & Other Electronics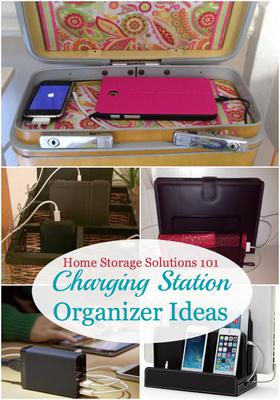 A charging station organizer for your family's electronic devices, such as smart phones, tablets, and more is just about a necessity these days in an organized home.


That's because we're now living in a connected world, with many of our electronic devices traveling with us just about everywhere we go. And it's not just for work, but for school and for home too.
Of course, all those batteries need to be recharged at some point. That's where a station where everything is consistently kept comes in really handy.
As people come in the door they can put their devices in to charge, so they can find them when they want to leave again, and bonus, it encourages you to disconnect for a little while as well. Plus, did I mention not having to search for those pesky cords this way? That can save you so much time right there!
Considerations When Choosing An Electronic Charging Station:
When you're setting one of these stations up in your own home keep these thoughts in mind to make sure what you do will work as well as possible and serve your family's needs for as long as possible:
Technology Changes: Including Changes In The Sizes Of Devices & Their Power Cords
Whether we like it or not technology innovation doesn't stop. Cell phones have given way to smart phones, and now there are tablets, laptops, video games, and all kinds of other devices that need to be charged that we could never have imagined even a few years ago.
Instead of choosing a charger station that fits one piece of technology exactly, why not consider something more flexible, where you can switch out power cords to the newest model, or place multiple sized devices inside so the organizing solution can grow and adapt with the newest technology instead of becoming obsolete?
Consider Where The
Power Strip, Cords & Wires Will Go

As you'll see from some of the photos below, the power strip and wires for a lot of these devices, all together, can make quite a mess if you don't keep it contained.

This can be a eye sore, if nothing else, because lots of messy wires and cords can look like chaos.
Air Flow Is Important For Safety Since Devices Can Get Hot
Of course, eye sores are really a lesser concern than safety, and just as with any other electronics, lots of cords can mean a chance of overheating or electrical fires.
So whatever you choose make sure there is adequate air flow, because as I'm sure you know from just touching some of your electronics at times, they can get pretty hot and you want them to be able to cool down properly.
Consider Having Both USB & Traditional Electrical Plugs Available For Charging
Finally, when considering your power strip, you really may want to try for something that will accommodate not just traditional electrical plugs but also USB chargers.
Sure, you can get adaptors that allow devices which are charged by a USB to be charged from an electrical socket, but having both options available can make it easier and more convenient.
So below I've collected ideas for this station that you could use in your own home.
DIY Charging Station Using A Mail Sorter
This idea is from a reader, Roberta. She explained, "I use a mail sorter that I got at Cost Plus World Market.
I attached a power strip to the back with zip ties and put binder clips on the side to hold the cords in place.
I keep mine on a small table on the other side of my bedroom so my teenage kids are not on them all night!!"
Scroll down below to see even more ideas you can use!
Join in and write your own page! It's easy to do. How? Simply click here to return to home office and technology clutter.
Multiple Device Charger Station Using A Mail Rack
A reader, Anna, also made her own organizer by using a mail rack (shown above). What I like about these pictures is that she's shown us what all the cords and the power strip look like as well, which I think brings a little realism into the picture.


Quirky Cordies Desktop Cable Management
for power cords Click here to purchase on Amazon
Whatever you choose to use for charging your devices, as I already mentioned, there will be lots of wires and things to plug in.
Anna explained: "This is mine. A mail rack from The Reject Shop with all the leads clipped into a 3M hook behind (the kind that loops back on itself). The powerboard is under my desk strapped to an Ikea cable management system."
You see now why considering air flow is so important, along with the eye sore than lots of cords and cables can be? (Anna's cords aren't an eye sore though because she has this under her desk.)
If you're considering making your own charging station, you might also want to get a cable management system to keep cords organized and untangled.
Here's another example, from another reader, Melissa. Notice how she keeps cords out of the way with simple binder clips. Genius!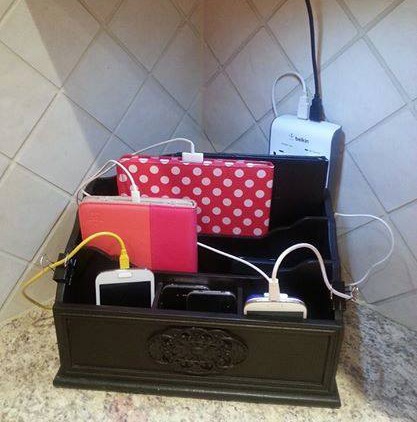 Join in and write your own page! It's easy to do. How? Simply click here to return to home office and technology clutter.
Electronic Charging Station For Many Types Of Gadgets & Devices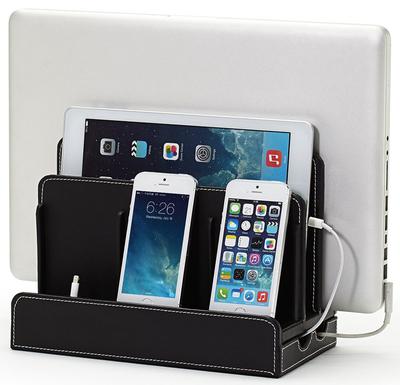 While you can go the do it yourself route with good results, as seen above, some people just want to get something that's already been designed for them.

Fortunately, there are many popular products on Amazon that fit the bill. The ones I recommend are ones which can be used for multiple types of devices, and which hide the cords so they're attractive.

Make sure you know whether the one you choose comes with a power strip included or not, just to make sure you get everything you need to get it set up when it arrives!

Here are a few of the most popular charging stations (the first one is the one pictured above):


Join in and write your own page! It's easy to do. How? Simply click here to return to home office and technology clutter.
USB Charger Stations Should Definitely Be Considered
Not all devices these day have a traditional plug. Instead, many devices are charged through a USB port.

Instead of getting an adaptor for each USB charged device to allow you to plug it into a more traditional electrical socket, I suggest considering a USB charger station where you can plug in multiple devices at once.

This can help you reduce cords either in your own DIY charging stations or for a store bought variety, or just have it sitting on your desk.

Here are some of the most popular ones on Amazon:


Join in and write your own page! It's easy to do. How? Simply click here to return to home office and technology clutter.
Travel Charger That Has Both USB & Other Sockets
by John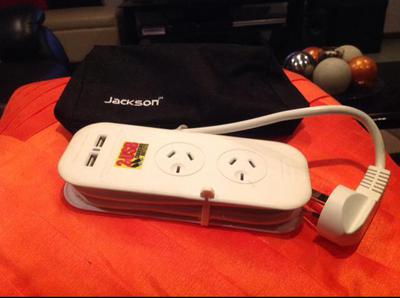 If you travel a lot, you may want to consider a mobile or travel version of a charging station as well.

That's what a reader, John, does. He says:


"Here is an option, we use it when we travel. Has 2 USB and 2 Aust sockets. We may want to charge 2 IPads, 2 iPhones, 2 Cameras and a pedometer (USB) all at once. We take 2 of these power boards and a multi-International power socket adaptor for Asia, Uk, Europe, USA, Africa, etc - we only need one adaptor, and plug one power board into the other!
Picked it up from RACV.
It's lightweight, compact and foolproof.
It comes in its own travel pouch and the cable wraps around the frame. Just love it!"
Join in and write your own page! It's easy to do. How? Simply click here to return to home office and technology clutter.
DIY Fabric Pouch Wall Organizer For Electronics
by Em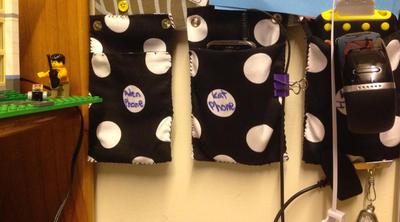 Here's how a reader, Em, keeps track and recharges her kids electronic devices.

She made some really cute fabric pouches for each device to sit in as it hung on the wall and charged.
Join in and write your own page! It's easy to do. How? Simply click here to return to home office and technology clutter.
DIY Charging Station Using A Vintage Train Case
by Jennifer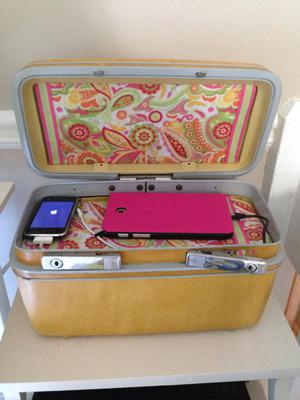 A reader, Jennifer, sent in this photo of her do it yourself solution for getting all these things charged up.

She said: "I use a vintage train case I picked up at a thrift store. I cut a hole in the back to feed a power strip cord through (it sits inside), and I used felt-covered board on top for a message center and on the tray rack to cover the cords."


Are You Inspired To Get Organized Now?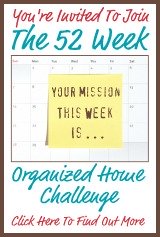 I hope these ideas have given you some inspiration to get your electronics under control.
Do you have one in your own home you'd like to show off? If so, I'd love to see it and add it to the page. You can
submit your own photos here
to be featured on the site.
In addition, I know how the organizing bug can be contagious. Once you get one thing under control you can feel very motivated to continue. I'd love for you to
join the 52 Week Organized Home Challenge
(for free!) where each week we tackle a different room or type of item in our homes so that slowly, over the course of the year, your whole home is decluttered and organized!
Some links on this page are affiliate links, meaning that if you purchase a product through them I receive a small commission which helps me provide this information to you for free, plus support my family. My integrity and your satisfaction are very important to me so I only recommend products I would purchase myself, and that I believe would benefit you. To learn more please see my disclosure statement.
Related Pages You May Enjoy
Getting Clutter Free In 15 Minutes A Day Hall Of Fame
Mudroom & Entryway Organization Challenge
Go From Charging Station Organizer Ideas To Home Page