Free Printable 2015 Declutter Calendar
15 Minute Daily Missions For Year
You've asked, and I'm here to please so I've created a free 2015 declutter calendar containing 12 months worth of 15 minute daily missions that you can print today!
All you need to to grab this printable is sign up (for free) for the Organized Home Challenges and newsletter to come directly into your email inbox.
These challenges correspond with the daily missions anyway, so they'll keep you on track with your decluttering!
Click here to sign up if you're already ready to join for free!
The printable consists of 12 calendar pages, plus a list of all 52 weekly challenges that we'll be doing during 2015 together.
Eventually you can get each of these pages separately here on the site, but right now I haven't updated those pages yet, and they're all still the 2014 calendar. That's because the 2015 JUST came out. So right now, the 2015 calendar is only available for subscribers.
I sure hope you'll join me and the over 80,000 others who've already signed up to work on these challenges and get their whole house organized and decluttered in 2015!
Sign Up Here To Get Your Free Printable Calendar!
Don't Forget To Also Join The Declutter 365 Facebook Group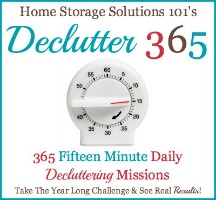 Although you can follow along with just the emails from me, plus the calendar, many people begged for more daily interaction during the Challenge.
You asked and so I delivered. I've created a Facebook group called Declutter 365 which does exactly what it sounds like. It follows along with the free 2015 decluttering mission schedule I've created and posts each mission, daily, to help remind you of the challenges and missions, and keep you on track.
Click here to join the Declutter 365 Facebook group today.