The 2020 Ultimate Homemaking Bundle: The Best One Yet!
This Sale Is Now Over
FTC Disclosure: I have partnered with Ultimate Bundles to tell you about the amazing resources in the Ultimate Homemaking Bundle. As an affiliate I receive a commission if you purchase this bundles through my link, at no additional cost to you.
***Edited to add: This sale is now over, for 2020. There will be an all new Ultimate Homemaking Bundle available for 2021. Please subscribe to the newsletter here to get information about the 2021 bundle, once it's available.
2020 has been hard on us all so far.
And it's made me realize a few things . . .
In times of stress, I keep saying to myself, "back to basics," because having a home that's calm and well-run makes me feel better, even when I'm anxious about what's outside or if I'm stressed about feeling out of control.
For me, the basics are the foundational things that we, as human beings all need. These include shelter, food and safety, and what I realized is that homemaking is what provides all of these foundations for us all.
Think about it -- homemaking is all about things like a relatively clean home to live in, good food to fill our bellies, clean clothes to wear, and the calm and sense of safety to be able to spend time with those we love.
Right now, as the events of 2020 rock our world, I've found that by focusing on the foundation, my homemaking basics, I can better keep myself and my family steadier, more grounded, and less overwhelmed.
And that's why I'm excited to be able to share the Ultimate Homemaking Bundle with you today, because I feel like it's what we all need right now, to help us shore up our foundations to keep our families thriving during this difficult time.
With the Homemaking Bundle you can take care of your home, take care of your family, and take care of yourself.
When you buy the Ultimate Homemaking Bundle, you'll get access to:
14 eCourses & videos
9 eBooks
28 more resources, including printable packs and worksheets
These top-quality resources cover everything you need to make homemaking feel less stressful, such as organization and decluttering help, homemaking printables and planners, cleaning tips, ideas for self-care and taking time for yourself, date night ideas, parenting help and so much more.

Imagine . . .
What if you knew what was for dinner by 11am most days?
What if your kids pitched in to help with household chores?
What if you had no-brainer systems that kept your home tidy, your bathrooms clean, and your laundry caught up?
Wouldn't that make you feel better about life in general, even though there's so much you can't control right now?
That's why I absolutely love the Ultimate Homemaking Bundle - because over 50 women have contributed their tried-and-true resources to help you have a home that's calm, organized, and well-run.
This package includes 51 digital products and it's worth over $1,200!
Below I've provided highlights of some of my favorite products contained in the bundle, but I encourage you to also check out the full list of 51 products for yourself here.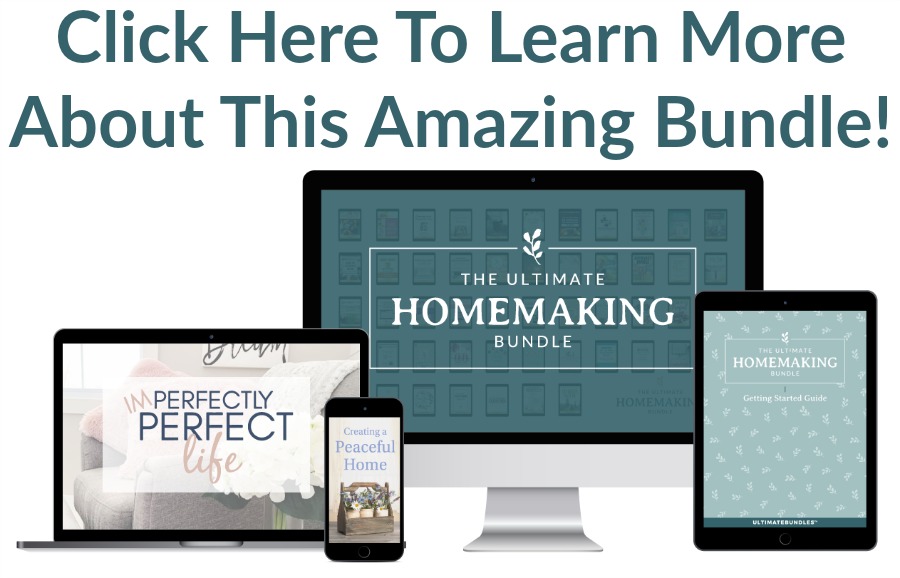 This Bundle Is On Flash Sale So Act Quickly! Today Is The Last Day!
This bundle is on flash sale, which means it doesn't last very long at all, and ends today, Friday, October 2nd, at 11:59 p.m. ET, so make sure to act quickly so you don't miss it!
This is how much longer the sale is available:


Just One Or Two Of These Products Make The Bundle A Great Deal!
Besides being so incredibly helpful, one of the things I like best about the bundle is the price. By offering it as a bundle they're able to give you access to over $1,200 worth of amazing products for over 97% off!
The whole bundle costs only $29.97 (or $39.97 if you want to add the cheat sheets), and I was amazed at some of the great resources included, several of which are worth almost equal or more than the full price of the bundle. Here are a few of them with the buy-alone price in parentheses:
Motivated Mom Classic Planner ($19.00)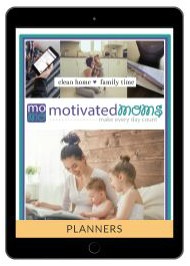 If you have never used Motivated Moms before, it is a done-for-you checklist to clean and maintain your home. This is the Classic version of the Motivated Moms system with a week per page in black and white. Every day you are presented with a list for that date. Larger jobs are broken into more manageable tasks. Just consult the list, do the work and check it off, then enjoy your free time. There are no big cleaning days. You can have time for what matters most.
Work Yourself Out of a Job Household Chore Templates & Checklists ($22.50)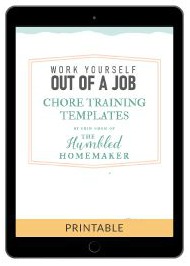 A packet of cleaning cheat sheets and checklists to help parents teach their children how to clean various rooms around their home. There are both suggested templates, as well as blank versions which you can customize for your family, home and kids.
Uncomplicated Kitchen: 3 Step System for Simpler Weeknight Cooking eCourse ($64.00)
A proven 3-step system that will help you streamline your weeknight kitchen, and free up your time making dinner in the evenings.
Not So Bummer Summer eCourse ($49.00)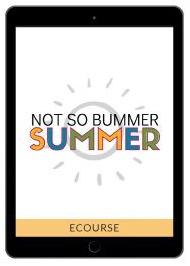 Your kids will entertain themselves this summer - without being glued to their screens.
Any one or two of these resources, by themselves, would make this bundle a great deal, but of course you also get access, as part of the bundle, to all the other 47 resources as well. I encourage you to learn more about these additional eBooks, eCourses and printables here.

Additional Resources In This Bundle I'm Excited About
When people look at the Ultimate Homemaking Bundle they can easily get overwhelmed with all the resources available, and I understand that.
Realistically not all 51 resources will be things you're interested in, and that's OK because these are all digital resources and you can download only those things you actually will read or use, so you neither have physical or even digital clutter.
The best way to see if the Ultimate Homemaking Bundle would be a good deal for you is to review the full list of resources with a pen and paper in hand, and jot down the resources you'd like to read or the courses you'd like to take. Then add up the price of those resources individually using a calculator. Once you do this you'll quickly see how much sense it makes to get the bundle.
There are several ways to catgorize the products within the bundle, and these categories below I hope will illustrate how helpful the bundle can be for you.
Cleaning & Decor
The way your home looks makes a huge difference in how you and your family feel in it, and keeping up with cleaning, as well as having a pleasant uncluttered space to spend time really can make a house feel like a home.
The Ultimate Homemaking Bundle has 7 products, all about cleaning and decor, that are worth $371.43, but as part of the bundle they cost just $29.97!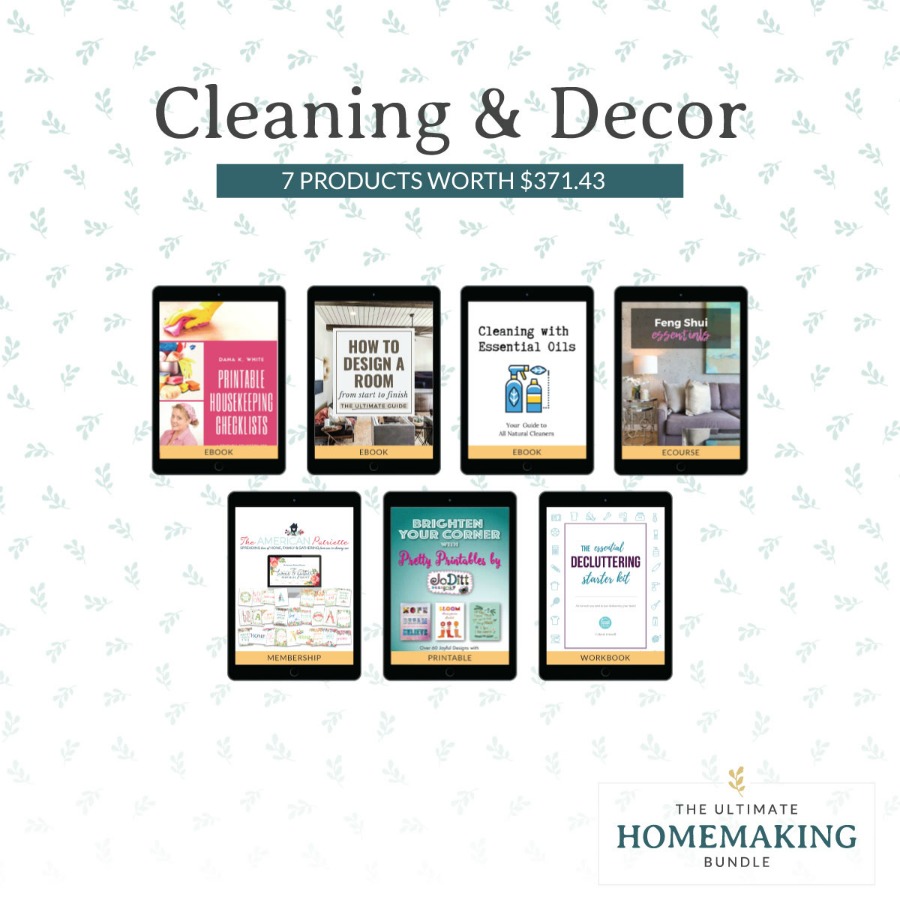 Be More Productive
We all have a lot to do, both in work and at home. Of course, time is finite, and who wans to spend it all getting tasks done anyway, so learning methods to be more productive with the time you'll devote to homemaking, in all its forms, can really help. That way you can get it done, and then have time for more fun.
The Ultimate Homemaking Bundle has 10 products, worth $233.96, all to help you become more productive, but as part of the bundle they cost just $29.97!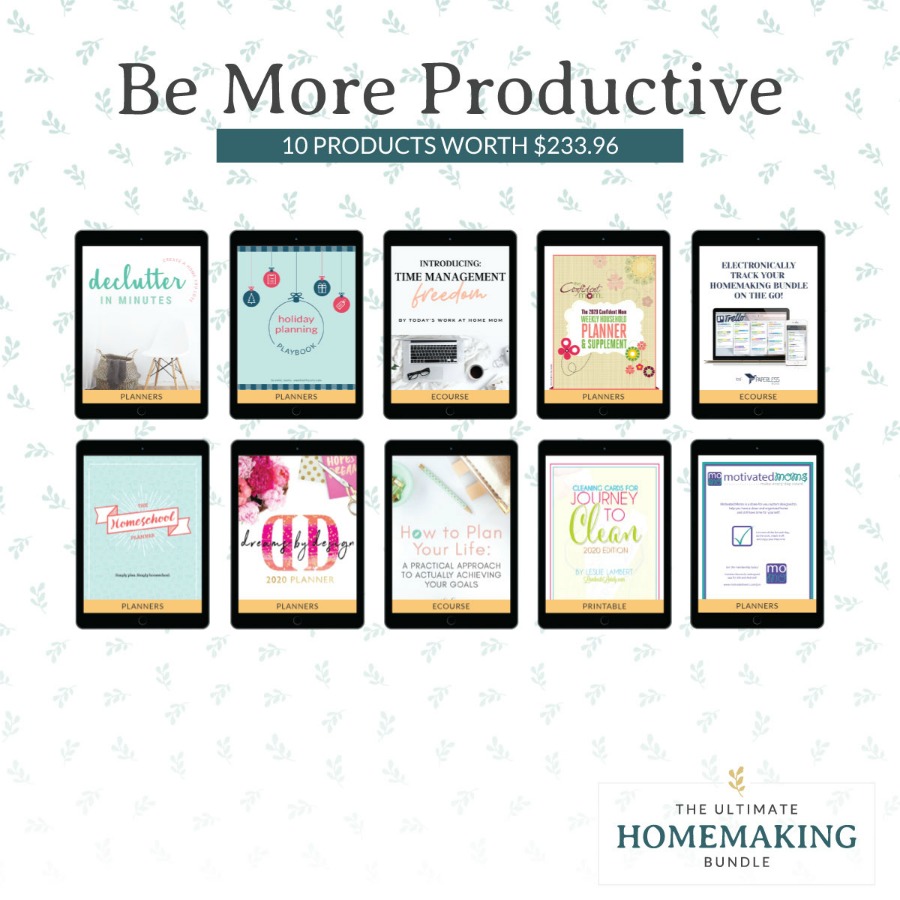 Reduce Stress & Overwhelm
If 2020 has taught us anything, it's that sometimes, life comes at you hard. And even when things aren't quite this intense, we often feel stress and overwhelm, because there are just so many things to do. But living with all that stress and overwhelm is no way to live. Fortunately, you can learn skills to reduce those feelings, and instead feel calm and in control in your home.
The Ultimate Homemaking Bundle has 8 products, worth $285.85, that will help you reduce stress and overwhelm in your home and life, but as part of the bundle they cost just $29.97.

Remember, I'm just showing you some of what I think is really exciting in this bundle, but what excites me, and excites you are most likely not exactly the same. The best way to decide if this bundle is right for you is to really dig into the bundle resources list yourself, and see which ones really grab your attention. So check out the full list of 51 products for yourself here.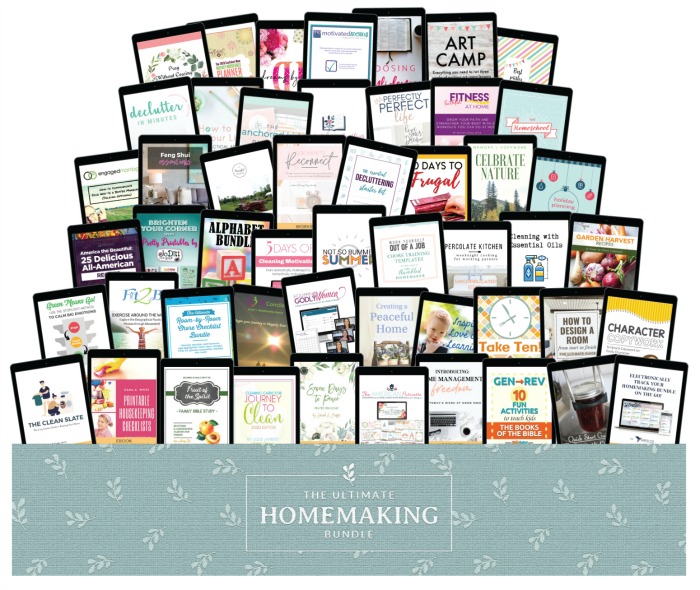 There Are Lots Of Printables In This Bundle!
I know how you love printables (I do too!), and this bundle does not disappoint. There are 8 printable packs, 8 planners and 9 workbooks in this bundle!
Here's a sampling of some of the printables you'll find inside the bundle: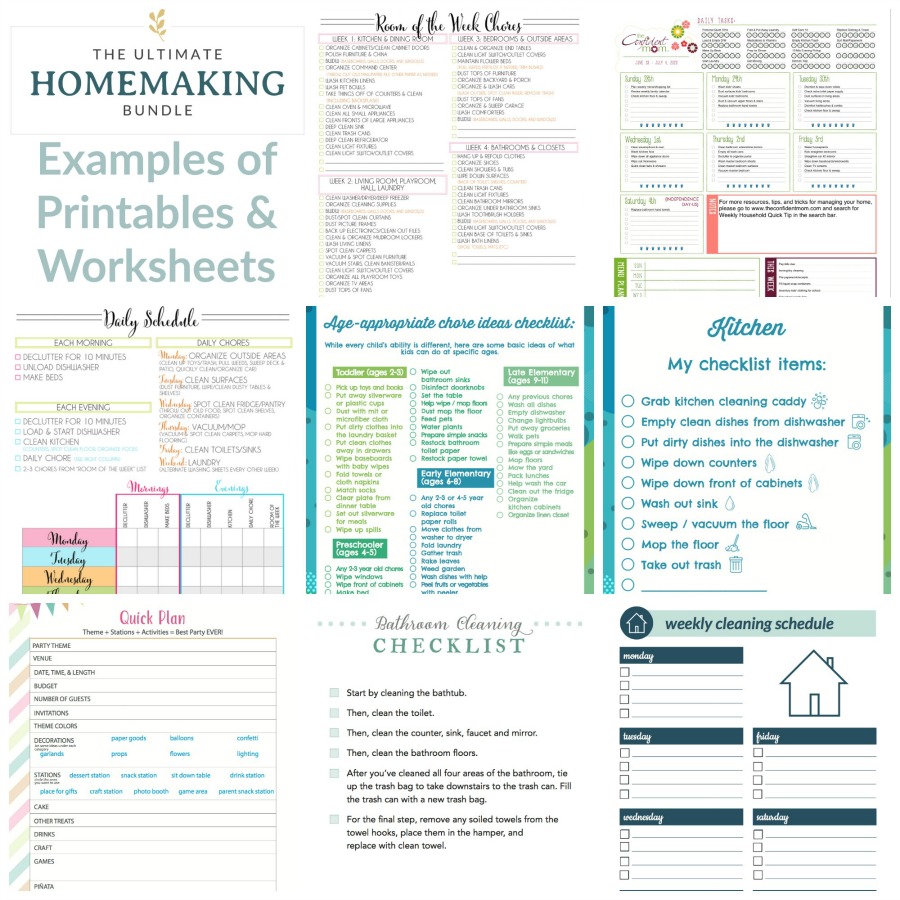 You'll find printables, worksheets and checklists in the Bundle for many aspects of homemaking, including:
Checklists to help you clean and maintain your home
Chore templates and checklists for kids
Planners to help you declutter your home
Planner to help you break down your goals into daily habits
Holiday planning worksheets and checklists, for a stress-free holiday season
A birthday party planner
And more!
Buying all of these printables separately would be quite costly, but that's the beauty of the bundle. With the 97% discount for all the resources, as a package, all of a sudden all of these printables are suddenly all quite affordable!
I showcased some of these printables, when discussing the categories above, but there are obviously even more, so I would encourage you to check out the full list of resources and add up your favorites to see how much you'd save when you purchase the bundle too.
Cheat Sheets For All The Resources In The Bundle For $10 More
You also have the option to buy "cheat sheets" with your bundle, for an additional $10.
This is a game changer, because with these time-saving cheat sheets you can review all the bundle's material in less than half the time, and then dive deeper into the topics that are most interesting to you.
I liken these cheat sheets to the old-fashioned "Cliffs Notes" you could read in English class, to get the summary and point of the materials a bit more quickly.

The Sale Ends Very Soon, So Act Fast!
The sale on this bundle is so short because the authors of all these products can't practically give away their products for such a deep discount for long!
This flash sale ends today, Friday, October 2nd, at 11:59 p.m. ET, so make sure to act quickly so you don't miss it!
This is how much longer the bundle is available:


No Risk 30 Day Happiness Guarantee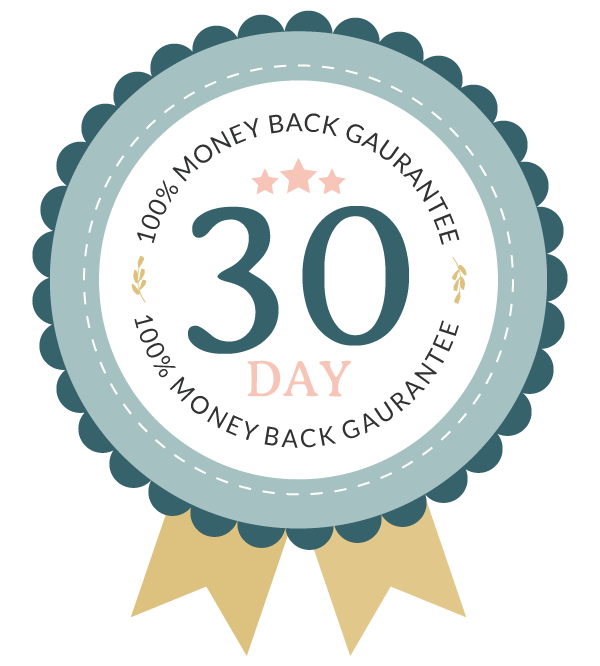 Finally, this Bundle has a 100% happiness guarantee refund policy. If you don't love it just email customerservice@ultimate-bundles.com within 30 days to ask for a full refund.
If 2020 has taught us anything so far, it's that we need firm foundations in our life, and that includes in our home. The Ultimate Homemaking Bundle can help provide those, so make sure you learn more or get your bundle here before time runs out.
Don't forget, don't wait, since this sale ends very soon! The Bundle sale ends in . . .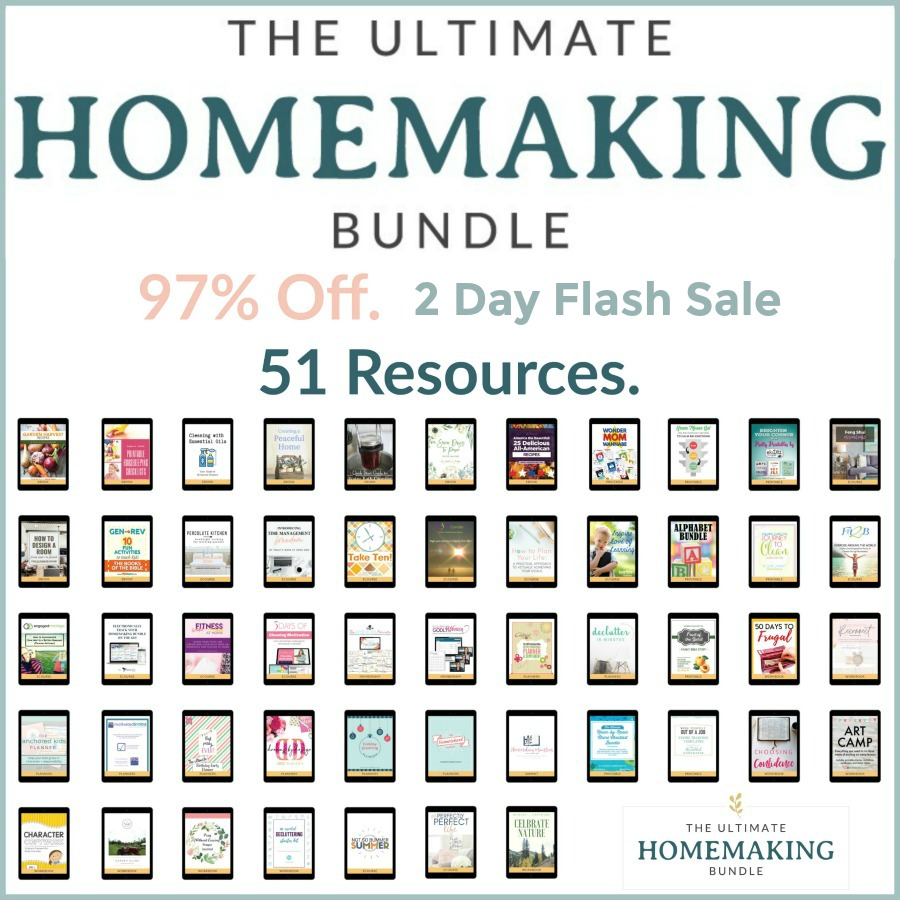 Some links on this page are affiliate links, meaning that if you purchase a product through them I receive a small commission which helps me provide this information to you for free, plus support my family. My integrity and your satisfaction are very important to me so I only recommend products I would purchase myself, and that I believe would benefit you. To learn more please see my disclosure statement.