The 2018 Ultimate Homemaking Bundle: The Best One Yet!
Last Day Of The Sale
FTC Disclosure: I have partnered with Ultimate Bundles to tell you about the amazing resources in the Ultimate Homemaking Bundle. As an affiliate I receive a commission if you purchase this bundles through my link, at no additional cost to you.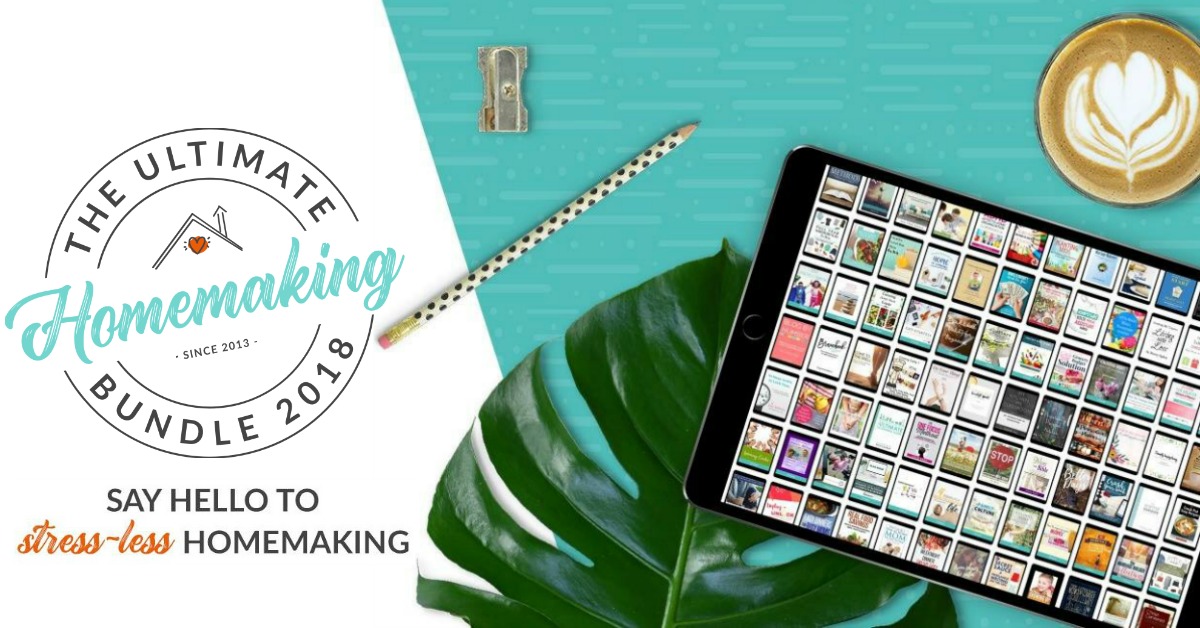 "Homemaking," it's an old-fashioned term but the concept is just as relevant today, to your life, as it was a hundred years ago.
Although it's just as relevant it seems that homemaking, and all that it entails, has gotten a lot more complicated and overwhelming these days. I know I feel that way, and I hear it from people like you all the time as well.
In our modern world there's a lot of juggling, and overwhelm, and exhaustion in everyday life. But when you master the tasks of homemaking, such as organization, cleaning, cooking and meal planning, parenting, and more, all of a sudden it's like the puzzle pieces fall a bit more into place and life feels a bit easier, a little less chaotic, and there's more room for enjoying life's simpler pleasures.
That's why I'm excited to share the 2018 Ultimate Homemaking Bundle with you today, because it will help you put that puzzle together.
For just today only (today's the last day, ever!), everything you need (and then some) is in one fabulous package, for the most affordable price ever.
This year's edition of the Ultimate Homemaking Bundle includes 62 eBooks, 34 printable packs & workbooks, 3 membership sites, 30 eCourses, videos and audios.
These top-quality resources cover everything you need to make homemaking feel less stressful . . . organization and decluttering help, homemaking printables and planners, setting goals and becoming more productive, cleaning tips, ideas for self-care and taking time for yourself, quick and healthy recipes, date night ideas, parenting help and so much more.
Plus, it comes with over $140 worth of bonus offers from companies you'll love.
You need to see it to believe it, but the package includes over 129 digital products and it's worth over $3,500!

Below I've provided highlights of some of my favorite products contained in the bundle, but I encourage you to also check out the full list of over 129 products for yourself here.

This Is The Last Day Of The Flash Sale So Be Sure You Don't Miss It!
This sale ends tonight at 11:59 p.m. EST (Tuesday, November 6th), so make sure to act quickly so you don't miss it!
This is how much longer the bundle is available:

Just One Of These Four Products Make The Bundle A Great Deal!
Besides being so incredibly helpful, one of the things I like best about the bundle is the price. By offering it for a short time only they're able to give you access to over $3500 worth of amazing products for over 98% off!
The whole bundle costs only $29.97, and this year I was amazed at some of the great resources included, several of which are worth more by themselves than the full price of the bundle. Here are a few of them with the buy-alone price in parentheses:
How to Organize All Your Recipes (For Easy Meal Planning) ($39.00)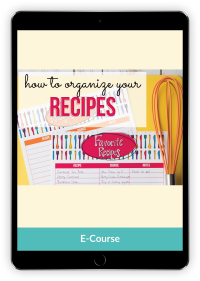 This course shows you step by step how to organize all of your recipes (both physical and digital) so that they are easy to find and meal planning is a breeze.
The Essentials: 7 Projects to Sane-ify Your Life ($37.00)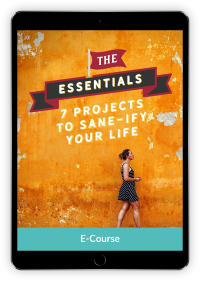 The Essentials is a short, actionable course to help you take care of 7 life foundations — if you feel like the chaos outweighs the calm in your life, the course helps you first take care of the basics.
The Complete Grocery Budget Solution ($49.00)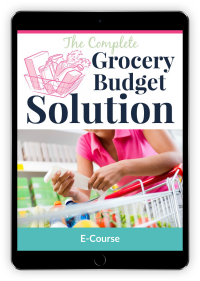 With this course, you will learn how to save massive amounts of money on your groceries by shopping smarter, and making your meal plan work for you!
Outfit Mastery: Walk Into the Room and Know You Look Good ($97.00)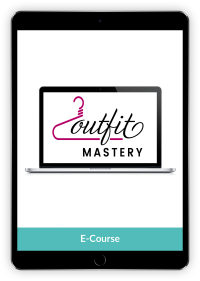 The step-by-step video e-course that will help you conquer your wardrobe, define your own style and never agonize over "what to wear" again.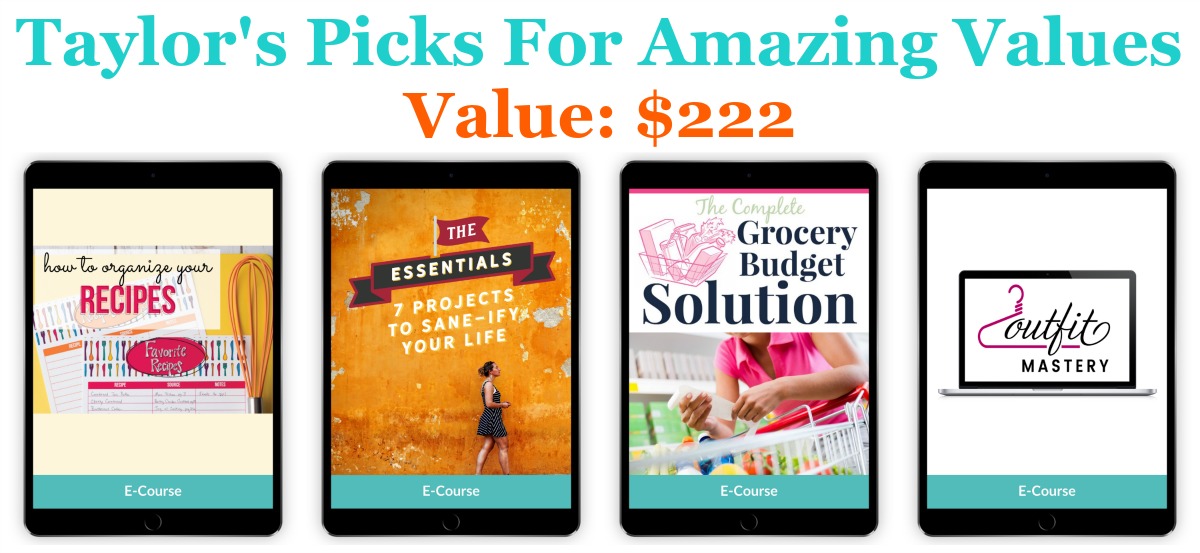 Any of these four resources, by themselves, would make this bundle a great deal, but of course you also get access, as part of the bundle, to over 100 other resources as well. I encourage you to learn more about these additional eBooks and eCourses here.

Even More Resources In This Bundle I'm Excited About
When people look at the Ultimate Homemaking Bundle they can easily get overwhelmed with all the resources available, and I understand that.
Realistically not all 129+ resources will be things you're interested in, and that's OK because these are all digital resources and you can download only those things you actually will read or use, so you neither have physical or even digital clutter.
The best way to see if the Ultimate Homemaking Bundle would be a good deal for you is to review the full list of resources with a pen and paper in hand, and jot down the resources you'd like to read or the courses you'd like to take. Then add up the price of those resources individually using a calculator. Once you do this you'll quickly see how much sense it makes to get the bundle.
I did this little exercise for myself as an example and as an illustration for you and these were some of the additional resources, beside the ones I mentioned above, that I was most excited about (and I had to force myself to list only ten more, I could have made the list even longer, and notice even some of these resources are themselves priced higher, individually, than the whole bundle):
12 Months of Simplified Living: Printable Calendar Subscription ($47.00) : Get and Stay Organized, Forever! These printable calendar pages are for busy households -- which means they are definitely for you! All daily, weekly, monthly, seasonal, and quarterly chores for the house and family are included -- no more guessing!
4 Weeks to a More Productive Life ($17.00) A 4-week self-paced accountability program designed to help you stop spinning your wheels so you can start doing less while getting more done. 4 Weeks to a More Productive Life isn't about great ideas; it's about taking action!
Brainbook: Bullet Journaling Your Way to a More Organized Life (Starter Package) ($27.00) With gentle instruction, encouragement, and down-to-earth advice, Brainbook serves as your go-to bullet journaling guide so you can confidently create a planner that organizes your calendar, lists, notes, ideas, and long-term goals in one place.
Medical Binder Printables ($7.00) Organize your Medical Life once and for all with 19 Medical Binder Printables to record your pertinent medical information.
Freezer Meal Club Guide & Success Course: Everything You Need to Know to Start and Run a Successful Freezer Meal Club ($49.99) The Freezer Meal Club Guide and Course provides guidance in the form of a guidebook, video series, worksheets and more to show you how to cut your cooking time in half and save money with your own freezer meal club.
Fresh Start Planning Kit ($12.00) The Fresh Start Planning Kit is your ticket to organizing your thoughts, setting goals, and articulating on paper the things that you'll achieve this year, starting with the most important things for YOUR life.
The Ultimate Kitchen Printable Pack by Megan Duesterhaus ($22.00) The Ultimate Kitchen Printable Pack contains 200+ pages to help you organize your kitchen, streamline your meal planning and grocery shopping, and ultimately create a prettier, more organized, and better functioning kitchen!
The Big Book of Outfit Formulas ($49.00) Over 300 classic mix and match outfit ideas to create year-round easy style. Get all the tools you need to look stylish and feel great every day for all four seasons PLUS work wear.
Comprehensive Brush Letter Practice Guide ($32.00) Printable traceable practice pages give the space and structure to create beautiful brush lettering.
Creative Reflections: 365 Days of Journaling Coloring Pages ($8.99) 365 coloring journal pages to spark creativity & inspiration. (there's another coloring book as well, with 100 coloring pages!)
So, would I save money buying the bundle instead of buying these items separately? Yes! Just these ten resources I mentioned would cost me $271.98 if I bought them separately so I definitely know I'm getting a deal by getting the whole bundle!
There Are Lots Of Printables In This Bundle!
I know how you love printables (I do too!), and this bundle does not disappoint. The Ultimate Bundles team counted how many printables are in this bundle, and you get 3,100 pages of printables.
I mentioned some of the above, but there are more in the full list of resources available.
I think you may enjoy many of the resources I mentioned before, but remember there are over 129 of them (shown below), so I would encourage you to check out the full list of resources and add up your favorites to see how much you'd save when you purchase the bundle too.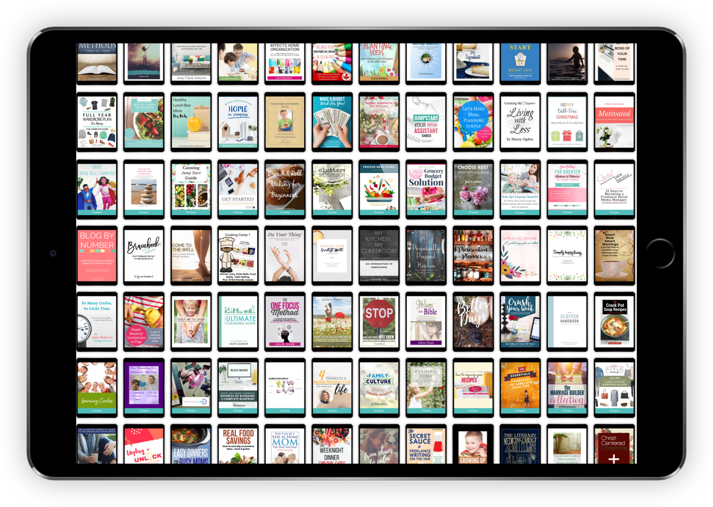 More Bundle Bonuses
As if all of the digital products themselves weren't enough enticement, there are also a lot of bonuses available when you purchase the bundle. Choose from bonuses worth more than $140 like free kids' books from Bookroo, unlimited books, audiobooks and magazines with a 2-month Scribd subscription, or free natural eyeshadow from Orglamix – just to name a few!
Act Fast, This Sale Ends Tonight!
The sale ends tonight, Tuesday, November 6th, at midnight EST. After all, the authors of all these products can't practically give away their products for such a deep discount for long!
You have this much longer to get this bundle:


No Risk 30 Day Happiness Guarantee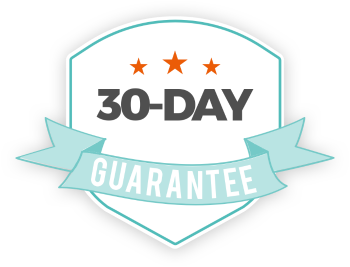 Finally, this Bundle has a 100% happiness guarantee refund policy. If you don't love it just email customerservice@ultimate-bundles.com within 30 days to ask for a full refund.
Homemaking is a puzzle, but you can put all the pieces together. This Ultimate Homemaking Bundle can help, so make sure you learn more or get your bundle here before time runs out.

Don't forget, don't wait, since this sale won't last much longer!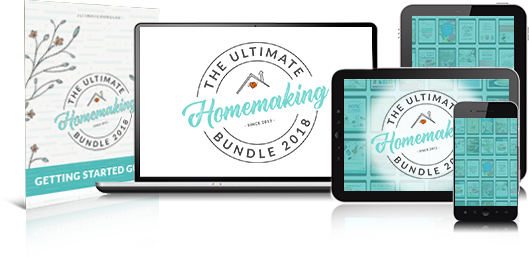 Some links on this page are affiliate links, meaning that if you purchase a product through them I receive a small commission which helps me provide this information to you for free, plus support my family. My integrity and your satisfaction are very important to me so I only recommend products I would purchase myself, and that I believe would benefit you. To learn more please see my disclosure statement.