The 2017 Ultimate Homemaking Bundle: One Of The Best Yet!
Last Day Of The Sale!
FTC Disclosure: I have partnered with Ultimate Bundles to tell you about the amazing resources in the Ultimate Homemaking Bundle. As an affiliate I receive a commission if you purchase this bundles through my link, at no additional cost to you.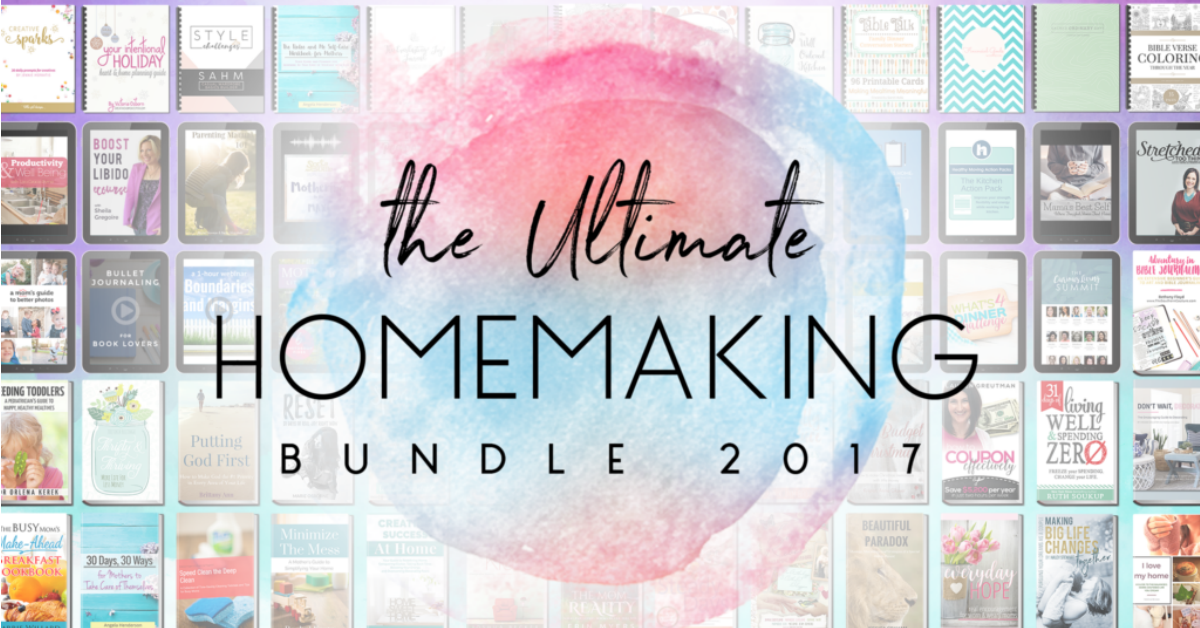 "Homemaking," it's an old-fashioned term but the concept is just as relevant today, to your life, as it was a hundred years ago.
Although it's just as relevant it seems that homemaking, and all that it entails, has gotten a lot more complicated and overwhelming these days. I know I feel that way, and I hear it from people like you all the time as well.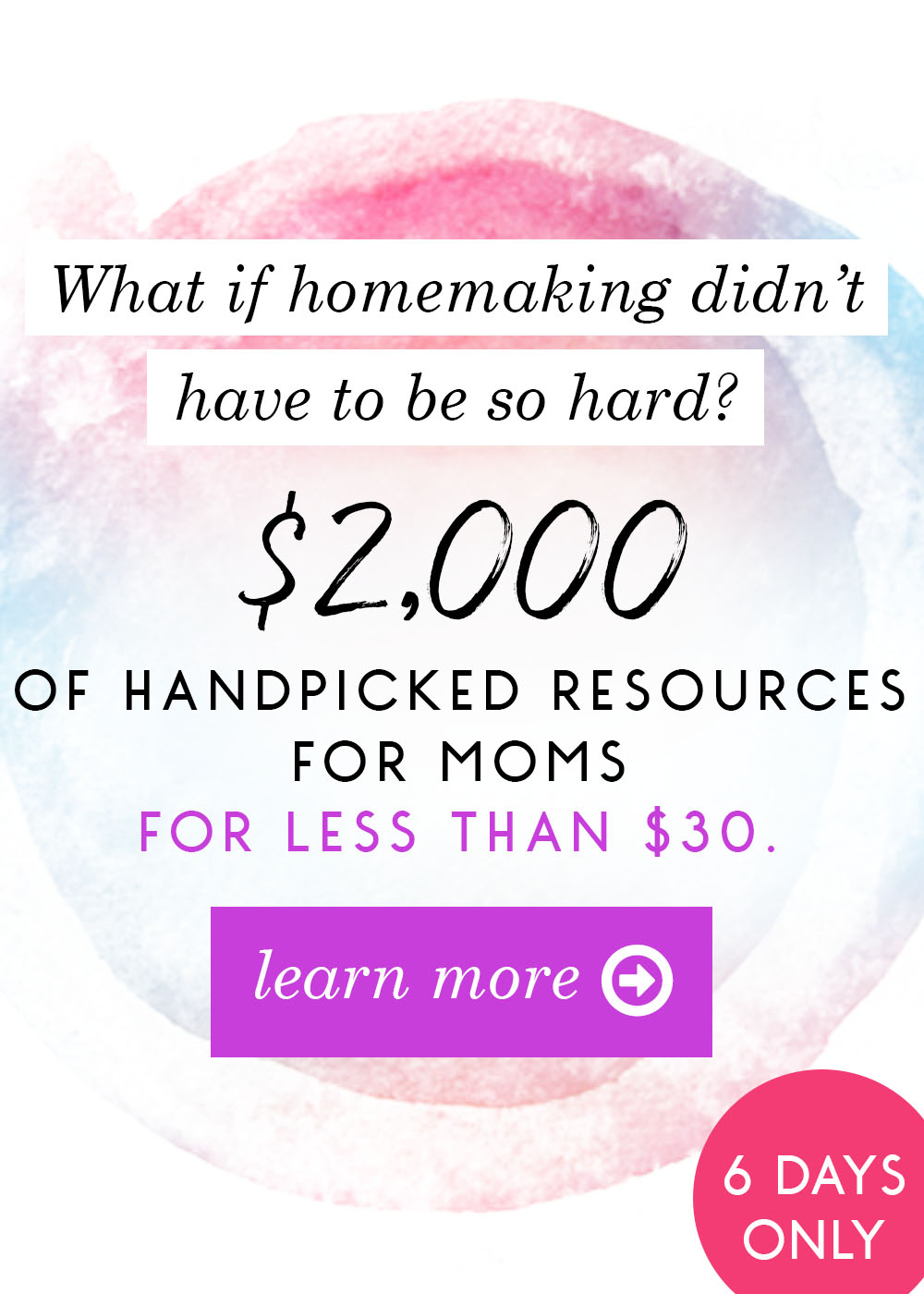 In our modern world there's a lot of juggling, and overwhelm, and exhaustion in everyday life. But when you master the tasks of homemaking, such as organization, cleaning, cooking and meal planning, parenting, and more, all of a sudden it's like the puzzle pieces fall a bit more into place and life feels a bit easier, a little less chaotic, and there's more room for enjoying life's simpler pleasures.
That's why I'm excited to share the 2017 Ultimate Homemaking Bundle with you today, because it will help you put that puzzle together.
For today only, everything you need (and then some) is in one fabulous package, for the most affordable price ever.
This year's edition of the Ultimate Homemaking Bundle includes 51 ebooks, 28 eCourses, and 26 printables.
These top-quality resources cover everything you need to make homemaking feel less stressful . . . organization and decluttering help, homemaking printables and planners, setting goals and becoming more productive, cleaning tips, ideas for self-care and taking time for yourself, quick and healthy recipes, date night ideas, parenting help and so much more.
Plus, it comes with over $200 worth of bonus offers from companies you'll love.
You need to see it to believe it, but the package includes 106 digital products and it's worth over $1940! When you add in the bonuses it's worth over $2000.

Below I've provided highlights of some of my favorite products contained in the bundle, but I encourage you to also check out the full list of over 100 products for yourself here.
This Is A Flash Sale So Make Sure You Don't Miss It!
This sale is almost over, ending tonight, at 11:59 p.m. EST, so make sure to act quickly so you don't miss it!

Just One Of These Four Products Make The Bundle A Great Deal!
Besides being so incredibly helpful, one of the things I like best about the bundle is the price. By offering it for a short time only they're able to give you access to over $1980 worth of amazing products for a whopping 97% off!
The whole bundle costs only $29.97, and this year I was amazed at some of the great resources included, several of which are worth more by themselves than the full price of the bundle. Here are a few of them with the buy-alone price in parentheses:
The Paperless Home: How to Use Evernote to Organize Your Life ($32.00)
The Paperless Home is an eCourse that will teach you how to get rid of your paper clutter and save you hours every week using Evernote as a digital filing cabinet, and a simple paperless workflow. I'm really excited about this course because I know many of us are bogged down by paper and this is a way to figure out how to deal with it.
Stretched Too Thin: 10 Days to Overcoming the Hustle and Thriving as a Working Mom ($39.00)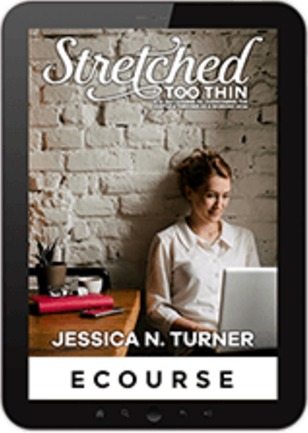 Stretched Too Thin is an online video course for working moms addressing the common struggles they face including home management, self-care, intentional parenting and more. It includes 10 video lessons, a workbook, plus access to a private Facebook group.
I know we're all busy but when you work full or part time, either in the home or outside it, there is no doubt you've got a lot on your plate, and things can easily fall through the cracks. This course can help you understand your priorities and also how to put your own oxygen mask on to help yourself, so you have the ability to help others in your family as well.
Sweet Life Planner ($35.00)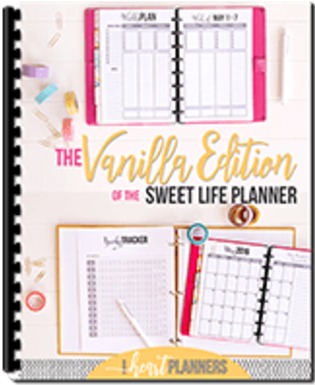 The Sweet Life Planner is a complete planning and home organizing system. The 2017 planner contains over 100 pages of organizational printables to manage the chaos while also having an eye-pleasing design. It's meant for those who like to put pen to paper. You can see your day, week and year all laid out in front of you. It includes a dated weekly planner, a kitchen section, master lists section, goals section, cleaning section, and finances section, in both full and half sizes.
What's 4 Dinner Challenge Meal Planning eCourse ($47.00)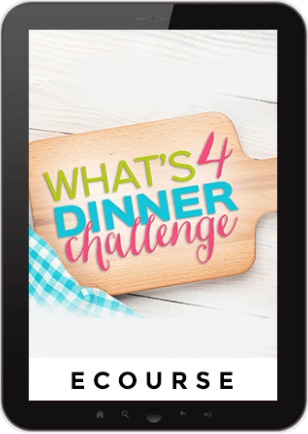 The What's 4 Dinner Challenge Meal Planning eCourse will inspire and motivate homemakers in a meal planning rut to wake up knowing "what's for dinner" each day. The three week course includes 3 video teachings, 9 email challenges, 16 printables, an interactive accountability group on Facebook, and 3 Facebook live coaching calls. After completing the What's 4 Dinner Challenge overwhelmed homemakers will walk away armed with the tools, techniques, and time tested meal planning strategies that will take them from barely surviving to thriving in the kitchen.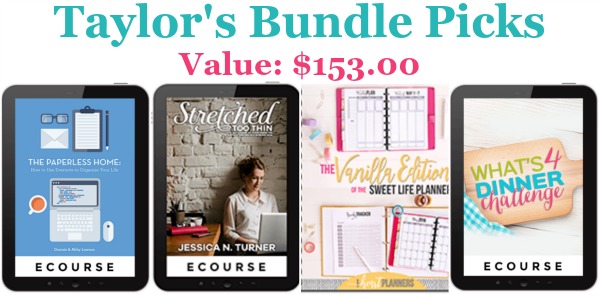 Any of these four resources, by themselves, would make this bundle a great deal, but of course you also get access, as part of the bundle, to over 100 other resources as well. I encourage you to learn more about these additional eBooks and eCourses here.
Even More Resources In This Bundle I'm Excited About
When people look at the Ultimate Homemaking Bundle they can easily get overwhelmed with all the resources available, and I understand that.
Realistically not all 100+ resources will be things you're interested in, and that's OK because these are all digital resources and you can download only those things you actually will read or use, so you neither have physical or even digital clutter.
The best way to see if the Ultimate Homemaking Bundle would be a good deal for you is to review the full list of resources with a pen and paper in hand, and jot down the resources you'd like to read or the courses you'd like to take. Then add up the price of those resources individually using a calculator. Once you do this you'll quickly see how much sense it makes to get the bundle.
I did this little exercise for myself as an example and as an illustration for you and these were some of the additional resources, beside the ones I mentioned above, that I was most excited about (and I had to force myself to list only ten more, I could have listed even more):
14 Days to Opening Your Front Door to Guests ($7.99): 14 Days to Opening Your Front Door to Guests is the complete guide to getting your home ready to let people come inside, no matter how overwhelmed you feel. It's written by my good friend Dana White from A Slob Comes Clean, and as always with her information, it's practical and funny at the same time.
Overwhelm to Order: The Ultimate Homemaking Binder ($9.99): The Overwhelm to Order Homemaking Packet will help you take your home systems from chaos to order. You know I love household notebooks and this provides some great resources for you to create your own homemaking binder.
The Inspired To Action Planner ($15.00): A reuseable all-in-one printable calendar and goal setting system. I am a firm believer in setting goals, and then in breaking down the goals into small actionable steps, and this system will help you do that for whatever goals you set for yourself.
Family Chore System & Planner ($17.00): The Family Chore System & Planner from Life Your Way is a unique system designed to help families work together to stay on top of the daily, weekly and monthly chores as a team.
From Frustration to Functional: 14-Day Closet Makeover ($69.00): "From Frustrating to Functional" breaks down why women are frustrated with their wardrobes and helps them create a plan for a functional wardrobe that they love. This is a smaller course from my friend Kelly Snyder, from Adore Your Wardrobe, which is the system I recommend if you need help getting rid of some of the clothes from your closet, and so I'm excited that this course is in the bundle.
Healthy Moving Kitchen Time Action Pack: Build Strength, Increase Flexibility, and Improve Energy While You Work in the Kitchen ($29.97): This course teaches how to strengthen your muscles, reduce wear and tear on your joints and increase your energy...all while you're cooking and cleaning in the kitchen! I am all for multi-tasking my fitness activities with housework, so I love this concept!
Your Morning Manual: A Guide & Workbook for Resetting & Maximizing Your Mornings ($15.00): Your Morning Manual will walk you through the process of organizing and planning your best morning. I am excited about this ebook because I think a morning routine is one of the best ways to set yourself up to have a great day, each and every day.
2017-2018 Yearly Personal Planner ($4.99): Plan your days, weeks, and months through 2018 with the yearly planner, get your life organized and remember all the little details. This is a simple but very helpful printable planner.
The Garden Therapy Coloring Book ($4.99): The Garden Therapy Coloring Book will take you through a seasonal coloring journey with beautiful garden-filled pages designed by a collection of talented artists. I've looked through these coloring pages and my daughters and I are ready to dig into this with some fun coloring sessions together.
Adventures in Bible Journaling: An Extensive Beginner's Guide to Art and Bible Journaling ($18.97): Have you heard of Bible Journaling? One of my good friends does this and she often posts photos of her journal pages on Facebook and Instagram and it has gotten me intrigued. In fact I've been wanting to learn how to do this for months now but didn't think I had time. I added this resource to this list as an illustration of what I love so much about the Ultimate Homemaking Bundle. I probably wouldn't have bought this eBook on its own but I'm really excited to get it as part of the bundle because it's like a little splurge for me without the splurge!
So, would I save money buying the bundle instead of buying these items separately? Yes! Just these ten resources I mentioned would cost me $192.90 if I bought them separately so I definitely know I'm getting a deal by getting the whole bundle!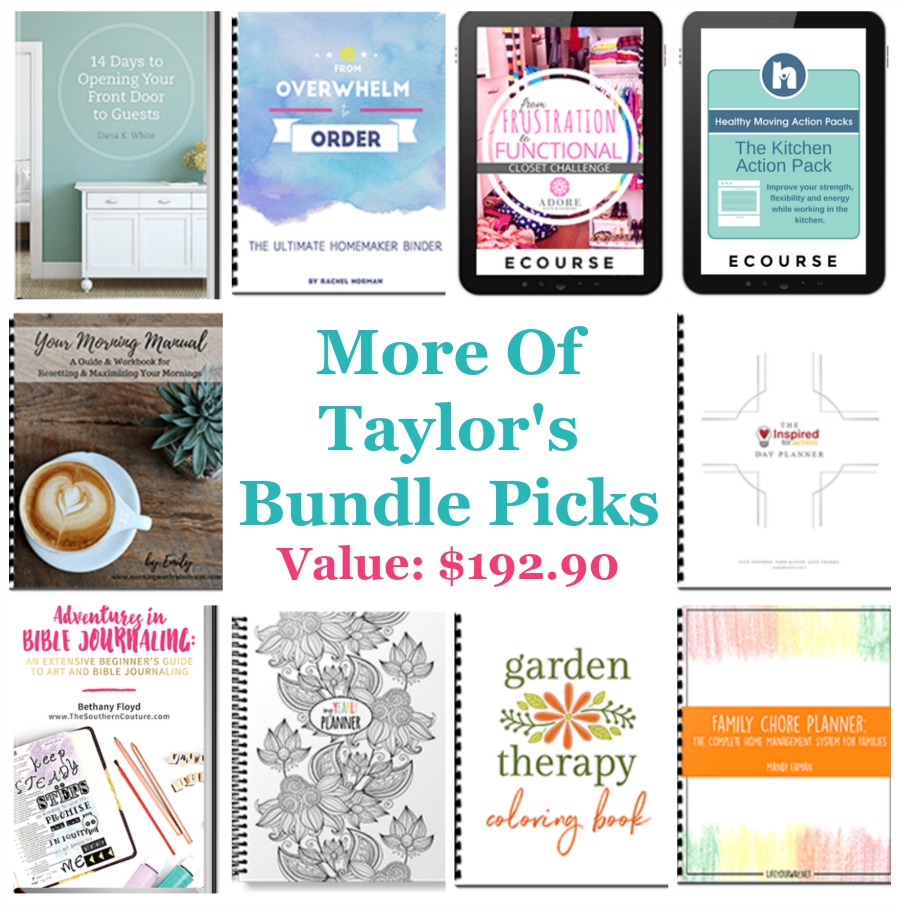 I think you may enjoy many of the resources I mentioned before, but remember there are 106 of them, so I would encourage you to check out the full list of 106 resources and add up your favorites to see how much you'd save when you purchase the bundle too.
More Bundle Bonuses
As if all of the digital products themselves weren't enough enticement, there are also a lot of bonuses available when you purchase the bundle. Here's a graphic showing this year's bonus partners. Click on the banner to learn more about all of these bonus offers.
When You Get The Ultimate Homemaking Bundle You Also Get A Discount On The Conquer Your Clutter Bundle!
Another thing I'm totally excited about this year is that when you purchase the Ultimate Homemaking Bundle you are then given the opportunity to purchase the Conquer Your Clutter Super Bundle for the discounted price of an additional $29.97.
The Conquer Your Clutter Bundle has been really popular amongst Home Storage Solutions 101 readers (you can read my FAQ about it here), and normally sells for $47. If you have been waiting to purchase this bundle focused specifically on organizing and decluttering now is a great time because of this discount!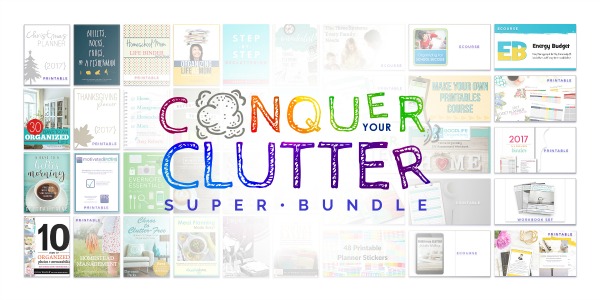 The Sale Ends Tonight At Midnight, October 24th
The sale ends tonight, on Tuesday October 24th, at midnight. After all, the authors of all these products can't practically give away their products for such a deep discount for long!
I don't want you to miss the sale, so make sure you know it ends soon.


No Risk 30 Day Happiness Guarantee
Finally, this Bundle has a 100% happiness guarantee refund policy. If you don't love it just email customerservice@ultimate-bundles.com within 30 days to ask for a full refund.
Homemaking is a puzzle, but you can put all the pieces together. This Ultimate Homemaking Bundle can help, so make sure you learn more or get your bundle here before time runs out.

Don't forget, the bundle goes away at 11:59pm Eastern tonight, on Tuesday, October 24th, so don't wait!

Some links on this page are affiliate links, meaning that if you purchase a product through them I receive a small commission which helps me provide this information to you for free, plus support my family. My integrity and your satisfaction are very important to me so I only recommend products I would purchase myself, and that I believe would benefit you. To learn more please see my disclosure statement.