FAQs About The Ultimate Homemaking Bundle
{Sale Is Now Over}
FTC Disclosure: I have partnered with Ultimate Bundles to tell you about these amazing resources. As an affiliate, I receive a commission if you purchase one of these bundles through my link, at no additional cost to you.
Here are answers to frequently asked questions about the Ultimate Homemaking Bundle that have been asked, so you can learn more about this great deal to help you succeed at all the many aspects of homemaking.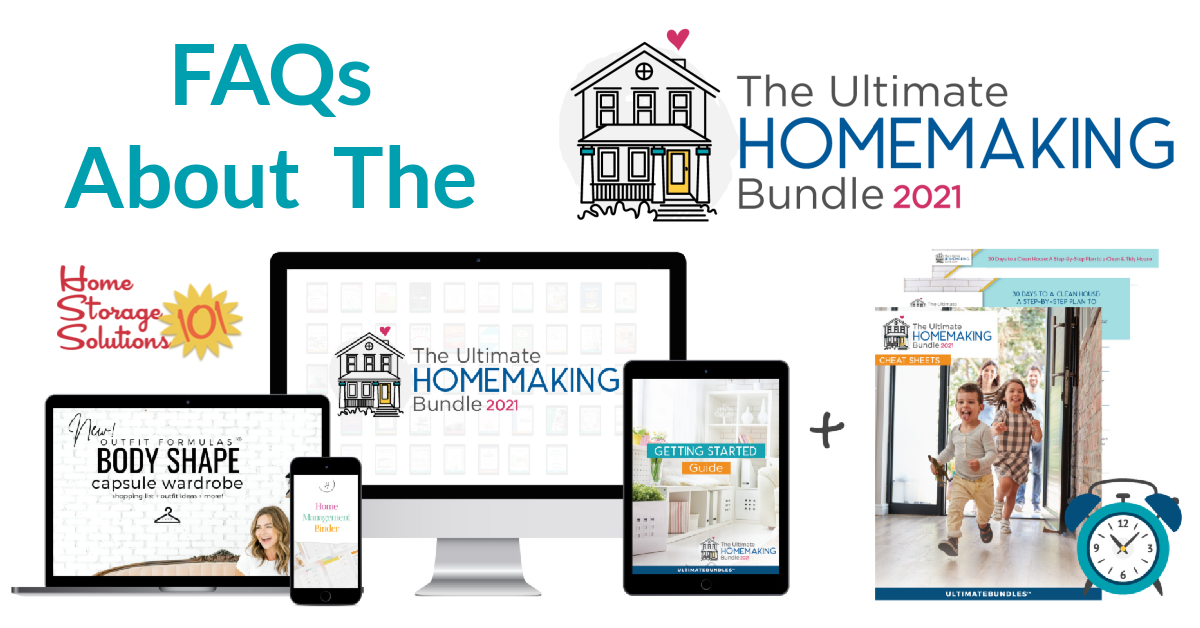 ***Edited to add: This sale is now over. Sometimes there is a flash sale on certain bundles, later, for a very short duration. Make sure to sign up for my newsletter list here, to get alerted about any such future sales of this or other bundles.
I've received quite a few questions from readers who want a bit more information before they decide whether or not to pick up their copy of this bundle. In case you're wondering the same thing, here are my answers to some of the most frequently asked questions:
Q1: Is this one big eCourse? Or a bunch of different products?
A1: This bundle is a collection of 8 eBooks, 15 printables & workbooks, and 25 ecourses and videos. Inside, you will find tons of resources including recipes, chore printables, budget planners, and more. It's basically all your favorite bloggers' products together in one collection — all for $37.
You can see an image of the resources below, but you can also click here to see the full list of resources, with descriptions of what they are.
You don't have much longer to buy this bundle though, time is running out. The bundle sale ends TODAY, on Monday, May 24th, at 11:59 p.m. ET. This is how much longer you've got: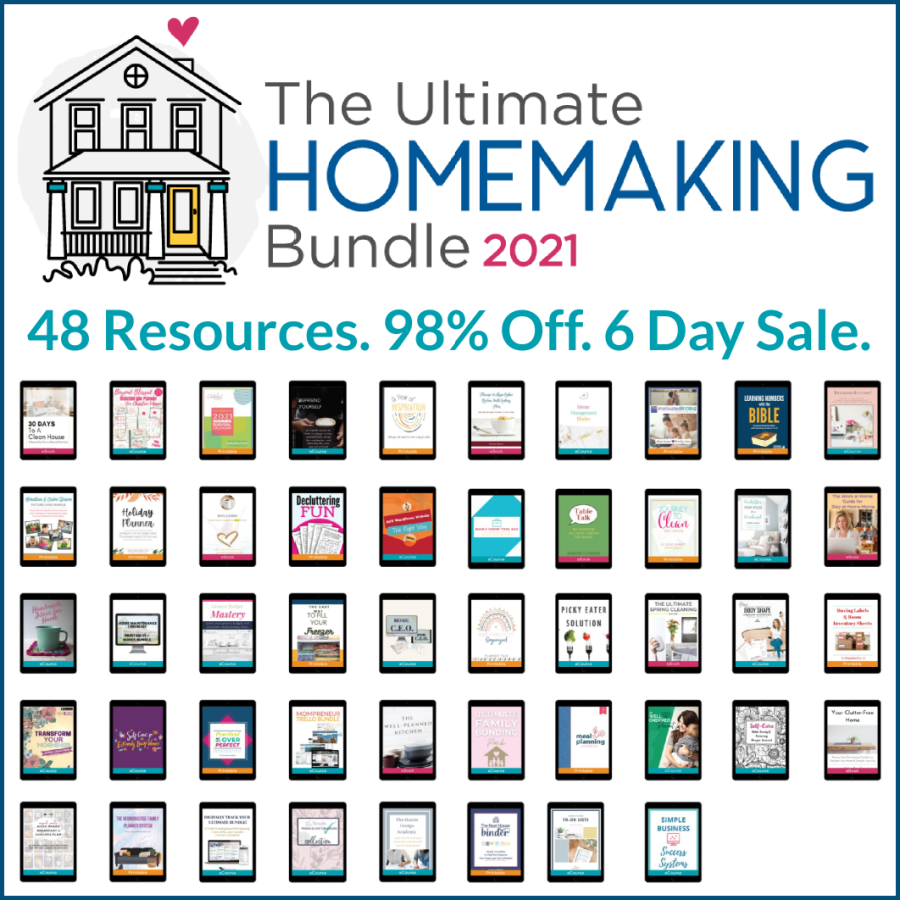 Q2: What am I going to do with so many resources?
A2: There is no way on earth each of these eBooks / eCourses is relevant to where you are right now. Some of them will have a lot of appeal, and some won't. But in most cases, it only takes 3 or 4 eBooks or eCourses for you to start saving money. Not to mention, there are 15 resources alone that are worth as much or more than the cost of the bundle itself. So, even though you won't use every resource in the bundle, it would still be really hard to not save a ton of money anyway.
To see my review of some of the resources in the bundle I'm most excited about check out my review post here.)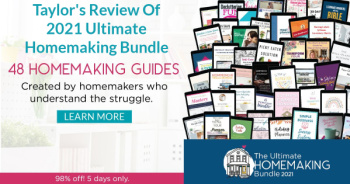 Q3: How do I know I'm actually getting good quality products and not just a bunch of "throw-away" eBooks?
A3: The Ultimate Bundles team spends months reviewing potential contributors, and they only accept the best resources for inclusion. Many of these are even full-length eCourses with video tutorials! This year, the team was even more selective than usual, and it shows in the quality of this year's resources.

Q4: What's the difference between this year's bundle and previous years?
A4: If you've been a reader of this site for a while you're familiar with Ultimate Bundles because I have been partnering with them for years. The reason is that I personally know many of those within the company, and many of the authors who contribute to the bundles, and I know the products they put together are great. But that also means many of you may have bought previous bundles, such as other year's of the Ultimate Homemaking Bundle, or other bundles also put out by the company, such as the recent Productivity Bundle, Master Your Money Bundle, or others.
While there are 48 resources in the 2021 version of the Ultimate Homemaking Bundle, these are all new products, with the exception of one course which was also present in the 2019 version of the bundle, which means that even if you've purchased previous bundles this is most nearly all new material!!!

Q5: OK, but what if I buy it and don't like it?
A5: I seriously don't think this will happen, because I never recommend anything that isn't good quality, and also because historically Ultimate Bundles has a very low return rate because they also work hard to only provide quality.
Since 2013, Ultimate Bundles has been selling the Ultimate Homemaking Bundle (and I'm pretty sure I've been offering it since the first year it was available!)
Over the years a crazy number of people (over 145,000!!!) have invested in themselves by grabbing a copy of various year's bundle.
People like Nikki, who grabbed a previous version, and said:
"The Ultimate Homemaking Bundle has been a total game-changer for me. As a new momma of two, I have less time to find the resources I need (and more of a need for the actual resources!). Recipes, meal planning & cleaning templates, and SO much more- all in one place! It's a busy mother's dream."
Or Jen, who also bought a previous year's Homemaking Bundle:
"This bundle is absolutely amazing! It was my first bundle and experience with Ultimate Bundles. Now, I'm an avid follower and supporter! The Ultimate Homemaking Bundle has brought clarity, purpose, and positivity to my life. I am more grounded and peaceful. My home is full of love. I have grown as a person and increased my educational pursuits. I feel inspired!"
But you don't have to take my word, or that of these other purchasers. Instead, Ultimate Bundles has gone a step further to make sure you're happy with your purchase.
That's why this Bundle has a 100% happiness guarantee refund policy. If you don't love it, just email customerservice@ultimate-bundles.com within 30 days to ask for a full refund.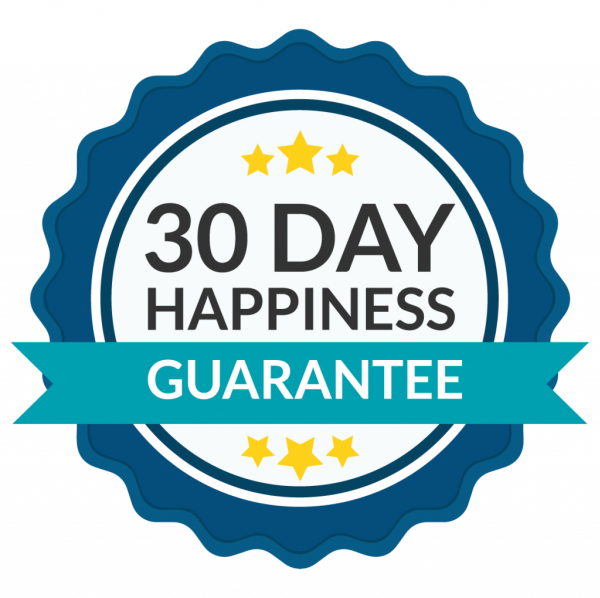 Q6: This sounds too good to be true. Can you prove it's not?
A6: I know it seems too good to be true. Pay $37 for over $2,400 in resources? Doesn't that mean someone's losing big time? Or the prices are inflated?
I totally get your concerns. I've been an affiliate for Ultimate Bundles for years and I can tell you everything is 100% legitimate. I offer these bundles to my readers because they're a great value. And when you buy a bundle through your favorite blogger (hopefully me!), you'll support them, too! Plus, the bundle is only offered for a short time, which is why I keep reminding you about it. ;)
In short, it's a great deal for everyone. Ultimate Bundles is a reputable company. If you try the bundle and don't like it, just ask their friendly, helpful customer happiness team for a refund within 30 days of purchasing.

Q7: What are the cheat sheets?
A7: The cheat sheets were created because bundle customers wanted a quick way to find the resources that were most applicable to them right now. These Cliff Notes-style summaries, which are an add-on for an additional $10, will not only allow you to zone in on which resources you should start with, they'll also allow you to absorb the key principles wayyyy faster. Which helps you take care of your home, your family, and yourself - without missing a beat. :)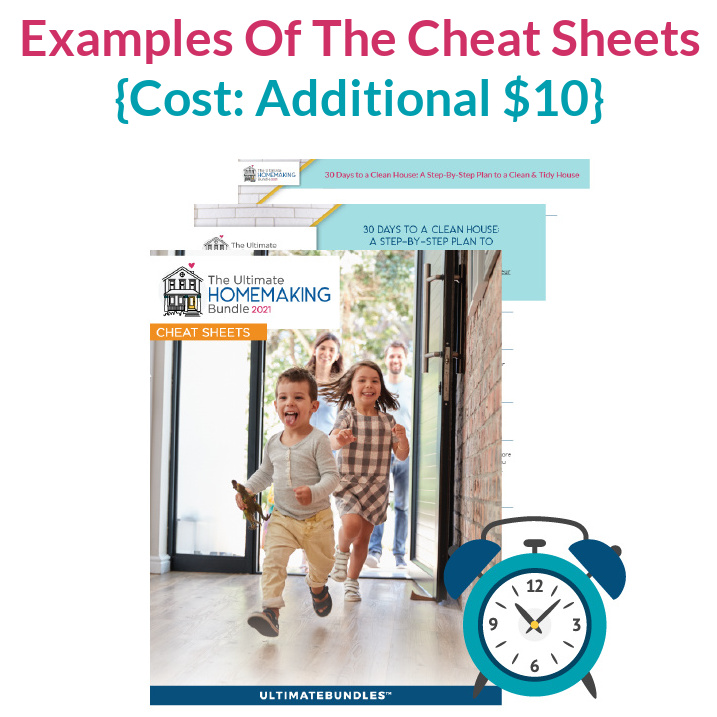 Q8: Will this bundle be available again later?
A8: The participants in this year's bundle can't afford to have their products at such a deep discount for a long time, which is why bundle sales like this one are for such a short duration. Sometimes there's a quick flash sale later, but it's not guaranteed, as much as I want to get people's attenition for these quick sales I often get complaints that they missed it, and things like bonuses may not be the same in any future sale.
This is how much longer this bundle is on sale right now:


I hope that fully answers your questions! In my opinion, there really is no downside, and there is a ton of upside. But I'll leave that up to you. Make sure to check out all the resources and you can ask me any questions you have below, in the comments, or in the Facebook page or group, or via email!
Remember, you can also read my full review of the 2021 Ultimate Homemaking Bundle here.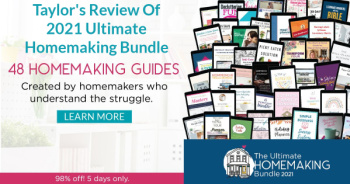 Some links on this page are affiliate links, meaning that if you purchase a product through them I receive a small commission which helps me provide this information to you for free, plus support my family. My integrity and your satisfaction are very important to me so I only recommend products I would purchase myself, and that I believe would benefit you. To learn more please see my disclosure statement.