FAQ About The Ultimate Homemaking Bundle
FTC Disclosure: I have partnered with Ultimate Bundles to tell you about these amazing resources. As an affiliate, I receive a commission if you purchase one of these bundles through my link, at no additional cost to you.
Here are answers to frequently asked questions about the Ultimate Homemaking Bundle that have been asked, so you can learn more about this great deal to help you succeed at all the many aspects of homemaking.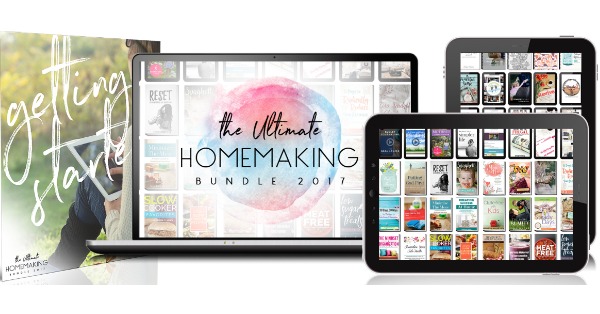 I've received quite a few questions from readers who want a bit more information before they decide whether or not to pick up their copy of this bundle. In case you're wondering the same thing, here are my answers to some of the most frequently asked questions:
The quick facts:
The Ultimate Homemaking Bundle is 106 resources, all about the many aspects of homemaking, including organizing and decluttering, homemaking printables and planners, setting goals and becoming more productive, cleaning tips, ideas for self-care and taking time for yourself, quick and healthy recipes, date night ideas, parenting help and so much more, that includes includes 51 ebooks, 28 eCourses, 26 printables and more. If you bought everything separately, plus the bonuses, it would cost you over $2000, but bundled together they're over 97% off, and it costs $29.97.
You can see an image of many of the resources below, but you can also click here to see the full list of resources, with descriptions of what they are.
You don't have much longer to buy this bundle though, time is running out. The sale ends on Tuesday, October 24th, at 11:59 p.m. EST.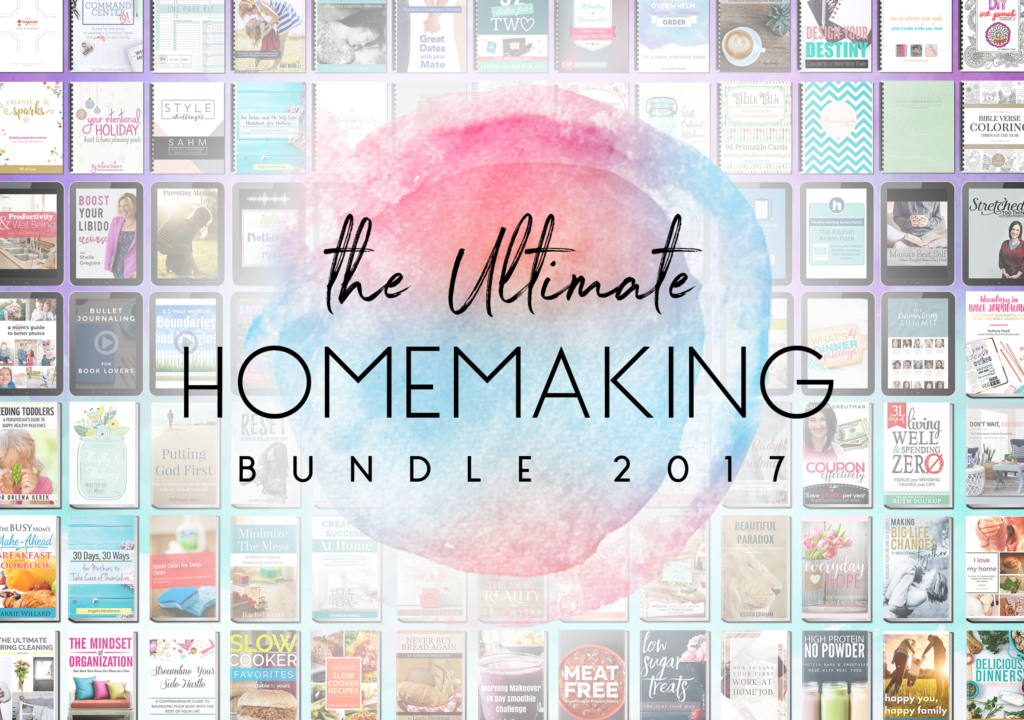 What am I going to do with 106 eBooks / eCourses?
As with all bundles, I seriously doubt every single one of the eBooks and eCourses is going to perfectly fit what you want and need help with right now. However, I do know you've decided you want to get control of your home life and become better at household management, and therefore many of these resources will be helpful for you.
In most cases it only takes 3 or 4 eBooks or eCourses that you're going to use for you to start saving money. Not to mention, there are even four resources alone that I've recommended that are worth more than the cost of the bundle itself. So, even though you won't use every resource in the bundle it would still be really hard to not save a ton of money anyway.
(To see my list of the top 14 resources from the bundle that I'm most excited about, check out this post.)
Another example is the organizing and systems category of the bundle. If you bought just these resources separately it would cost you over $225. You can see them below, or check out the full list of organizing and systems category resources available here.

With so many resources included, how will I even know where to start?
That's one of my favorite things about Ultimate Bundles! Each bundle includes a practical Getting Started Guide to help you identify which eBooks and eCourses are most relevant to you. They've even got an easy-to-use access area where you can narrow down all the products by category or even keywords to help you find exactly what you're looking for.
Plus, these are not just throw away ebooks or printables. I personally know many of these authors, plus I work with Ultimate Bundles frequently. They provide quality information that you'll want to read and learn from.
What's the difference between this year's bundle and previous years?
If you've been a reader of this site for a while you're familiar with Ultimate Bundles because I have been partnering with them for years. The reason is that I personally know the owners of the company, and many of the authors who contribute to the bundles, and I know the products they put together are great. But that also means many of you may have bought previous bundles, such as other year's of the Ultimate Homemaking Bundle, or the recent Conquer Your Clutter bundle.
While there are 106 resources in the 2017 version of the Ultimate Homemaking Bundle, there are no resources in the current bundle which are duplicates from the 2016 Ultimate Homemaking Bundle. In addition, there are no duplicate resources with the Conquer Your Clutter Bundle either.
Do I need the eReader upgrade?
When you purchase the Bundle there are quite a few eBooks, and they are available as PDFs. You can read these PDFs on your computer, laptop, tablet, or even your eReader, such as a Kindle or Nook. However, if you enjoy reading on your eReader you may know that both Kindles and Nooks use a specific type of file that perfectly formats for those eReaders. The eReader upgrade, which costs an additional $10, will provide you with these additional file types so it looks the best it can for reading on your Kindle or Nook. So basically, it is your choice if you want that eReader upgrade, because you can read the PDFs even without it, but if you read them on a Kindle or Nook they won't have the perfect formatting for those devices. (If you don't have a Kindle or Nook don't bother with the eReader upgrade, you won't need it.)
OK, but what if I buy it and don't like it?
I seriously don't think this will happen, because I never recommend anything that isn't good quality, and also because historically Ultimate Bundles has a very low return rate because they also work hard to only provide quality. But I understand your concern.
That's why this Bundle has a 100% happiness guarantee refund policy. If you don't love it, just email customerservice@ultimate-bundles.com within 30 days to ask for a full refund.

Will this bundle be available again later?
No. This is the flash sale, and after this, this particular bundle will not be available again. This is how much time is left:


I hope that fully answers your questions! In my opinion, there really is no downside, and there is a ton of upside. But I'll leave that up to you. Make sure to check out all the resources and you can ask me any questions you have below, in the comments, or in the Facebook page or group, or via email!
Some links on this page are affiliate links, meaning that if you purchase a product through them I receive a small commission which helps me provide this information to you for free, plus support my family. My integrity and your satisfaction are very important to me so I only recommend products I would purchase myself, and that I believe would benefit you. To learn more please see my disclosure statement.