Save Money On Groceries With The Couponing Course Grocery University
Sadly, This Course Is No Longer Available
One of the best ways to save money on groceries is to use coupons, but many people go about it all wrong.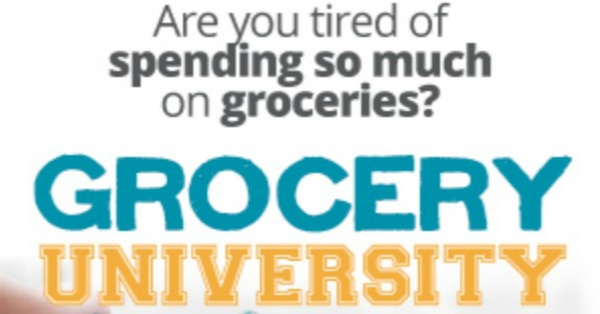 They spend hours and hours couponing, and building up stockpiles of all kinds of free or low cost items, but their grocery bill really isn't going down each month. They are spending the same as before, they just have more stuff to show for it.
I don't know about you, but I want to not only get more for my money with coupons, but I actually want to spend less overall too! After all, it is a lot easier to save the money you already have then make more of it!
If Normal Couponing Isn't Lowering My Grocery Bill, What Should I Do?
Now don't get me wrong, couponing is not bad. It's a great way to save money on groceries, household items, cleaning and laundry supplies, and more.
However, there are some tricks and tips that can take you from an average couponer to a rock star, and they are not so much about putting in extra time and effort, but knowing the rules and thinking strategically.
In addition, and more importantly, you've got to have the right mind set when you coupon. It isn't just about scoring some cool freebies (although that is pretty wonderful). Instead, you most likely started couponing because you wanted to save money on groceries, since money is tight and spending less is needed. I know that's why I started, anyway.
You've got to keep that mindset front and center when couponing. That mindset, plys some additional habits I'll discuss more below, and you'll be more likely to see your grocery bill get lower each week.
That's where the audio course from Grocery University comes in to help. I've listened to it myself, and it's a great quick way to learn how to get results and lower your grocery bill each week, even without coupons (of course using coupons helps you save even more).
What Is Grocery University And How Can It Help Me Save Money On Groceries?
Grocery University is 2 hour and 19 minute audio program written and narrated by Carrie Isaac, who for years has been teaching live couponing seminars, as well as online. She was inspired to create this program after seeing many women in her seminars still struggling to pay their bills each month despite all their hard work couponing.
***Update: Carrie got too busy to keep this site up, and later another blogger I really admire, Crystal from Money Saving Mom, took it over. It hadn't been available for a while because of that switch over, but it is now available again! Plus the new price is just $9.97! An even better deal than it used to be! ***End Update
Several years ago Carrie gave me a free copy of this program, which also comes with a 40 page workbook, and I listened to it and scrolled through the workbook on my computer screen.
What struck me most about this course was not all the tips on how to better use coupons, or learning all the insider tips and tricks Carrie had to share, although there were quite a few of them.
What I loved the most about Grocery University was the stuff right at the beginning, which got me in the right mind set for couponing, and that I still try to remember to this day. I'll let you in on a little secret she taught me -- you've got to do more than just coupon to really save money on groceries and lower your grocery bill from month to month.
To really have less money leave your wallet each month you can't stockpile stuff you really don't want or won't use, you've got to stockpile strategically, and you've got to also change the way you meal plan and think about your grocery budget.
These were eye opening revelations to me, and really helped me figure out a more cohesive way to organize my time and efforts around saving money on groceries.

Some Facts About This Audio Couponing Course
If this sounds like the kind of thing you might be interested in learning more about, here's some additional information about the course.
This is an audio course, sent to you digitally with MP3 files, so you can listen to it on your iPod, computer or any MP3 player
You can download it immediately upon purchase, and listen away while doing just about anything, from folding laundry, doing the dishes or driving, so you'll actually have time to learn this stuff, not just have more reading material you don't actually sit down to read
The MP3s are broken down into 19 files, each with a different topic for you to learn about
The workbook is a supplement to the audio courses, but gives some good visual examples for those who like to learn this way too
It can benefit both newbie couponers and those who've got lots of couponing experience
It costs $9.97, and I personally believe it is well worth it for the potential savings you can learn how to create for yourself from the strategies presented.
There's a 60 day money back guarantee, so if you don't learn how to save money on groceries from it you can always return it, no questions asked (I love that part!)


More Couponing Resources On This Site
In addition to the information I've learned about how to same money on groceries from Grocery University, I've shared some additional ideas and resources here on the site about couponing which you may find helpful. Come check them out:
Cook Great Meals In Less Time With An Instant Pot: Free Course To Learn How
Do you have an Instant Pot hiding in your cabinet? Want to learn how to use it? Sign up for Instant Pot School! It's free, and it will help you put that time-saver to work!
Learn more about this free course, and why I'm recommending it in my article all about Instant Pot School.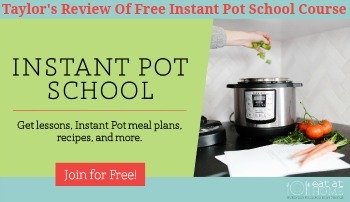 Some links on this page are affiliate links, meaning that if you purchase a product through them I receive a small commission which helps me provide this information to you for free, plus support my family. My integrity and your satisfaction are very important to me so I only recommend products I would purchase myself, and that I believe would benefit you. To learn more please see my disclosure statement.