The Ultimate Productivity Bundle: Taylor's Review
FTC Disclosure: I have partnered with Ultimate Bundles to tell you about the amazing resources in the Ultimate Productivity Bundle. As an affiliate I receive a commission if you purchase this bundles through my link, at no additional cost to you.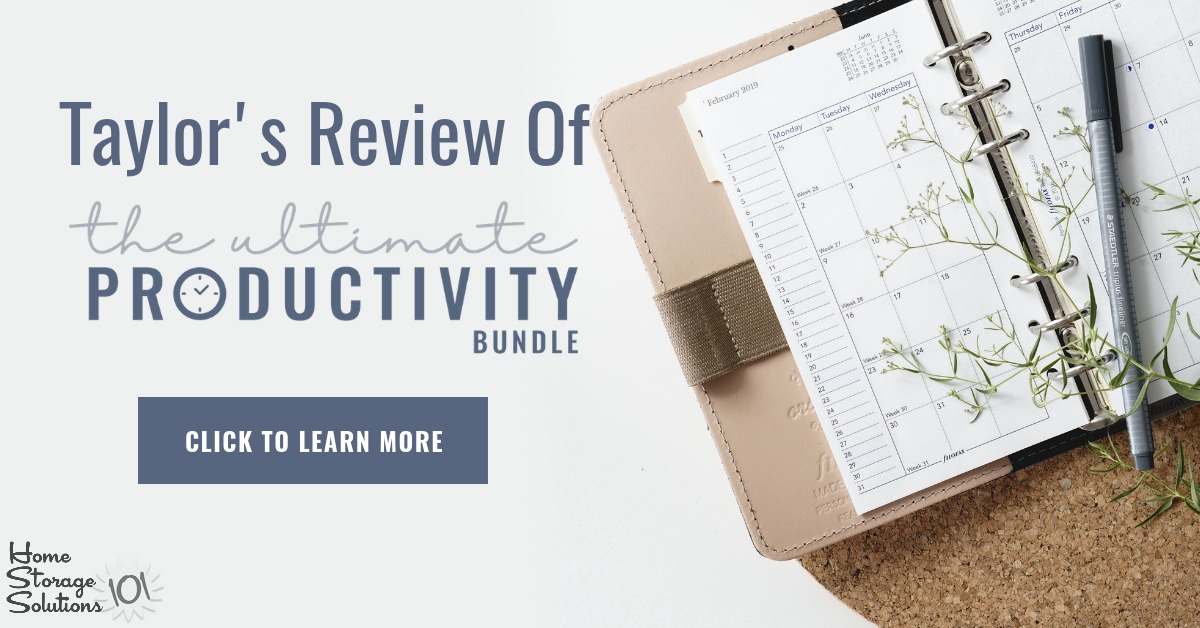 What would you do if you had 25 hours in your day? That extra hour a day would really help, wouldn't it?
The reason that an extra hour a day sounds amazing is that squeezing more time out of the ol' 24 hours a day - especially if you cook for your family every day, keep your house clean(ish), plus hold down a job to pay all the bills - is hard.
Perhaps you've tried googling "productivity tips" but you see ideas for business, or young singles with boundless energy. Which isn't you, right now.
I get it, because that's not me either.
I have something to help, something created by people who understand that you're looking for practical productivity solutions that will work in your world. It's called The Ultimate Productivity Bundle and it was created and curated by people with real life responsibilities just like you: they have families, work part- to full-time jobs or run businesses, don't have personal assistants or the budget for hiring lots of extra help.
They want to help you (and themselves) conquer your to-do list, free up more time for yourself, and reach your goals.
When you buy the Ultimate Productivity Bundle you'll get access to:
5 eBooks
14 eCourses & videos
26 printables & workbooks
and more!
Below I've provided highlights of some of my favorite products contained in the bundle, but I encourage you to also check out the full list of 46 products for yourself here.

Just One Of These Three Products Make The Bundle A Great Deal!
Besides being so incredibly helpful, one of the things I like best about the bundle is the price. By offering it as a bundle they're able to give you access to over $1500 worth of amazing products for over 96% off!
The whole bundle costs only $49.97 (or $59.97 if you want to add the cheat sheets), and I was amazed at some of the great resources included, several of which are worth more or almost more by themselves than the full price of the bundle. Here are a few of them with the buy-alone price in parentheses:
The 90-Day Personal Productivity Power Plan by Lise Cartwright ($197.00)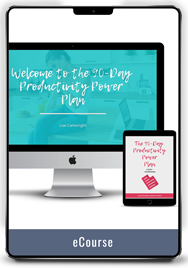 Lise Cartwright created The 90-Day Personal Productivity Power Plan to share the EXACT principles and strategies she used to master her to-do-list in a matter of months so you can do the same.
Organize Your Life with Trello by Cara Harvey & Elisa Giorgio ($47.00)
This digital course helps moms who are sick of being overwhelmed and finally want to get control of everything by using Trello.
I'm personally very stoked about this eCourse, because I've been wanting to learn more about Trello for a while now!
Goal Setting 101: How to Set Goals as an Absolute Beginner by Nadalie Bardo ($49.99)
Goal Setting 101 is an 8-lesson eCourse that teaches you exactly how to set achievable goals.
Any of these three resources, by themselves, would make this bundle a great deal, but of course you also get access, as part of the bundle, to all the other 40+ resources as well. I encourage you to learn more about these additional eBooks, eCourses and printables here.

Even More Resources In This Bundle I'm Excited About
When people look at the Ultimate Productivity Bundle they can easily get overwhelmed with all the resources available, and I understand that.
Realistically not all 46 resources will be things you're interested in, and that's OK. These are all digital resources and you can download only those things you actually will read or use, so you have neither physical nor digital clutter.
The best way to see if the Ultimate Productivity Bundle would be a good deal for you is to review the full list of resources with a pen and paper in hand, and jot down the resources you'd like to read, the planner or workbook you'd like to use, or the courses you'd like to take. Then add up the price of those resources individually using a calculator. Once you do this you'll quickly see how much sense it makes to get the bundle.
Here are some examples of groupings of resources, to show you how valuable these products can be for several types of people, including working moms, people who work online, empty nesters, and those who feel like it's hard to be productive since they live with chronic illness.
Working Moms:
Working moms have a lot of expectations and things they've got to get accomplished at work and at home, and also want to find time to take a little time for themselves as well.
These 9 resources, if purchased separately, would cost $413.98, but as part of the bundle they cost just $49.97!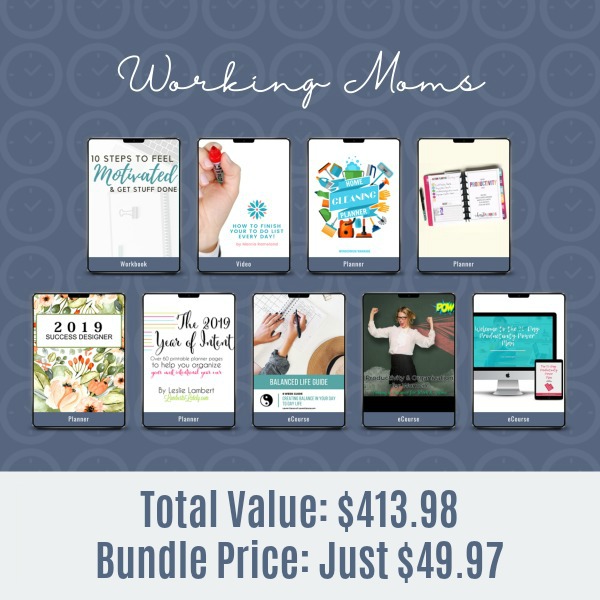 Online Workers:
Anyone who works online knows how much time can get sucked up on the Internet, and then the rest of the day is gone. Also, there doesn't always feel like a lot of boundaries between work and home.
These 9 resources, if purchased separately, would cost $388.98, but as part of the bundle they cost just $49.97!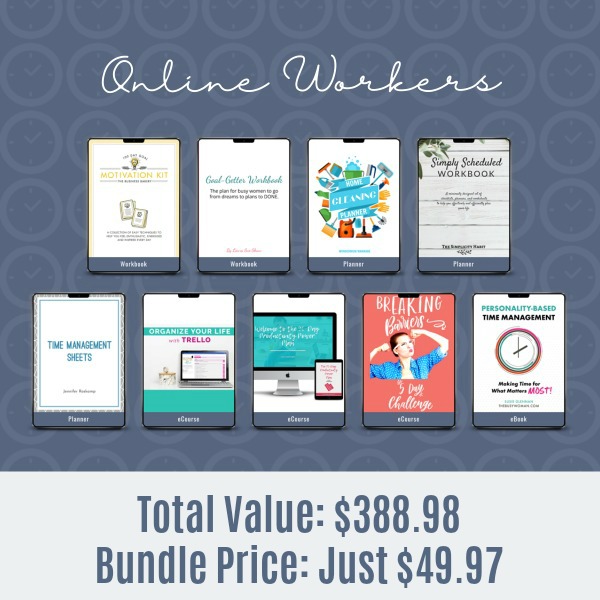 Empty Nesters
This bundle is not just for those people with kids, but instead has something for everyone, at whatever stage of life they're in, including empty nesters.
These 6 resources, if purchased separately, would cost $283.99, but as part of the bundle they cost just $49.97.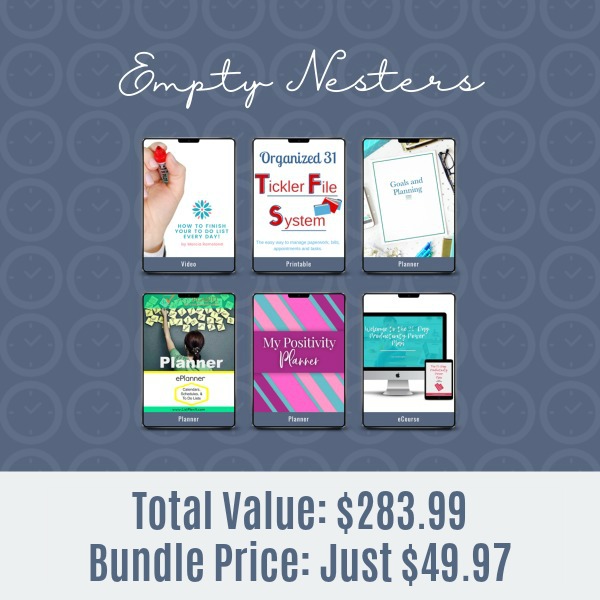 Chronically Ill
Living with chronic illness can make you feel like you don't have the energy or time to get everything you need to done. However, with certain strategies and suggestions you can get the most important priorities done, without exhausting yourself.
These 6 resources, if purchased separately, would cost $176.99, but as part of the bundle they cost just $49.97!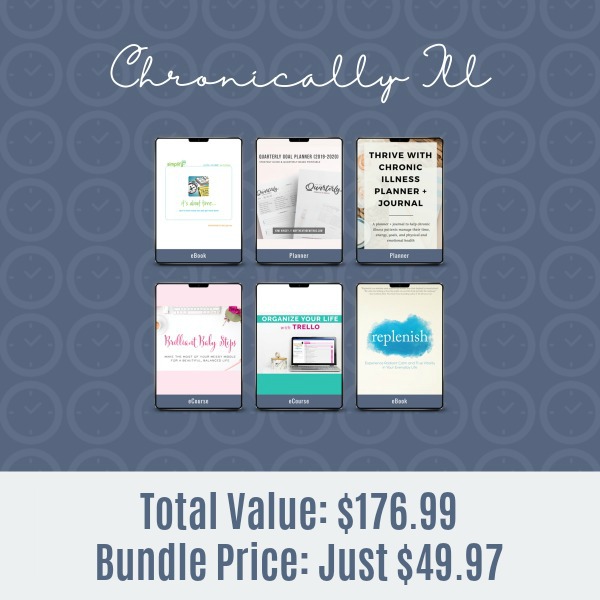 Those are just some of the examples of the variety of products in the bundle, and how there's something in there to help you, no matter what stage of life you're in.
I also hope you can see how these resources aren't just geared to work, which is what sometimes we think of as where we want to be more productive, but also are geared to the rest of our life, so we can function well at home, at work, and have time for the things we enjoy as well.
I encourage you to check out all the resources in the bundle, and you can learn more about these additional eBooks, eCourses and printables here.

There Are Lots Of Planners, Workbooks & Printables In This Bundle!
I know how you love printables (I do too!), and this bundle does not disappoint.
The beauty of getting all these printables, planners and workbooks in this bundle is NOT that you should start using them all. In fact, that wouldn't be productive!
Instead, having these planners and printables all bundled together allows you to, for one low price, test out various worksheets, planner page layouts, and more to find out exactly which ones work best for you.
That could include a mixing and matching of various parts of several planners and printables, or you may find out that you absolutely fall in love with one, even though it was the third one you tried, and didn't initially expect it would fit your needs like it actually does.
Getting the bundle gives you the freedom, without worrying about cost, to really give things a try and find the best planner for you!
First, let me show you a collection of some of my favorite printables from the resources within the Productivity bundle: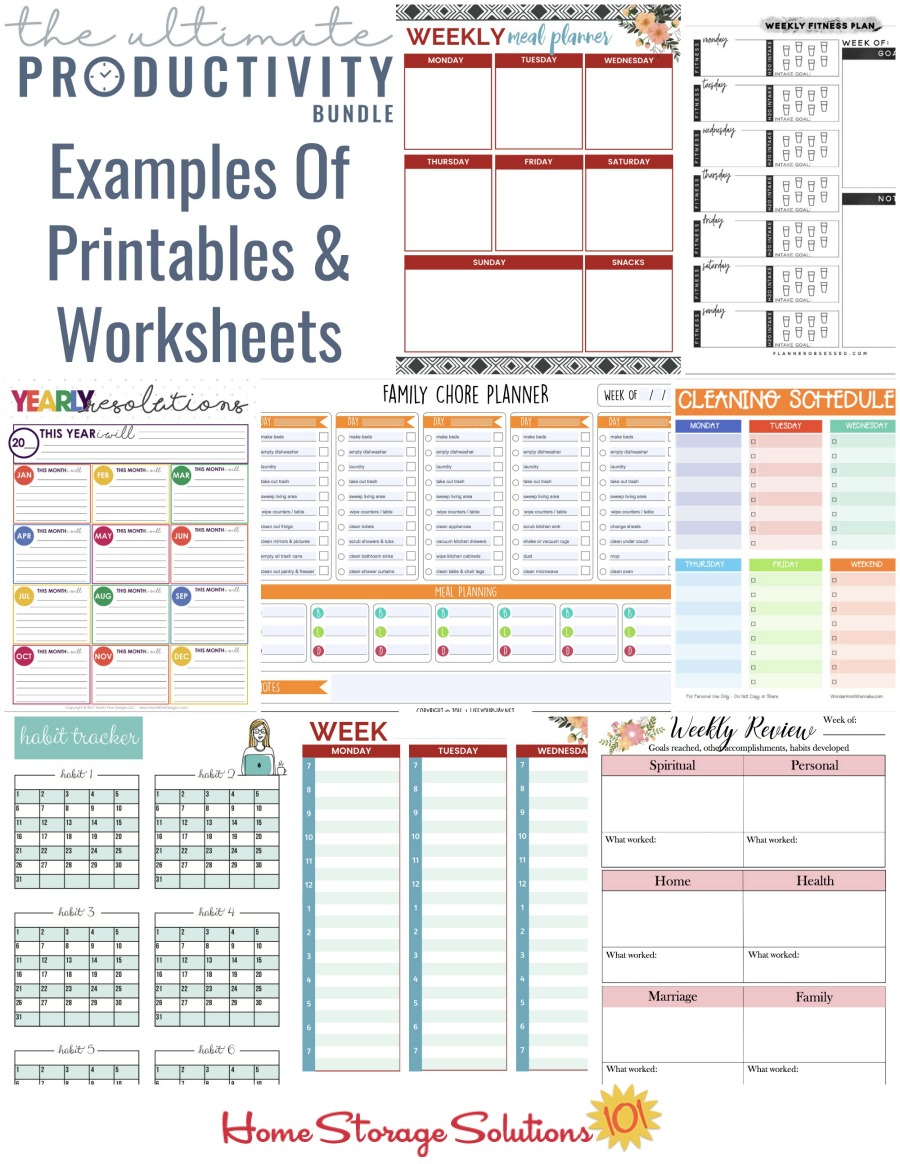 Further, here are some of the planners and printables available in the bundle.
Daily Planners
There are 9 different daily planners you can download, and begin to use whichever one you think will work best for you!
Goal Planners
There are 8 different goal planners that can help you set, and then execute your goals, whatever they may be.
Home Management Planners
Since this bundle isn't just focused on work productivity, but recognizes we all have to take care of our home and personal life as well, these 7 home management planners will help you do just that, from cleaning, to chores, to paperwork, and more.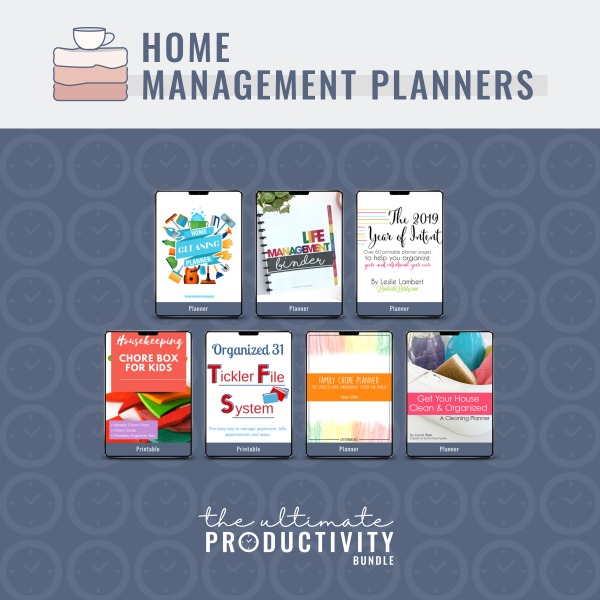 I think you may enjoy many of the resources I mentioned before, but remember there are 46 of them (shown below), so I would encourage you to check out the full list of resources and add up your favorites to see how much you'd save when you purchase the bundle too.

Cheat Sheets For All The Resources In The Bundle For $10 More
You also have the option to buy "cheat sheets" with your bundle, for an additional $10.
This is a game changer, because with these time-saving cheat sheets, you can review all the bundle's material in less than half the time, and then dive deeper into the topics that are most interesting to you.
Here are samples of the cheat sheets, to help you decide if they're right for you. I liken them to the old-fashioned "Cliffs Notes" you could read in English class, to get the summary and point of the materials a bit more quickly.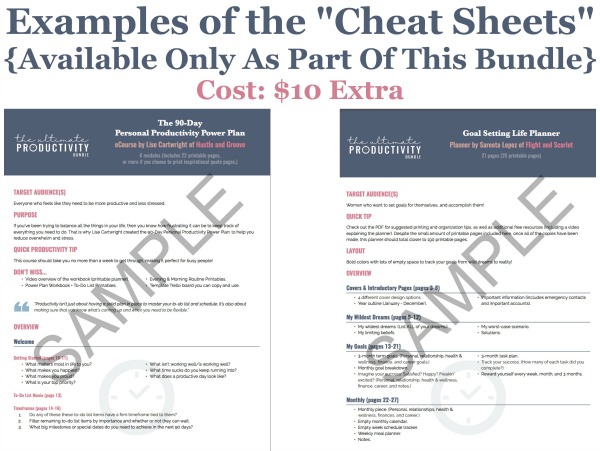 No Risk 30 Day Happiness Guarantee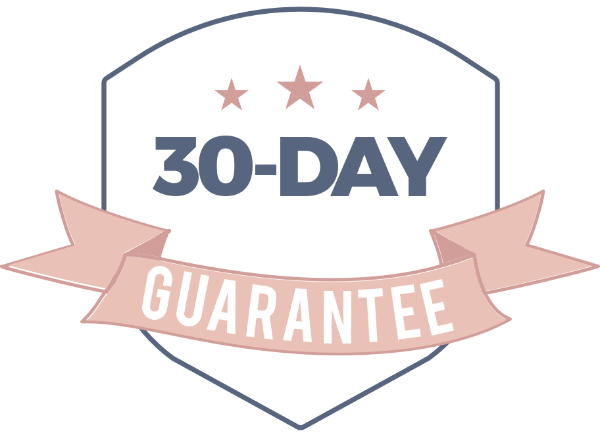 Finally, this Bundle has a 100% happiness guarantee refund policy. If you don't love it just email customerservice@ultimate-bundles.com within 30 days to ask for a full refund.
Productivity is not something you're born knowing how to do, but it is a skill you can learn and master. This Ultimate Productivity Bundle can help, so make sure you learn more or get your bundle here before time runs out.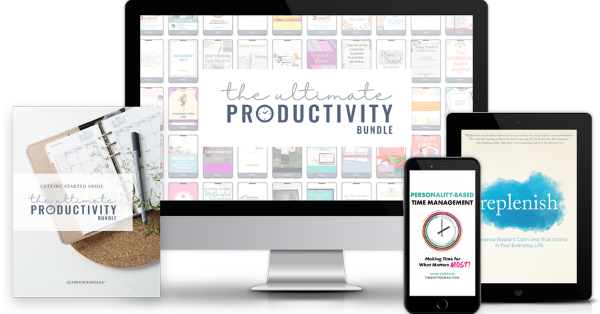 Do you want to know even more, from me about this bundle? I've written a post with answers to your frequently asked questions here!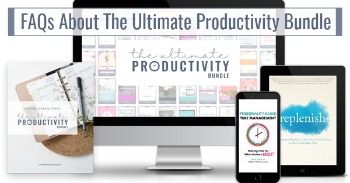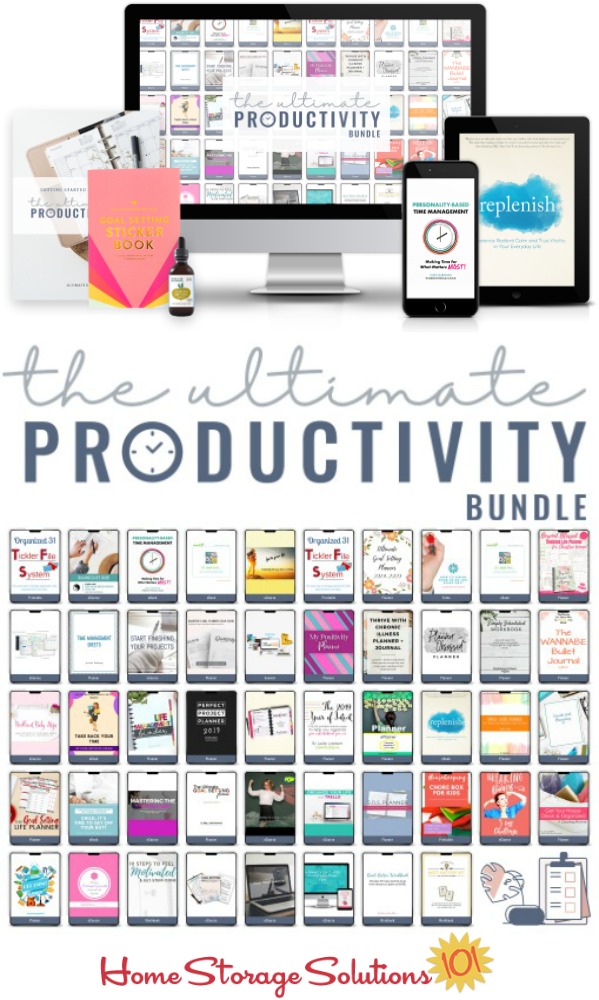 Some links on this page are affiliate links, meaning that if you purchase a product through them I receive a small commission which helps me provide this information to you for free, plus support my family. My integrity and your satisfaction are very important to me so I only recommend products I would purchase myself, and that I believe would benefit you. To learn more please see my disclosure statement.