75 Free Productivity Tips To Free Up 1-2 Hours A Week
Make More Margin, Productivity Ebook
FTC Disclosure: I have partnered with Ultimate Bundles, as an affiliate, to tell you this free ebook.
Here's how to get a productivity ebook, called Make More Margin, which contains 75 free productivity tips, that will help you free up 1-2 hours a week to do the things you want to do.

Do you ever feel like you don't have enough time in your day? I certain do.
So, what if I told you that you could free up between 1-2 hours per week, using simple and practical productivity tips, so you could have more time to do the things you love?
It's true, you really can! And the tips are FREE in this eBook called "Make More Margin."
Inside this free eBook, you'll learn:
which productivity tools actually work
how to practice self-care (even on a busy schedule)
why tiny pockets of free time can help you be more productive
why you shouldn't feel guilty for taking care of yourself
plus, so much more!
Grab your copy of the eBook and prepare to be inspired!

What A Reader Had To Say About This Productivity Ebook
Here's what a reader told me on Instagram, after she downloaded the free book:
I downloaded this and read it. Quick and easy. Lots of good ideas. Many reminders of things that I already knew but forgot I knew. Thank you for sharing!
I hope you'll enjoy it just as much!

Ultimate Productivity Bundle: Available For Limited Time
Want even more ideas, strategies, printables and courses to help you improve your productivity? If so, the Ultimate Productivity Bundle has 68 resources to help you with time management, goal setting, and productivity at work and home, including printables, eBooks and eCourses, that is worth more than $2,700, but is currently on sale for over 97% off.
I've written a review of the bundle which you can see at the link, and showcased some of the best products within it, so come check it out and see if it can help you conquer your to do list, reach your goals, and free up more time for yourself.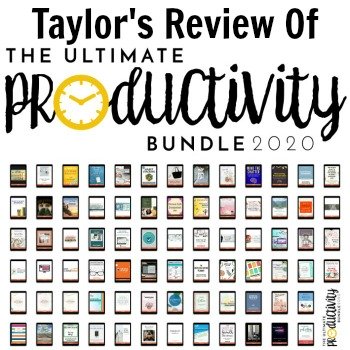 Some links on this page are affiliate links, meaning that if you purchase a product through them I receive a small commission which helps me provide this information to you for free, plus support my family. My integrity and your satisfaction are very important to me so I only recommend products I would purchase myself, and that I believe would benefit you. To learn more please see my disclosure statement.