Organizing A Pantry Challenge: Before And After Pictures For Hall Of Fame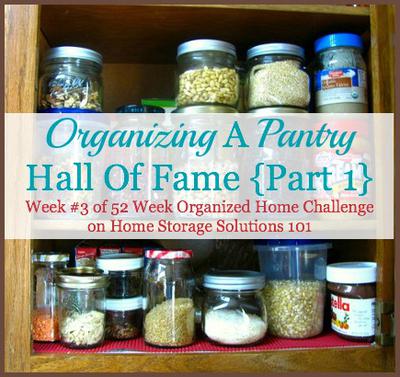 Many of you have now completed the organizing a pantry challenge, which is part of week #3 of the Organized Home Challenge.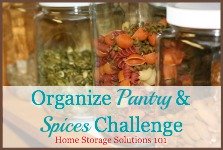 I want to thank each of you who has sent in pictures of your wonderful pantry organization projects. Everyone has done some fabulous work, and each of you is deserving to be in this hall of fame.
And for those of you who just want to cheer everyone on, I also think all these pictures will be both inspirational to you, and also give you practical ideas for how you might be able to get your own space under better control.
If you get inspired by the pictures you see (scroll down to see more) I encourage you to take the
pantry challenge
and then come back here and post your own before and after pictures for the hall of fame.
You can
submit your own pictures and story of what you did here
.
Photo by LizMarie_AK
Join in and write your own page! It's easy to do. How? Simply click here to return to 52 Week Home Organization Challenge Hall Of Fame.
Organizing Pantry And Spices
by Louisa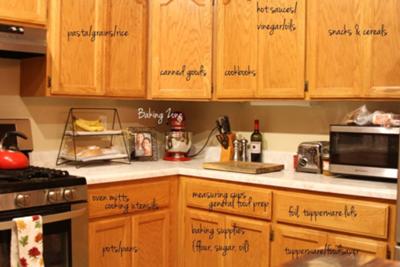 Where things located in the cabinets
Louisa shared her accomplishments on the Facebook wall, and I thought she did so great I wanted to show even more of her pictures. Since she did Challenges 2 and 3 together, I have given her a place in the hall of fame for both weeks.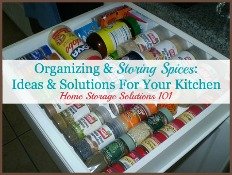 She organized her pantry and spices and they look awesome. I also love how she labeled her pictures so we know where everything is. I can tell she put a lot of thought into the process of where things should be located, but it will make it easier from now on as she and her family work in the kitchen to have things where they make sense and are convenient.
She said about the first picture: "Baking Zone - baking supplies right at the knee and elbow, cookbooks just above. Food storage supplies (foodsaver/foil/plastic wrap) right next to the fridge!"
She said about her spices: "Drawer full of easy to find spices! Got this idea from Pinterest."
Thanks Louisa. You can
click here for more ideas for organizing spices
shared by readers.
Join in and write your own page! It's easy to do. How? Simply click here to return to 52 Week Home Organization Challenge Hall Of Fame.
I Love To Open The Pantry Door & Just Sigh With Contentment
by Anna
(Mocksville, NC)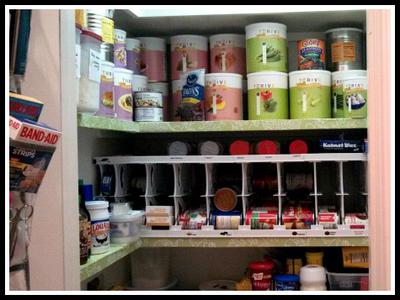 Canned Foods
Anna says:
I was so excited to get started that I totally spaced shooting a BEFORE picture, but trust me, it wasn't pretty.
I have a small food storage room in the
basement
(another re-organizing project on my list), but my working pantry is in the kitchen.
I hope to "shop" the food storage room before going to the store so that I can rotate my food more efficiently.
I had various "equipment" on hand to organize and I also put down fun contact paper to jazz things up a little.
I purchased two wall-mount spice racks which really helped empty a kitchen cabinet shelf that was bugging me.
I also pulled 5 copper Jell-O molds out of the back of a cabinet to remind me to use them and hung them on the pantry wall. So they are functional and pretty! So excited.
Gets me more motivated to cook and I love to open the pantry door and just sigh with contentment...and note the cleared floor space. Priceless.
Taylor says: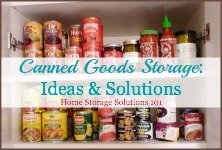 Anna, this is absolutely lovely! You did a wonderful job and should be very proud of the work you've done.
I loved the can racks so much I also featured them in the
canned food storage ideas and solutions hall of fame
.
I also really like the jello moulds on the wall. They give such a pretty touch!
Finally, I noticed the extra wire shelving you've placed on the floor. That is a great use of space and adds so much extra storage.
Here's some similar wire shelving for people interested in doing something similar:
Join in and write your own page! It's easy to do. How? Simply click here to return to 52 Week Home Organization Challenge Hall Of Fame.
Pantry Before And After Pictures Shelf By Shelf
by Jessica C.
(Phoenix, AZ)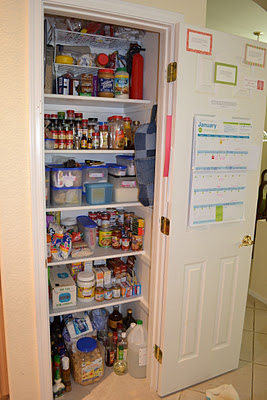 Jessica from A Homemaker In Training wrote about her work on Challenge #3 on her blog.

She took before and after pictures, comparing her before and after shelf by shelf. I chose some of the most dramatic transformations to share here in the hall of fame, but you can see all of her photos at her blog post.

Jessica said that "I am on a purging binge right now so I should probably take advantage of that because I am such a just in case kind of person." I totally understand that mentality, and I bet there are many others of us reading that feel just the same way!

Finally, she said: "My pantry is also where I keep my family calendar, some Scripture to encourage, and I think this is also where I will figure out a way to display my pantry inventory."

In addition, Jessica also wrote in to share some additional information about the pictures. She says:

I basically used what I had on hand with a few additions.

I had been wanting to organize at least part of my pantry with some Tupperware containers. They just made everything look so very lovely.

As you can see things were just tossed about. Also, because I stock up when things are on a great sale with coupons I was on overload and things needed a place.

So, I pulled everything out, matched, and categorized items. I also wiped down the shelves and vacuumed the floor area.

I put everything back and viola! A lovely pantry that doesn't seem so oppressive when you open it. Nor will anything randomly fall down on your head anymore. Win!

You don't have to have a lot of organizing gadget to get the job done. Some help but start with what you have and move up from there. Like I will be moving to a different kind of container for all of my spices -- over time.

Be encouraged... I was able to whip this together while my 1 month old and 16 month old napped and my three year old "helped" by building towers with all canned goods.


Taylor says:
Thanks so much Jessica for blogging about the challenge, and sharing such awesome pictures. You really made some great progress in your pantry, and should be very proud of all you've accomplished.
If you do end up using the inventory sheet, I'd love to hear that goes for you too!
Join in and write your own page! It's easy to do. How? Simply click here to return to 52 Week Home Organization Challenge Hall Of Fame.
Your Pantry And Freezer/Refrigerator Challenges Have Inspired Me To Use Up My Food
by Elizabeth A
Elizabeth shared a great idea with me that she got once she started working on several of the food storage related challenges in the 52 Weeks to an Organized Home Challenge.
Elizabeth says:
Your challenge is making such a difference in my home, it just inspires me to no end.
I decided rather than make a
list of the things in my pantry
, cupboards and
fridge/freezers
, I would make a plan to use them up in a 16 week period.
I divided everything into 8 portions of dry goods and freezer goods. I'll buy whatever else we need to stretch and make nice things.
We were heavy on the pasta, but had a good asssortment of meat. It felt nice to clean it all out and not let it go unnoticed. We're in our first week of it, it's going well!
Taylor says:
That's a wonderful idea Elizabeth, and a great way to make sure your family actually uses all that food you've bought.
We like to do this periodically, both to use up excess food that might otherwise get to old to eat, but also to save some money for the week.
Join in and write your own page! It's easy to do. How? Simply click here to return to 52 Week Home Organization Challenge Hall Of Fame.
Organizing A Pantry: Both The Big And Small One
by Meg Danyluk
(Virginia )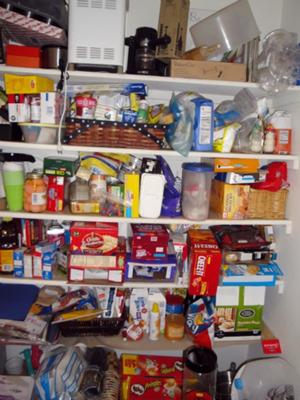 Our bigger pantry before :(
Meg shared the before and after pictures from her pantry, and I have to say the transformation is amazing.
Meg says:
I took our two pantries and completely redid their crazy disorder!
I bought new baskets, canisters, and then labeled each with scrapbook paper and ribbon. I love how it turned out!
In the spring when I conquer the garage I plan on putting some of those bigger appliance items out on a shelf.
Now, can I just LIVE in these organized places??? I will get there, one week at a time. Thank you so much for your help!
Taylor says:
Wow Meg, I love how you organized both of your pantries.
I especially like how you labeled the boxes with the scrapbook paper and ribbon. I think that is a great idea because if you ever decide to change the contents of the basket all you have to do is change the tag.
It is so much neater in there with all the containers and canisters.
In addition, I love how you made hooks for everyone's lunch boxes. How convenient and cute at the same time. Great job.
Below are examples of similar pantry storage solutions, if Meg has inspired you to do something similar in your own pantry.
Join in and write your own page! It's easy to do. How? Simply click here to return to 52 Week Home Organization Challenge Hall Of Fame.
Pantry Organization Was More Difficult Than I Thought
by Ellen
(Jurupa Valley, CA)
Ellen shared her thoughts about the organizing a pantry challenge.
Ellen says:
I was thinking that because the one cabinet I call a pantry had to be organized during
Week 1
to get the food off the counter below it, I was going to coast this week. Not so!
I saw on your
Pinterest board
the one
website that allows you to check the date of your spices
, and ending up throwing half away.
Then went and glanced at a few things in the actual "pantry" and ended up throwing away baking powder that was too old. In the can cupboard, most of the things with "use by" dates were still good, but a can of mixed beans had to be thrown out as well.
Taylor says:
Ellen, I can sympathize. It is amazing how time flies from the way I've let stuff accumulate and expire, unused, in my pantry.
Glad to hear the challenge helped you get yourself organized!
Join in and write your own page! It's easy to do. How? Simply click here to return to 52 Week Home Organization Challenge Hall Of Fame.
Bev Culled And Organised Pantry
by Bev D
(Melbourne)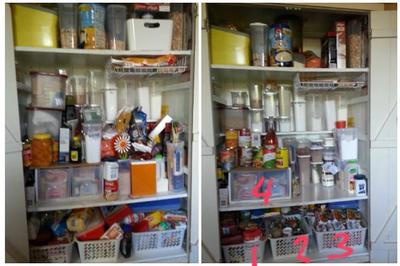 Bev shared this great before and after picture of her pantry after taking this week's challenge.

She stated: The baskets are home items for 1. baking 2. cooking 3. self serve quick meals for kids 4. drawers for meal prep sachets (eg Maggi).

You should be very proud of your accomplishments Bev, great job!
Join in and write your own page! It's easy to do. How? Simply click here to return to 52 Week Home Organization Challenge Hall Of Fame.
Utilizing Baskets And Canisters For Organizing A Pantry
by Denise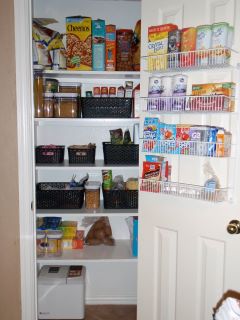 After
Denise shared these pictures of the before and after pictures of her pantry on the site's Facebook wall as well.

This is what she said about the second picture: "Another After picture of my pantry...focusing on my 3 favorite shelves. I still plan to get some more baskets and more canisters and then label everything, but I love it already."

I love it too Denise! The baskets and canisters really do make it much for functional and less cluttered, and it looks like you can really find what you need now.

There are so many choices of canisters you can choose from. Here are a couple below that are functional, and beautiful.


Are You Inspired To Get Organized Now?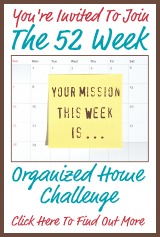 If the before and after pictures you've seen above have inspired you to work on your pantry, food storage areas, and/or spices I'd love for you to participate in the challenge.
In fact, I would encourage you to
join the whole 52 Week Organized Home Challenge
here on the site. Over the course of the year we work on every single room of the house, along with tackling tricky items and habits so by the end of the year your whole life and home can get organized.
And if you work on your pantry make sure you take some before pictures (if you want) and definitely some after pictures and then you can
submit your accomplishments to the Organization Hall of Fame
.
Some links on this page are affiliate links, meaning that if you purchase a product through them I receive a small commission which helps me provide this information to you for free, plus support my family. My integrity and your satisfaction are very important to me so I only recommend products I would purchase myself, and that I believe would benefit you. To learn more please see my disclosure statement.
Related Pages You May Enjoy
Getting Rid Of Pantry & Food Clutter Hall Of Fame
Organizing And Storing Spices Hall Of Fame
Go From Organizing A Pantry Hall Of Fame To Home Page