FAQs About The Get More Done Bundle
Sale Over
FTC Disclosure: I have partnered with Ultimate Bundles to tell you about these amazing resources in the Get More Done Bundle. As an affiliate I receive a commission if you purchase one of these bundles through my link, at no additional cost to you.
Here are answers to frequently asked questions about the Get More Done Bundle, so you can learn more about this great resource to help you conquer your to do list, reach your goals, and free up more time for yourself.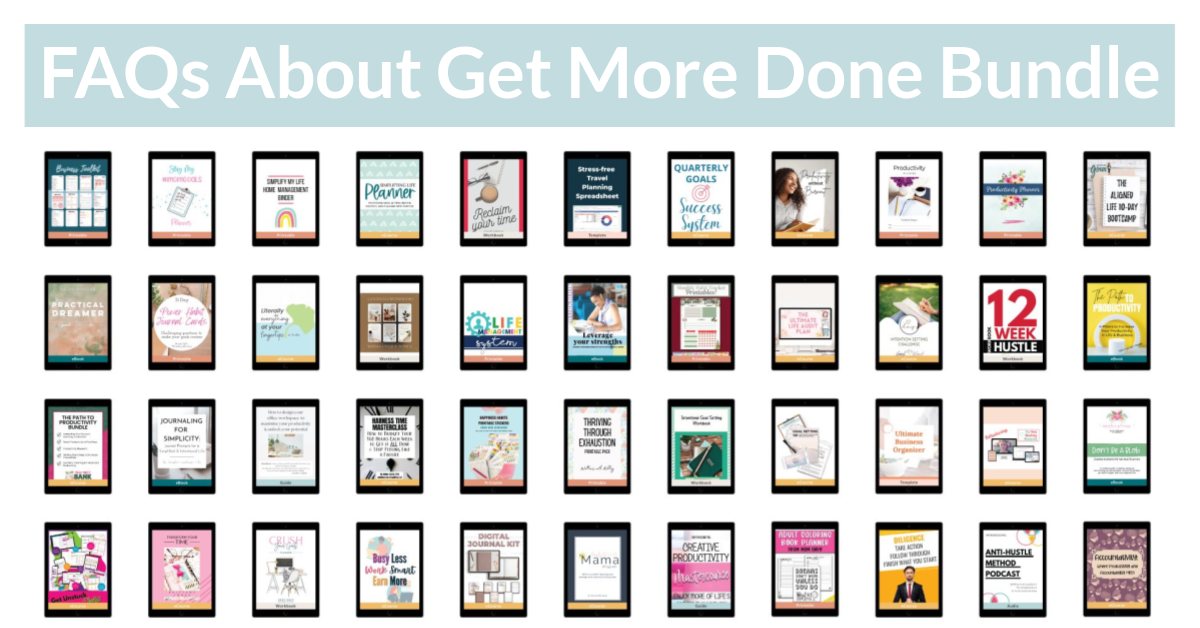 ***Edited to add: This sale is now over. Sometimes there is a flash sale on certain bundles, later, for a very short duration. Make sure to sign up for my newsletter list here, to get alerted about any such future sales of this or other bundles.
Are you as excited as I am about the Get More Done Bundle, a collection of resources by ordinary people who've found practical ways to squeeze more out of their days?
If you still have questions, keep reading!
Q1: Is this one big course? Or a bunch of different products?
A1: This bundle is a collection of 58 resources in total, including 29 eCourses, video and audio, 6 ebooks, 20 printables, workbooks and guides, and 3 templates. Inside this bundle you will find tons of resources to help you set goals, save time, work more efficiently, manage your home, and so much more. It's basically one big, productivity pack - all starting as low as $47. That's less than $1 per resource!
You can see an image of all the resources below, but you can also click here to see the full list of resources, with descriptions of what they are.
You don't have much longer to buy this bundle though, time is running out. The sale ends TODAY (on Thursday, April 20th), at 11:59 p.m. ET. This is how much longer you've got before the sale is over: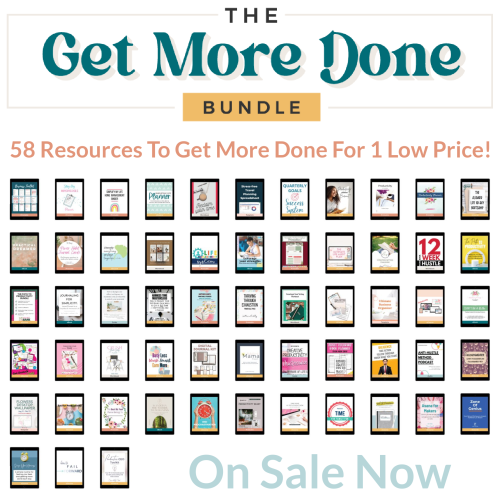 Q2: What am I going to do with so many resources?
A2: There is no way on earth each of these eBooks / eCourses is relevant to where you are right now. Some of them will have a lot of appeal, and some won't. But in most cases it only takes 3 or 4 eBooks or eCourses that you're going to use for you to start saving money. Not to mention, there are 20 resources alone that are worth as much or more than the cost of the standard bundle itself. So, even though you won't use every resource in the bundle it would still be really hard to not save a ton of money anyway.
I've highlighted some of my favorite resources in my review of the Get More Done Bundle here if you'd like to see some of the eCourses and eBooks I'm most excited about, and which make this bundle an excellent value.

Q3: How do I know I'm actually getting good quality products and not just a bunch of "throw-away" resources?
A3: The Ultimate Bundles team spends months reviewing potential contributors, approaches only the best for inclusion, and then only accepts the top products that they think will have the most appeal out of those. Many of these are full-length eCourses with video tutorials or even access to a private Facebook group! They are highly selective and it shows in the final curated collection.

Q4: With so many resources included, how will I even know where to start?
A4: That's one of my favorite things about Ultimate Bundles! They've got an easy-to-use access area where you can narrow down all the products by category or even keywords to help you find exactly what you're looking for.
In addition, if you'd like even more guidance you also have the option to buy "cheat sheets" with your bundle when you get the ultimate package of the bundle for $87. This is a game changer, because with these time-saving cheat sheets, you can review all the bundle's material in less than half the time, and then dive deeper into the topics that are most interesting to you.

Q5: OK, but what if I buy it and don't like it?
A5: Although Ultimate Bundles has an extremely low return rate at less than 1/4 of the industry standard, there are some people who it doesn't work for. That's why they offer a 100% happiness guarantee refund policy for 30 days. If you don't love it, just email customerservice@ultimatebundles.com to ask for a full refund.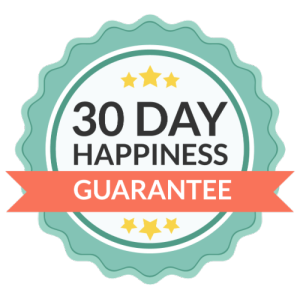 Q6: This sounds too good to be true. Can you prove it's not?
A6: I know it seems too good to be true. Pay $47 for over $2,300 in resources? Doesn't that mean someone's losing big time? Or the prices are inflated?
I totally get your concerns. I've been an affiliate for Ultimate Bundles for years and I can tell you that I offer these bundles to my readers because they're a great value. Even though a blogger may be including their product in a bundle that costs less than their product, product creators get exposure to new potential readers, which can pay off in big ways later. And when you buy a bundle through your favorite blogger (hopefully me!), you'll support them, too!
In short, it's a great deal for everyone. Ultimate Bundles is a reputable company, so if you try the bundle and don't like it within 30 days, just ask their friendly, helpful customer happiness team for a refund.

Q7: What's the difference between the different bundle options?
A7: To prevent overwhelm, Ultimate Bundles wants to provide something that fits your situation. So they're offering you the option to purchase the Standard Bundle (just products, $47), the Super Bundle (products and bonuses, $67), OR the Ultimate Bundle (products, bonuses, and cheat sheets, $87 - what a great value)! You can purchase whichever package works best for you, so you can get started with the least amount of stress possible. In short, it's a great deal for everyone.
Don't Wait, The Flash Sale Ends TODAY!
One thing you can't do is wait, because this sale is almost over. The bundle is only available through TODAY (Thursday, April 20th), until 11:59 p.m. ET, and since this is the flash sale once the bundle sale is over this particular bundle will not be available again, ever.
This is how much longer this bundle is on sale:


I hope that fully answers your questions!
In my opinion, you really don't want to pass up a deal this good. But I'll leave that up to you. Learn more or get your bundle here:

Some links on this page are affiliate links, meaning that if you purchase a product through them I receive a small commission which helps me provide this information to you for free, plus support my family. My integrity and your satisfaction are very important to me so I only recommend products I would purchase myself, and that I believe would benefit you. To learn more please see my disclosure statement.