Dish Soap Apron Or Dress: Cute Way To Brighten Up Your Sink Area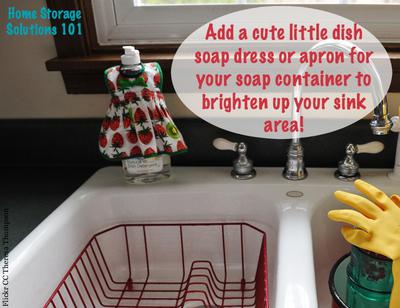 Do you want a cute way to brighten up your sink area, and make yourself smile as you do dishes? Of course you do. ;)
A while back these little dish soap apron and dresses were all the rage, and personally I think they should be again. I mean, how very adorable!
Not only can they add some charm to your kitchen, they can also disguise the kind of ugly looking dish soap bottle that we often have sitting on our kitchen counter.
Where To Find These Dish Soap Dresses:
You can make your own, use doll clothes, or even buy them from places like Etsy.
Resources For Making Your Own:
If you like to knit, there's a book entitled
Dishcloth Dresses
that has 12 different patterns you can make, and a
second follow up book
with 7 more patterns.
In addition, check out this
tutorial on the Simplify blog
(the tutorial is kind of buried in the middle of a very long page, but it is there!).
Finally, you can look on Pinterest for even more ideas. (While you're there,
follow me here
, I'd love it!) That is exactly what a reader, below did, to make her own cute little apron.

Photo courtesy of Theresa Thompson
I Made This Simple Dish Soap Apron Myself!
by Yolanda

Yolanda shared this picture of the little apron she created using a pattern she found on Pinterest.
Isn't it great?
Do you have one of these bottle dresses or aprons in your own kitchen you'd like to show off, or have a great resource to tell us about for where to find these little decorative items?
You can
submit your photos and tips here
and I'll add them to the page.
Some links on this page are affiliate links, meaning that if you purchase a product through them I receive a small commission which helps me provide this information to you for free, plus support my family. My integrity and your satisfaction are very important to me so I only recommend products I would purchase myself, and that I believe would benefit you. To learn more please see my disclosure statement.
Related Pages You May Enjoy
Kitchen Sink Organization Ideas
Clear Kitchen Clutter Hall of Fame
Go From Dish Soap Apron & Dresses For A Cute Kitchen To Home Page