Craftsy Premium Membership To Help You Use & Enjoy All Your Crafts Supplies & Equipment
Sale Happening Now: Get An Annual Membership For Just $2.49 For The First Year!
FTC Disclosure: I have partnered with Craftsy to tell you about their Premium Membership. As an affiliate I receive a commission if you purchase this annual membership through my link, at no additional cost to you.
To celebrate National Craft Month, Craftsy is having an amazing sale on their Craftsy Premium Membership for the year, for the low price of $2.49 (which is 97% off the regular price), and it's such a great deal I had to tell you about it!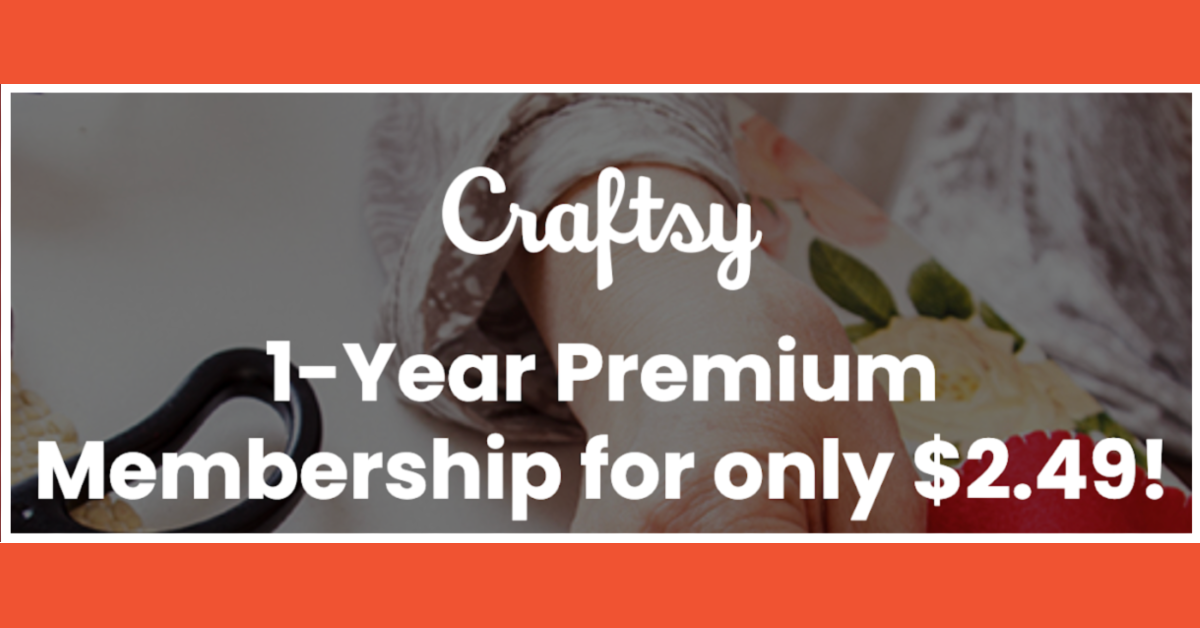 Do You Actually Use Your Craft Supplies Regularly?
One of the most popular weeks here on the site, that also simultaneously gets me the most groaning emails and comments, is when we work on decluttering and organizing our craft supplies, equipment, and the craft room itself.
I hear a lot of variations on this theme during that week: "oh no, I haven't touched my craft supplies in months so I guess they're clutter and I should get rid of them, BUT I wish I could do those crafts, I really want to."
What I've learned through the years, especially for those of us like myself, who absolutely love crafts, and the fun, relaxation, and enjoyment they bring, is that there are really two hobbies involved with crafting -- the hobby of collecting the craft supplies and equipment, and the separate hobby of actually doing the crafting itself.
Of course, with some effort and the right resources you can stop ignoring your craft supplies and start really enjoying them as you've intended, and bonus, this is one of the most fun ways to "declutter" these supplies -- by actually using them up!
Of course, sometimes the problem is that you don't feel like you know enough about how to do the craft to really get started or keep going, or you're wracking your brain trying to come up with new ideas and projects to try.
Enter Craftsy, which is your online resource for all creative makers, where you can find everything you need – from basic instruction to advanced techniques.
Craftsy Premium Membership Will Help You Use & Enjoy Your Crafting Supplies Starting Today!
A Craftsy Premium membership is a great way to learn new crafting skills from experts, so you can use and enjoy all your craft supplies and equipment, instead of it sitting around unused, and being clutter.
Usually an annual membership to Craftsy Premium costs $97, but right now during National Craft Month Craftsy is offering this annual membership, for the first year, for just $2.49!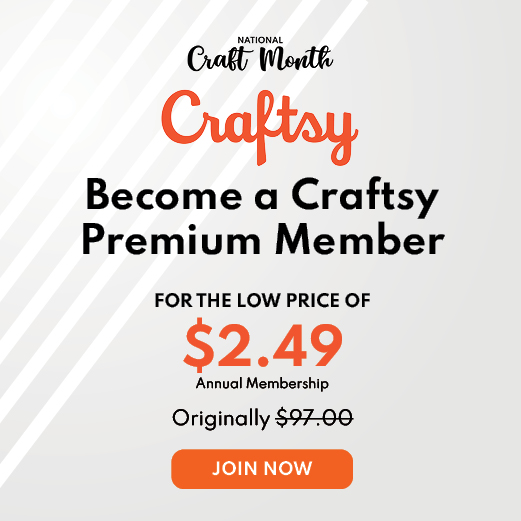 What You Get As A Craftsy Premium Member
Once you're a Craftsy Premium member you will have access to all of the following:
Unlimited access to over 1,500 on-demand instructional video classes, led by world class experts
More than 20 categories of crafts to choose from, including gardening, cooking, baking, home decor, knitting, photography, and hand-lettering, to name a few
You can learn a new skill with beginner level classes, or learn more advanced techniques with higher skill level classes
You'll also get access to membership sharing, where you can share your Premium membership with up to 3 of your family members or friends, so you can all craft together!
All these videos are available for viewing using your smart-TV, smartphone, tablet, PC and/or laptop, so you can watch no matter what type of device you've got!
Here's an example of some of the video classes, on demand, that you get as part of your Craftsy Premium membership:

Please note that your Craftsy Premium membership will automatically renew annually, so if you decide you don't want to renew for the higher price of $97 for the next year you'll need to make sure to mark your calendar to remind yourself to cancel your membership before that automatic renewal happens.
I hope you're ready to learn some new crafting skills, have a bit of fun, and make use of all your supplies and equipment now using Craftsy! Happy crafting!

Some links on this page are affiliate links, meaning that if you purchase a product through them I receive a small commission which helps me provide this information to you for free, plus support my family. My integrity and your satisfaction are very important to me so I only recommend products I would purchase myself, and that I believe would benefit you. To learn more please see my disclosure statement.