Over 800 Helpful Household Hints
That Works For Me!
If you love to discover helpful household hints from 24 different categories, including organizing and cleaning tips, I've got a great resource to tell you about, plus a chance to enter a giveaway for your very own copy!
The ebook titled That Works For Me is different in concept than many others, since it doesn't contain the actual tips within its page. Instead, it contains links to over 800 tips from 24 categories, which are the best of the best of tips and how to information from some of your favorite women across the blogosphere.
When you read this ebook you'll feel like you're sitting around drinking a cup of cyber coffee with some of the most fun and innovative women who have real life wisdom to share with you.
Plus, as you visit the blogs from the links you choose you'll most likely discover some bloggers you didn't know about, and that you'd like to start reading on a more regular basis.
This ebook grew out of the fun and useful meme, Works for Me Wednesday, where bloggers contributed their practical tips every Wednesday, sharing something that they've found "works for them."
This meme has been going on for years, and over that time some really awesome tips have been collected. With this veritable gold mine of information, the organizers of the book, Kristen Welch and Jennifer DeGroot, decided to share the best of the best with us all.
They sat down and sifted through the thousands upon thousands of submissions from over the years and chose over 800 of the best helpful household hints to feature in this ebook, and organized the tips into categories so you could find new ideas you were interested in easily.
I'm A Contributor To The That Works For Me Ebook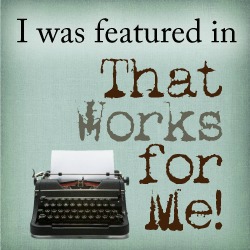 I would actually like and recommend this ebook, whether or not I was featured in it, but I have to say for full disclosure that I'm honored that two of my helpful household hints have been featured in the book! That's really an honor!
To both brag just a tiny bit, and to give you a taste of the high quality tips you'll find when read this book, I'm going to share with you the two where I've been featured.
Tip #14: Diaper Bag Checklist (from Household Management 101, includes free printable)
Tip #117: Uses For Baking Soda For Cleaning, Stain Removal & More (from Stain Removal 101)
Sometimes it can be hard to find high quality, practical, tried and tested advice on the Internet, so this book is an invaluable resource for those wanting lots of such information.
Categories Of Helpful Household Hints You'll Find Inside
There are 24 categories of helpful household hints in the That Works For Me Ebook, and here's a list of them for those of you interested in what types of hints and tips are included in it:
PDF Versus Kindle Versions Of This Ebook
There is both a PDF version and a Kindle version
of this ebook available.
Normally I don't think there is much difference between an e-reader copy and a PDF copy you can save to your hard drive, and instead the one you choose really just depends on which one suits your preferences and needs better.
However, in this case I would personally not choose the Kindle version, just because this ebook is a compilation of links to web pages, and may be more difficult to navigate around on your Kindle.
However, I've provided a link to the Kindle version if you click on the image, just in case you're interested in reading it that way.
Coupon Code For PDF Version Of The Ebook
If you don't win the giveaway, or don't want to sign up for the Stain Removal 101 newsletter list, but are interested in getting your own copy of this ebook I've got an exclusive coupon code you can use today!
Use this coupon code: SUMMERSALE
This code will give you $2 off the regular price of $8, making the ebook cost $6.
To take advantage of this coupon code please purchase your copy of the book through the link below:
Click Here To Purchase Your PDF Copy Today
As a featured contributor to this helpful household hints ebook, and for giving my review of the ebook as a whole, I was given a free copy. However, all of the opinions shared in my review are my own and have not been influenced by the compilers of the book. Further, if you purchase the book through my links I will receive a small affiliate commission. To learn more please read my disclosure statement.