Bath Toy Storage Ideas To Keep Everything Clean & Organized
Below I've gathered quite a few bath toy storage and organization ideas from readers, and around the web, to keep all these little play things corralled in your bathroom.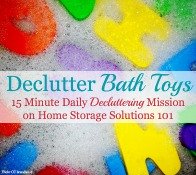 Any home with little kids most likely has a couple (or more likely quite a few) of these toys.
So, as always, when starting any organizational project, the first step is to declutter.
Once you've paired it down to a more reasonable collection of these toys you next need to know what to keep in mind to make sure they don't get nasty and gross from improper storage.
So before I start showing you pictures and ideas of what you can do you need to understand what is needed with whatever organizational method you choose to use.
Bath Toys Can Get Nasty If Stored Improperly Between Uses:
A lesson I personally learned the hard way was not to get the squirty toys for my kids, since I find that they tend to grow mold and mildew inside of them over time, and that is definitely not something I want my kids putting in their mouth and squirting into the water while they bathe.
However, many people like them. One possibility is to glue the little holes shut (while new, so no mold is in them already), such as with a hot glue gun, so they don't actually suck up water. Then, the kids can play with them without water sloshing around inside and growing yucky stuff.
However, they of course
don't squirt anymore with that method.
No matter what you do, always rinse the toys off after each use and make sure all water from inside any of them is squeezed out.
But in addition, proper storage will ensure they dry properly so less yucky stuff grows on them. No one wants to play with a slimy icky bath toy.
Proper Drainage And Air Flow Is Important For Whatever Storage Option You Choose
A moist damp environment breeds mold and mildew, so it is important to make sure you choose a storage option that properly drains so there is no standing water and that the toys can dry between uses.
Therefore, options that are not good are a bucket (without drain holes in the bottom) for example, because it wouldn't drain well.
Also, another option you'd quickly regret would be a sealed plastic bag -- it will just keep damp air surrounding them and will quickly smell.
You get the idea now of things to avoid. So check out some good options below, both of products you can buy and also DIY methods readers have made for themselves.
***Update: A got a message from a reader, Kelly, who said: "I really like the wire basket seen in the first photo, do you know where I could purchase one? Thank you!"
Yes, I do actually! I've provided a link to the right. There are several shapes available from a shallow soap dish to a deeper rectangular container. Enjoy! ***End Update
Photo courtesy of plindberg
Join in and write your own page! It's easy to do. How? Simply click here to return to bathroom clutter.
DIY Bath Toy Organizer Using A Mesh Delicates Bag
by Michelle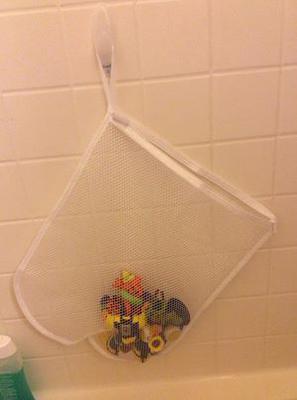 A reader, Michelle, shared this this do it yourself organizer that she created for her kids toys. It meets all the criteria for storing them effectively, and is super simple.

Michelle explained: "Simple, cheap and functional bath toy storage. I have tried so many bath toy storage organizers but they never work and can be pricey. This system works great!

I just bought a $0.97 mesh lingerie bag from Walmart and a 2 pack of bath Command hooks for less than $4.

The mesh bag allows the water to drain out of the toys and when I want to clean them I can just throw the bag (with the toys in it) in the dishwasher or washing machine."


Taylor says:
Completely genius, and you're right Michelle, this works really well.
I will caution people that for the wet environment of the bathtub/shower Michelle did the right thing by getting the Command Hooks that are specifically designed for the bathroom.
They are some type of special "magic" that keeps them staying stuck on the wall even with the dampness and wetness. I can't say enough positive things about Command Hooks!
Further, if you're just not the do it yourself sort, there are companies that make a similar product. Below is a picture from Caroline, who has a similar bag, but she bought it. The product is called the
Jolly Jumper bath tub toy bag
which you can get on Amazon (affiliate link).
Join in and write your own page! It's easy to do. How? Simply click here to return to bathroom clutter.
Dollar Store Storage System For Our Bath Toys
by Sunny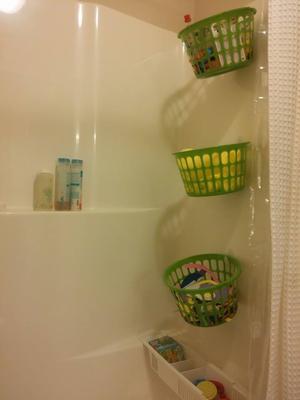 This is our bath toy storage system. We used the shower Command hooks and dollar store baskets.

It's been up for over a year with the same hooks, so they are pretty sturdy.


Join in and write your own page! It's easy to do. How? Simply click here to return to bathroom clutter.
Bath Toy Holder Held Onto Tiles With Suction Cups: Skip Hop Tubby Organizer
by Sean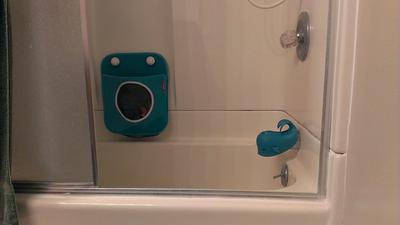 Sean shared this picture of the holder he uses for his son Owen's water toys. It is called a Skip Hop Tubby Organizer.
This product is held onto the tub wall with suction cups, and you put the toys in the pocket between uses. There is mesh around the bottom, side and front to help it drain and with air flow.
One thing I really like about this product too is that it is machine washable, because trust me at some point you'll want to wash whatever you're using to hold your bath toys, preferably at the same time you periodically wash the toys themselves.
Overall this product has gotten good reviews on Amazon, but I will note that with any product like this that relies on suction cups it can be hit or miss.
This is more a criticism of suction cups in general, not these in particular, but while some people haven't had trouble with the suction cups others have about pulled out their hair when the darn thing keeps falling off the wall. Just know this is a possibility with whatever storage solution you choose.
And yes, it can be a problem with hooks too -- it falling off the wall. Although in general Command Hooks do a fantastic job of sticking so I have found this to be less of an issue.
Photo courtesy of seanmfreese
Join in and write your own page! It's easy to do. How? Simply click here to return to bathroom clutter.
Homemade Mesh Bag That Drains Held Up With Command Hook
by Amie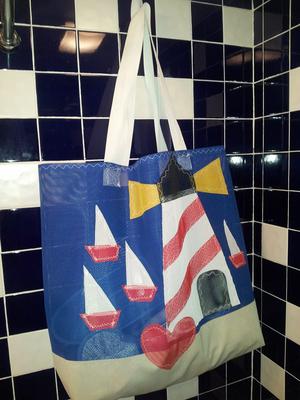 My aunt made this mesh bag and I hung it with a command hook.

We love it for our tub toys!
Join in and write your own page! It's easy to do. How? Simply click here to return to bathroom clutter.
Other Ideas From Reader For Storing Bathtub Toys
A couple readers shared some good ideas for more DIY methods for storing these items, and I liked them and wanted to share.

Both of their methods made sure to use something that would drain easily, and they didn't bother to try to keep the items on the wall with hooks or suction cups.

Use A Plastic Basket:
Gayla said: We have a plastic basket. Toys go in and the basket gets set in the bath tub for water to drain out. The next morning the basket is then set on the floor beside the tub.
Similar, Anna said: I bought a square $1 crate with holes for the water to drain out. And it just stays in the kids' tub.
Use A Small Planter With Drain Holes:
Chris says: I used to use a planter that was decorative yet easy to wipe out and heavy enough so the kids could not pull it over on themselves!
Use A Collander:
Sarah says: I use a large plastic colander.
These methods just contain the toys and then you move them out of the way when the kid's bath is done. This can be helpful if lots of people use the shower or tub, so adults don't have to deal with the toys when they're using the tub themselves.
Photo courtesy of Daquella manera
Join in and write your own page! It's easy to do. How? Simply click here to return to bathroom clutter.
Homemade Way To Store Bath Toys That Stays On The Wall!
by Kayte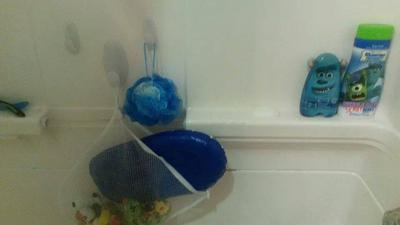 Kayte shared her picture for storing bathtub toys, and it is basically the same method as shown above. But that just shows the DIY method really does work!

Kayte says: "Bathroom Command Hooks (Walmart) and one of those bra laundry bag (Walmart)! Actually works instead of those sucky suction cups that fall!"


Are You Ready To Organize Your Bathroom?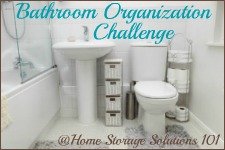 I hope these pictures have given you some ideas for organizing and storing your own bath toys.
I also hope it has gotten you in the mood to organize your bathroom. If so, I'd love for you to join the
bathroom organization challenge
here on the site. It is part of the 52 Week Organized Home Challenge, where we tackle various parts of our home each week, and slowly, over the course of the year, get the whole place looking great!
In addition, do you have ideas for storing these items in your bathroom? If so I'd love to see your pictures or see what products you use. You can
share your reviews and ideas here
and I'll add them to the page.
Some links on this page are affiliate links, meaning that if you purchase a product through them I receive a small commission which helps me provide this information to you for free, plus support my family. My integrity and your satisfaction are very important to me so I only recommend products I would purchase myself, and that I believe would benefit you. To learn more please see my disclosure statement.
Related Pages You May Enjoy
Getting Clutter Free 15 Minutes At A Time Hall Of Fame
Getting Rid Of Kids Clutter Hall Of Fame
Go From Bath Toy Storage & Organization Ideas To Home Page