Water Bottle Storage & Organization Ideas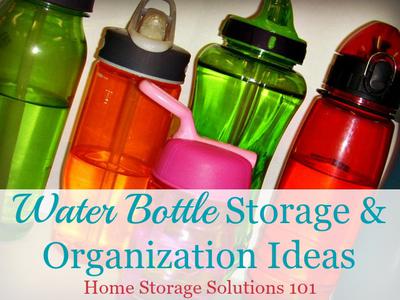 Below I've gathered several water bottle storage and organization ideas provided by readers, showing practical real world ways they keep these bottles from getting so out of control.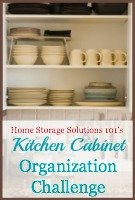 There's a few organizational challenges when dealing with water bottles. The first is that you've got to keep track of the bottle itself, and a lid, and sometimes a few other parts as well.
In addition, they aren't easily stackable normally, are not typically uniform in size if you've got a hodgepodge collection of them like we do in our family, and they easily fall over causing an avalanche when you open a cabinet door, if that's where you keep them.
That's why I recently got this reader question:
Water bottle storage ideas would be great! We run a lot and at races we get lots of water bottles and we always use them, but for the life of me, I have not figured out a functional storage solution for them. It seems to me that it should be simple. Lol.
So I asked readers what they did, and I got many suggestions
The most popular ideas are shown below. I'd love to get even more ideas for organizing these bottles though (we do it as part of the
Kitchen Cabinet & Drawer Organization Challenge
), so if you have your own suggestions (especially with pictures) make sure you
submit them here
and I'll add them to the page.
Make sure before you begin organizing them all though that you
declutter water bottles, travel mugs and plastic cups
as part of the Declutter 365 mission, so you're only organizing and storing the bottles you truly love and will use.
Top photo courtesy of MrsTG
Join in and write your own page! It's easy to do. How? Simply click here to return to kitchen clutter.
Simple Water Bottle Organization Hack: Use An Over The Door Shoe Organizer!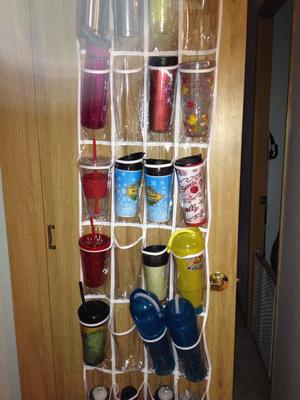 So the most popular idea provided by readers, and that seems to really work long term, is to put up an over the door shoe organizer on the back of your pantry door and use that to hold the bottles.

I love this idea because they're easily accessible, you can't keep more on hand then you actually have slots for (so you can feel OK with chucking the cheap bottles you seem to get at every function) and the lids stay with them this way!

The picture above was provided by a reader, Tonya.

You can get these organizers here:


Here's similar ideas from other readers who've implemented the same idea. This picture is from Jillian.
And this photo below is from Shelley.

Join in and write your own page! It's easy to do. How? Simply click here to return to kitchen clutter.
Keep Water Bottles Filled & Chilled In Refrigerator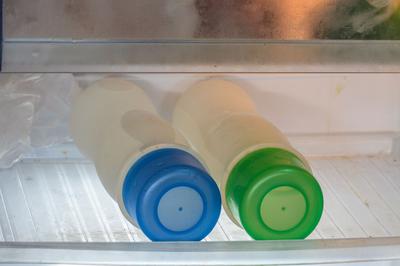 One reader wrote in to share this simple storage idea, store your bottles in the fridge!

She explained, "I do not store empty, clean water bottles. Once they are cleaned I fill them with water and put them in the refrigerator. I only have enough water bottles for each member of my family, plus 2."
Join in and write your own page! It's easy to do. How? Simply click here to return to kitchen clutter.
Keep The Bottles In A Bin To Containerize Them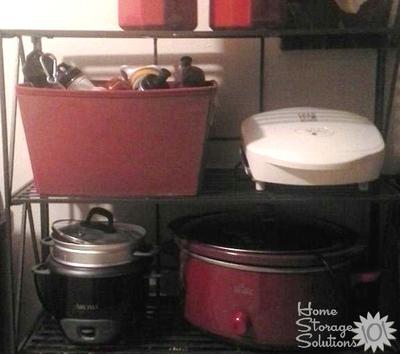 One of the big problems with water bottles, travel mugs and other types of portable cups is that they fall over in cabinets.

To keep this from being a problem you can place them in a container. Your container could be on a shelf, life the reader above, Anna, showed. She explained, "I keep mine in that red bin on the shelf. I get water bottles at different places I go on vacation. So I went through and put ones I use in there and I am going to find a different place for the other ones."

Or, you can place the container inside a cabinet, just to keep all of the bottles together, but yet it is hidden away then.

The key is to only keep as many bottles as will fit into the container without overflowing, so when you get a new one and it starts to be too full, you will know it is time to get rid of some of the ones you don't like as well.

Here's another photo of water bottles in a wire bin as an example, as shown by a reader, Linda. She explained she recently decluttered hers, saying, "Got it down to 10 from 22. Now they all fit in the basket."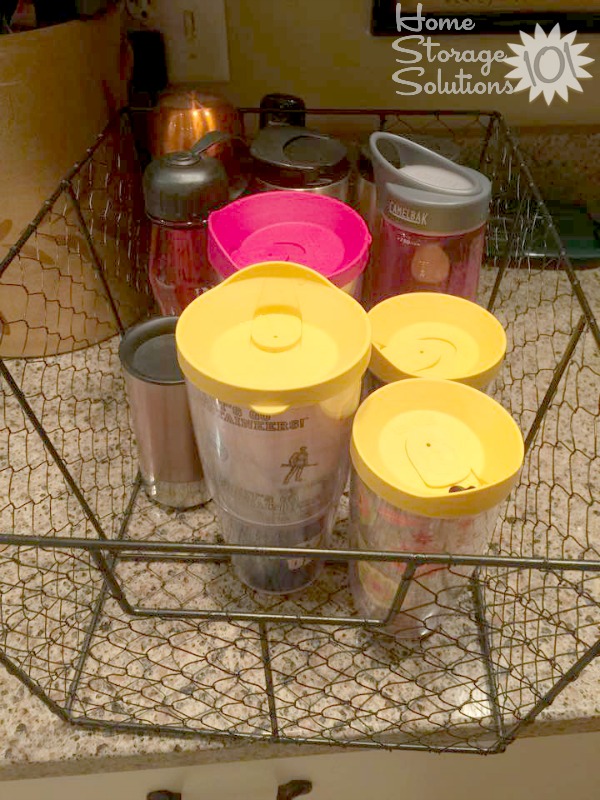 Join in and write your own page! It's easy to do. How? Simply click here to return to kitchen clutter.
So What Are Your Storage & Organization Ideas For These Bottles?
Now it's your turn. What ideas and suggestions do you have for storing water bottles? I'd love to hear, or better yet, to see.

You can submit your own ideas and pictures here and I'll add them to the page.


Are You Inspired To Get Organized Now?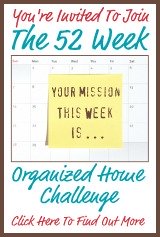 I hope this has inspired you to get your kitchen cabinets and drawers organized.
I've found that getting organized is contagious. Once you tackle item or area in your home, you just want to keep going after you see how much easier it makes life when it's organized.
If you're ready to tackle more I'd like to invite you to
join the 52 Week Organized Home Challenge
. It's free!
Each week in the challenge we tackle a different area or type of item in our home, and slowly, over the course of the year you'll get your whole home organized, along with developing habits and routines to keep it that way!
We tackled water bottle organization and storage as part of the
Kitchen Drawer & Cabinet Organization Challenge here
.
Are you ready for the challenge?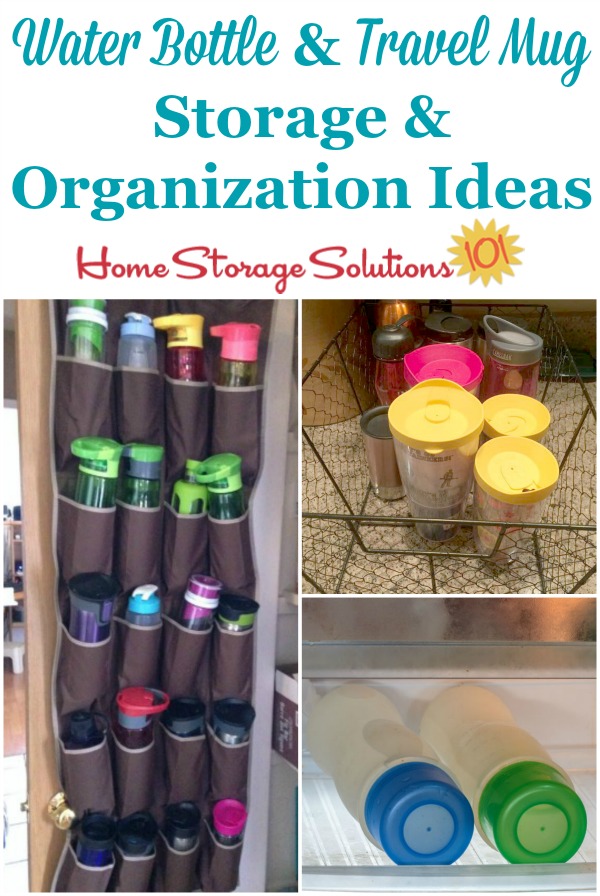 Some links on this page are affiliate links, meaning that if you purchase a product through them I receive a small commission which helps me provide this information to you for free, plus support my family. My integrity and your satisfaction are very important to me so I only recommend products I would purchase myself, and that I believe would benefit you. To learn more please see my disclosure statement.
Related Pages You May Enjoy
{A-Z} Home Storage Solutions & Ideas
Getting Rid Of Kitchen Clutter Hall Of Fame
Go From Water Bottle Storage & Organization Ideas To Home Page