Rubbermaid Lunch Blox Uses
At School & Work
The Rubbermaid Lunch Blox system is a fun and easy way to pack a healthy, portion-controlled lunch for work or school.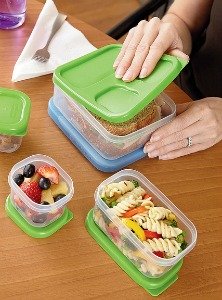 These containers are available through
Amazon.com. [Click here to purchase]
That's why I'm so excited that Rubbermaid provided one to me to test out with my family, and I really liked it.
If you either pack your lunch each day for work, or for your kids for school (or they pack their own) you know how monotonous and boring it can become.
In fact, I've struggled with this myself over the years, both when I packed my lunch each day for work and also for my children's lunches for school.
What I've learned, however, is that it doesn't have to be an event you dread each day, especially when you use food storage containers such as Rubbermaid Lunch Blox which allow you to serve healthy, portion-controlled food, which you can keep cool and also heat up in the containers.
Taylor's Rubbermaid Lunch Blox Container Review
Sandwich kit pictured
[Click here to purchase]
I've tried a large variety of food storage containers over the years for carrying both school and work lunches, and all of them have their advantages and disadvantages.
When I first received these containers from Rubbermaid, I immediately sensed, however, that the company had really thought about what people need when carrying their lunch, and done their best to meet all the criteria they could.
The Rubbermaid Lunch Blox containers are modular, and snap together in multiple configurations. My son and youngest daughter both decided they were building blocks and began trying to play with them, and yes, they can actually be put together in lots of ways which is quite helpful.
I received the sandwich kit to try (which is pictured above), which contained a sandwich container, two small snack containers, a side container, and a medium blue ice block.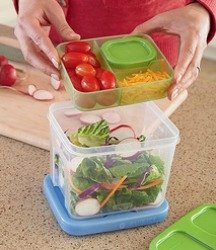 Salad kit pictured
[Click here to purchase]
I liked that all the containers are:
Freezer safe, so I could prepackage frozen meals into them
Allow you to snap on a blue ice freezer pack which keeps your food cool during the morning between the time it's packed and when it's time to eat it
Microwave safe, so I could heat up my lunch at the office in them
Dishwasher safe, so I could easily clean them for their next use in the evening when they came home from school or work
BPA free, for health reasons
All three of my kids got a turn using the sandwich kit containers, although school hasn't started yet so we just used them for regular lunch at home.
Each of them was thrilled to get the special container holding their lunch, and I liked that everything was very portion controlled when using the little containers. I could easily say, that's all of this or that food you can eat since that is all that fit, or I packed you all those carrots, so eat up!
While I liked these Rubbermaid Lunch Blox containers, and the sandwich kit was a great introduction to the product, I could see myself also getting some of the other containers in additional sizes in the future, since they are all mix-and-matchable.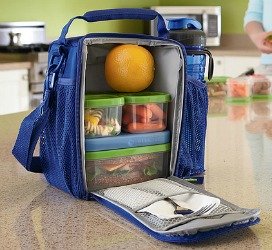 Insulated lunch bag designed for
Rubbermaid Lunch Blox containers
[Click here to purchase]
For example, the Lunch Blox containers also have a salad kit (shown above) and an entree kit with dividers, which provide just a few more container sizes which could be convenient depending on what you or your kids like to pack for lunch.
In addition, although I liked the blue ice pack for keeping foods cold, I'm not sure that would be sufficient by itself to keep items cold while the kids were on the bus, for example, where it can be really hot because it is not air-conditioned. That's why I also think I might try out the lunch bags (shown on the left) at some point.
The lunch bags are designed to fit the containers plus some additional items like a drink or large piece of fruit, that might not fit into the containers, and are insulated to help keep things cold.
In addition, as with any food container, once you use these Lunch Blox you've got to wash them before their next use. If my kids start using these frequently during the school year for taking their lunch I would need to buy more, for all my kids' lunches, and also so I'd have extras so while some were in the dishwasher others would be available for use.
You can purchase the Rubbermaid Lunch Blox kits, individual containers, as well as the lunch bags, through Amazon.com. Here are some of the main products shown below:
If you're struggling with the routine of packing lunches each day, make sure to check out my tips for how to pack lunches the organized way here.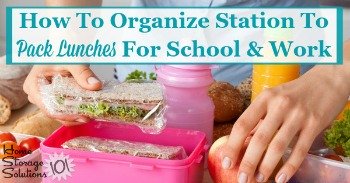 Make sure you also check out this round up of 30 lunch packing supplies and gear, for both kids and adults, to help make it easy for you to pack lunch for everyone in the family each day (referral link). Once at my shop scroll down to find this list.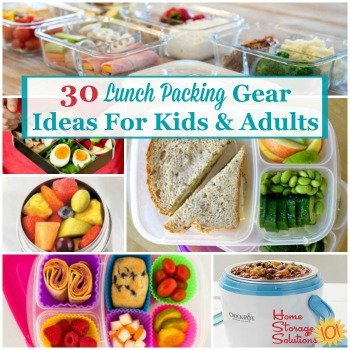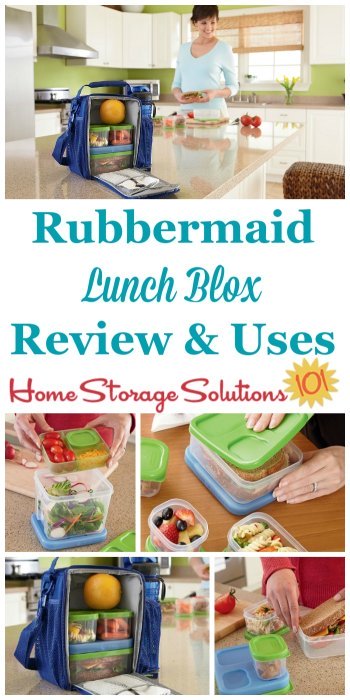 FTC Disclosure: Rubbermaid gave me a LunchBlox sandwixh kit to try out so I could provide this review. However, the opinions and information provided in this post are completely my own, and have not been influenced by the company.
Several photos of Rubbermaid Lunch Blox courtesy of Rubbermaid Products
Some links on this page are affiliate links, meaning that if you purchase a product through them I receive a small commission which helps me provide this information to you for free, plus support my family. My integrity and your satisfaction are very important to me so I only recommend products I would purchase myself, and that I believe would benefit you. To learn more please see my disclosure statement.