How To Create An After School Routine For Your Kids
Here is how to create an after school routine for your kids that gets the essentials done in those few hours between school and evening time without chaos.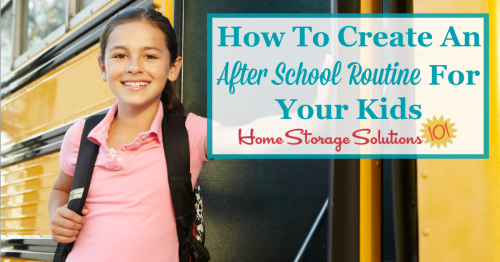 When your kids get home from school do you feel like things get really chaotic, really fast?
It is easy for that to happen, with kids wanting some food, to tell about their days, needing to get homework done or wanting time to relax and play, and you needing to assist with many of these tasks, plus get more done, like getting dinner ready.
An after school routine can make sure everyone gets the essentials done in those few hours between school and evening time without chaos, so the time doesn't feel as stressful.
I've identified the four main components of a successful after school routine below, so you can create one for yourself and your kids this school year.
Relaxation & Transition Time
When your kids get home they need a bit of transition time from school to home. That's because there is a difference in activities and expectations between school and home.
This transition time doesn't have to be a long period of time, but honoring that a transition does need to occur can make the whole rest of the afternoon go by much more smoothly.
Each child is different about what they need to make the transition. For some, after putting away their coat and taking off their shoes, sitting down for an after school snack and a good chat about their day will do.
For some kids also adding a bit of physical activity into the mix, like 15-20 minutes of playing outside, or something else where they can move their body can really help.
Going Through Backpack & Paperwork
Once your child has gotten out of school mode, and into home mode, it's time to begin the next part of an after school routine.
Your child should empty their lunch boxes, so anything that needs to be washed can be. This also allows the lunch box to be ready for lunch packing that evening or the next morning.
In addition, your child should go through their backpack, to help identify homework assignments, organize loose papers, and find any paperwork that Mom or Dad should review or sign.
Once your child has been doing this routine for a while this shouldn't take very long at all, and they should be able to do it by themselves. However, at first, especially with younger kids, you should assist so they learn what you expect them to do.
For more ideas and information about this daily routine of going through each child's backpack, check out the linked article.
If there is any paperwork or things that require parental action you can do those things quickly right then while you or your child organizes and declutters their backpack for the day, assuming what you've got to do only takes a few moments. (This is the suggested practice I have for your daily paperwork routine so you don't get innundated with paper clutter.
If, instead, whatever paperwork task you find in their backpack will take you a while, then add it to your holding container where you keep the paperwork you'll deal with as part of your weekly paperwork session, so it gets done and doesn't get lost or forgotten, but you don't have to worry about it that afternoon.
While going through papers, you may also come across tasks your kids need to do while working on their homework. I suggest kids use a school planner of some variety to help them keep track of their assignments and deadlines. If you're looking for a good planner for your kids I recommend the Full Focus Planner Kids or Student editions. You can read my review here.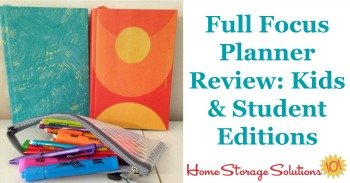 Homework & Reading
The majority of the after school routine happens next, and that is when your child does their homework and daily reading.
To make it as convenient as possible keep some school supplies at home that they can easily reach and use as needed, and provide a well-lit, flat surface for them to do their work.
You can get ideas for how to organize these at-home shool and homework supplies here.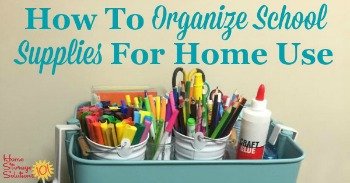 Especially when kids are younger you may need to assist with homework, or at least check it after they've completed it. This can prolong the homework process, but that is often inevitable.
It is also almost inevitable that you won't always be available immediately when they need your help. Try to have a few general learning activities your kids can do while they wait for your assistance if you're also helping other kids with homework as well, or are in the process of cooking dinner or caring for younger kids.
One example activity kids can do while waiting is to practice math facts on a tablet, since they're required to memorize these anyway. Another example is to have your child read a book while waiting for their turn for assistance, so they get a bit more reading time in each day.
Packing Up To Get Ready For Tomorrow
Finally, once homework and reading time has been completed the last part of the after school routine needs to occur, because it is crucial.
The last component of a good after school routine is to have your kids pack up their backpacks with any completed homework or paperwork you've signed and they need to return, so that the next morning, when everyone's getting ready for school, these things aren't forgotten!
Once everything is in the backpack, packed up and ready for tomorrow, your whole family can begin the rest of the evening. That can include more free time or play time for the kids, time for them to do some chores, for everyone to eat dinner, or perhaps to go to any evening activities like sports practices you've got on the calendar.
By using a simple after school routine these hours between school and the evening are not wasted, but you don't have to feel rushed or like things are too chaotic either.
Once you're enjoying the results of the after school routine with your kids, make sure to also check out this article discussing how to get kids ready for school each morning, to make the process of getting up, eating breakfast, and getting out the door less chaotic and stressful for everyone involved!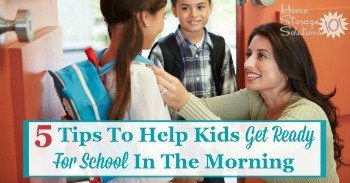 In addition, get lots more back to school ideas here to help you keep your home and your kids organized this school year!