Home Storage Solutions 101:
Ideas And Organization Tips
Are you trying to find the right home storage solutions for your family and house?
If you've ever searched for a place to store your stuff in your home, let me, Taylor, provide ideas and organization tips to find a place for everything in your home that matters.
Why do I say "everything that matters," instead of everything you own?
Well, that is a good question, and it is something that I learned the hard way myself.
Finding A Place For Everything That Matters
We suffer in this day and age with owning too much stuff. So, the first thing we all have to do is get rid of stuff that doesn't matter, and then we only need to find room for the rest of the stuff -- the stuff that matters.
It will waste your money and your time to try to store everything you've ever owned. You've got to get rid of some of it first, even though I know this can be a daunting task.
I'll Provide You With Action Steps You Can Take, Starting Today To Get & Stay Organized
To get your home organized, and get all the right storage solutions in place is not rocket science, but I know from first hand experience it can be overwhelming to try to do it all at once.
That's why you will find action steps, checklists, forms, and discussions to help you with all the steps in the process, one room at a time, or one type of item at a time.
The best place to start is to join the 52 Week Organized Home Challenge, so you can slowly get your home in order without becoming overwhelmed by all there is to do.
In conjunction with these challenges I've also created the Declutter 365 missions, which gives you a daily mission each day, over the course of the year, to help you declutter every part of your home, and also your digital life.
Make sure to get the free printable yearly calendar so you know what you need to do each and every day to get the home you've always wanted, plus to develop the habits and routines to maintain and keep it organized and clutter free from now on.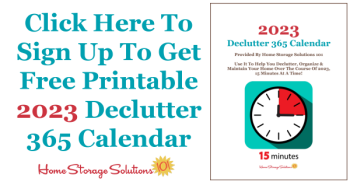 You can also get additional services to help you succeed with the Declutter 365 plan and 52 Week Organized Home Challenge, including receiving daily text messages about each day's mission, printable planner stickers, as well as joining a private and exclusive Facebook group devoted to helping encourage and motivate you as you work through the daily and weekly tasks.
You can learn more about Declutter 365 products here.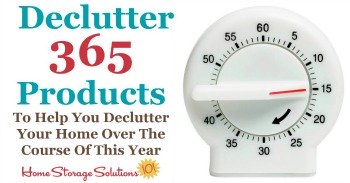 Further, make sure to check out this getting started guide for the Declutter 365 program here, which provides you with all the information and resources necessary to get started today, and to answer frequently asked questions about this decluttering system.
Should You Buy Some Storage Containers Today?
While I love a good storage container as much as the next person (or perhaps more or I wouldn't have decided to write this site) you won't see me recommending that YOU actually buy a container or another storage solution today, unless you've already gone through the action steps for the space you're working on that I recommend.
When the time is right I would love for you to see what types of items I've recommended, and perhaps even buy things through the links I provide since the small commissions I receive help keep this site free to you. But first, make sure you get the right home storage solution for you.
Follow the tips provided, declutter, think through the space thoroughly, know and explore your options, and then buy (or make) something that you will be happy with not just today, but for years to come in your home.
Such an item will actually meet your storage needs, fit your budget, be convenient for you to use, and help you stay organized.
When you're ready, check out these resources on the site which can help you more.
First, here is my round up of over 75 different A to Z home storage solutions for all around your home.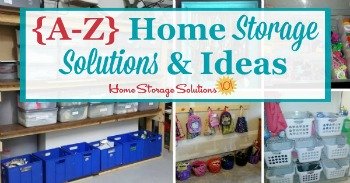 In addition, here's my Organizer Store with both information about my products, as well as products from others that I recommend that can help you get organized.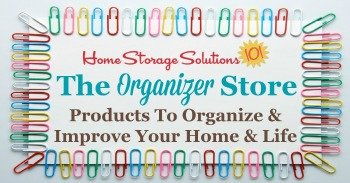 Are you ready to begin to get your home organized and find the right home storage solutions for you? Let's begin!
If you're at a loss for where to start, go ahead and jump right in to sign up for the challenges, and get regular email updates from me, where I'll give you lots of ideas, tips and action steps to take.