Suggested Recipe Categories For
Organizing Recipe Binders & Boxes
To keep either your recipe binders or boxes organized you'll need to sort by recipe categories.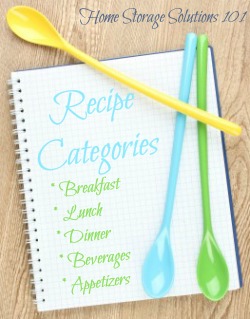 It is best to make tabs with the category names on them, as well as having a table of contents in the front.
Please note that the categories you choose will be very personal to you, based on the way you cook and entertain.
Therefore, don't feel obligated to make dividers or categories for everything listed below if they don't suit your cooking style.
However, if you do want to use them all I've created a free printable table of contents page for a recipe binder that you may want to make as part of the Organize Recipes & Cookbooks Challenge. (Scroll down for the link to the printable).
Use this list to get some ideas and your creative juices flowing to make sure you create all the sections that are right for you.
Breakfast
Lunch
Beverages
Appetizers
Soups
Salads
Main dishes: Beef

Main dishes: Poultry
Main dishes: Pork
Main dishes: Seafood
Main dishes: Vegetarian
Side dishes: Vegetables
Side dishes: Other
Desserts
Canning / Freezing
Breads
Holidays

Entertaining
Printable Recipe Binder Table Of Contents
Here's the printable you can use if you'd like to use the exact categories I've suggested when organizing your own recipe binder.
[Click here to get printable] (opens into new window as a PDF)