Free House Cleaning Checklist Ebook
To Help You Keep Your Home Clean
I've got another free gift everyone can claim - a House Cleaning Checklist ebook!
This is a gift from me, Taylor, written especially for all my readers. All you have to do to claim this ebook is "like" the Home Storage Solutions 101 Facebook page, and then claim your gift from that page by clicking the "Free ebook" tab.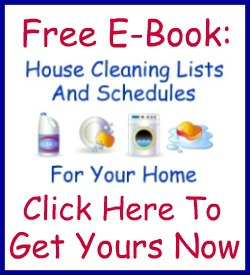 Click Here To Claim Your Free Copy
If you've already liked the Facebook page previously you can still get this 40 page ebook. To get your copy just go over to the Facebook page (click the link above) and click on the "free ebook" tab on the right hand side of the page. You'll see a link for the book when you do this, and will be able to download it! (Note that it sometimes takes up to 20 seconds to load with the app I'm using, so please be patient!)
More About The House Cleaning Checklist Ebook
Here are the checklists you'll find in this printable ebook.
Daily Cleaning Checklist
Weekly Checklist For House Cleaning
Kitchen Cleaning Checklist
Bathroom Cleaning Checklist
Bedroom Cleaning Checklist
Spring Cleaning Checklist; and
Fall Cleaning Checklist
In addition, you receive three blank schedules that you can fill out, one for daily cleaning, one for weekly cleaning, and one for your laundry schedule. These can be personalized for your own life, family, time and energy levels, and your home, using the checklists as a guide.
As an added bonus you'll also receive a cleaning supply checklist that you can post in your cleaning closet, or anywhere else, to make sure you have all your cleaning supplies on hand when you need them.
Be Sure To Enter Even More How To Organize Your Life Giveaways!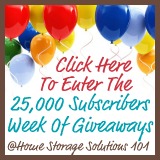 If you've enjoyed this giveaway, please make sure to check out what else I've got in store for the How To Organize Your Life Week of Giveaways, celebrating 25,000+ newsletter subscribers.
I've got 16 different giveaways coming, over the course of the week, including several more absolutely free gifts everyone can receive!
Click here for the full list of giveaways and free resources.
In addition, I would appreciate you sharing this page with your friends and family, such as with the social media buttons below, or otherwise, to tell them about this free gift from me, so they can get their own copy too.
Finally, if you're interested in why so many people have subscribed to my newsletter, check out the 52 Weeks to an Organized Home Challenge, which we've all been enjoying doing together. I'd love for you to join us, if you aren't already a newsletter subscriber!