How To Sew A Bag: Free Online Classes From Craftsy

With a blog name of Home Storage Solutions 101 it's no wonder we talk about, you guessed it, storage solutions, a lot.
One of the simplest types of ways to store and organize items are bags, but who says you have to buy them? Why not make your own?
It can be fun, you get to choose the fabrics you love, and you know they'll be high quality and not fall apart on you quickly like some of the cheap reusable bags you get at the store.
That's why I was so excited when I saw that Craftsy was offering
two completely free classes
on bag making basics that you can enroll in today. (FTC Disclosure: I am an affiliate of Craftsy.)
The first free class is a tutorial for
how to make a reversible tote
(such as the ones shown above), and also a zipper pouch.
The other free class is a tutorial for
how to make a drawstring bag and bucket bag
.
Both free classes have free patterns and video instructions for the projects, and you can watch the videos any time, on your schedule, not someone else's!
Here's more information about each free course.
How To Sew A Reversible Tote & Zippered Pouch Free Class
The tote bags were what first caught my eye because we've been talking a lot recently about reusable grocery bags and other washable and reusable cloth bags for shopping. I could definitely see the totes being used for this purpose.
The class provides patterns and instructions, and teaches you how to make the bags in any size, meaning you could make them small or large depending on your storage needs, be that for shopping bags or for any other use.
In addition, I can think of so many uses for the cute zippered pouches from
makeup bags, coin purses, and more. I even saw some pictures from participants of the class who had altered the pattern some and made a front zip iPad case. Genius!
You can
click here to enroll in the free reversible tote and zippered pouch sewing class today
.
How To Sew A Drawstring Bag & Bucket Bag Free Class
Just like with the totes and zippered pouches I showed above, I can think of so many uses for these drawstring bags and bucket bags.
The bucket bags, especially, I could envision as perfect for holding craft supplies, such as yarn and knitting needles, as well as things like kids toys.
Again, the sky is the limit once you know how to sew these bags, and when all you have to do is buy the materials it is so much cheaper than buying these items, especially when you can match your decor when you make your own!
You can
click here to enroll in the free drawstring bag and bucket bag sewing class today
.
There Are Even More Free Classes To Choose From
These two classes are the ones I thought made the most sense to tell you about here on this site, but there are so many more free ones on subjects such as quilting, sewing, cake decorating, gardening, paper crafts, woodworking, and more.
You can check out the
full list of Craftsy free mini classes to choose from here
.
If you do take either of the classes I would absolutely love to see some of the bags you make, and will feature them here on the site.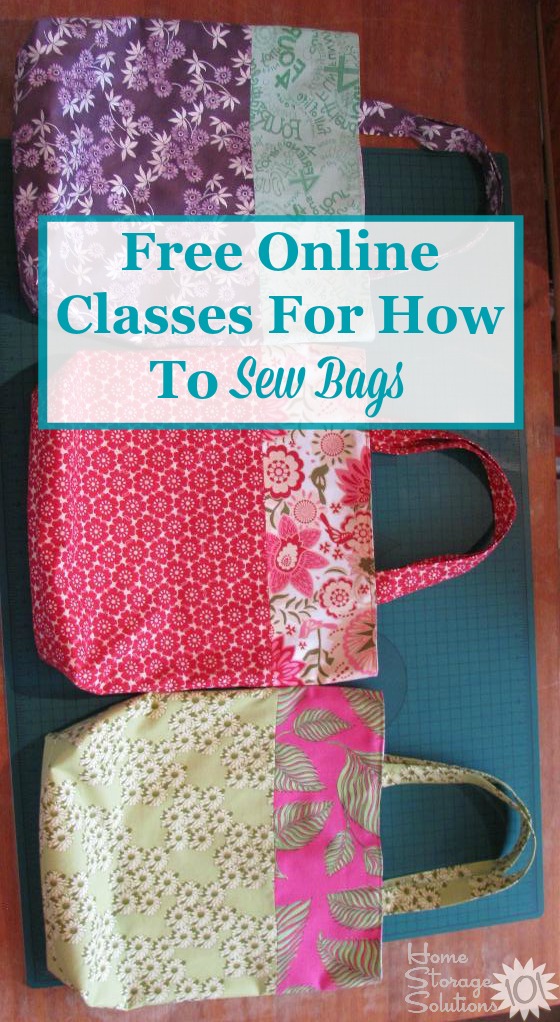 Top and bottom photos courtesy of qbear.treasures@yahoo.co.uk
Some links on this page are affiliate links, meaning that if you purchase a product through them I receive a small commission which helps me provide this information to you for free, plus support my family. My integrity and your satisfaction are very important to me so I only recommend products I would purchase myself, and that I believe would benefit you. To learn more please see my disclosure statement.
Related Pages You May Enjoy
Getting Rid Of Kitchen Clutter Hall of Fame
Join The 52 Week Organized Home Challenge
Go From Free Classes For How To Sew A Bag To Home Page