Weekly Meal Planner Hall Of Fame: How Readers Plan Their Family Meals
by Taylor @ Home Storage Solutions 101
Below you'll find the weekly meal planner hall of fame, where I've gathered ideas from readers who have shared how they plan their family meals each week.


You may be wondering why its even important to plan meals. Well, the short answer is that if you fail to plan, you plan to fail.
It may not be quite that harsh when it comes to meal planning, but if you don't plan what you'll eat with your family each day you will either not eat as well as you could, or it will take you way too much time to prepare meals each day.
There are lots of ways to plan for this daily task, cooking and eating, and none of them are right or wrong, it just depends what works best for you.
If the ideas you see below (scroll down to see them all) inspire you -- and I hope they do -- I urge you to take the
Healthy Meal Planning Challenge
yourself, which is part of the 52 Weeks to an Organized Home Challenge.
When you do, or if you already do meal planning in your own home, and want to share how you do it, I would love to feature you in the hall of fame too. You can
share your methods in the Home Organization Hall of Fame here
.
Photo by LizMarie_AK
Using Menu Cards For My Weekly Meal Planner
by Debra Wyza
(Indiana)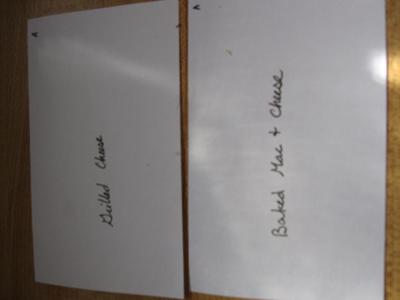 Close up of two cards; meal. Notice the week A marked in the top corner
Debra has shared her system for planning meals, using menu cards, and I have to say it is a pretty awesome idea!
Debra says:
I started this system a little over a year ago and it's worked really REALLY well for my family. Did I mention that it works? And it's easy to boot!
First off, I am a coupon diva. I go shopping every week and only hit up deals with coupons and the rare exception to get a few missing ingredients for dinners.
For example, this week I will feed my family of 3 humans, 1 dog and 1 cat for less than $30. And we will have left overs for lunches or in case a friend drops in.
I made weekly planner cards. These are 3x5 cards that have every meal my family typically eats on them.
I pick out a weeks worth of cards (they rotate, see below), from that I pick out each night's meals the day of. Here's the steps I took to make them.
1. I decided that I would have my cards repeat every 4 weeks.
DH and I decided that we would eat out only 1 time for dinner each month. And I decided that I may want to try 1 new meal a week. That left us with 27 dinners that needed accounting for. I filled in these with our staple dinners and repeated favorite ones, like spaghetti a couple of times. I wrote these all on a list.
2. Then I transferred my list to 3x5 cards.
One meal on each card. I wrote the ingredients for each meal on the back of it's card. Even the small ones, like needing butter for grilled cheese or salt for mac&cheese.
3. I broke them down into weeks.
Each week gets 8 cards so there's even more built in flexibility. Not repeating on one week (no grilled cheese 2 times a week). And trying to keep perishable ingredients that don't freeze well all on one week (Enchiladas and tacos on the same week since they both use sour cream). Also, one big meal (ones we usually have left overs) per week. This is cooked early in the week so DH has leftovers for lunches.
4. Once the weeks were broken down I marked them with A, B, C and D so that one week doesn't fall into the other.5. Each day, pick one meal from that week's cards.
By the end of the week you only have one or two meals to pick from, but it gives lots of options early on in the week.
This gives me the flexibility that we needed. If I ran out of time for the enchiladas one day, that's ok, we still have tacos. Or if we don't feel like spaghetti, that's ok we can pick the mac & cheese with fish. If Aunt Sally drops by and wants to take us out to dinner, as long as she's paying, I don't have a problem with that. I'm not getting off of my meal plan.
I also save a TON of money doing this. It lets me know exactly how much of any given item I'm going to need for a year. For example, I know that my family is going to eat about 6 lbs of pasta a month. That means that when pasta goes on sale and I have coupons I know my family will eat about 70 lbs of pasta in a year (pasta has a long shelf life and I've got the space for it). So I can get up to 70 lbs of pasta for free or nearly free.
It saves me a TON of time because I don't have to make up a new menu every week. I did it one time and it's done. Some things have changed, but mostly stays the same. Like when we find a new meal that I tried and we really like it. It will replace a meal that we eat a lot or don't like as well.
Taylor says:
Thanks so much for sharing this awesome method for making yourself a weekly meal planner Debra.
It sounds like you've got a great system going for you, and that you've coordinated it with your
recipe organization
and your couponing.
I especially like the aspect of this system that you did the majority of the work once, and then it is easy each week to repeat it. Meal planning can take a lot of time, if you let it, so this method is great for those who need to save time.
Planning My Family's Meals With A Weekly Meal Planner Worksheet
by Ferris @ The Hamman Family Blog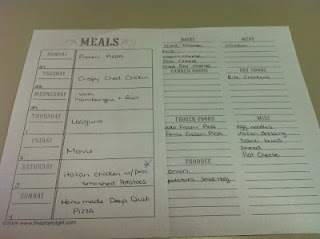 Ferris from The Hamman Family Blog also participated in this week's challenge, sharing how she plans her family's weekly meals.

She uses a weekly meal planner worksheet that she found on the Internet. The pictures above are of some of her filled out forms, but she found the form on The Project Girl. Using this form she is able to write out her meals for the week, and also has room for a corresponding grocery list so she can list the ingredients for each item that she needs.

Further, to keep within her budget she adds the price of each item on her grocery list next to it, so she can anticipate how much she'll spend. (You can keep track of grocery prices with this grocery price book worksheet from this site.)

In addition, she highlights all items on her grocery list that she has a coupon for, so she doesn't forget to use her coupons when she gets to the checkout counter.


Are You Inspired To Do Some Weekly Meal Planning Now?
I hope these ideas from other participants of the
52 Weeks to an Organized Home Challenge
for how they use a weekly meal planner for their family's meals has inspired you to try it for yourself.
As you can see, there are lots of methods for meal planning and none are right, or wrong, you just need to find which one works for you and your family.
I'd encourage you to read the steps in the
Healthy Meal Planning And Grocery Shopping List Challenge
, and then tackle meal planning yourself.
Once you've got your system in place (or if you already have one set up), share it with me in the
Creative Storage Solutions and Home Organization Hall of Fame
. I'd love to feature you in the hall of fame too!
Related Links At Home Storage Solutions 101
How To Make A Grocery List That Works: Hall of Fame
Printable Weekly Dinner Menu With Premade Grocery List Sample
Free Printable Grocery List Form
Go From Weekly Meal Planner Hall of Fame To Home Storage Solutions 101 Home Page